Listen to this article
The UAE National Weekend is a time for celebration, reflection, and unity. At InterContinental Ras Al Khaimah Mina Al Arab Resort & SPA, this special occasion is marked with exclusive offerings that capture the essence of Emirati culture and hospitality. From delectable Emirati dishes to unique amenities, this article explores the fantastic experiences awaiting you at this exquisite resort during the UAE National Weekend.
A Sweet Welcome on National Day
On National Day (Saturday, December 2nd), guests checking in at InterContinental Ras Al Khaimah Mina Al Arab Resort & SPA are in for a delightful surprise. They will receive a special locally sourced In-Room arrival amenity—a chocolate bonbon stuffed with Emirati dates, saffron, and Jebel Jais dwarf bees' honey. This delectable treat is a heartwarming gesture extended to all arrivals and in-house guests, regardless of nationality. It's a delightful way to celebrate this significant day.
Emirati Culinary Delights at Saffar Kitchen Collective
To showcase the region's rich culinary offerings, Saffar Kitchen Collective steps in with an Emirati culinary extravaganza. On Saturday, December 2nd, and Sunday, December 3rd, guests can relish Emirati breakfast and dinner dishes added to the buffet options. The menu includes traditional favourites like Shakshuka, Lamb Ouzi, Emirati mix grill, Gulf seafood, and the iconic Khameer bread. But there's more to this dining experience than just the food. Guests will be guided by a host sharing fascinating stories behind these special local culinary delights, adding depth to the gastronomic journey.
Emirati-Themed Afternoon Tea at Ramsa Lounge
From December 1st to 7th, Ramsa Lounge, the resort's elegant lobby lounge, invites guests to partake in an Emirati-themed Afternoon Tea. Priced at AED 150 for two, this unique experience is a culinary adventure. It features delectable local Date scones and an Emirati delight—Almond Frangipane, Emirati Saffron, and Local honey mousse, Date Sponge. What sets this tea apart is the artful decoration of all pastries in the colours of the UAE flag, creating a visual treat as delightful as the flavours themselves.
A Patriotic Pastry Display
The celebration continues with Ramsa Lounge's pastry display, which pays homage to the UAE National colours. Here, you'll find an array of pastries adorned with colours representing the nation. It's a feast for the eyes and a testament to the resort's commitment to embracing the spirit of the UAE National Weekend.
Quench Your Thirst with Emirati Mocktails
As you indulge in the festive atmosphere, Ramsa Lounge has something special for your thirst. They offer an inspired selection of refreshing Mocktails infused with local Dates, Honey, and Zaatar. These drinks are not just beverages; they celebrate flavours, showcasing the rich Emirati culinary heritage in every sip.
Affordable Luxury during UAE National Weekend
InterContinental Ras Al Khaimah Mina Al Arab Resort & SPA believes that luxury should be accessible to all. During the UAE National Weekend, you can enjoy all these remarkable experiences starting from just AED 1,099, plus taxes. It's an opportunity to immerse yourself in Emirati culture and hospitality without breaking the bank.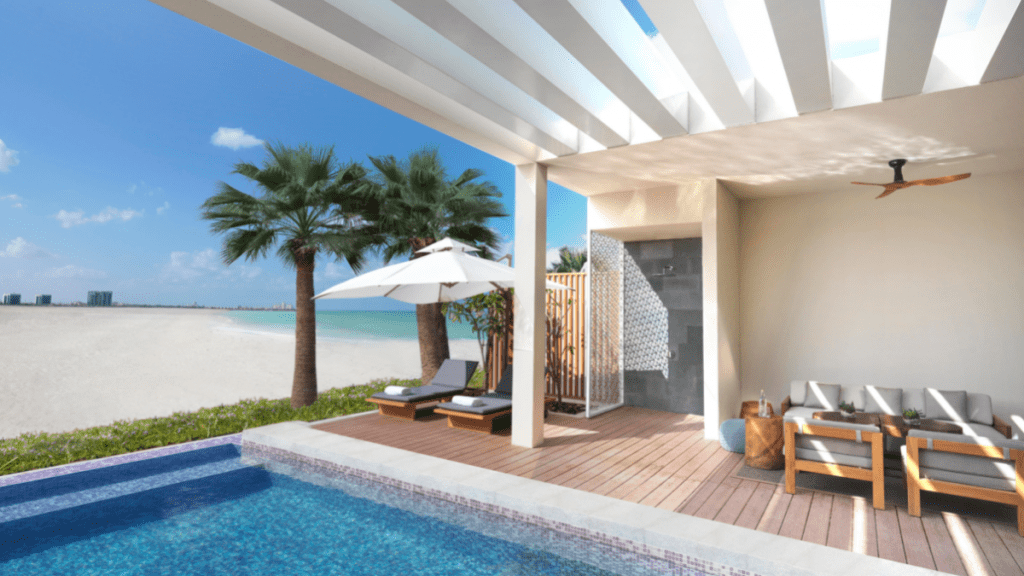 Conclusion
InterContinental Ras Al Khaimah Mina Al Arab Resort & SPA invites you to join in the celebration of the UAE National Weekend with open arms. From delightful culinary experiences to special amenities and patriotic displays, the resort offers a memorable way to honour this significant occasion. Immerse yourself in the UAE's rich culture and flavours while enjoying this renowned resort's luxury. Don't miss this opportunity to create lasting memories during the National Weekend. Book your stay today and be part of the festivities!
Contact & Location
Phone – +971 7 202 6666