Listen to this article
Imagine a place where the sun-kissed shores meet the festive spirit of Christmas. Rixos Bab Al Bahr, nestled in the heart of Ras Al Khaimah, is more than just a beach resort—it's a winter wonderland waiting to enchant you. Starting December 6th, this family-friendly haven immerses visitors of all ages in the magic of the holiday season.
Why Choose Rixos Bab Al Bahr for Your Christmas Getaway?
Before we dive into the details of the resort's holiday offerings, let's explore why Rixos Bab Al Bahr is the ultimate destination for your Christmas vacation:
Ultra-All-Inclusive Luxury: Experience the epitome of luxury with Rixos Bab Al Bahr's ultra-all-inclusive package, ensuring you have everything you need for a perfect holiday.
Family-Friendly Atmosphere: Whether travelling with kids, teenagers, or adults, Rixos Bab Al Bahr caters to all age groups, making it ideal for family getaways.
Breathtaking Beachfront: Enjoy direct access to the pristine beaches of Ras Al Khaimah, where you can soak up the sun or stroll by the sea.
Variety of Dining Options: Indulge your taste buds with diverse dining options, including international cuisine and themed restaurants.
Endless Activities: Something exciting, from water sports to entertainment shows, always happens at the resort.
Now that you're acquainted with why to choose Rixos Bab Al Bahr let's explore the festive events that await you.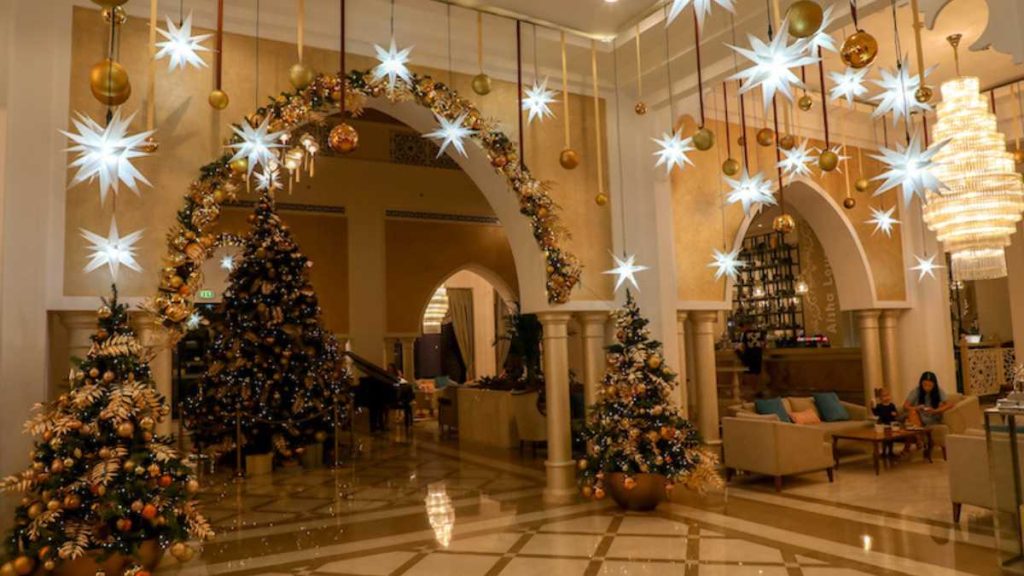 December 6th – Christmas Tree Lighting
Kick-start the Festivities with the Magical Christmas Tree Lighting
The holiday season officially begins on December 6th at Rixos Bab Al Bahr with the grand Christmas Tree Lighting event. Here's what you can expect:
Twinkling Lights and Decorations: The resort will be adorned with thousands of twinkling lights and festive decorations, creating a mesmerizing atmosphere.
Magnificent Christmas Tree: Witness the unveiling of a magnificent Christmas tree, a true symbol of the season's magic.
Entertainment Galore: Enjoy a saxophone solo, a heartwarming opening speech by General Manager Ahmed Elnawawy, a Christmas Tree Lighting Countdown, and a delightful Rixos Carol Performance.
Meet Santa Claus: Capture the moment with Santa Claus himself and take memorable photos.
Kids' Corner: Children will have a blast with a kids' carol performance, cello & violin performance, a special kids show, and disco fun at the Isla Stage.
Live Band Tunes: Get into the holiday groove with a live band playing festive tunes at the Isla Stage.
General Manager Ahmed Elnawawy shared his excitement about this event: "The Christmas Tree Lighting at Rixos Bab Al Bahr marks the beginning of a joyous season, and we look forward to creating a magical experience for our guests of all ages. The enchanting decorations, lively performances, and festive atmosphere will make this holiday truly special."
December 24th – Christmas Eve
Join the Christmas Eve Carnival
On the night before Christmas, Rixos Bab Al Bahr hosts a spectacular Christmas Eve Carnival, promising an evening filled with wonder and joy:
Sumptuous Buffet Dinner: Indulge in a Christmas-themed buffet dinner at Seven Heights, featuring a delectable spread of festive delicacies.
Live Performances: Enjoy live saxophone, cello, and violin performances, setting the perfect mood for the evening.
Santa's Visit: Santa Claus will make a special appearance, spreading cheer and joy.
Dance Show: The Christmas Edition Dance Show is a highlight of the evening, featuring captivating performances.
Kid-Friendly Activities: Little ones are in for a treat with morning yoga, festive arts & crafts, Christmas dance & song rehearsal, face painting, and more.
Fashion Show and Carolling: Experience a fashion show and enjoy the joyful carolling.
Mini Monster Show and Bingo: Delight in a mini monster show and try your luck at Christmas Bingo.
December 25th – Christmas Day
A Festive Christmas Brunch and More
Celebrate Christmas Day in style with a series of captivating events and activities at Rixos Bab Al Bahr:
Sumptuous Brunch: Begin your day with a lavish Christmas brunch, savouring many delicious dishes.
Rixy Kids Carnival: The little ones can have a blast at the Rixy Kids Carnival on the beach, featuring exciting games and entertainment.
Entertainment Galore: Throughout the day, enjoy a lobby dance show, lobby piano performance, and live music performances.
Santa's Roaming: Santa Claus will continue to spread holiday cheer by roaming the resort.
Rixy Kids Disco and Show: Kids can dance to their hearts' content at the Rixy Kids Disco and enjoy a special kids' show in the evening.
Beach Fun: The Rixy Kids Carnival "The Christmas Edition" offers beach Zumba, Santa workshops, a family & friends beach fun challenge, beach activity time, and beach volleyball fun.
Don't miss this incredible opportunity to create heartwarming and cherished holiday memories with your loved ones at Rixos Bab Al Bahr.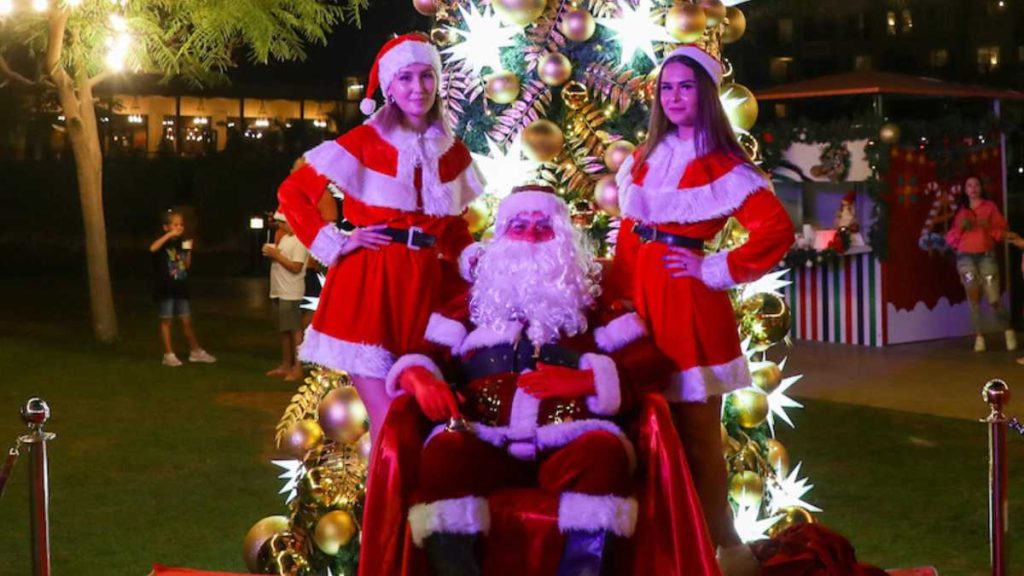 FAQs (Frequently Asked Questions)
Q: What is the best time to visit Rixos Bab Al Bahr for Christmas?
A: The Christmas season at Rixos Bab Al Bahr starts on December 6th and continues with various festive events until Christmas Day on December 25th. The entire period is filled with magical experiences, so any time within this window is perfect for a Christmas getaway.
Q: Is Rixos Bab Al Bahr suitable for families with children?
A: Absolutely! Rixos Bab Al Bahr is a family-friendly resort with many activities and entertainment options for children of all ages. There are dedicated kids' areas, including the Rixy Kids Carnival, ensuring parents and children have a fantastic time.
Q: Can I enjoy Christmas-themed dining at the resort?
A: Yes, Rixos Bab Al Bahr offers Christmas-themed dining options during the holiday season. You can indulge in sumptuous Christmas brunches and buffet dinners featuring festive delicacies.
Q: Is there a special New Year's celebration at Rixos Bab Al Bahr?
A: While this article primarily focuses on the Christmas season, Rixos Bab Al Bahr is also known for its spectacular New Year's celebrations. Stay tuned for more information on their New Year's events and festivities.
Q: How can I make reservations for the Rixos Bab Al Bahr Christmas events?
A: To make reservations for the Christmas events at Rixos Bab Al Bahr, visit their official website or contact their reservations team for assistance. It's advisable to book in advance to secure your spot for the festive celebrations.
Conclusion
Escape to the enchanting world of Rixos Bab Al Bahr in Ras Al Khaimah this Christmas, and make your holiday season truly magical. With a host of festive events, sumptuous dining options, and a warm, welcoming atmosphere, Rixos Bab Al Bahr promises an unforgettable Christmas getaway for you and your loved ones. Don't miss the opportunity to create cherished memories that will last a lifetime. Book your stay today and experience the season's joy at Rixos Bab Al Bahr.