Ras Al Khaimah is renowned for its many beautiful camping spots, where people can enjoy picnics and barbeques, away from the hustle and bustle of major city centres. Camping is a popular weekend pastime for many in the UAE, especially in Ras Al Khaimah where temperatures are cooler. People from all over the country are looking for the best spots to set up their tents, or just lay down their mats to enjoy the magnificent scenery.
We have listed a few spots here for your to plan your holiday get aways and staycations during the cooler months of the year
How to reach Ras Al Khaimah
Only a 45 minutes drive away from Dubai, it is easy to get to Ras al Khaimah. The emirate is also linked to Dubai by free shuttle buses to and from Dubai International Airport and Dubai World Centre Airport, offering easy, direct transfers to Ras Al Khaimah. You can find more information on travelling to the emirate on our Getting Here section.
Incase getting to Ras Al Khaimah by your own transport is not an option check our article on How to travel between RAK and Dubai if you don't have a car
1. Bedouin Oasis
The first Bedouin-style desert camp in Ras Al Khaimah provides visitors with the perfect opportunity to explore desert living. With only traditional and natural materials, the Bedouin Oasis Desert Camp is a step back into the days when tent roofs were made from goat hair, and only a fire or an antique gas light provided heat and light.
This Arabian sanctuary is nestled between two of the most beautiful dunes in Ras Al Khaimah, in a secluded area of the desert landscape. It is one of the most sought-after locations for special occasions, distinctive events, themed travel and gatherings with family or friends. Many programmes are organised for visitors, and many activities are available. These include camel rides, henna painting, sand boarding and off-road activities. Guests are offered drinks, snacks and a great line-up of popular movies.
For the ultimate oasis retreat, overnight stays under a canopy of stars are also available, for an unforgettable experience.
Contact: 052 6910856 or email: karissa.bedouinoasiscamp@gmail.com
2. Bassata Desert Village
There is a child in all of us that is always in pursuit of an adventure. Somewhere exciting to go and experience something new and fun. Sinbad, Ali Baba and the 40 Thieves, 1001 Arabian Nights are all tales made us dream of our own Arabian Nights adventure.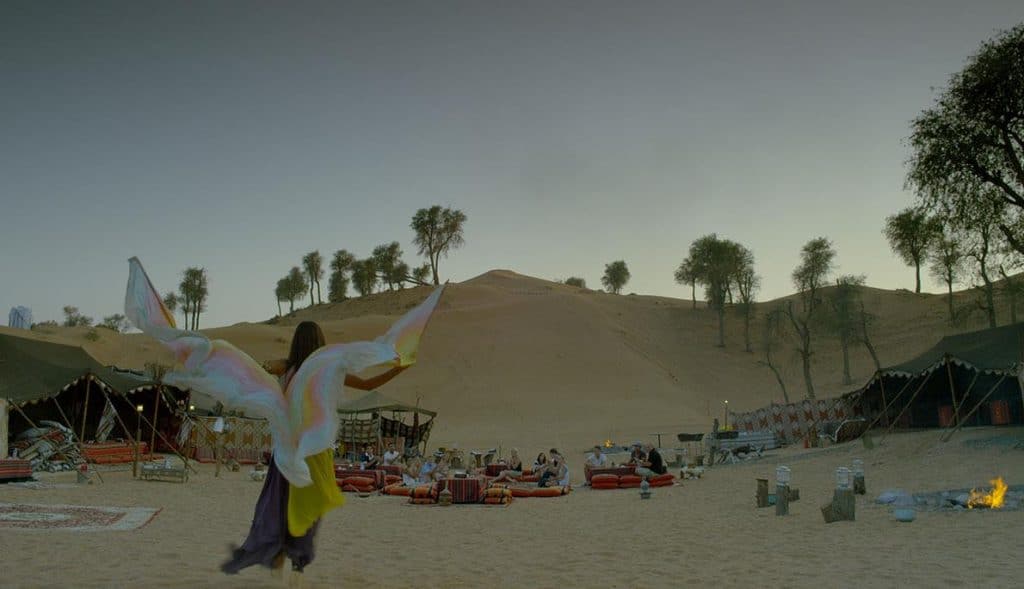 The adventure that most may think of when coming to Arabia is to live like the Bedouins; in the desert and a tent, living with camels, and nights around the campfire telling stories and enriching ourselves with the culture of the people.
Call: +97143366643 or 050 859 0965
3. The Dunes Safari and Camping
The Dunes Safari and Camping offers a range of dynamic experiences that have been conceived and designed for creating unforgettable memories.
An absolute novelty desert safari experience that serves its guests unique night camping options along with unadulterated desert beauty. Located near the Ritz Carlton Al Wadi the camp is an unmissable expedition.
The overnight activity includes
Welcome Treats (Arabic Coffee and Dates)
Softdrinks and Water
Barbecue Dinner
Shisha
Henna Painting
Sand Boarding
Short Camel Ride
Entertainment (Belly, Tanoura & Fire Dance Show)
Light Breakfast the following morning
For holidaymakers in search of comfort and luxury, The Dunes Safari and Camping Ras AL Khaimah stand out through their quality of entertainment and their rich facilities. Similar to a luxury hotel there is a Check-in: 15:00 Hrs & Check-Out: 09:00 Hrs times.
There are 4 types of accommodation available
Elevated Heritage Tree House
Premium Dome Tent
Delux Dome Tent
Igloo Tent
Contact: +971 7 2046966 or +971 50 159 6488
4. Awafi Desert camping Ras Al Khaimah
One of the most well-known camping destinations in the UAE is the Awafi desert area, famous for its smooth dunes and pleasant weather. Apart from being an attractive spot for camping, it is also the site of an annual festival to celebrate the emirate's ethnic and cultural heritage.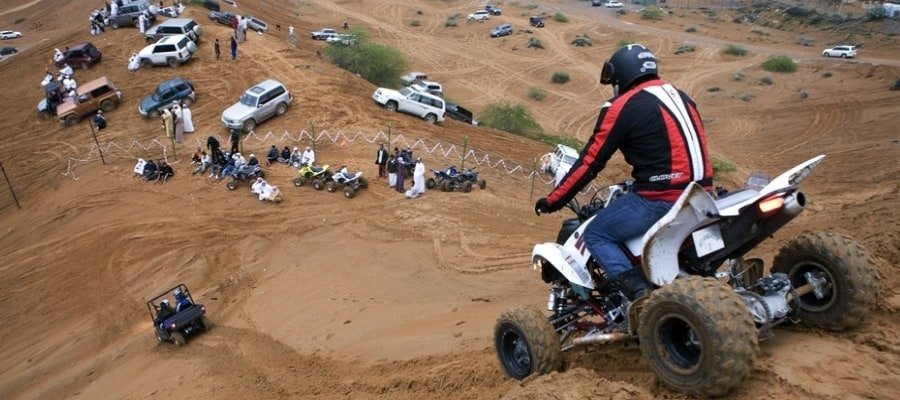 Theatre performances, cultural displays and outdoor sporting events take place against the backdrop of the dramatic red sand dunes. This highly anticipated event attracts many visitors from the GCC countries.
5. Camping along Sheikh Mohammed Bin Zayed Road RAK
This area sees the most activity during spring and winter. Many families camp along the road, a safe distance from the speeding cars but close enough to see the highway and hear the passing vehicles. The best thing about this area is that it is not too dark at night because of the street lamps.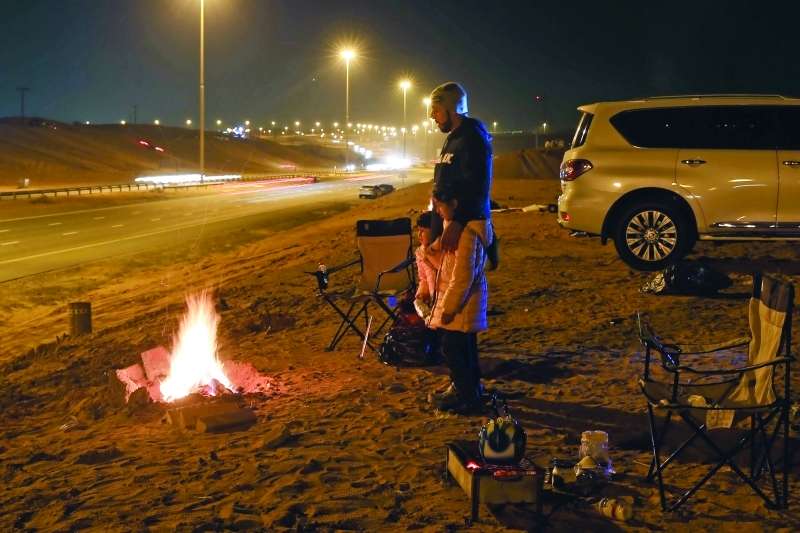 Even when they are not camping, people who come here can choose their favourite spot along the road, set up their barbecuing equipment, and enjoy eating outdoors with family and friends.
6. Camping at Wadi Shawka Ras Al Khaimah
One of the most popular trails at the moment is the Wadi Shawka trail in Ras Al Khaimah. This is in large part due to its accessibility, beautiful scenery and somewhat challenging route.
You don't need a 4X4 to get there, but that's only if you're planning not to drive further inside. The track can easily be found on GPS. You'll be surrounded by hills and small mountains form all sides – a sight you don't get to see every day in the UAE. There are also lonesome palm trees scattered around the narrow pebbly paths, small ponds, and natural springs that are full of water all year long.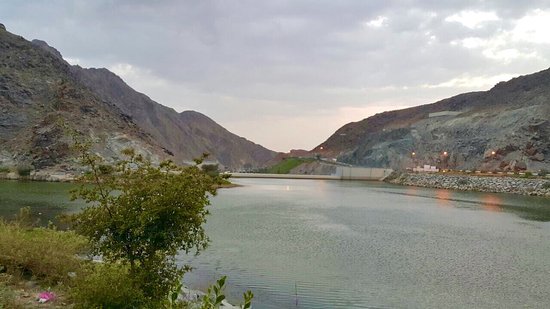 Camping is fun here especially the wide wadi area near the dam where there is a pond and a tranquil green area. It's so quiet and calm there you'll forget you are in the UAE! The sunset and sunrise are also not to be missed while camping there.
6. Camping at the beach near Marjan Island
Along side Umm al Quin road is the Marjan Island beach where you can do free camping on your own. Facilities are limited but are worth sacrificing for the view. The place is easy to reach and is connected to E11. There are few shops and cafe nearby (zoom). No public bathroom facilities.
Camping on Jebel Jais Ras Al Khaimah
Jebel Jais Ras Al Khaimah is also one the best camping spots in the UAE. There are several areas along the route of the mountain that are great for pitching a tent and setting up a barbecue. Many campers stay the night just to catch a glimpse of the rising sun over the rocky mountain.
For advanced campers, there are many places on the way to the top to set up camping tent and barbeque. For newcomers, however, there are 3 special campsites set up by authorities. Detailed information on Camping on Jebel Jais, is available in our guide here
Related links to Camping in Ras Al Khaimah
For details on outdoor camping checklist, click here