Listen to this article
Are you all set to embark on a memorable camping journey at Longbeach Campground Season 7? It's open now.
Okay, folks, finally, the Longbeach Campground Season 7 kicked off, and we hope you are ready to rock those sandy shores like there's no tomorrow.
One of the first in Ras Al Khaimah, Longbeach Campground combines a traditional camping ethos with luxurious amenities and engaging activities — creating an immersive "glamping" experience. Located along a 300 meter stretch of beach, the campground is perfect for staycations, families, romantic getaways, and groups of friends. However, you can choose from various elegant tent options and enjoy an all-inclusive activities package: packed with access to the beach, pool, outdoor spa, water sports, a floating theatre, and more. Book now to experience camping in comfort, the BM way.
Latest Offers: Glamping at Longbeach Campground Season 7
Hold onto your sunhats because the excitement doesn't stop here with the launch. However, we're thrilled to spill the beans about Longbeach Campground's Early Bird Offer that's up for grabs right now. This is your golden ticket to snagging a prime spot at the campsite before everyone else jumps on board. And let us tell you, it's packed with exclusive benefits, jaw-dropping discounts, and a few surprises that'll make your heart skip a beat.
And here's the cherry on top – mind-blowing discounts that'll leave you grinning from ear to ear:
50% Off Weekdays: Yep, you read that right! Weekdays just got a whole lot cooler with a jaw-dropping 50% discount. So, forget those Monday blues and start dreaming about lounging on the beach while saving big.
35% Off Fridays: Say hello to the weekend in style! Fridays are all about luxury and relaxation with a generous 35% discount. It's the perfect way to unwind after a busy week.
25% Off Saturdays: Saturdays are for making memories, and Longbeach Campground wants to make them extra special with a fantastic 25% discount. Go ahead, treat yourself!
The types of Tents at the Longbeach campground Ras Al Khaimah
You no longer need to bring your tent or RV to camp on the beaches of Ras Al Khaimah. To cater to all needs and occasions, Longbeach Campground offers five different tent varieties for you to choose from. Each tent is fitted with comfortable beds, outdoor furniture, and an ocean view.
Panoramic Dome Suite Tent
With luxurious fittings and a hexagon-structured dome covered by transparent, weather-resistant material — our Panoramic Dome Suite Tents ensure the ultimate "glamping" experience. At 7 meters in diameter, they are both spacious and cozy. Each of these 11 tents comes with a queen-size bed, twin bunk beds, a private bathroom, and a private outdoor area with seating and a jacuzzi. Whether you're sitting inside or out, these tents offer exceptional views of the campground's beach due to their elevation and location.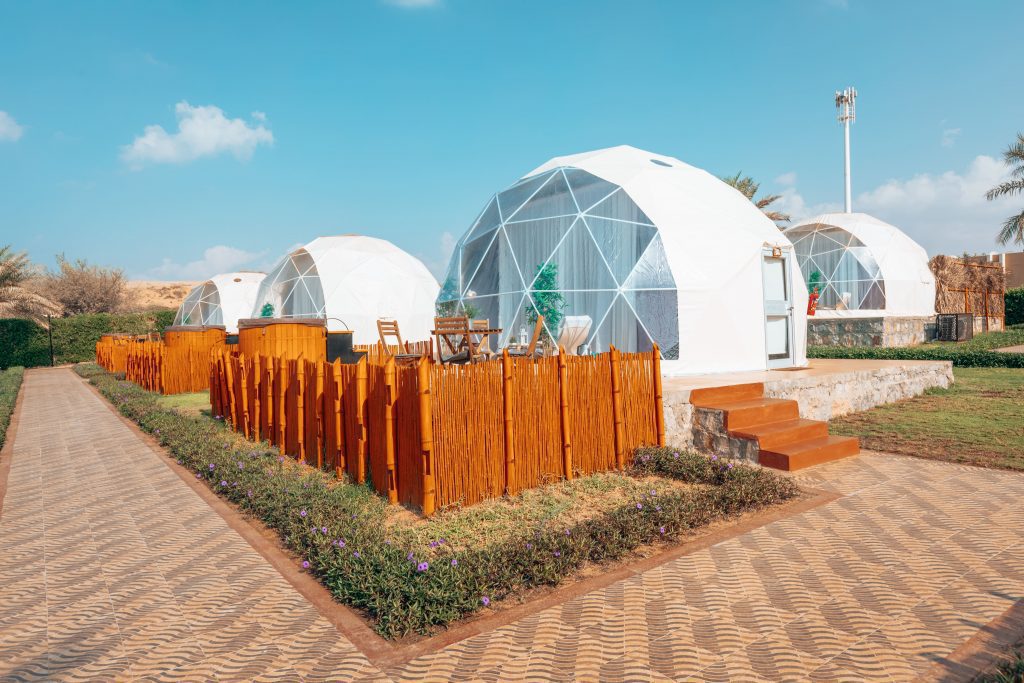 Safari Suite Tent
Discover the coming together of luxury and camping with our Safari Suite Tents. At 30 square meters, these 10 tents can sleep up to four and are great for families or larger groups. So, each includes a queen-size bed, two twin beds, a sitting nook inside, a private bathroom, and a private patio with outdoor furniture. 
Sunset Terrace Suite Tent
While it's called the Sunset Terrace Suite Tent, this option is more like a miniature home. Enclosed by a fence on three sides, these 143 square meter plots provide much-needed privacy and tranquillity for a beachside experience. Each comes with an air-conditioned bedroom, queen-size bed, private bathroom, sauna, outdoor jacuzzi, hammock, terrace seating, direct beach access, panoramic ocean views, and more.
Authentic Family Tent
Spacious enough to comfortably accommodate two king-size mattresses, the Authentic Family Tents measure 6 meters in diameter and are perfect for bigger groups. However, considering the Gulf's windy and often arid conditions, these 41 tents are made with durable waterproof fabrics, UV ray protective, and wind resistant. Bathrooms are shared, but toiletries and towels are provided.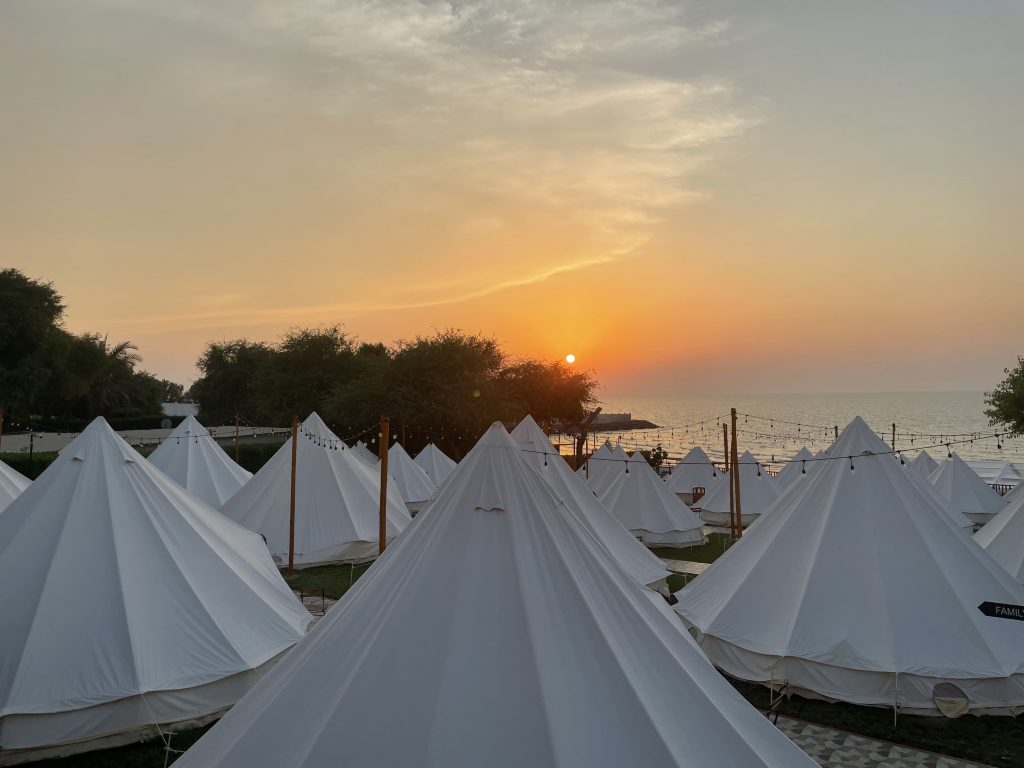 Authentic Deluxe Tent
Simple but comfortable. Much like a tepee, the Authentic Deluxe Tent is a beachfront bell tent that feels most like rustic camping. Considering the windy and often arid conditions of the Gulf, these tents measure 4 meters in diameter. However, they are made with durable waterproof fabrics, UV ray protection, and wind resistance. Each of these 60 tents includes two outdoor camping chairs and the choice of queen-size or two twin mattresses. Bathrooms are shared, but toiletries and towels are provided.
Food and Beverage options at Longbeach Campground Ras Al Khaimah
Infinity Pool Bar
So, you can now enjoy your meals by the pool, overlooking the beach. The pool bar of Longbeach Campground is open for lunch, dinner, and drinks, with a carefully curated menu that features both new classics and all-time favorites.
Beach Dining Area
Camping food has never been this good! Sit back at our outdoor dining tables and enjoy a nightly BBQ dinner, complete with live cooking stations from 7:00 p.m. to 9:00 p.m.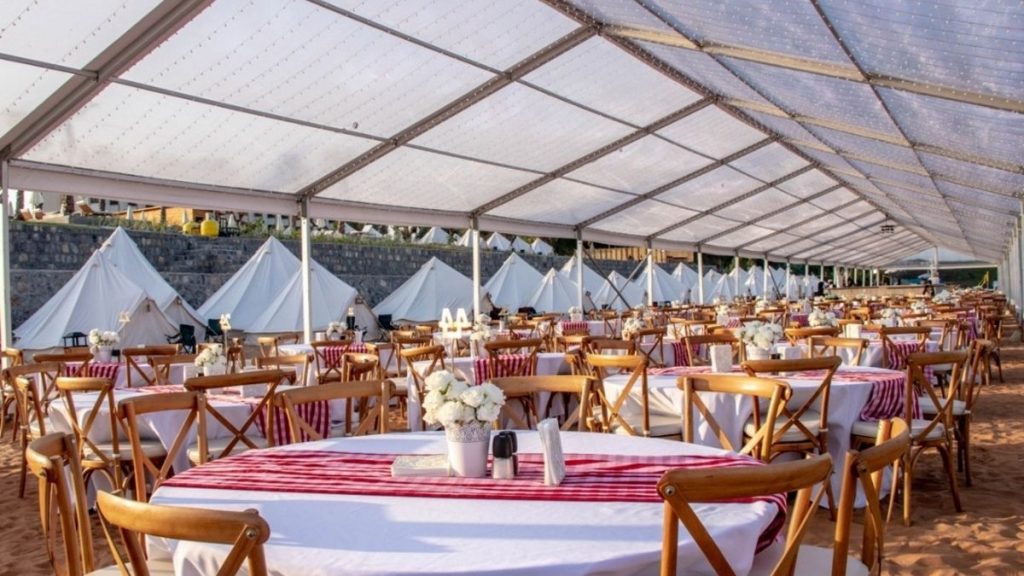 Activities at the Longbeach Campground Ras Al Khaimah
Chart your path to new adventures every hour with our all-inclusive activities. Whether you're here with kids, on a romantic getaway, for a solo stay, cay, or with friends — there's something for everyone.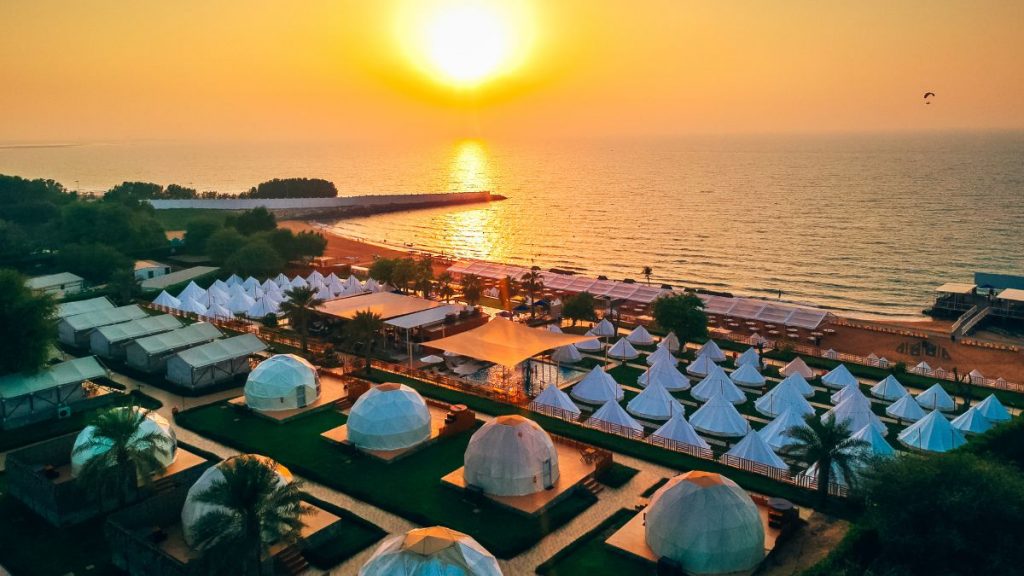 Watersports
For all the thrill-seekers, we've organized various water sports for you to partake in right along our private stretch of beach. Pick your adventure: paddleboarding, kayaking, sea scooters, jet skis, water skis, sup board rides, kneeboarding, doughnut rides, or banana boats.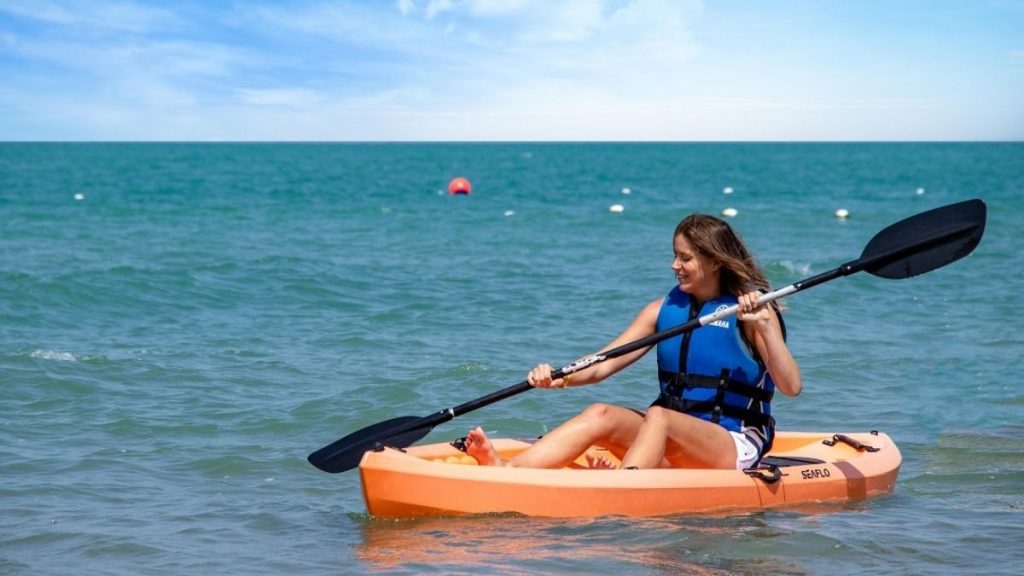 Kids Activities
Why should adults have all the fun? Drop your little ones off at our Kids Club Tent for supervised care and engaging activities all day. In addition, Longbeach Campground also has experiences like a petting zoo, egg hunts, sandcastle building, pony rides, obstacle courses, karate lessons, cooking competitions, and animated movie screenings.
Beach Activities
Whether you want to exercise, learn new skills, or soak up the sun, we've got it all. Furthermore, stay fit with friendly competition and beach games like volleyball, badminton, table tennis, and boccia. Or, if you'd rather slow down the pace, try sunrise yoga, archery, pottery, or hand embroidery. We've also got other activities — from throwing darts to flying kites and learning the salsa to playing the kalimba.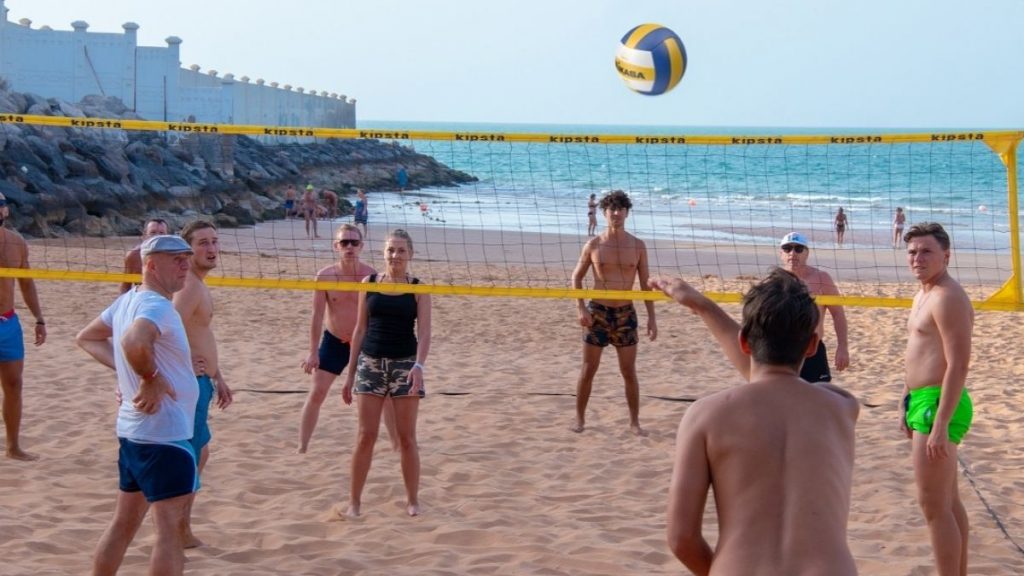 Under the stars
As the sun goes down and the stars emerge, the Longbeach campground transforms to provide only the best evening entertainment and activities. However, you can sit by the bonfire and roast marshmallows, grab food hot off the grill at the BBQ station, partake in dart tournaments and music quizzes with other guests, enjoy live performances, or watch a movie at the moonlight cinema on our floating theatre. And if none of that sounds right, you can always stargaze and spot the constellations.
For prices and Bookings, please visit: https://www.bmhotelsresorts.com/longbeach-campground/
Contact and Location of Longbeach Campground Ras Al Khaimah
For Inquiries and bookings, 600 566 600 | info@bmhotelsresorts.com