Listen to this article
If you enjoy Asian cuisine and its fresh spicy flavours, head to Sanchaya on Marjan Island and enjoy their eclectic menu. Take a magical culinary journey through China, Cambodia, Indonesia, Japan, Mongolia and Thailand and enjoy some of your favourites from this vibrant continent. Choose from Mongolian-style lamb shank, Cambodian duck curry, black cod miso, Pad Thai and other regional noodles and fiery curries from Thailand. Snack on salty edamame as you wade through the extensive menu. The restaurant has an atmospheric dining room and a capacious waters edge terrace with undisturbed views of the Arabian Gulf.
Discover the perfect blend of taste and ambiance with our enticing packages. At Sanchaya, it's not just a meal – it's a symphony of flavors that promises to leave you craving for more.
Whether you're looking for vegetarian-friendly dishes, vegan options, halal meals, or gluten-free choices, Sanchaya caters to a variety of dietary preferences. The restaurant is ideal for various occasions, from romantic dinners to business meetings, and has received accolades for its exceptional food and service.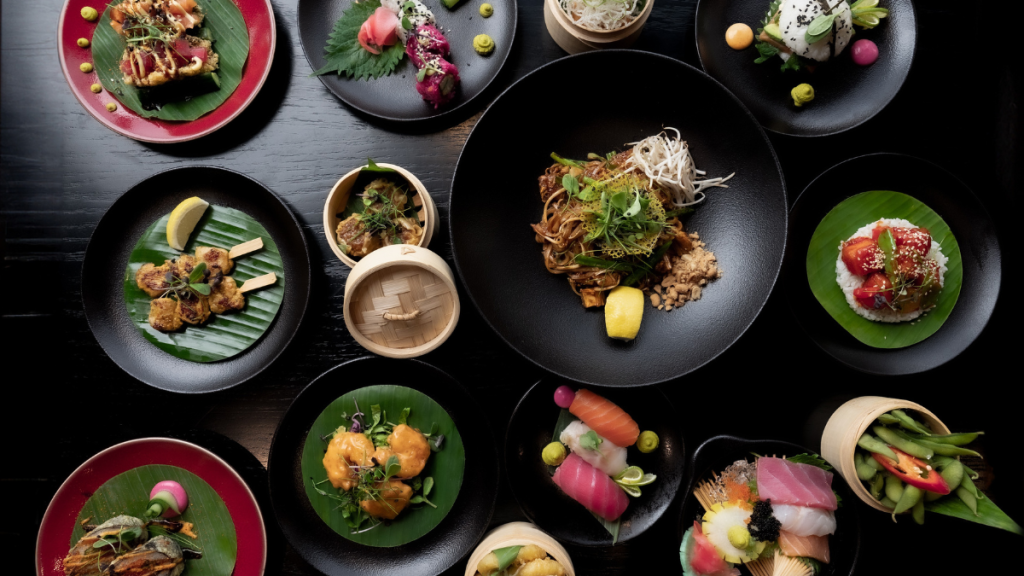 Enjoy the panoramic sea views of Ras Al Khaimah with friends and family
Offers: Flavours of Sanchaya
Non-alcoholic package: Shoga Package (Ginger)– AED 175 per person
Alcoholic Package: Sakura Package – AED 222 per person
To book your experience and for more information, please WhatsApp +971 56 995 4579 or call +971 7 203 0104
Sanchaya Operating Hours
Lunch 12:30 – 3:30 pm Saturdays
Dinner 6:30 – 10:30 pm Daily
Closed Tuesdays
ABOUT SANCHAYA RESTAURANT
Embark on a culinary journey at Sanchaya restaurant located inside Doubletree by Hilton Resort & Spa Marjan Island, where an exquisite array of Asian cuisines awaits. Indulge in a gastronomic adventure that promises an ever-changing menu of diverse flavors, ensuring a delightful experience every week. Their skilled Chef's specials highlight this casual dining concept, offering a fusion of tastes that cater to all palates. Immerse yourself in the ambient live entertainment as you savor each delectable bite.
Savour the flavour of Asian cuisine with fresh ingredients and an infusion of spices that will tackle your taste buds. Offering great indoor ambience and a large terrace with undisturbed views of the Arabian Gulf. Enjoy the panoramic sea views of Ras Al Khaimah with friends and family.
Contact and Location
Located at Double Tree by Hilton Resort & Spa Marjan Island, Ras Al Khaimah
For bookings, call 07 203 0000 or email f&breservations.marjan@hilton.com