Listen to this article
The most famous attraction in Ras Al Khaimah, the Guinness World Records-certified zip line, has put the United Arab Emirates' northernmost emirate on the map. As daredevils soar head-first across the Hajar Mountains at speeds of up to 74mph (120km/h), this activity is not for the faint of heart, but the distance is covered swiftly. The adventure, located 1,680 meters above sea level, provides tourists with stunning views of the Grand Canyon of the Middle East, making it a must-do for anyone with an adventurous spirit
Whether you are a long-term resident of the UAE or in town for tourism, there is no better time to visit the country, especially when temperatures begin to fall and the many outdoor activities become accessible once again.
Ras Al Khaimah is the best emirate to experience the different terrain of the United Arab Emirates, where you can observe the Hajar mountains from a zipline or play a round of golf on the ground.
The northernmost Emirate of the United Arab Emirates features kilometers of white sand beaches and azure water, the spectacular Hajjar Mountains, and stunning desert dunes. At Jazirah Aviation Club, you may watch camel racing, test your aim at the shooting range, or soar in a microlight aircraft.
Taxis and rental automobiles are available, and the travel from Dubai International Airport takes only forty minutes. Do not miss the Ras Al Khaimah Museum, the 120-store Manar Mall, or the outstanding belly dancers in the neighbourhood. Here are all the best happy hours in Ras AI Khaimah.
Pebbles Sports Bar, BM Beach Hotel RAK
Pebbles Sports Bar is a terrific spot to relax and unwind after a long day, as refreshments and sports are available throughout the day.
The centrepiece of this club with a distinct motif is the sports enthusiast. Numerous televisions display all sports, allowing you to watch your favourite team without missing any action. A wide array of local beers, wines, and snacks are available.
This bar offers an extensive assortment of appetizers, salads, grilled meats, sandwiches, and various soups and desserts. Additionally, they offer an extensive assortment of soft drinks, energy drinks, and cocktails.
Happy Hour Offer: Daily 50% off on selected food & beverages from 8 PM – 10 PM
Contact: 056 414 1085 | Location
The Huddle Sports Bar & Grill, CityMax, RAK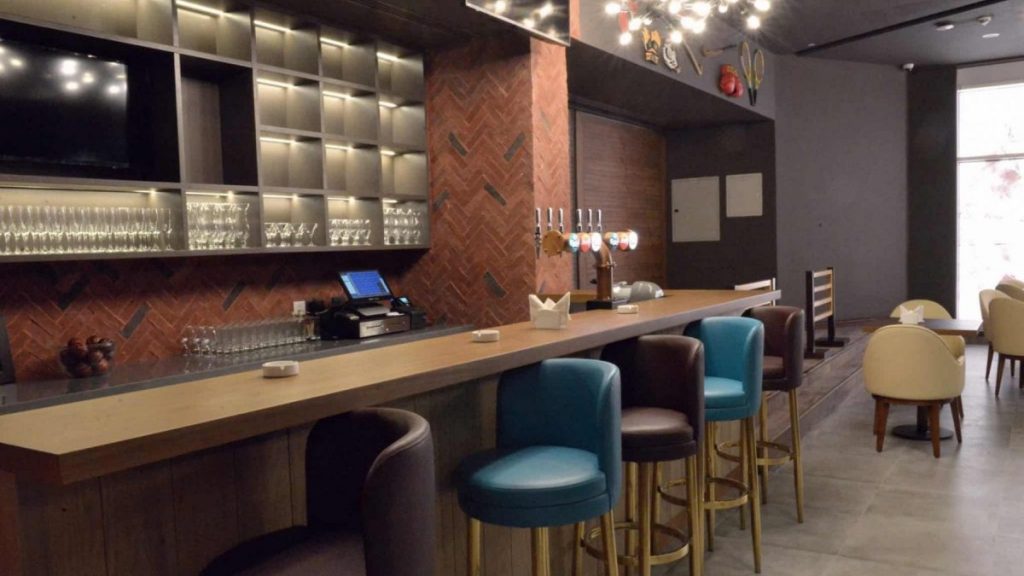 The Huddle Sports Bar & Grill is on the first floor. It is a wonderful spot to unwind after a hard day with beverages, music, and sports.
The centrepiece of this club with a distinct motif is the sports enthusiast. Numerous televisions display all sports, allowing you to watch your favourite team without missing any action. A huge assortment of local beers, wines, and snacks is available.
This bar has an extensive selection of appetizers, salads, grilled meats, and sandwiches. It also offers a variety of soups and sweets.
Happy Hour Offer: AED 21 for select house spirits & Carlsberg pint beers! Daily from 12:00pm – 10:00pm
Contact: 0569922286 | Location
TreeTop Bar in Double Tree by Hilton Ras Al Khaimah
TreeTop Bar is the first rising Double Tree by Hilton Ras Al Khaimah. It was inspired by a love of the outdoors and respect for those who like spending time in nature.
TreeTop Bar is the ideal place to sip a tropical drink while taking in the sights and sounds of the Arabian Gulf. This urban retreat offers breathtaking sunset views with a bird's-eye view of RAK island and its stunning beaches.
The TreeTop Bar has live music, karaoke nights, and dancing to keep you amused throughout your stay.
Happy Hour Offer: Enjoy happy hour on drinks with buy 1 get 1 free, from 6:00pm-9:00pm.
Contact: 072260666 | Location
Lexington Grill and Bar, Waldorf Astoria, RAK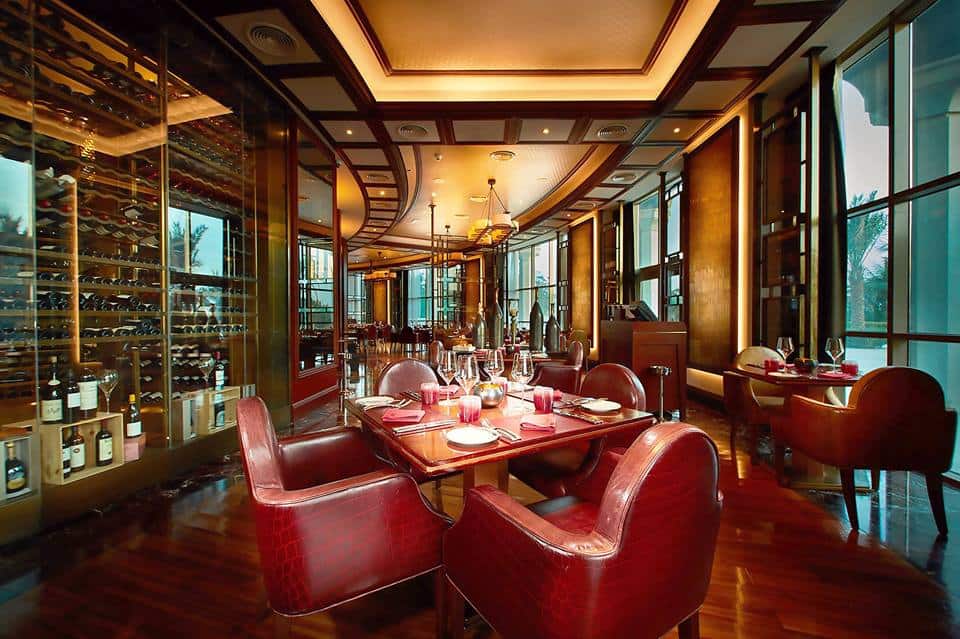 Lexington Grill is an American steakhouse named after a well-known New York street. The menu at Lexington Grill is renowned for its incredible assortment of steaks and the freshest seafood flown in from across the globe. Chef Eric Turgeon leads the kitchen staff, showing his exclusive, air-dried beef cuts unavailable elsewhere in the Middle East.
This flagship steakhouse offers a selection of romantic booth tables, window tables, and a spectacular outside Terrace in an exquisite and welcoming environment. Each client is introduced to the restaurant's comprehensive wine list by a sommelier with years of experience.
Lexington Grill's temperature-controlled wine cellar contains over 200 brands of wine. Lexington Grill will astonish you with its friendly and sincere service from a team of young, diverse experts.
Happy Hour Offer: Buy1 Get 1 Free, including bubbles and premium beverages. Monday to Saturday from 5 pm till 8 pm!
Contact: 072035533 | Location
Claw BBQ, Hampton by Hilton Marjan Island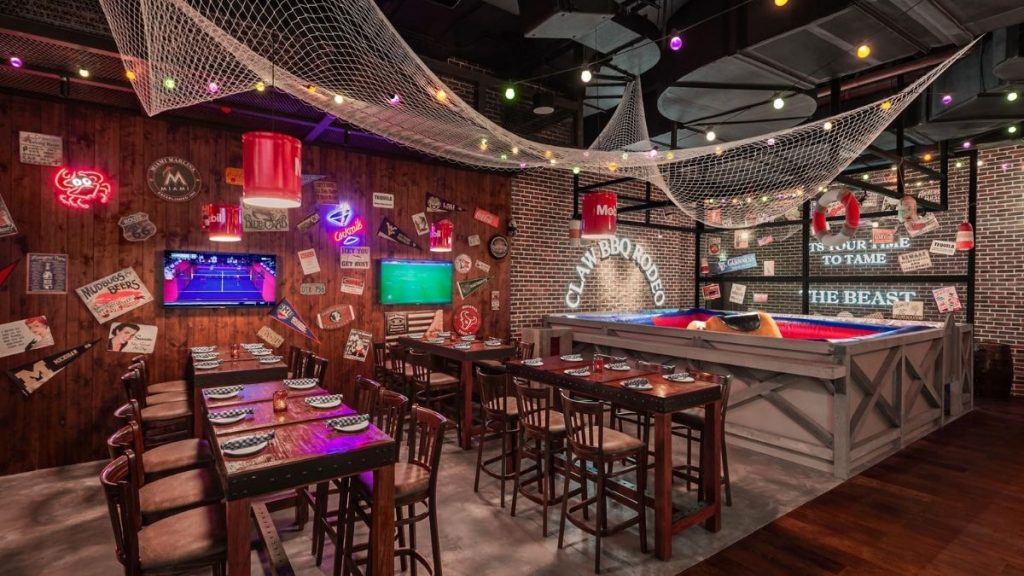 CLAW BBQ, is the dive bar and crab shack that offers All American cuisine, atmosphere and hospitality. The casual spot inside Hampton by Hilton Marjan Island shows live sports games across 30 screens and serves up messy and delicious grills and seafood daily.
The menu features – in true CLAW style – a host of sizable challenges for diners, including humongous burgers and gut-busting inferno wings… definitely not for the faint-hearted. CLAW has plenty of treats and a mouthwatering range of shakes to cater to your cravings for lovers of all things sweet. The drinks menu is an experience with an unrivalled selection of traditional and signature beverages, all served in moonshine jars and pitchers, beers on tap, shooters and, of course – one of the widest selections of tequilas and sippin' whiskeys in town!
A resident DJ will set the vibe throughout the week as you tuck into a feast of American dishes. Highlights include massive burgers, sandwiches, fajitas, tacos, salads, Claw's legendary seafood buckets and unique variations of mac and cheese.
Happy Hour Offer: Enjoy happy hour every 4-7pm, every Monday-Thursday and Saturday from 4-6pm. Selected beverages starting from AED 28
Contact: 072090090 | Location
Super Breeze Bar and Restaurant
You're onto something when you can sip a cocktail while remembering the breathtaking beach views.
The waterfront Super Breeze Bar and Restaurant provides a unique dining experience. There are alternatives for seating both indoors and outside.
Choose from a comprehensive menu of Bar Bites, Steaks, Pizzas, Pasta, and Amazing Asian Delights.
Here, you may experience the chef's hallmark dishes, including fresh Tandoori kebabs, Butter Chicken, Dal Makhani, and Biryanis.
The bar menu and the range of wines, beers, and spirits were exceptional. Traditional and novel cocktails are available for selection.
Happy Hour Offer: Bucket of Stella Artois beer just for AED 30 all day. Make every hour happy!
Contact: +971 7 208 0770 | Location
The Bay Sports Bar, Al Hamra Golf Club, RAK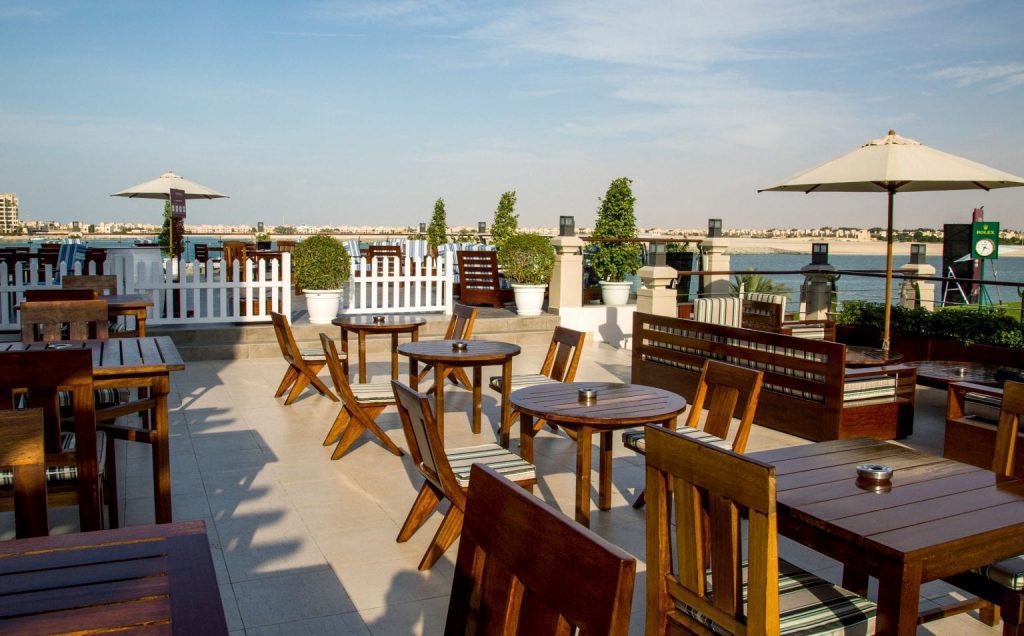 This The Bay Sports Bar offers an excellent ambiance with its delectable cuisine and music. The crew is courteous and has superior communication abilities. It is required that families, friend groups, and couples visit this location.
Happy Hour Offer: Happy hours last from 4 pm to 7 pm daily. Beer of the month. All day, all week for only 35AED. House wine at AED 20, bottle beer from AED 18, and house spirits from AED 20. Apart from that, they offer a whole day on selected bottles of grapes for only 150AED.
Contact: +97172447474 | Location
Belgian Café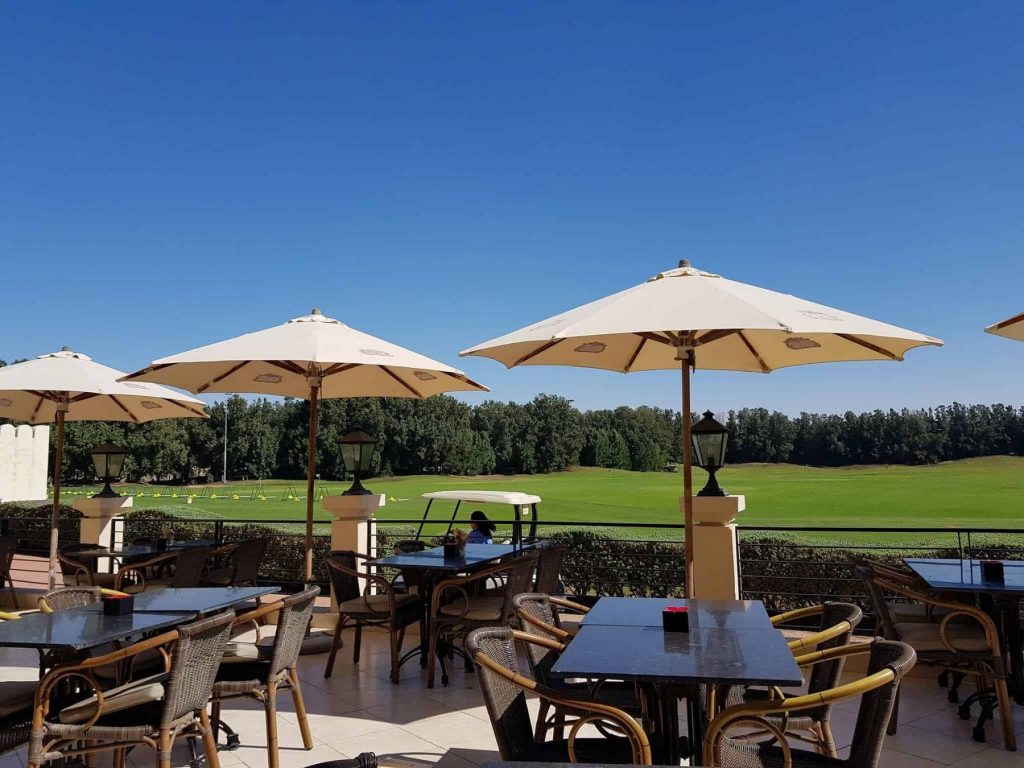 On Fridays, the Belgian Café features an extensive range of beers and a menu of Belgian-inspired cuisine. Enjoy an appetizer, entrée, and dessert from the menu, along with an endless supply of Stella & Hoegaarden beer, House Wines, and Spirits. Note that Belgian Café is considered one of the best bars in R.A.KRAK.
Happy Hour Offer: Get your favorite drinks for less! Come to enjoy the richest taste of our Draught beers, grapes, and spirits starting from 17 AED. Every day from 3 PM -8 PM & Summer happy hour promotion from 11 PM till closing.
Contact: +97172438489 | Location
Breeze Bar Cove Rotana Resort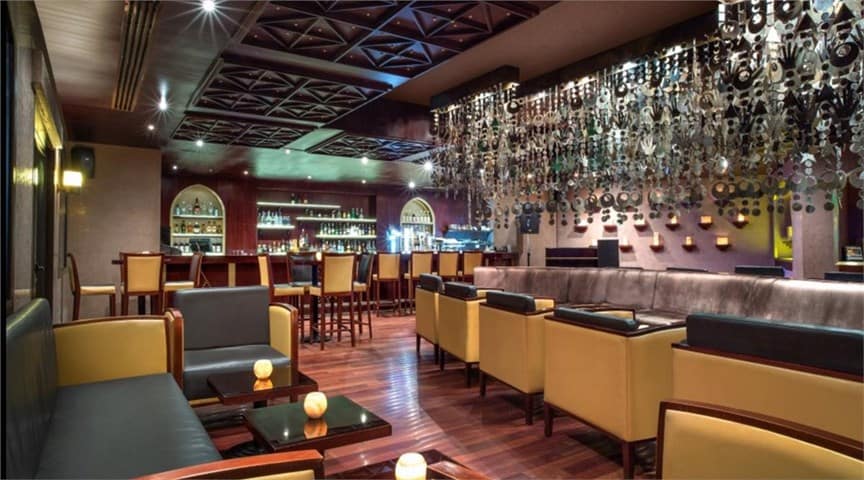 The Cove Rotana Resort gives an unforgettable vacation in Ras Al Khaimah with its beachfront location overlooking the stunning Arabian Gulf's turquoise waters.
This sought-after five-star resort blends world-class dining, recreation, and convention facilities with an Arabian flavor. It is a popular lodging option for business visitors and corporate groups and the ideal location for delightful family vacations or staycations.
Nearby are the city core, Ras Al Khaimah International Airport, and other areas of interest.
Their accommodations are tailored to your needs and occasion, ranging from 349 stylish and cozy rooms on the resort's hillside, which are ideal for couples or solo travelers, to 43 luxury villas with one, two, or three bedrooms, some of which have waterside locations and are ideal for families and large groups.
Their gorgeous resort will make you feel at home with its Nubian design features, well-designed living areas, and modern amenities.
The bar is situated near the main lobby of The Cove Rotana Resort, Breeze bar and lounge is an ideal place for afternoon coffee or tea or for sampling an excellent selection of cocktails and mixers. It offers snacks, cakes, and pastries from the cake counter as well as shisha in the evening on its spacious terrace.
Happy Hour Offer: Bring the squad because Breeze bar has you covered with a wide selection of beverages from only AED 20. Daily, 6 pm to 8 pm.
Contact: +97172066000 | Location
Karma Kafe at Hampton by Hilton Marjan Island
Karma Kafé is located in Hampton by Hilton Marjan Island and offers a carefully chosen menu of the finest Pan-Asian foods and masterfully made cocktails to guests in quest of a dining experience that has won numerous accolades. Karma Kafé hopes to conjure vitality, dignity, elegance, and culture through Chinese characteristics.
The Karma Kafé provides a mixture of design, cuisine, mixology, and television programs of the highest caliber, allowing no space for aversion.
At the entrance, guests are met with a dragon that conveys motion, a curious and active spirit that flows freely from one place to the next.
Karma Kafé provides an unobstructed view of the ocean from its patio, where visitors may enjoy breathtaking sunsets and stargazing. At the same time, a D.J.DJ plays lively music to provide an unforgettable experience.
Happy Hour Offer: 5 PM – 7 PM, Everyday. Sunset drinks start from 25 AED.
Contact: +97144238306 | Location
Marina Muse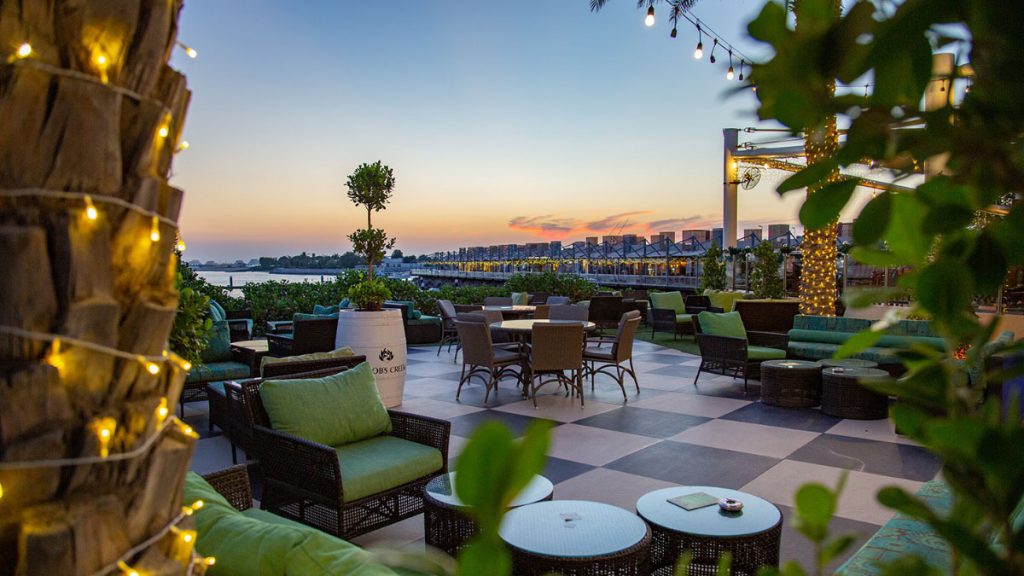 Marina Muse offers all the elements necessary to calm the mind and stimulate the palette. Ideally located facing the lovely Al Hamra Waterfront, Marina Muse mixes a delightfully energetic environment with the best assortment of delectable nibbles and fine dining treats.
A fresh and innovative menu has been designed, highlighting the locally available products with a selection of fish and seafood dishes from our local seas, resting perfectly alongside our distinctive dishes and interpretations of traditional and modern classics worldwide.
The new restaurant layout has been meticulously designed to accommodate families and children comfortably.
This, in addition to a stunning al fresco patio and one of the best sunset views in all of Arabia, creates a unique experience. They also host various activities and events, live music, and Tuesday Quiz Night.
Happy Hour Offer: 5 pm until 7 pm, with last orders at 6.45 pm.
Contact: +97172432274 | Location
Boons Brasserie and Bar
A not-to-miss is Boons Brasserie and Bar, a contemporary yet warm venue with a European-inspired menu built on a passion for the classics, paired with a fully stocked bar. In addition, the family-friendly hotspot also offers innumerable live entertainment options, making it a great place to visit any day of the week.
Guests can enjoy live band entertainment and sway to some classic tunes while creating special moments at Boons Brasserie and Bar. With handpicked beverage choices alongside a European-inspired menu featuring all-time favorites, there is no better place to unwind after a long day.
Happy Hour Offer: 50% off on selected cocktails and grapes or 30% off bar bites – Daily 4.00 PM to 7.00 PM
Contact: +971 7 246 0134 | Location
RBG Bar – Radisson Resort Ras AI Khaimah
Enjoy the convenience of all-day dining and drinking! RBG kitchen & bar is open for breakfast, lunch, and dinner and is ready to serve your favourite dishes from around the globe. Also, they have a vast range of drink options for you.
For breakfast, dig into fresh and balanced options, and for lunch and dinner, choose from a variety of internationally inspired dishes with live cooking stations.
Happy Hour Offer: Offers on draft beer, wine, and spirits – every day 4 pm to 7 pm.
Contact: 07 204 9000 | Location
Czech Pub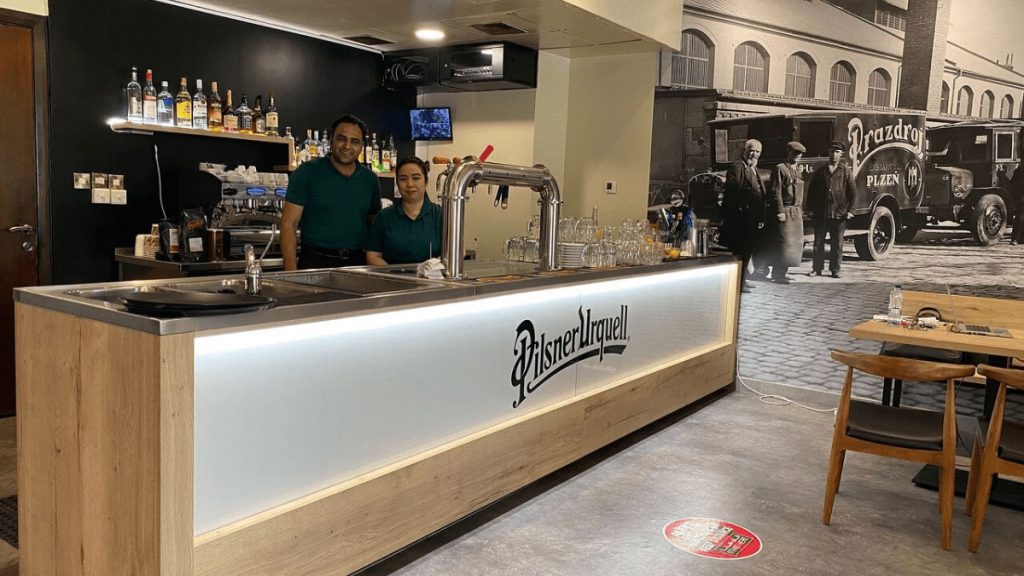 Czech pub and restaurant is a traditional Czech restaurant located in Ras Al Khaimah, UAE. With a dartboard, the Czech restaurant is the only pub selling Pilsner on draught in the whole of the UAE, less than half the hotel's price, with great food! Thanks to the alluring restaurant ambience and encouraging decor!! The pub's interior feels like home for its customers with its authentic and soothing music.
It is the only pub in UAE that serves a Czech draft beer, Pilsner Urquell, along with Czech/European cuisine. The staff at the Czech restaurant handles the correct beer tapping process so that the guests enjoy the full taste of the beer. The uniqueness of Czech beer Pilsner Urquell has been brewed the same way since 1842, depending on traditional purely Czech technological processes.
The beer has a richer colour, full of taste, intense bitterness, and strong Saaz hop aroma fields in Zatec (part of the Czech Republic). The quality of the used ingredients is 100% from the Czech Republic. The pub is such a great find.
Happy Hour Offer: 33% off on the whole menu, Mon – Fri 4 pm to 8 pm
Contact: +97150 865 7595 | Location
NoHo Bar And Grill
NoHo Bar And Grill is a pub that is relaxed and family-friendly throughout the day, the venue seamlessly transforms into an edgy and electric hub as evening falls. Complemented by live entertainment, choose from in-house barrel-aged cocktails, craft beer pairings, thoughtfully selected wines from around the world and gastro-pub offerings.
Complete with the laid-back beats of a DJ and a live Saxophone player, the Brunch kicks weekends off in an electric and trendy style, either inside the urban-themed gastro bar or outside on its terrace, surrounded by the lush greens of the resort.
Happy Hour Offer: 50% discount on selected beverages – Monday to Friday, 5 pm to 7 pm.
Contact: +971 7202 6666 | Location
Anchor Brew & Grill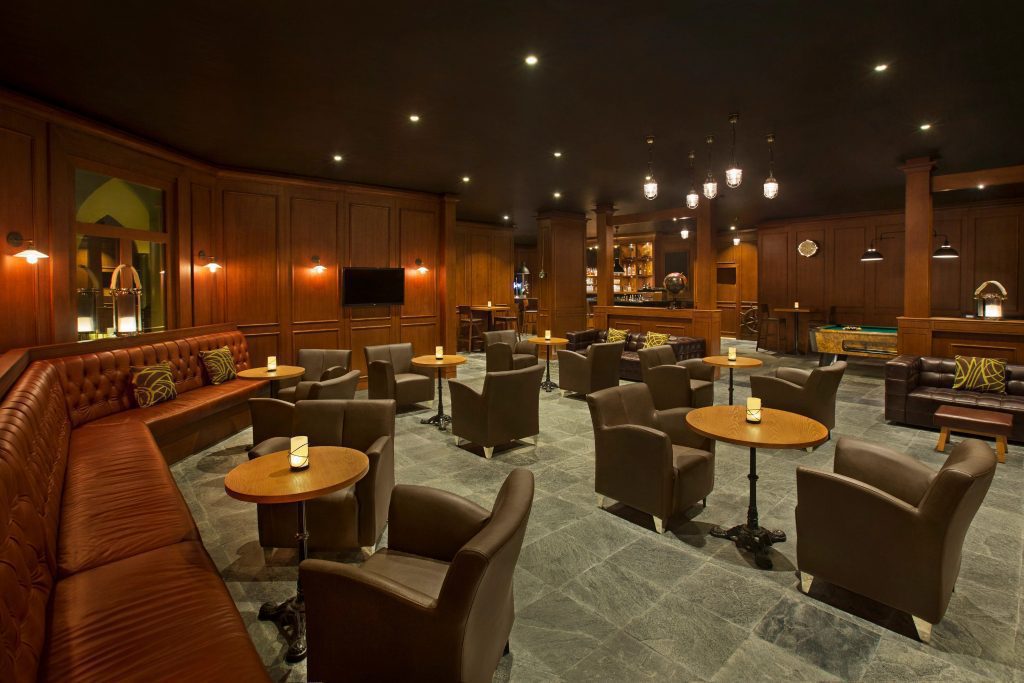 Anchor Brew & Grill, an exciting new upscale bar, has opened its doors to visitors at DoubleTree by Hilton Ras Al Khaimah Corniche Residences this October. The lively outlet boasts a sports bar concept which includes an expansive games area with multiple TV screens showing all major sporting events. Anchor Brew & Grill also offers dart boards, foosball tables and snooker/pool tables for all to enjoy. To ensure guests can see the action from wherever they sit, large TV screens are placed in highly visible areas.
Anchor Brew & Grill's menu offers gastropub delights. Menu highlights include signature ribs, prepared in a wood-burning stove and paired with a selection of homemade sauces. For a perfect dining experience, Anchor Brew & Grill suggests pairing a sauce of your choice with a refreshing beverage from one of the 15 international brands the bar has to offer.
Happy Hour Offer: Buy 1 and get 1 on the same drink – Everyday 5-8 pm except Saturday
Contact: 07 246 9999 | Location
Mango Bar – Mangrove Hotel
Mango Lounge offers an ambience for relaxation and socializing. With live entertainment, signature drinks and unbeatable bar fare. It is the perfect place to be in the evening. You may try this bar to enjoy a perfect evening with family or friends. They have an ongoing happy hour too.
Happy Hour Offer: 50% Discount on selected house beverages – Every week Monday to Sunday – 1 pm- 8 pm & Midnight – 3 am
Contact: 07 2337733 | Location
The Garden Bar – Hilton Garden Inn
The Garden Bar is the perfect spot to grab a bite. Bring along your friends and loved ones for delicious treats. Whether you visit with your friends or family, you will have a gala time here. They have a newly launched mouthwatering selection and options of the Fries menu and the best bar menu.
Happy Hour Offer: Buy 1 & Get 1 free on Beverages – Every Day 6 pm to 10 pm
Contact: +97172288888 | Location
Champs Sports Bar at Action Hotel
Champs Sports Bar is one of the best places in town for sports enthusiasts, this is the place to watch all kinds of live sports and cheer on your favourite team in a casual and lively setting. Champs Sports Bar offers an appetizing menu of finger foods and an extensive beverage menu.
Happy Hour Offer: Enjoy special price on selected beverages from 5 pm to 10 pm Everyday
Contact: 971 7 246 5222 | Location