Listen to this article
Escape to a Tropical Paradise in Ras Al Khaimah
Are you dreaming of a summer vacation that offers the perfect blend of luxury, comfort, and excitement? Look no further than Al Hamra Village Hotel in the picturesque city of Ras Al Khaimah. Nestled between a breathtaking 18-hole golf course and a pristine beach, this enchanting hotel beckons travelers from far and wide to experience an unforgettable getaway. Whether you're seeking relaxation with your loved ones or thrilling adventures, Al Hamra Village Hotel has it all. From the moment you arrive, you'll be immersed in a world of tranquility and indulgence, creating cherished memories that will last a lifetime. Don't miss the opportunity to escape to paradise – book your stay today!
Latest Offers at The Frisky Fox
Oktoberfest
Enjoy five days of German specials at The Frisky Fox!
The much awaited Oktoberfest is happening at The Frisky Fox at Al Hamra Village hotel! Five days of German specials from 27 September until 1st of October! Get the best of authentic German food prepared by Chef Lars Jonkus and German drinks, fund games and more!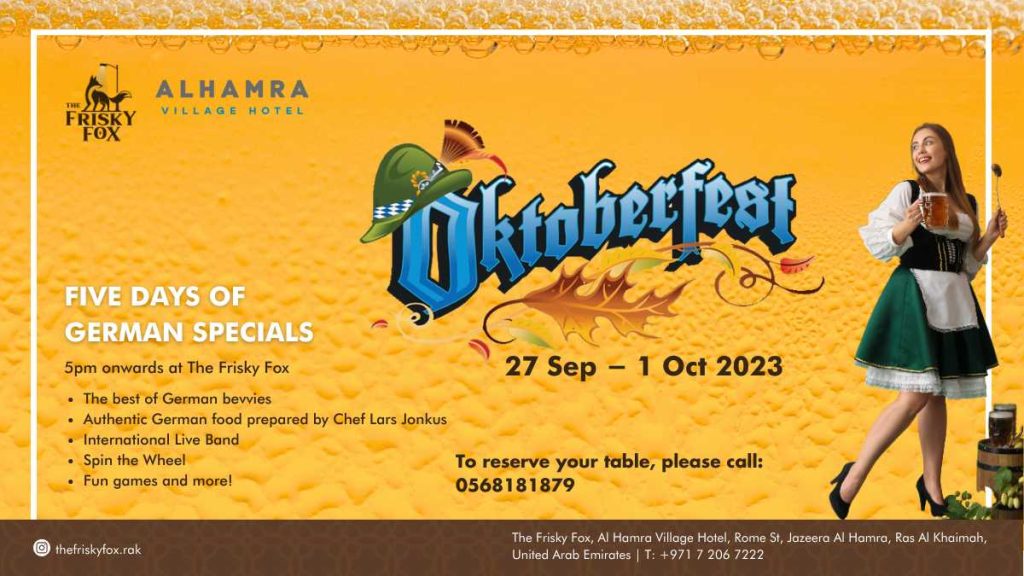 GENTLEMEN'S NIGHT
Every Thursday, gather your tribe and head to The Frisky Fox for night of fun! Buy One Get One Free on all a la carte beverages and chef's specials. Play darts, foosball, watch the best of sports matches or simply sip your drink and chatter.
Date: Every Thursday
Venue: The Frisky Fox
Time: 6pm onwards
LADIES NIGHT
Dress. Dine. Drink.
Ladies now choose your night, or better both! The Frisky Fox RAK now has two days of fun for ladies. On Tuesdays, get a free flow of drinks for ladies for 2 hours for AED 59. On Wednesdays, get 2 Free Drinks, Beverages from AED 15 & 50% OFF on à la carte.
Date: Every Tuesday and Wednesday
Venue: The Frisky Fox
Time: 6pm onwards
EXTENDED HAPPY HOURS
Now enjoy extended Happy Hours at The Frisky Fox!
Monday – Saturday from 2pm until 8pm
On Sundays from 1pm until 12 midnight
Staycation Offers
All-Inclusive Stay
Home Away From Home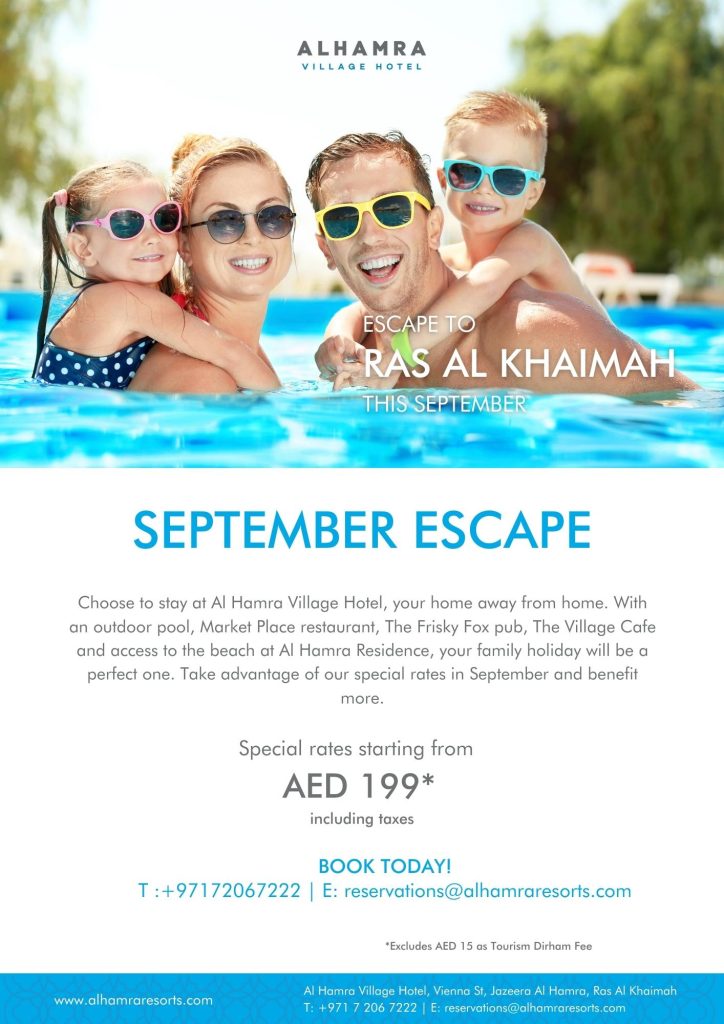 Al Hamra Village Hotel: A Captivating Oasis
Al Hamra Village Hotel is a captivating oasis that offers an unparalleled staycation experience. This charming property boasts 219 exquisite rooms spread across 52 villas, each designed to provide a tranquil and rejuvenating atmosphere. Step outside your door and immerse yourself in an array of leisure facilities. Take a dip in the refreshing swimming pool, savor delectable cuisines at the marketplace restaurant, or unwind with your favorite drink at the Frisky Fox Pub. The Village Cafe provides a cozy setting for a delightful cup of coffee or a quick snack.
Staycation Offer at Al Hamra Village Hotel starting AED 199*
To book your summer staycation at Al Hamra Village Hotel, contact +97172067222 or email reservations@alhamraresorts.com.
FAQs
1. Q: Where is Al Hamra Village Hotel located?
A: Al Hamra Village Hotel is located in Ras Al Khaimah, United Arab Emirates. It is situated in the picturesque Al Hamra Village, overlooking the Arabian Gulf.
2. Q: What types of accommodations does the hotel offer?
A: The hotel offers a variety of accommodations, including rooms and suites, each designed to provide comfort and relaxation for guests.
3. Q: Does Al Hamra Village Hotel have a private beach?
A: Yes, the hotel boasts a private beach area where guests can enjoy the sun, sand, and sea in a tranquil setting.
4. Q: Are there dining options at Al Hamra Village Hotel?
A: Yes, the hotel features several restaurants and bars, offering a diverse range of cuisines and dining experiences.
5. Q: Is there a pool at Al Hamra Village Hotel?
A: Yes, the hotel has a swimming pool where guests can take a refreshing dip and unwind with poolside amenities.
Contact & Location
Contact +97172067222 or email reservations@alhamraresorts.com