Listen to this article
Figuring out your FIFA World Cup 2022 viewing plans just got easier. From live entertainment and exclusive competitions to themed menus and daily drinks specials, Ras Al Khaimah's world-class hotels are getting match ready to fuel your game-day excitement and make the experience truly memorable.
So, whether you're planning to cheer on the underdogs or support your country to victory, check out the viewing locations and enjoy the beautiful game from one of the most diverse destinations in the region.
Here is everything you need to know about Ras Al Khaimah's plans for the FIFA World Cup 2022:
Hampton by Hilton, AI Marjan Island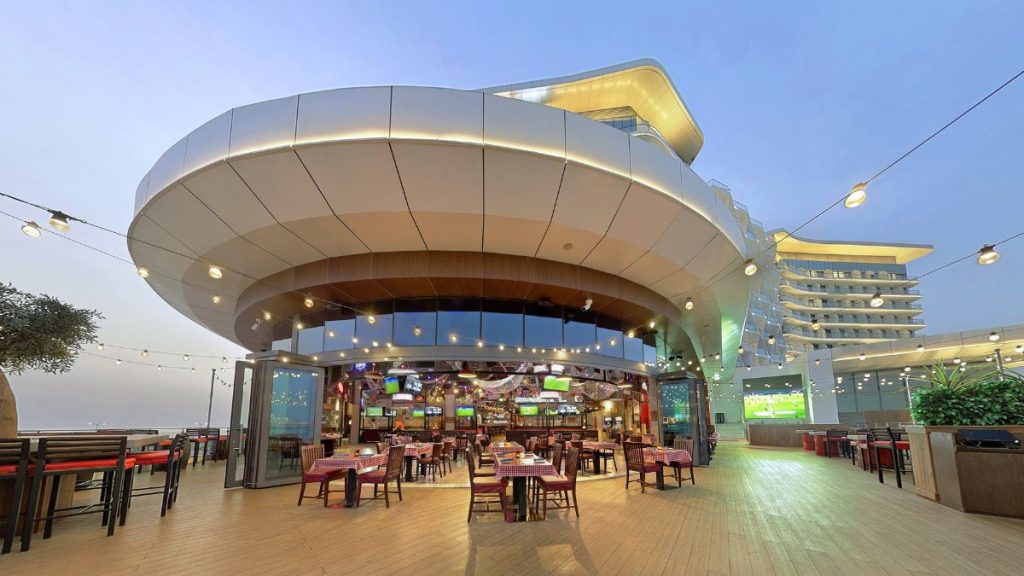 CLAW is the perfect place for guests to get the chance to eat messy, delicious and addictive grills and seafood as well as enjoy the CLAW-some cocktail menu. CLAW gives guests the choice to experience American dinner indoor or open air in the terrace and take in the views of the Arabian Gulf.
Indoors or outdoors, CLAW has a choice for you. Diners can enjoy CLAW's American diner inspired restaurant or at the hidden gem of a terrace, perfect for catching the sunsets or enjoying one of our flavoured Shishas. Not only does CLAW dish up some pretty awesome grub, it also has a belting playlist. For sports fanatics CLAW never misses a goal, punch, kick or game for that matter with its 50" screens around the bar and venue so diners can keep up-to-date with every glory-filled sporting moment. Or take a ride on our Rodeo Bull and challenge your friends to a game of basketball or strength machine, darts, Jenga, billiard or the table foosball. There is something for everyone at CLAW BBQ RAK, in the Hampton by Hilton Marjan Island. Shisha lovers can enjoy exclusive CLAW flavors on the large terrace overlooking the Arabian gulf.
Watch the World Cup games at Ras Al Khaimah's best sports venue – CLAW BBQ RAK, located at the biggest Hampton by Hilton hotel in the world in the world featuring 750m beach, big kids and teens club and a variety of outdoor facilities. With 40 LCD TV indoor screen, huge outdoor LED screens and TV screens covering every corner of the terrace area, guests will be able to choose from 3 different games at a time with commentaries in the dedicated areas.
CLAW BBQ RAK is a 12.000 sq.ft venue with indoor space of 9.000sq.ft and outdoor area of 3.000 sq.ft.
Ability to broadcast 3 different game at same times
CLAWsome promotion and activities
Live DJ performance between matches
World Cup at CLAW BBQ RAK
During the World Cup from November 21st to December 18th, each guest (adult) can buy CLAW BBQ stadium ticket value of AED 100 to secure the games watching spot, this amount will be fully redeemable for food and beverage.
Exclusive World Cup offers:
Budweiser bucket with Nacho libre – AED99
The Champions promo – AED135 (XXRita cocktails or selected Jar cocktails + 2 selected appetizers)
Draft Budweiser beer/Stella Artois – AED33
BBQ Platter – 10% discount
20% discount for all in-house guests on the A La Carte menu
Every guest coming to CLAW BBQ RAK Saturday brunch (1-4pm) will receive 15% discount
Contact – +971 7 209 0000
Doubletree By Hilton Resort & Spa Marjan Island
As the world's most anticipated football tournament kicks off on 20 November 2022, DoubleTree by Hilton Resort & Spa Marjan Island offers the perfect spot to kick back and catch all the action with specially curated meals and deals.
Featuring large TV screens at the maritime-inspired restaurant and bar, Anchor Brew & Grill as well as enormous LED screens at the private beach area, set up exclusively for the season, guests can enjoy the much-loved game as they cheer on their favourite team.
Throughout the game, football lovers can indulge in exclusive offers that include:
Premium hops bucket at just AED 99
2 pints and one bar snack priced at AED 99
Combo – Burger/Chicken wings/Nachos with guacamole + a pint at just AED 79
The award-winning resort is also handing out free shots for all at every halftime with unlimited free popcorn to nibble on during the match. Yes, you heard that right!
Additionally, guests can also linger over the a la carte menu of classics, with a twist, paired with a wide range of beverages, while unwinding across the hotel's relaxing facilities.
For those crazy fans who love to get dressed in their favorite teams' colors; as well as accessories with colorful face paint, DoubleTree by Hilton Resort & Spa Marjan Island is
giving them an incredible opportunity to win a 2-night's stay at the end of the tournament. All one needs to do is take a photo on Instagram and tag @doubletreemarjanisland and the best-dressed guest takes the prize.
Whether you a football fanatic or just tagging along to support your friends, make your reservations today at DoubleTree by Hilton Resort and Spa Marjan Island for an incredible experience of the most-anticipated sporting event of the year.
Contact – +971 7 203 0000
City Stay Beach Hotel Apartments
Looking for great Shisha and a big screen to watch the FIFA World Cup in Ras Al Khaimah? Seaview restaurant and Shisha Lounge is here for you with a great range of shisha flavors, drinks and snacks, an extremely friendly atmosphere, and a spot near their huge screen just for you.
Minimum spend of AED 100 per adult
Contact – +971585960642
Citymax Hotels
Football in Qatar is Kicking off! Catch the action in a roaring stadium atmosphere at The Huddle Fanzone at Citymax Ras Al Khaimah!
Win big with match day drinks, food, and awesome games and entertainment throughout the season. Grab your mates and head down to The Huddle for the World's biggest soccer festival. Follow @thehuddleuae on social to know more.
It's Always a Home Game at The Huddle! Grab delicious offers all season long!
Huddler Platter for AED 99
Budweiser Bucket of 5 beers for AED 79
Unlimited bar bites – AED 150 for 2 & AED 300 for 4
WIN with BUDWEISER
Buy 4 Pints of Budweiser for your chance to WIN instant prizes or a ticket to the FIFA World Cup.
Contact – +971 7 207 3700
Mövenpick Resort AI Marjan Island
The newly opened five-star resort boasts uninterrupted sea views of the Arabian Gulf – perfect for families to relax this World Cup and enjoy the ultimate island experience. Take your pick from spacious rooms, suites, or beachfront chalets and enjoy all the action at the modern brasserie and bar, Boons. Enjoy a special World Cup room rate that includes a guaranteed table at Boons.
Boasting not only one of the biggest screens in Ras Al Khaimah, Boons offers guests plenty of indoor and outdoor seating with live entertainment in between games, games and of course plenty of exciting food and beverage packages.
Grab The Best Deal
Enjoy a 90-minute unlimited hops and wings package for AED 249 per person, an overtime unlimited hops and wings package for AED 125 per person, the 'BBB' offer that includes the Boons Burger & Beer for AED 129, Bottoms Up! House hops bucket for AED 119 and the Draft ALL Game package with draft hops for AED 49
For those feeling lucky, follow Boons on Instagram to guess the score and win daily prizes.
Guests who spend over AED 500 during the match will get the chance to spin the prize wheel for amazing daily prizes
Open daily from 12PM – 3AM
Contact – +971 7 246 0000
InterContinental Mina AI Arab
Located on the sparkling shoreline of Hayat Island, the five-star haven combines idyllic island-style living with the warm hospitality of the region. A dining destination in itself, the resort is home to a wide selection of culinary outlets. For match day entertainment and buzz, guests can head to NoHo Bar & Grill, inspired by the artistic streets of North Houston in New York, perfect for sharing platters and enjoying the latest in mixology and live entertainment. Catch the match on two screens with an electric ambiance, themed meals, drink specials, games, and more!
Hottest Deals
From November 20th to December 18th settle in and get ready to support your team at NoHo Bar & Grill, located on the island resort of InterContinental Ras Al Khaimah. Live the thrill of the 2022 World Cup in an electric atmosphere, with food and beverage promotions, raffles, and live music throughout the festival of football.
Support your favourite team on the field and on your plate with national themed sharing platters from Spain, Germany, Korea and more. Take a chance and predict the final score to enter the raffle with a chance to win daily prizes.
With indoor and outdoor screenings, stay hydrated on the sidelines with a pint of hops from AED 35 or a 3L tower for AED 199.
NoHo Bar & Grill is open daily from 1PM – 2AM
Contact – +971 7 202 6666
The Cellars Ras AI Khaimah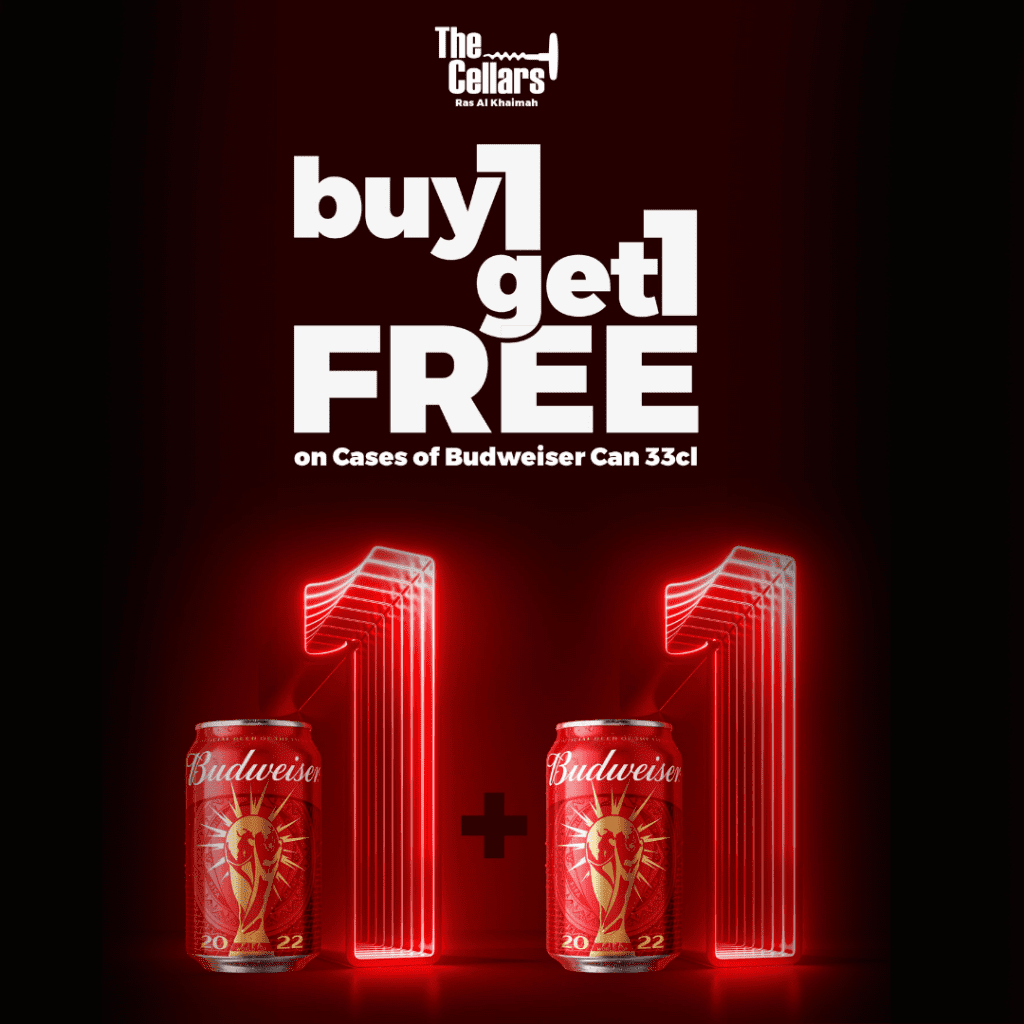 This is the newest open place for you all. They are here to accommodate the LARGEST selection of Beer, Wine, Spirits and Champagne in the region and are open 7 days a week from 9 am to 9 pm.
They currently have amazing World Cup Offers.
Deals
Budweiser offer – Buy 1 Take 1 on can cases – every weekend (Friday -Sunday)
Get 10% discount when you visit the shop wearing your favourite team's jersey
Win an iPhone 14 when you sign up
Contact – +971 7 243 2630
Hilton Ras AI Khaimah Beach Resort
Proudly residing in its own secluded cove and overlooking shimmering views of the azure waters, the award-winning resort calls one and all to enjoy the World Cup while unwinding across the hotel's relaxing facilities. From seven outdoor swimming pools to the sports and water sports centre and spa, there's something for the whole family to enjoy. Set up exclusively for the season, the 'World Cup Fan Zone' will stream all matches at three exciting venues, including Vida Churrascaria, Arriba Rooftop Bar, and XO Bar. With a seasonal menu available throughout the tournament, a refreshing sea breeze, and live entertainment, it is the ultimate place to cheer your team on!
Vida Churrascaria: matches are screened from 2PM – 5PM
Arriba Rooftop Bar: matches are screened at 5PM, 8PM and 11PM
XO Bar: matches are screened at 2PM, 5PM, 8PM and 11PM
Contact – +971 7 228 8844
Radisson Resort Ras AI Khaimah Al Marjan Island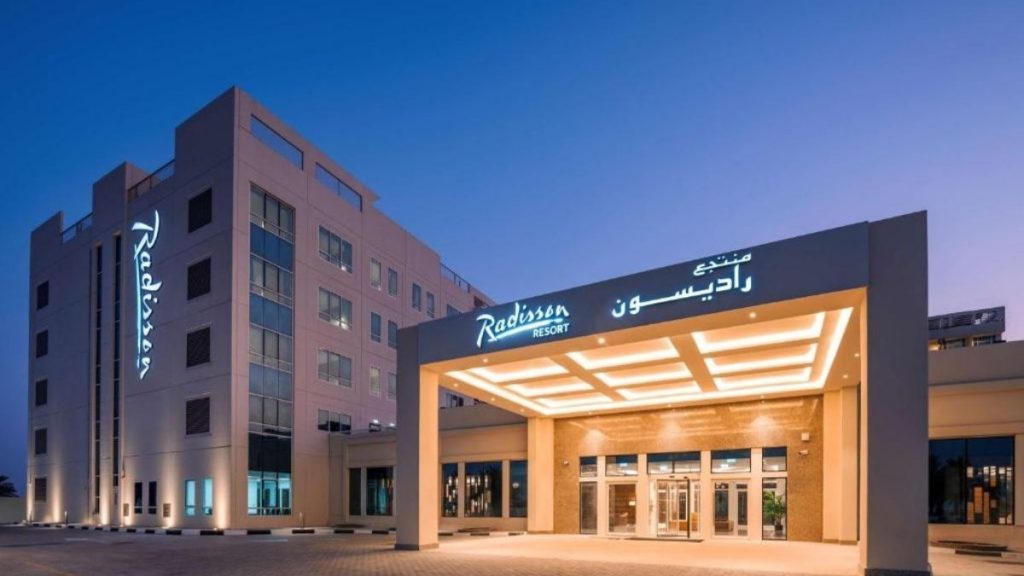 Enjoy a picturesque beachside getaway on the stunning Al Marjan Island, with direct access to the beach, spectacular views of the surrounding blue waters, and plenty of on-site entertainment. Catch all the action at the RBG Sports Bar or head to The Beach for an epic outdoor screening experience. Each venue features a giant screen and can accommodate up to 50 fans.
RBG Bar:
Chill on the beach whilst you cheer your favorite team on the bar's 4m LED screen with live cooking stations serving the tastiest BBQ food alongside daily drinks specials. Guests can opt for the 'all you can eat' package or select individual portions from the a la carte menu crafted by the resort's chefs | Open daily from 4PM – 2AM.
The Beach:
Enjoy the beautiful game on the big screen with your whole family and embark on a culinary journey with live cooking stations, BBQ specials served over open flames, fresh salads, and delicious sides. This can be enjoyed as part of the buffet package or from the a la carte menu alongside daily drinks specials. | Open daily from 1PM – 3AM | Reservations is required.
Contcat – +971 7 204 9000
Action Hotel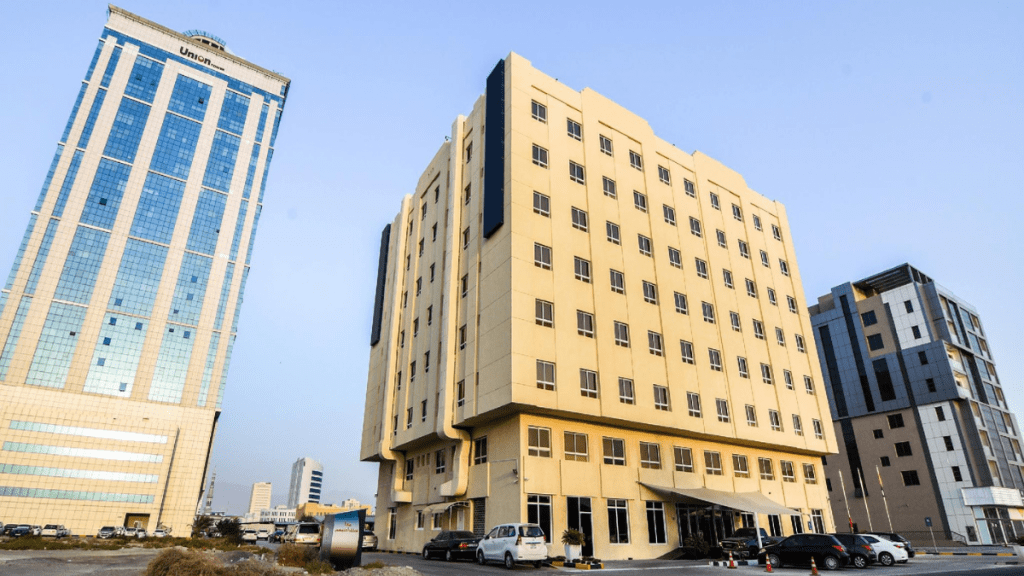 Located in the heart of Ras Al Khaimah, enjoy exceptional Emirati hospitality, a world-class dining experience, and extraordinary comfort. Ideal for families visiting the city or for those looking for an extended stay, Action Hotel will ensure that no match is missed with live screenings and a daily raffle draw at both the all-day dining restaurant Fresh, and Champs Sports Bar.
Champs Sport Bar:
Munch on bar bites from around the world, paired with a wide selection of drinks. Minimum spend during the matches applies and includes two hops and a starter from the hearty menu. | Open daily from 12PM – 2AM
Fresh Restaurant:
Watch your favourite teams compete at this all-day dining restaurant, and indulge in a set menu of international cuisine with Middle Eastern and Indian highlights. | Open daily from 6:30AM – 12 midnight.
Contact – +971 7 246 5222
Marina Muse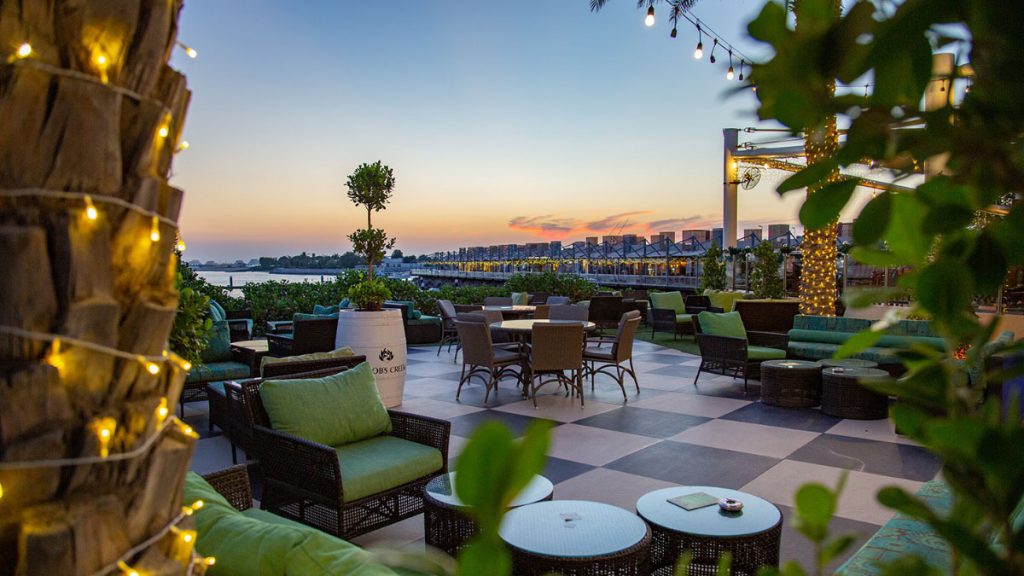 Marina Muse has all the ingredients to relax the mind and entice the palate. Perfectly situated overlooking the picturesque Al Hamra waterfront, Marina Muse combines a wonderfully vibrant atmosphere with a charming selection of tasty bites and fine dining delights. Now, you can even enjoy the FIFA World Cup 2022 at Muse Social House.
You can enjoy anytime from November 20th till December 18th.
Contact – +971 7 243 2274
Mangrove Hotel Ras Al Khaimah
Facing the creek of Ras Al Khaimah, the Mangrove Hotel offers elegantly decorated rooms and suites. It features a swimming pool, free WiFi in public areas and a restaurant offering panoramic views of the creek.
Guests can enjoy the all-day dining restaurant. A second restaurant offers Chinese specialities. The on-site coffee shop also offers shisha pipes.
The multilingual staff at the tour desk can help guests to prepare their visit to the region. Al Safir Shopping Mall is just 5 minutes' walk away.
The local airport is located a 10-minute drive away, whilst Dubai International Airport is an hour drive away. A shuttle service is available upon request.
Now you can
Enjoy and Win during Qatar World Cup 2022 at Mangrove Hotel Ras Al Khaimah in Three different experiences.
The Corner Café
Hookah Lounge
Mango Bar
Contact – +971 7 205 0505
Hilton Garden Inn, Ras AI Khaimah
Relax after a long day of work at The Garden Bar, where our team prepares cocktails, mocktails and all kinds of beverages. Enjoy a cosy atmosphere, fresh snacks and sharing platters. Make the most of the upcoming football games at Hilton Garden Inn.
Watch live screening of football matches at The Garden Bar with attractive food and beverage offers.
Enjoy drinks while watching the latest sports. Best view of creek in Ras Al Khaimah.
Contact – +971 7 228 8888
Al Hamra Golf Club
Be sure to catch all the action off all the 2022 Football World Cup on our big screen at The Bay's Football Fan Zone on the terrace.
Buy 4 and get 1 more on Stella Draught
Budweiser Draught AED25 all day
6 Bottles of Corona for only AED120
Support your team by wearing their supporter's jersey and get 20% of your bill.
Reservations to secure your table for min. spend of only AED500.
Contact – +971 7 244 7474
The Cove Rotana Resort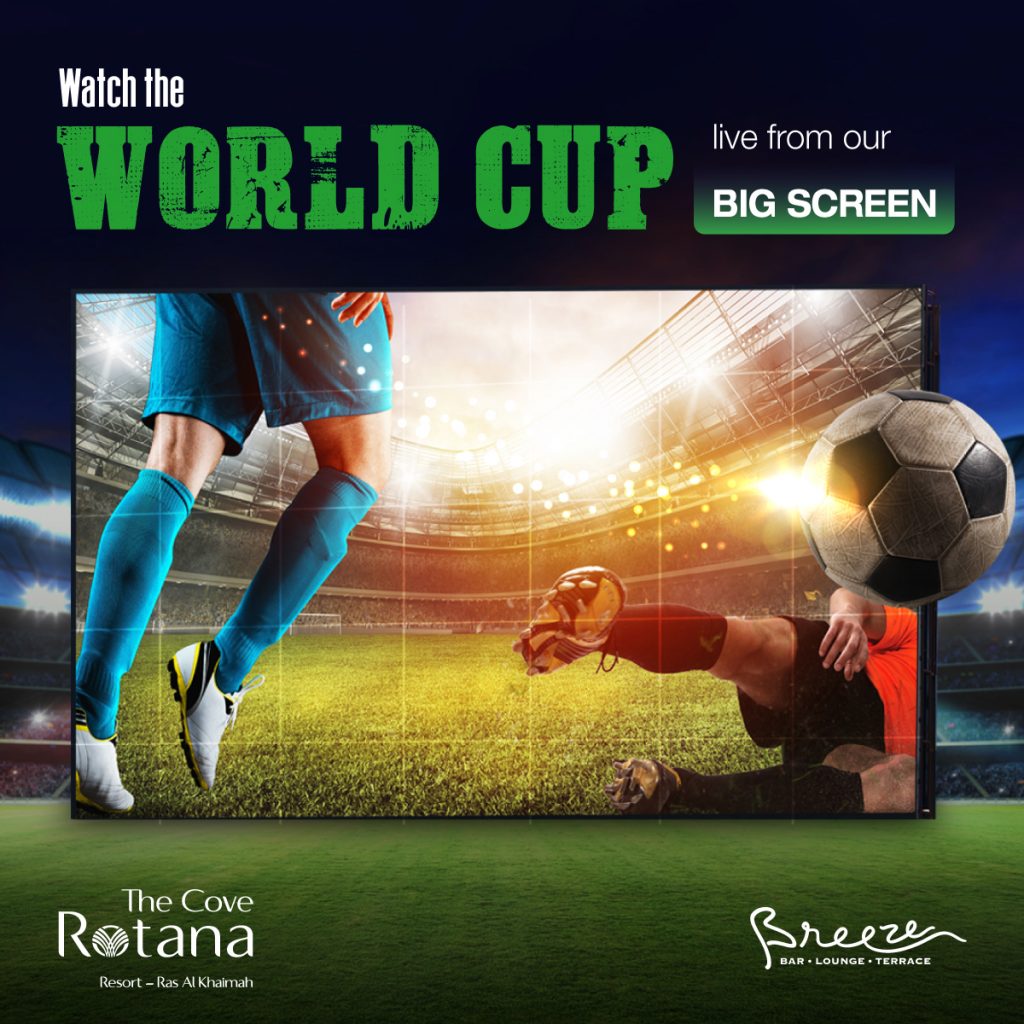 Experience a luxurious staycation at The Cove Rotana Resort with our exclusive benefits and enjoy the most anticipated sporting event of the year!
Catch all the action live from our big screens at Breeze Bar and the resort's terrace overlooking the stunning sea.
The staycation includes:
– 15% discount on rooms, bed and breakfast
– 20% discount on food and beverages
– Complimentary upgrade to the next available room category
Enter our Lucky Draw to win a 2-night stay at Salalah Rotana Resort, Oman, or a 2-night stay at The Cove Rotana Resort.
Watch the World Cup live at Breeze Bar!
Catch all the action live from our big screens as you sip on a selection of beverages starting from AED 22, tuck into mouthwatering snacks and sharing platters.
Shisha is available along with exciting raffle prizes!
Contact – +971 7 206 6000