A leader in its class with organized retail and category segmentation, RAK Mall combines the best in retail with fine dining and entertainment for the entire family.
With local and international fashion brands, jewellery and accessories stores, cosmetics outlets, electronic stores etc, RAK Mall offers an unparalleled experience to residents and visitors to the Emirate. Located on the Khuzam Road.
Developed and managed by Line Investments & Property LLC- a division of Lulu Group International, RAK Mall comes with a built-up area of approximately 700,000 sq. ft and is also noteworthy for its striking architecture, which at the same time is spacious and well-laid. In addition to the Emirate's flagship largest Lulu Hypermarket spread over 200,000 square feet, this Mall also features food court outlets, coffee shops and dine-in outlets, along with the best brands that will complement the entertainment facilities to make the mall destination for those in and around the Emirate – a retail and leisure experience for the family.
Facilities
Open and Close parking area, Mall Directory, Wheel chairs, Utility Payments, Baby changing facilities, Prayer rooms, toilets, escalators, Lifts, handicapped entrance, car was, car service, ATM, Bank and entertainment activities.
Shops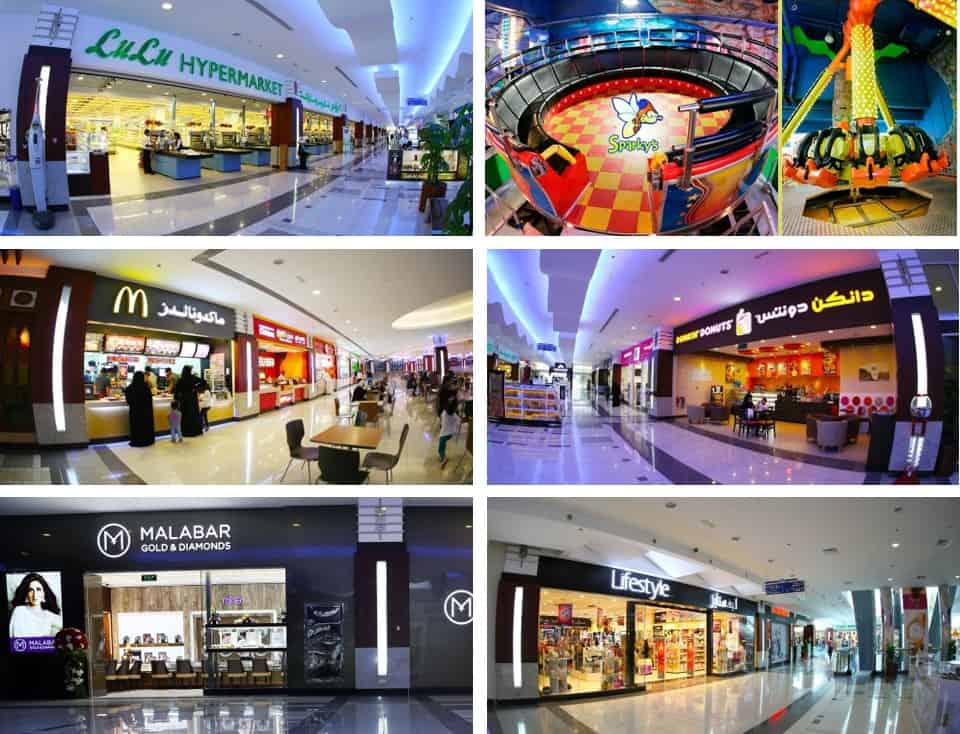 Hypermarket, Food court, Kids Play zone, fine dining restaurants, Jewellery showrooms, Kids saloon, Apparel showrooms, furniture showrooms and much more
Floor Plan of RAK Mall
RAK Mall is a 3 story mall in Ras Al Khaimah with plenty of covered and open parking space. There is currently no valet parking service available. The mall is equipped with access to people with disability.
Ground Floor
The ground floor has Lulu Hypermarket as its anchor store, banks, ATM, coffee shop and many other facilities including covered parking.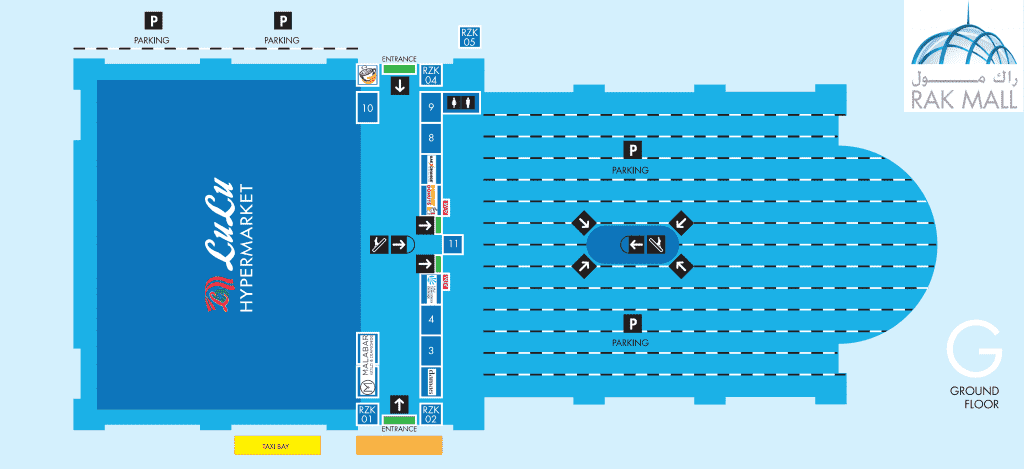 1st Floor
1st floor has Lulu Departmental Store, Matalan and Homes r us as its anchor store along with many well-known brands in apparels, cosmetics, wellness and kids stuff.
2nd Floor
2nd floor has a food court and Sparkys as the main attraction. Main restaurants include Mc Donalds, India Palace and Papa Jones. There is a specified area for Cinema work in progress.
How to Reach Ras Al Khaimah
Only a 45 minutes drive away from Dubai, it is easy to get to Ras al Khaimah. The emirate is also linked to Dubai by free shuttle buses to and from Dubai International Airport and Dubai World Centre Airport, offering easy, direct transfers to Ras Al Khaimah. You can find more information on travelling to the emirate on our Getting Here section.
Incase getting to Ras Al Khaimah by your own transport is not an option check our article on How to travel between RAK and Dubai if you don't have a car
Contact and Location of RAK Mall
Khuzam Road, P.O.Box:2633, Ras Al Khaimah, UAE
Tel. No: +971 – 7 – 207 0300 Fax. No: +971 – 7 – 233 9099 
Email:  reception@rak-mall.com
website: https://rak-mall.com/