Listen to this article
Ras Al Khaimah, a hidden gem in the United Arab Emirates, is now beckoning travellers with a unique and heartwarming campaign. Ras Al Khaimah Tourism Development Authority (RAKTDA) presents 'All About You,' an extraordinary campaign showcasing this Emirate as the ultimate destination for a relaxing vacation. What sets it apart? A charming feline character named Leo, with an inspiring backstory, is your guide to discovering the beauty of Ras Al Khaimah. In this article, we'll delve into this heartwarming campaign and explore the Emirate through the eyes of Leo the cat.
Leo's Journey: From Stray to Social Media Star
Leo's story is not just heartwarming; it's a testament to the compassion found in Ras Al Khaimah. This adorable feline was rescued from the RAK Animal Welfare Centre and soon became a social media icon. His journey from a stray to a star embodies the essence of Ras Al Khaimah—compassion, transformation, and embracing the charm of the unexpected.
A Whimsical Campaign by FABLEfx
To bring Leo's adventures to life, RAKTDA partnered with animation studio FABLEfx. The campaign unfolds through captivating videos and images, taking viewers on a virtual tour of Ras Al Khaimah. Leo's journey is not just a travel guide; it's an emotional narrative encouraging visitors to slow down and savour the Emirate's unique offerings.
Ras Al Khaimah: A Tranquil Oasis
The campaign portrays Ras Al Khaimah as a tranquil oasis—a sanctuary for those seeking solace from the chaos of everyday life. Leo showcases the Emirate's serene beaches, exquisite hotels, and the iconic Jebel Jais mountain peak. With Leo as your guide, you'll discover the allure of Ras Al Khaimah's laid-back charm.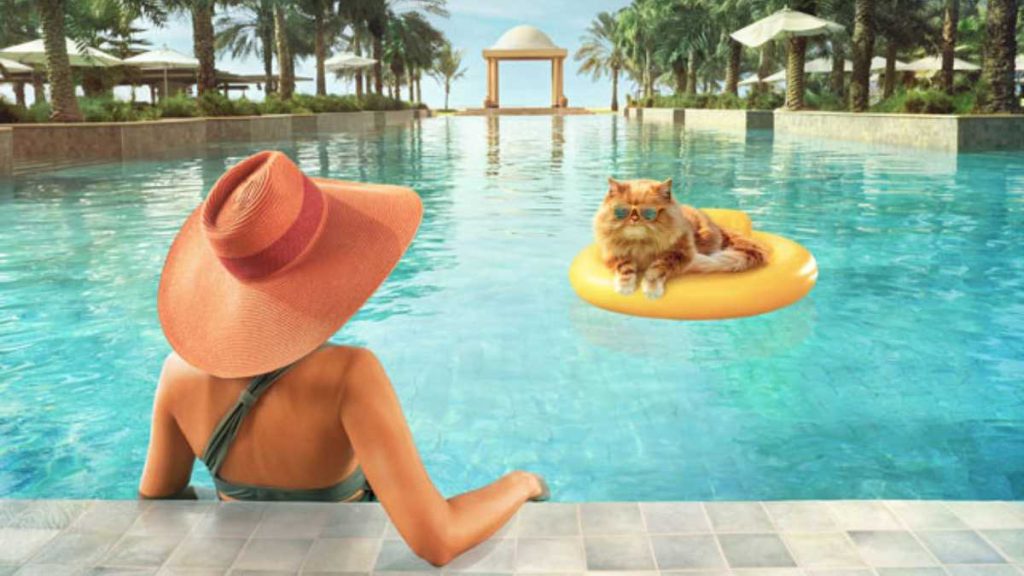 CEO Raki Phillips on Leo's Impact
RAKTDA's CEO, Raki Phillips, believes that Leo's presence will introduce Ras Al Khaimah to a new wave of tourists. Leo's character, rooted in reality and loved by the Emirate's residents, adds a touch of whimsy to the campaign. It's a delightful way to put Ras Al Khaimah on the global travel map.
Leo's Adventure Unveiled: Videos and Images
The heart of the campaign lies in Leo's adventure. The introduction video shares Leo's touching backstory, setting the stage for what's to come. Following this, three short films and captivating images invite you to explore Ras Al Khaimah through Leo's eyes. From tranquil beach days to breathtaking sunsets and mountain escapades, Leo's journey unfolds with grace and charm.
Gamification: Win Prizes with Leo
The All About You campaign goes beyond passive viewing. Visitors to the campaign's website can engage in gamification, adding an interactive element to their experience. Players can win exciting prizes by playing the game, including an all-expenses-paid trip to Ras Al Khaimah and valuable discount vouchers. It's a fun way to connect with Leo and Ras Al Khaimah's offerings.
Conclusion
With his heartwarming backstory and leisurely adventures, Leo the cat invites you to experience Ras Al Khaimah like never before. The 'All About You' campaign is more than a travel guide; it's an emotional journey that encourages you to unwind and embrace the tranquillity of this Emirate. Explore the serene beaches, luxurious hotels, and the majestic Jebel Jais mountain peak through Leo's eyes. Don't miss the chance to engage with Leo through gamification and win exciting prizes. With Leo as your guide, Ras Al Khaimah promises a 'purrrfect' vacation that you'll cherish forever.