Listen to this article
Imagine sitting at a place that is hundreds of meters above sea level. When you look around all you get to see is a panoramic view of mountains and the blue water of the sea below. The breeze at the top refreshes you as you sit and enjoy the landscape
Does this sound like a perfect place to chill and relax your mind? If yes then Al Suhub Rest House is the place you need to go to. This gorgeous rest house which opened last year has become one of the top tourist spots in Sharjah. You get the chance to view the Khorfakkan mountains as you relax in a beautifully built Cloud Lounge.
Khor Fakkan remains the most engaging and unique tourist spot in the UAE. The mountain range and the sea offer a panoramic view. The Al Subah Rest House was planned and conceptualized in 2020 and within a year it was ready for the public. The place has been seeing a huge tourist inflow. So what is all this hype about the Al Suhub Rest House?
What Will You Find At Al Suhub Rest House?
Once you enter the main area you will be treated with many amazing facilities. These include a luxury restaurant where you can enjoy fine dining. All types of cuisine available
The best part of the complex is that it has been carefully designed and built in such a way that you have various viewing points all across.
There's a unique circular structure that stretches across a diameter of 30 meters.
Sparkling water fountains, proper parking spaces (both free and paid), and all other amenities
If you have got kids then nothing to fret about. There's a beautiful play area to keep them occupied. This dedicated fun area has many rides for the tiny tots.
What Are The Timings To Enter Al Suhub Rest House?
Well, you can enter Al Suhub Rest House anytime. Yes, the rest house remains open 24 hours every day. Many people prefer going to Al Suhub Rest House at night to enjoy the mesmerizing view of the sea and the glowing lights. In summer it can be hot during the day especially when you are standing outside the rooftop. So you should plan your trip accordingly.
Al Suhub Rest House Layout
Now let us describe the layout of the Al Suhub Rest House. So this plush property has got two floors. These two floors are spread across an expansive area of 2788 sq m. When you go for a fun outing food plays a vital role. Al Suhub Rest House has got a cafe and a restaurant to cater to your hunger pangs. You can gorge on local delicacies or cuisines across the world.
You will find the food outlets on the ground floor. The Al Suhub Rest House has also got a multi-purpose hall and separate prayer rooms. You will also find enough greenery in several spaces. The rest house has nearly 8000 trees along with many water fountains. So Al Suhub Rest House can be one of the best places to spend your time.
Al Suhub Rest House Location
Al Suhub Rest House is in Sharjah, UAE. You can look at the address of the place on Google Maps and get an exact idea about the location of the place.
How To Reach Al Suhub Rest House?
Al Suhub Rest House is located at a distance of just 11 km from the city of Khor Fakkan. Now Khor Fakkan is a port city that is around 2 hour drive from Dubai. Tourists can avail of cab or bus services to reach Khor Fakkan from Dubai.
Once you reach Khor Fakkan you can go to Al Suhub Rest House easily through a smooth drive along a 5.63 km long two-sided road. This road will take you to the Al Suhub Rest House
For adventure enthusiasts, you can actually hike to the top. It will be a fun ride to reach the top of the mountain through hiking.
Now a common problem at tourist destinations is the lack of adequate parking space. Well at Al Suhub Rest Area is ample parking space. Though the official website mentions both paid and free parking, we read some reviews stating that they had to shell out extra cash to get a parking space. So be wary about the same.
Other Attractions Around Al Suhub Rest House
If you have spent enough time at the Al Suhub Rest House and want to enjoy more then you have got many more options.
City of Khorfakkan
The city of Khorfakkan is actually a hidden jewel with expansive mountains and sea.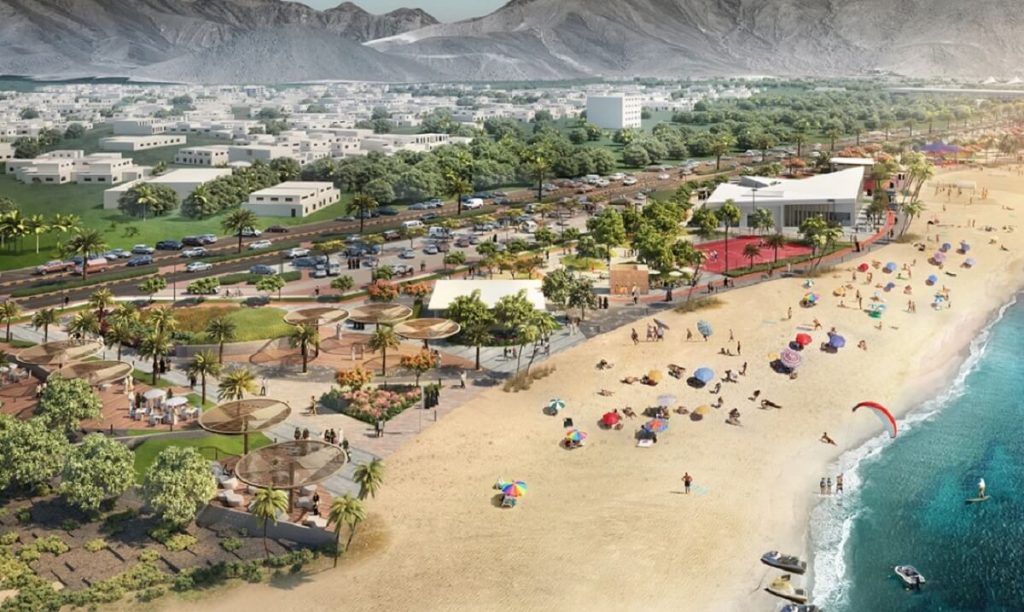 Khorfakkan Waterfalls
You can also visit the Khorfakkan Waterfalls, Khorfakkan Amphitheatre, Rafisah dam, etc.
Let us tell our readers that all these places are located at just a 10-15 minute drive from the Al Suhub Rest House.
FAQ'S
Ques 1) Is it better to visit Al Suhub Rest House in the morning or in the evening?
Ans) Though you would enjoy it at any time when you are at Al Suhub Rest House, we advise you to visit the place during sunset or sunrise. The views will be breathtaking at that time.
Ques 2) Can I visit Al Suhub Rest House for free?
Ans) At the exit if you attach the receipt from the restaurant, it will not cost you anything. When you enter the restaurant, you will be charged 10 dirhams for the hour.
Ques 3) What are the charges to visit Al Suhub Rest House?
Ans) If you enter your car for an hour, the charges are 20 dirhams. So the hourly rate is 20 dirhams
Ques 4) What are the charges for valet parking?
Ans) Though free parking spaces are available they remain occupied most of the time. Only the lucky ones can spot and get a free parking space. For valet parking, you will be charged AED 21.