Listen to this article
At Radisson Resort Ras Al Khaimah-Marjan Island there is no need to go anywhere else to enjoy the best dining experience. Fill up on delicious buffet-style meals all day at RBG restaurant and for flavorful Mediterranean-inspired dishes head to La Med. Eat fresh seafood and fresh fish in The Seafood Shack or sit back and relax on the adjacent shisha terrace. For drinks and snacks anytime, Bake House offers an assortment of snacks, sandwiches and coffee. Relax by the pool and enjoy an ice-cold drink or snack from the Shelf Pool Bar or relax in the RBG Bar, their on-site bar for sports.
Latest Offers at Radisson Resort RAK
Summer Pool & Beach Pass (23rd of May 2023 – 26th June 2023)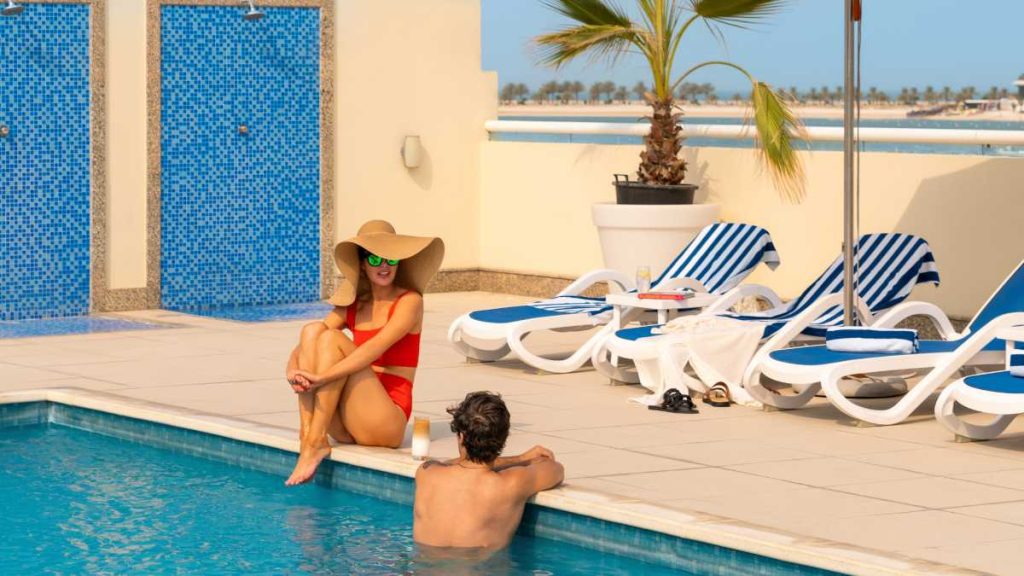 Radisson Resort Ras Al Khaimah, Marjan Island has got you covered with their exciting Summer Pool & Beach Pass. Dive right in and enjoy a refreshing dip in their pristine pool or soak up the sun on the stunning beach. And that's not all – they're throwing in a redeemable voucher to satisfy your cravings for delicious food and thirst-quenching drinks. It's the perfect way to make the most of your summer days!
Splash out on a pool and beach pass, and get a redeemable voucher back to spend on food and drinks.
Here's the lowdown on the details:
Price for Adults (12+ years old): AED 150 net, inclusive of AED 50 F&B credit. You can redeem this voucher at any of their fantastic F&B outlets. So, swim, sip, and savor the flavors!
Children (6 to 11 years old) can join in on the fun too! For just AED 75 net, they'll receive AED 25 F&B credit. Let the little ones indulge in tasty treats and refreshing beverages while enjoying their time in the water.
Children below 6 years old can access the pool and beach free of charge. It's a great opportunity for some family fun in the sun! Each adult can bring a maximum of 2 children along without any extra charges. Additional children can join for AED 50 per child.
Terms and Conditions:
This package is subject to availability and the hotel reserves the right to refuse if the occupancy is high.
Pool and beach access from 8 am to 6:30 pm.
Food and beverage credit can be availed during the access day only.
Children between 6-12 years require to purchase the order.
Children below 6 years can access free of charge a maximum of 2 children per adult extra children can access AED 50 per child.
All accessed children must be accompanied by adults.
Gym and SPA are not included in this package.
The guest can use changing rooms and lockers.
Hotel rooms are not included in this package.
The offer is valid from the 23rd of May 2023 – 26th June 2023
From the Fire Brunch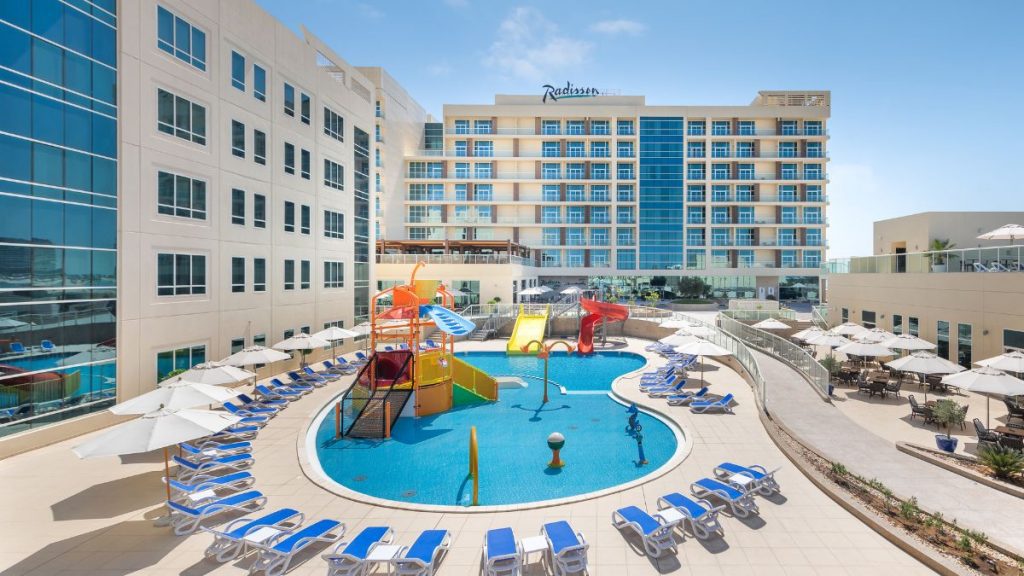 Bringing a new and different addition to the Ras Al Khaimah brunch scene, the "From The Fire" Brunch takes place every Saturday at Seafood Shack serving a high quality and inventive menu of raw bar, small plates, mains and desserts all delivered to the table in style alongside a great range of alcoholic and non-alcoholic drinks. A DJ rounds off the offer playing a mix of chilled tropical beats. Every Saturday 1pm – 4pm
Sun set Sessions at Seafood Shack : (Everyday)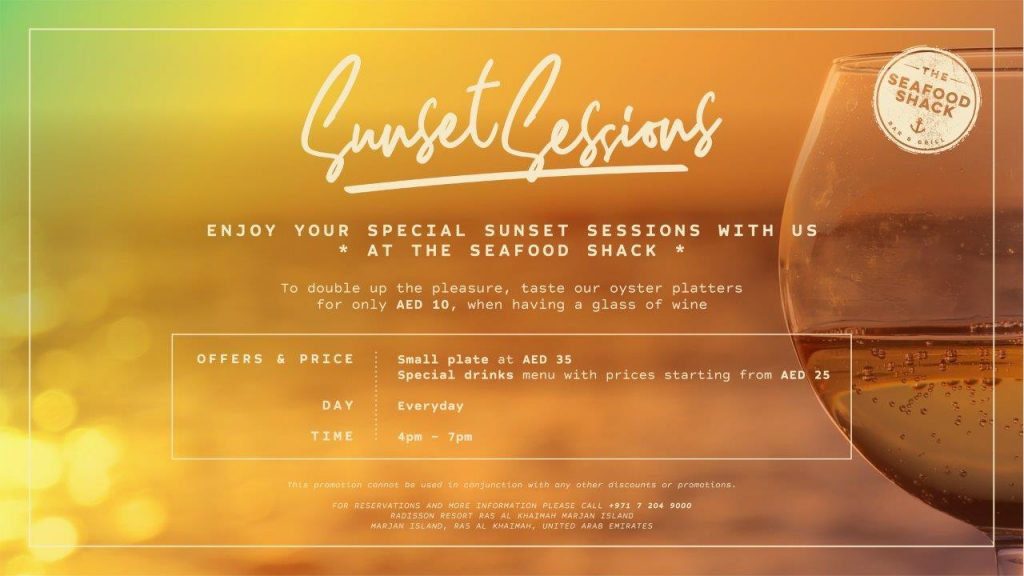 Enjoy your special sunset sessions with us every day from 4 pm – 7 pm at Seafood Shack. To double up the pleasure, taste our oyster platters for only AED 10 when having a glass of wine.
Pizza and Pint
Pizza and a Pint for AED79- La Med Restaurant has set up a brand-new pizza promotion taking place everyday, where guests can opt for a pizza of their choice, along with a pint or glass of house wine.
from 4pm- 8pm.
Happy Hour
All Day Happy Hour available from 4pm daily at RBG Bar where guests can relax indoors or outdoors on the terrace and choose from an extensive list of draft and bottled beers, wines, spirits, and cocktails.
About Radisson Resort Ras Al Khaimah Marjan Island
A Magical and Memorable Beachside Getaway
Are you craving a delightful beachside getaway? Look no further than the Radisson Resort Ras Al Khaimah Marjan Island, located on the stunning Marjan Island in Ras Al Khaimah. With its direct beach access, breathtaking views of the blue waters, and a wide range of on-site entertainment options, this resort promises an unforgettable experience. Let's dive into the details and discover why this beachfront paradise is the perfect destination for your next vacation.
Comfort and Relaxation
The Radisson Resort Ras Al Khaimah Marjan Island offers 388 thoughtfully designed, comfortable rooms and suites. Each room is equipped with fast and free Wi-Fi, in-room coffee and tea facilities, and all the amenities you need to make your stay truly memorable. Whether you prefer a room overlooking the beach or the island, you'll find the perfect accommodation to suit your preferences.
Accessibility
At Radisson Resort Ras Al Khaimah Marjan Island, they understand the importance of accessibility. They offer a range of rooms and amenities, as well as accessible entrances and exits, ensuring that every guest can enjoy a comfortable and convenient stay.
Unforgettable Dining Experiences
You won't need to venture far for incredible dining experiences at Radisson Resort Ras Al Khaimah Marjan Island. Indulge in a variety of culinary delights without leaving the comforts of the resort. Here's a sneak peek into some of the dining options available:
RBG Restaurant: Savor fresh and balanced options for breakfast, and choose from a variety of internationally inspired dishes for lunch and dinner. Don't miss the live cooking stations that add a touch of excitement to your dining experience.
RBG Bar: Unwind at this beach-facing sports bar, offering retro-inspired décor, pub games, and your favorite comfort foods. Whether indoors or on the terrace, you'll find an extensive selection of draft and bottled beers, wines, spirits, and cocktails to enjoy.
Seafood Shack: Discover a cozy and contemporary dining experience featuring internationally inspired seafood dishes and a live fire barbecue station. Enjoy refreshing cocktails and a shisha terrace, accompanied by bespoke drinks and a live DJ during sunset sessions. And don't forget to join their delicious and fun brunch on Saturdays!
La Med: Delight in Mediterranean-inspired favorites at La Med. From fresh appetizers to pizza, pasta, and grilled dishes, you'll experience the flavors of the region. Complement your meal with a selection of regional beers, wines, cocktails, and non-alcoholic drinks.
Bake House: The perfect spot for a drink, snack, or coffee any time of the day. Choose from a variety of pastries, sandwiches, and bespoke coffee while enjoying the cozy and relaxing atmosphere of the lobby bar.
Shelf Pool Bar: Soak up the sun and relish a refreshing drink or a quick bite to eat without leaving the comforts of the pool.
Exciting Activities and Nearby Attractions
Apart from the beach and the breathtaking views, Radisson Resort Ras Al Khaimah Marjan Island offers a multitude of activities to keep you entertained throughout your stay. Here are some suggestions:
Relax on the beach and bask in the warm sun.
Take a refreshing dip in the ocean or one of the resort's swimming pools.
Stay active in the fitness center or indulge in a rejuvenating massage at the on-site Jouri Spa.
Experience the thrill of water sports and explore the sea on a boat trip.
Discover the rich history of Ras Al Khaimah by visiting the nearby Ras Al Khaimah Museum or Fort.
Go shopping at Al Hamra Mall or Souqs in RAK City and bring home unique souvenirs.
Enjoy the vibrant nightlife of Ras Al Khaimah by exploring the bars and clubs in the area.
Contact and Location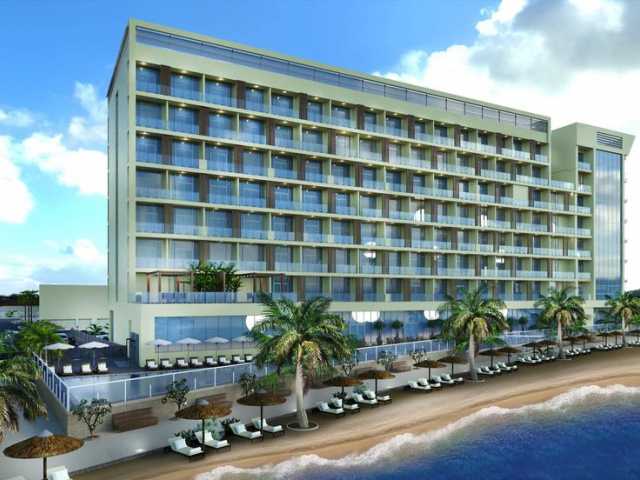 For reservations call: 07 204 9000
Radisson Resort Ras Al Khaimah Marjan Island