Visitors to the UAE frequently overlook Sharjah in favour of its glitzy and glamorous neighbour Dubai, but Sharjah has its own distinct charm. Sharjah, which is rich in cultural attractions and museums, provides visitors with a unique perspective on the UAE and a deep understanding of the culture that underpins the modern nation.
Sharjah is indeed a very family-friendly emirate, with most of its attractions centred on education. In addition to historical sites, museums, and galleries, Sharjah has a plethora of parks, beaches, and other family-friendly attractions, making it an ideal destination for families.
Sharjah, also known as the UAE's cultural capital, is a neighbouring emirate to Dubai. In addition, it is one of the country's major economic centres. Sharjah, despite its proximity to Dubai, has its own distinct culture and heritage.
The place stays high on the tourism radar because of its many museums and opportunities for educational and fun trips.
Best Places to Visit in Sharjah
Al Noor Island Sharjah
This park in the middle of the water is a mash-up of various tastes. The island and the mainland are linked by a pedestrian bridge. The island is illuminated with lights that change colours depending on the time of day. Everything becomes more exuberant in this place at dusk and dawn.
The butterfly house, the island's main attraction, is home to 500 butterflies from 20 different species. The climate-controlled encasement promotes the survival of these insects while also serving as an architectural marvel. The entry fee here, however, is not included in the island's admission fee.
Heart of Sharjah
Heart of Sharjah paints a complete picture of a bygone era that occurred decades ago. This is currently Sharjah's largest heritage site. In its early stages, the location is a love letter to history and traditions. The Al Bait Hotel in Sharjah's heart is an example of how tradition and modernity can coexist. The hotel is a modern take on traditional architecture and design. The hotel is a true representation of the 1950s, from the timber ceilings to the wall finishes and alcoves.
The Al Bait Hotel in Sharjah's heart is an example of how tradition and modernity can coexist. The hotel is a modern take on traditional architecture and design. The hotel is a true reflection of the 1950s, from the timber ceilings to the wall finishes and alcoves.
Khor Fakkan
Despite being surrounded on one side by Fujairah and on the other by the sea, Khor Fakkan is technically part of Sharjah's emirate. It is a solid one and a half-hour drive from Sharjah's main city.
Khorfakkan has one of the country's largest ports. You're likely to see entire armadas of cruise and container ships docked in the harbour. Shark Island, which is a little off the coast, is a great place for snorkelling and diving. The Khor Fakkan beach also has a plethora of options for adventure sports and fun.
This place, surrounded by the Hajar mountains and blessed with lush natural landscapes and stunning beaches, has everything you need to win your heart.
Al Badayer Oasis Sharjah
Al Badayer is literally a palace in the middle of the sands. This oasis with coral-coloured sand is a desert exploration hotspot in Sharjah. With the adrenaline rush of dune bashing, you can experience the Bedouin lifestyle and cuisine. But this isn't just any old desert camp. In fact, this resort is oozing with luxury, complete with swimming pools and business suites.
Sharjah Classic Cars Museum
The Sharjah Classic Car Club owns and operates the Classic Car Museum, which is located near Sharjah International Airport. The museum displays automobiles dating back to the early 1900s. The oldest car in the lineup, a Dodge, was built in 1915. Aside from the classic cars and vintage trucks, there is an old Mercedes Limousine owned by Sharjah's ruler. The museum is divided into sections based on its history and stages of development. This is a must-see for motor heads and classic car enthusiasts.
Mlieha Archeological Center
Human civilization can be traced back tens of thousands of years in Sharjah's deserts. That's an accurate description of Mleiha. It's fascinating to see evidence of social life that once flourished in these desolate deserts, because we usually think of the UAE after its oil discovery.
Mlieha is an archaeological site 60 kilometres from central Sharjah. It will take you about 45 minutes if you drive. Several objects dating back at least 120,000 years have been discovered here, including stone and bronze weapons, pottery, and burial tombs.
Al Mahatta Fort
Planes were not designed to fly long distances without stopping in the early days of aviation. They had to pause and refuel before continuing on their journey. This frequently meant a staycation at the location of the stopover. The imperial airways planes needed an overnight stopover somewhere in the Arabian peninsula area controlled by various sheikdoms in 1932.
This was the birth of the region's first airport. Following unification, Al Mahatta fort became the UAE's first airport. It served as an airport until 1977 when it was replaced by Sharjah International Airport.
Al Qasba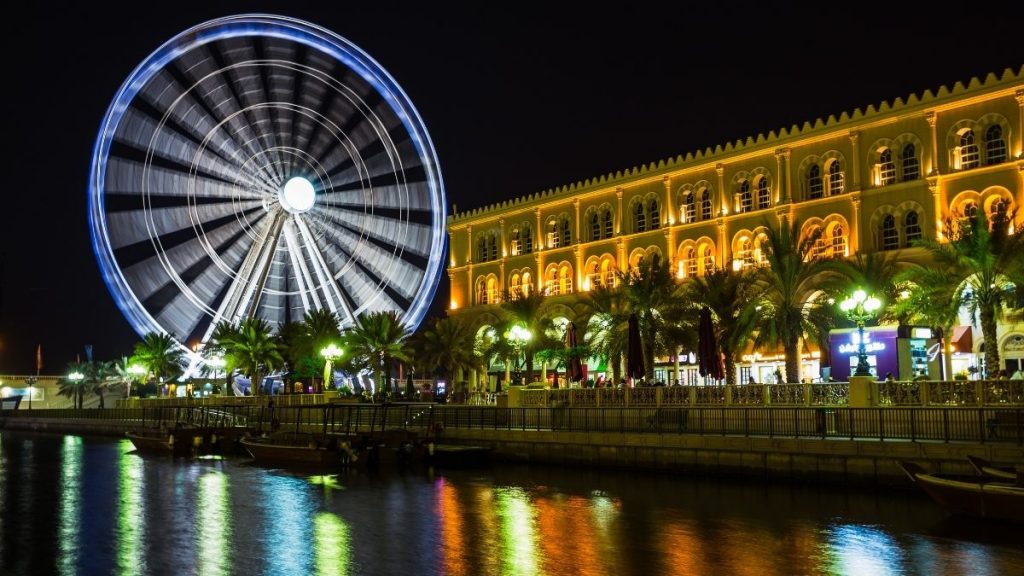 Al Qasba, located near Al Khan Corniche Street, is a popular tourist destination in Sharjah. It is also a waterfront town, similar to but not as large as Dubai Marina. Before moving to the Montazah water theme park, the famous Ferris wheel stood along the waterway here. The largest entertainment district in Sharjah is located along the Qasba canal.
There are numerous art galleries, theatres, and children's play areas. The canal provides traditional boat rides. If you want to sail your own boat, you can rent a water cart by the hour. On the bank, there is another track for Byky karts. Unlike the water kart, which is only permitted for adults, the Byky kart is open to all.
The Buried Village
Although it has no historical significance or anything particularly modern about it, this Sharjah location is notable for the mystery that it holds. The buried village is literally a village lost in the desert sands. The village, or what was once there, was located just outside the town of Madam in Sharjah.
The village is made up of two rows of blue and red houses on either side of a street that has a mosque at one end. They were all constructed in the 1970s. They've been buried in the sand by the wind. Some of the houses have sand covering the tops of their roofs, while others, including the mosque, have their interiors filled with sand to the knees.
Maraya Arts Center
Sharjah is known as the UAE's cultural capital. It has a slew of arts and culture centres and events. One such establishment is the Maraya Arts Center. And a remarkable one at that.
Maraya art galleries use modern art to tell the storey of Sharjah's heritage and history. They also assist the artists by providing workshops and lectures by internationally recognized experts in each field.
Maraya Arts Gallery, 1971 Design Space, Maraya Art Park, Maraya Residencies, Jedariya, and Maraya Project Space are all part of the Maraya Arts Center. Maraya Center initiated the Jedariya project, in which several beautiful buildings were transformed into canvases for artists such as el Seed.