Listen to this article
Here is some good news for Padel Tennis enthusiasts in the UAE. A new Padel Tennis court has opened in DoubleTree by Hilton Resort & Spa Marjan Island: a move that is sure to bring a smile to the faces of fans of the popular hybrid sport.
As everywhere, Padel Tennis is riding a wave of popularity in the UAE, with the sport's appeal transcending die-hard enthusiasts to capture the interest of people who otherwise largely keep away from sporting activities but find themselves drawn to Padel because it is just such a fun and easy-to-play sport, and an extremely sociable.
The resort is offering guests and visitors a fantastic fitness facility with its padel court, perfect for those who love healthy competition whilst getting fit. The exciting new attraction offers shaded seating for family and friends, and an opportunity to admire the panoramic views of the Arabian Gulf.
What is Padel Tennis?
It has grown rapidly over recent years for those not familiar with the sport and is now played by over 8 million players worldwide. A combination of squash and tennis, the Padel Tennis is usually played in doubles on an enclosed court, with the ability to play the ball off the walls with solid, stringless racquets. Padel is a form of tennis that is easy to play, fun and extremely sociable. Regardless of the player's level, padel will bring laughter and enjoyment as well as a great workout without being too demanding physically or technically.
Padel Tennis is a racquet sport played on a court half the size of a traditional tennis court with a walled edge and using modified equipment. The sport originated in Latin America and has so far attracted over 8 million players worldwide. It is played to a large extent in Spain and South America but is seeing high levels of growth in the Middle East and European countries including the UK, Sweden and France.
When it comes to keeping score, you go up 15, 30, 40 as usual. The serve is under the arm, the racket is smaller and more of a flat bat, and the balls have lower pressure. It's often called padel tennis, which can be confusing as there's another less-played sport called Paddle Tennis, which is similar but doesn't use walls.
Benefits of Padel Tennis
Padel convinces by its simplicity and its very high fun factor. The rules of the game are quickly explained and the basic techniques of the individual strokes can be learned quickly without time-consuming training. After 5 – 10 minutes of introduction, you are already there. Padel Tennis is for everyone at any age.
With Padel Tennis, you get your body in shape. There is no sport that brings so much to a denominator. The mega-sport brings together young and old. It promotes coordination, speed, ball feeling, strength and endurance. Padel is fun and keeps fit – physically and mentally!
Price for Padel Tennis court use
The latest Padel Tennis court at DoubleTree by Hilton Resort & Spa Marjan Island is open daily from 7 am – 10 pm
The prices for 1-hour sessions are
50 AED for in-house guests,
100 AED for recreational members and
200 AED for walk-ins.
So, whether visitors just want to book a court for a Padel Tennis game or looking to enter a tournament, DoubleTree by Hilton Resort & Spa Marjan has them covered.  
Pieter Van Beugen, Hotel Manager at DoubleTree by Hilton Resort & Spa Marjan Island said, "We take pride in being a true family resort, with an array of facilities and activities. We follow trends and constantly enhance our recreational inventory to create the best possible experience for our guests. With many UAE residents planning staycations this Summer instead of international travel, we are confident those visiting our resort will have a memorable stay, especially with our latest attraction and our excellent value Summer package for families from just 499 AED."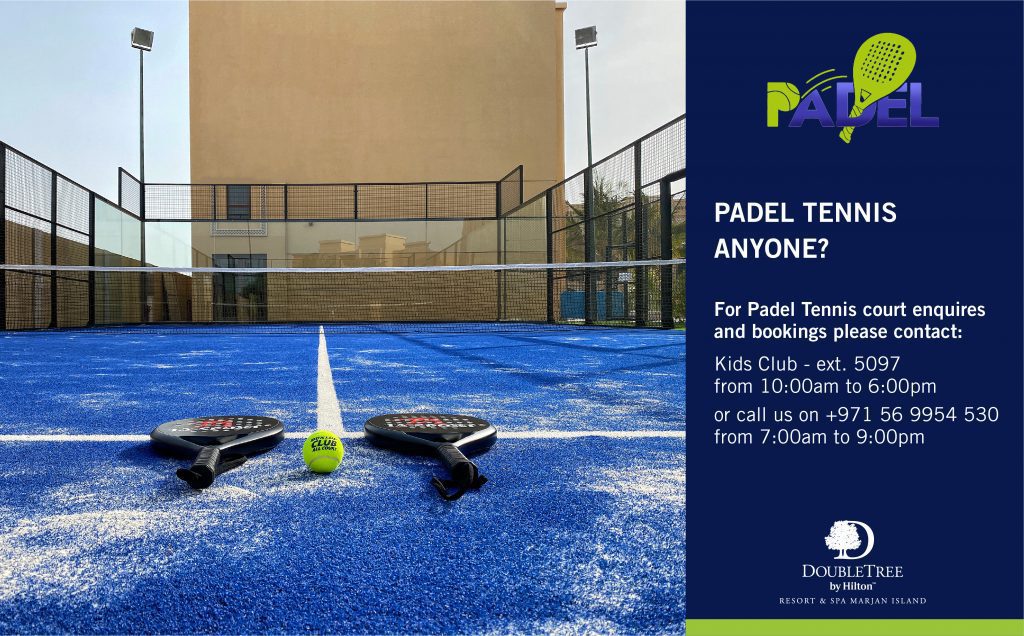 Other exciting recreation activities
For those looking to make the most of their visit to the resort, DoubleTree by Hilton Resort & Spa Marjan Island also offers a Tarzan Boat – adults and teenagers water park featuring two slides, two high dive boards and a rope swing. Plus, those with little ones can sign them up to the Chuckles Kid's Club offering a climbing wall, arcade games and an extensive outdoor playground with swings and trampolines, or why not to the Pirate Boat Aqua Zone, which includes a bouncy castle and gigantic inflatable football darts, providing endless fun for the whole family. Additionally, the resort offers seven temperature-controlled pools, which are great for those looking to beat the heat.
The resort is certified "Stay Safe"
DoubleTree by Hilton Resort & Spa Marjan Island has taken all measures to ensure the safety of its guests and Team Members. The Resort has obtained the Stay Safe Certificate by Bureau Veritas and has implemented the Hilton CleanStay, Hilton's new industry-defining standard of cleanliness and disinfection which reinforces the current standards of housekeeping and hygiene.
Contact and Location
Call: +971569954530 or WhatsApp
[booking_product_helper shortname="wow deal"]