Listen to this article
Czech pub and restaurant is a traditional Czech restaurant located in Ras Al Khaimah, UAE. With a dartboard, the Czech restaurant is the only pub selling Pilsner on draught in the whole of the UAE, less than half the hotel's price, with great food! Thanks to the alluring restaurant ambience and encouraging decor!! The pub's interior feels like home for its customers with its authentic and soothing music.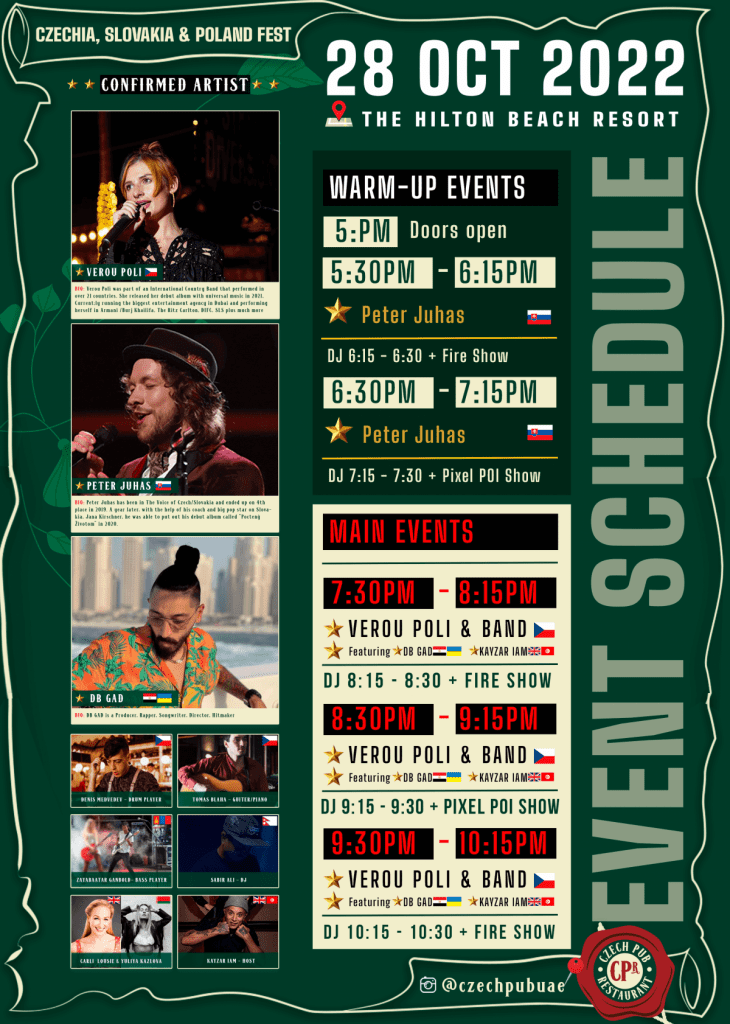 It is the only pub in UAE that serves a Czech draft beer, Pilsner Urquell, along with Czech/European cuisine. The staff at the Czech restaurant handles the correct beer-tapping process so that the guests enjoy the full taste of the beer. The uniqueness of Czech beer Pilsner Urquell has been brewed the same way since 1842, depending on traditional, purely Czech technological processes. The beer has a richer colour, full of taste, intense bitterness, and strong Saaz hop aroma fields in Zatec (part of the Czech Republic). The quality of the used ingredients is 100% from the Czech Republic. The pub is such a great find.
All About Czechoslovak Independence Day & Culture, Music and Food Festival
After the enormous success of the festival in 2021, with more than 500 tickets sold, guess what? They are doing it again.
Last year's event was a huge success. It was blessed with the presence of His Highness Sheikh Saud bin Saqr Al Qasimi, plus more than 500 spectators.
This year on the 28th of October at 5:30 PM, they're going to go bigger and better.
Not just one band. They will have two bands, DJ, Dance Shows, and much more.
There will be food and beverage from the Czech Republic
There will be food and beverage from Slovakia
There will be food and beverage from Poland
There will be food and beverage from the Middle East
There will be entertainment in the Czech language
There will be entertainment in the Slovak Language
There will be entertainment in English
There will be entertainment in Arabic
There will be an incredible experience
There will be a memorable festival
Also please note that there will be a degustation menu for food and beverage at the festival.
Plus much more to be confirmed and announced…
You Must Reserve Your guest list pass before the list is full and closes in 5 days!
For more information, click on this link https://bit.ly/3S018le
Contact & Location
Phone – +97150 865 7595