Listen to this article
Are you looking for a perfect getaway for the weekend or an extended stay in the lap of luxury? We are here to help you shortlist the best places for a staycation in Ras-Al Khaimah. Check out the five outstanding hotels/resorts we have curated that provide world-class service, global cuisines, private pools overlooking the Arabian Gulf, and other locations to choose from for a relaxing time with your family or friends.
The Ritz Carlton, Al Hamra Beach
Ritz Carlton is a brand known for its luxurious hospitality with cordial staff, exotic properties, and Michelin star chefs that promise to give you an experience of living on a dreamy island. This resort is removed from the hustle-bustle of the city. A ferry takes you to the Al Hamra beach which is an experience in itself. Book yourself in their cozy Tent Villas surrounded by lush green gardens, and take a dip in your private pool with a floating breakfast.
For a special occasion or anniversary, the concierge can also arrange a private island dining experience with a live seafood barbecue or an exclusive Arabic gourmet meal. They also have a private cabana that overlooks the lagoon stretching into the serene Arabian Gulf.
Unwind with exploring coral reefs, paddleboarding, kayaking, and fishing with family for a wholesome staycation. Wake up to a beautiful beach morning, rejuvenate yourself with a soothing spa including bespoke body and facial treatments done with locally handcrafted products made from herbs and minerals sourced naturally.
Ritz Carlton, Al Hamra is approximately 18 km from the Ras-Al-Khaimah international airport and 23 km from the city centre.
The Cove Rotana Resort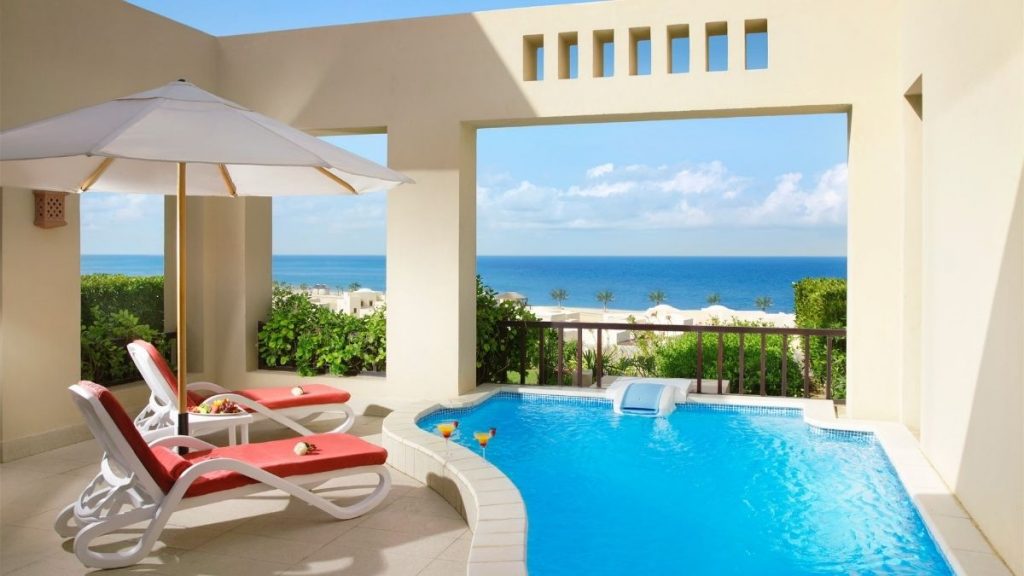 Located on the Raqi beach, the Cove Rotana gives you a feeling of holidaying in the beautiful layered cities of Greece. The Cove offers a variety of activities within the resort which is why it is an ideal staycation. The property has two large infinity pools, 600-meter private beach access, 7 restaurants with casual and fine dining like the Basilico and Cinnamon guaranteed to spoil you with choices, 4 outdoor beach bars, 4 spa and massage rooms to cater to multiple clients simultaneously.
Their private villas with living room access to the pools give you the much-needed private partying space with your family and friends. The rooms are located in the Rotana hills for a truly outdoor experience.
For children, they have a range of fun activities to ensure the little ones have a ball of a time too. Kids can enjoy their day at the baby pool, and water sports at the beach, Flipper's kid's club has a boot camp to ensure they do not get bored. They also have a 24 hours snack bars for light meals, lazy afternoon juices, and shakes to take care of random hunger pangs.
You can choose from their two or three-bedroom villas located in the hills with a garden, and a living room access to the dazzling lagoon offering scenic views of the Arabian Gulf. They also offer a choice of a three-bedroom villa with living room access to a beautiful outdoor gazebo built over a private plunge pool for a fun time with just family or friends.
The Cove Rotana Resort is easily accessible as it is situated 9 km from the city center.
The Ritz Carlton, Al Wadi Desert Resort
Looking for a desert safari and exclusive Bedouin lifestyle? The Ritz Carlton, Al Wadi Desert Resort offers this and more. Sprawled in 100 hectares of a protected nature reserve in the gorgeous sand dunes desert oasis of Ras Al Khaimah, this resort has everything to cater to your senses under the sun. Quite literally! Get the thrill of watching wild falcons in the nature reserve exclusively accessible only for Ritz Carlton guests, sign up for the wildlife safari during the day.
A special dessert dining under the star-lit sky can be organized for anniversaries or birthdays for a private celebration. Feel the cool terracotta desert winds surrounded by rugged mountains and pristine sandy beaches. What makes this property stand out is the amalgamation of historical 5000 years old Emirati past, forts, and abandoned villages that tell a story while you are offered western luxury complete with modern amenities and comforts in the middle of the desert.
Spend a day with your family and friends at the date farm, a camel race track to catch a glimpse of traditional sports amidst the picturesque landscape. Try your hand at archery in the pristine surroundings for a truly Arabic experience.
The Al Wadi is a sister property of Ritz Carlton offering a choice of Arabian or Swiss-style tents with patios and private pools. Savour their farm-to-table cuisines which are super fresh, and tasty, giving you a complete array of Mediterranean eateries to relish.
They have an open sky moon bar for night parties that can be arranged for your family and friends in the lap of nature. There is nothing you would not love about this place.
The Ritz Carlton, Al Wadi is approximately 28 km from Ras–Al-Khaimah city centre.
Banan Beach
Banan Beach is a chalet-type tent property infused with a very beach shack vibe. They offer wooden loft-shaped tents with a private pool, swings, and outdoor sitting. If you are searching for sun and sand, this is the place for you.
Select from Greek-style chalets, colourful loft tents, and small tents located right on the beach with private access. They offer freshly made-to-order Continental and Mediterranean cuisine.
This beautiful property has a very Maldivian resort experience located just a few km away at Marjan Islands from RAK city centre.
Banan Beach also organizes weekend walk-in pool parties with entry fees redeemable on food, drinks, and shisha. Ladies' Day on Sundays with day access to beach and pool enjoyed over unlimited drinks.
Longbeach Campground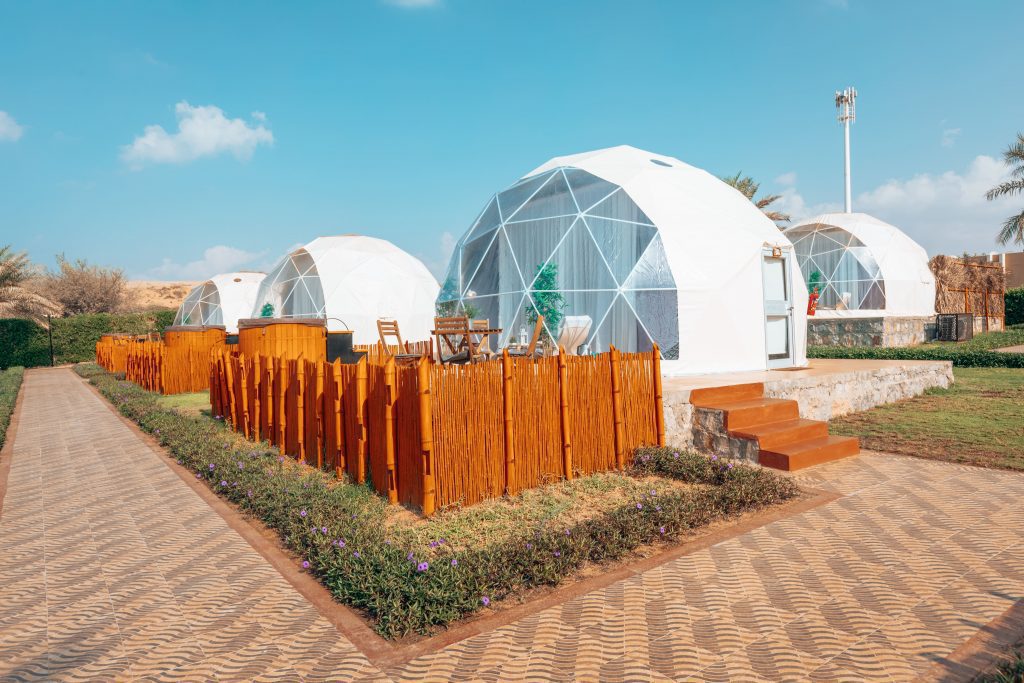 The BM Beach resorts have come up with one of its kind camping resorts at the Longbeach Campground. If you are looking for an adventurous getaway with your friends and family, this is the right property for you. They have a variety of tent options like the authentic deluxe tent, the panoramic dome suite with private jacuzzi, sunset terrace suite with sauna, outdoor jacuzzi, hammock, terrace seating, and direct beach access to panoramic ocean views.
Endless water sporting activities like paddleboarding, kayaking, sea scooters, jet skis, water skis, sup board rides, knee boarding, donut rides, and banana boats on their 300-meter beach stretch exclusive to the Longbeach guests.
Enjoy an infinity pool bar that also serves lunch, dinner, and breakfast for a truly luxurious glamping staycation.
Rejuvenate at their outdoor spas by the beach, feel the sand on your toes, and let your hair down at their starry nightclub with professional DJs to feel like you are at a luxury music fest.
Entertain yourself and your family at their floating theatre which is another unique feature of this property.
Longbeach Campground is approximately 14 km from the Al Hamra Mall.