Listen to this article
Beautiful pools of greenish blue water pour over Ras Al Khaimah's rocky ground. It's placed between both the untamed Al Hajar mountains. The breathtaking rock pools and waterfalls in Wadi Arar result from extensive rains. The location is around 7 kilometres inland and is east of Al Ghail. The pools were created by rainfall flowing from the tops of the mountains and the four adjacent valleys.
Al Hajar Mountains Hold Rain-fed Rock Pools
One of the most breathtaking places on the Arabian Peninsula is the Hajar Mountain range, situated on the eastern side of the United Arab Emirates and northeastern Oman. It is the highest peak range in the area and stretches 700 kilometres across the two nations. Both locals and visitors can drive their SUVs to the location and walk along a hiking trail to get to rock pools.
The resident advised against travelling alone. They must be associated with a team. Travelling on dirt roads in these locations requires caution because the weather might alter them. They should only travel if the climate is favourable.
Never enter a wadi (valley) when it's cloudy or raining.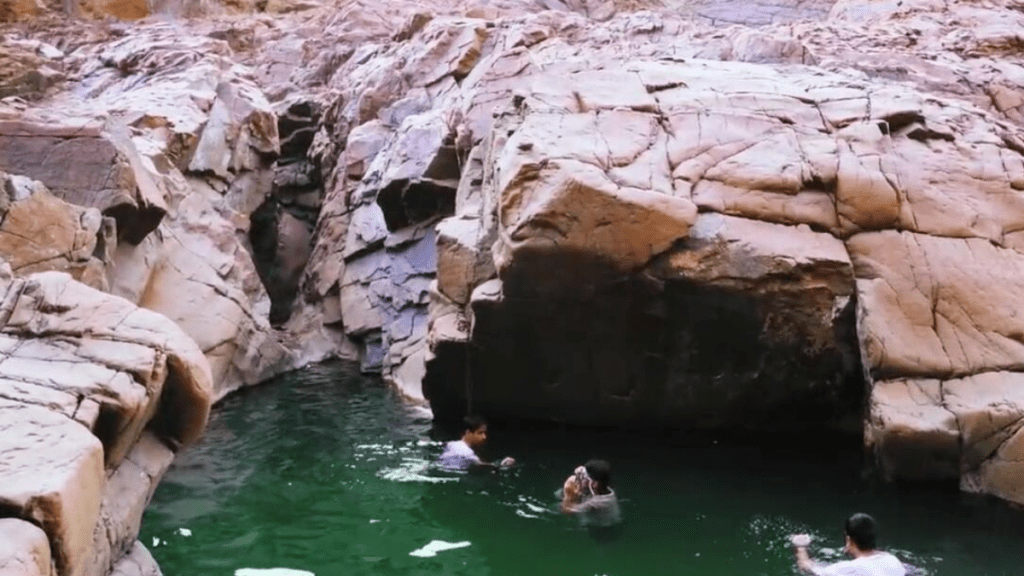 Hatta's Major Historic Site
The Hatta Rock Pools are a stunning collection of bedrocks that nature has formed over thousands of years, and they are Hatta's most important historical landmark. It is a tranquil retreat for travellers seeking a calm and relaxing setting amidst nature. Hatta Rock Pool's water is clear, allowing you to take a relaxing dip while taking in the scenery of the mountains.
When do pools form?
The pools have been forming in the area for"thousands of years", Al Amzrouei said. They usually form after heavy rains."They are generally found at the bottom of the mountains after rainwater flows down," he said.
Ras Al Khaimah had recently received some heavy rains.
"Visitors just need to find the location on the map and then explore with care and safety in mind," Al Amzrouei added.
Safety first
The local said visitors must never go alone."They must be part of a group. People should be cautious when driving on the dirt tracks in these areas as they can change due to the weather. They must go only if the weather is good.
"Never go into a wadi (valley) during stormy or rainy weather," Al Amzrouei cautioned.
Visitors must also wear the"correct shoes and take care when walking in these valleys" as they could slip.
"A first-aid kit should be at hand. Children or older adults shouldn't visit these places."
Are there other rock pools in RAK?
Yes, there are many."The emirate has mountainous terrains suitable for such pools to form," Al Amzrouei said.