Listen to this article
If you've never tried it before, why not discover the many joys of a Hotel apartment on your next trip? Hotel apartments offer the luxury of space and attentive service and many other facilities for better value for money. A Hotel apartment also has all the comforts of home but without the chores required to maintain it. If you don't fancy tripping over your suitcase in a tiny room, then only a spacious hotel apartment will do.
Offers at City Stay Beach Hotel Apartments Ras Al Khaimah
Take your family & your beloved ones for a memorable winter escapade at City Stay Beach Hotel Apartments-Marjan Island, Deluxe King room staring from AED 225/- Room only.
Last date to avail of this offer is September 30th.
Free WIFI access.
Free Beach and Swimming Pool Access
Free Car Parking
15% Discount in Sea View Restaurant.
10% Discount in Spa Center
Variety to choose between Deluxe Room of Twin/triple Beds with balcony or King beds with window and if you are looking for a fully serviced apartment, the hotel has 18 units of one-bedroom apartments and 36 units of two-bedroom apartments.
Beach Day out at CityStay Beach Hotel Apartments
Make the most of your time off work by enjoying all-day access to pools and a private beach on CityStay Beach Hotel Apartments Ras Al Khaimah from AED 99 per person.
Beach access
Swimming pool access
2 Tea breaks
Lunch
Adult: AED99 | Kids (6-12years): AED49
Timing – 10 am to 6 pm.
*Prior booking required
Enjoy Sports & Shisha at City Stay Beach Hotel Apartments
Looking for great Shisha and a big screen to watch your favorite sport in Ras Al Khaimah? Seaview restaurant and Shisha Lounge is here for you with a great range of shisha flavors, drinks and snacks, an extremely friendly atmosphere, and a spot near their huge screen just for you.
Facilities of City Stay Beach Hotel Apartments
The refreshing apartments are modern with airy bedrooms, master suites, living rooms, dining areas and large kitchens that feature everything from a full range cooker with stove, to the latest hi-tech microwave and cooking utensils. Decoration on the walls are carefully chosen works of art, and every apartment has complimentary Internet with both wired and WiFi access and smart televisions with a selection of satellite channels.
Free WiFi in public areas and all hotel rooms
Free Parking available
Unlimited use of recreational facilities (Gym, Sauna, Steam, Outdoor swimming pool, outdoor Jacuzzi, outdoor kid's pool, kids play area).
15 % discount on laundry service.
15 % off on food and beverages in Sea View restaurant.
15 % off on Water Sports.
10 % off on Spa Center.
About City Stay Beach Hotel Apartments, Marjan Island, RAK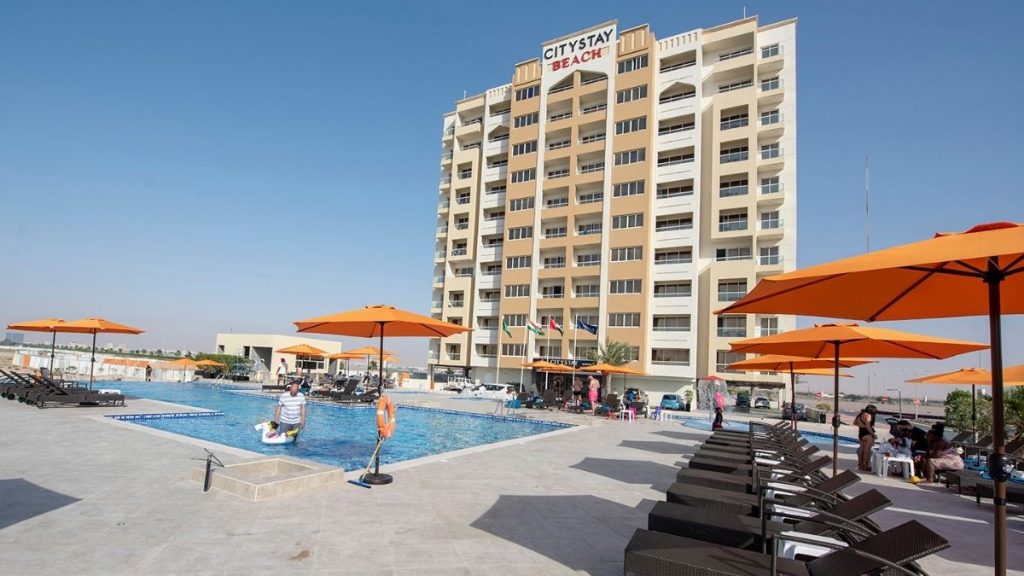 The City Stay Beach Hotel Apartment is the right choice for visitors searching for a combination of charm, peace, and quiet, a convenient position from which to explore Ras Al Khaimah.
It is a comfortable hotel situated on Al Marjan Island. Personalized service is always available to offer any help to guests.
The main restaurant is called (Sea View) with a fancy beach view open for 3 meals (Breakfast, Lunch and Dinner) with an international buffet made by professional, experienced chefs served by a professional hostess who speaks many languages.
Contact and Location
To know more about the offer, contact 07 221 2229