Camping & BBQ at Jebel Jais Mountains Ras Al Khaimah
Ras Al Khaimah is renowned for its many beautiful camping spots, where people can enjoy picnics and barbeques, away from the hustle and bustle of major city centres. When the UAE welcomes the much sought after , colder winter weather, people from all over the country are looking for the best spots to set up their tents, or just lay down their mats to enjoy the magnificent scenery.
Get yourself prepared for one groovy camping in beautiful Jebel Jais Mountains of Ras Al Khaimah.
Spend a night on top of Jebel Jais and enjoy the "sun-kiss-mountain" view, BBQ or bring ready food, star gazing and have late night chatting on interesting topics…maybe someone has some horror story to tell.
Bathroom booths are available there at the location of camping.. so its convenient.
UAE's Tallest Observation Deck

Jebel Jais is the highest mountain in UAE and has the best view on top.
In addition to offering a series of viewing platforms for visitors, the newly opened facility serve as a base camp for hikers and bikers looking to test themselves on the rugged mountain range.
If you are willing to spend, you have zoom at the world'd longest zipline. For bookings and discount availability see the link below: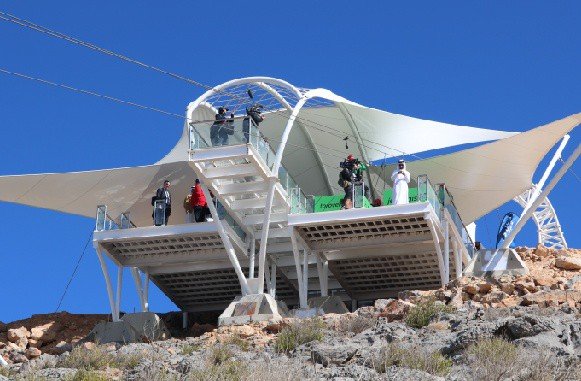 Weather at Jebel Jais Ras Al Khaimah
The UAE's highest peak, Jebel Jais is part of the spectacular Hajar mountains that were formed over 70 million years ago in the eastern part of Ras Al Khaimah, United Arab Emirates and Oman. Towering at 1,934 m above sea level, Jebel Jais boasts breath-taking vistas, thrilling adventures, and a welcome respite from the heat with temperatures around ten degrees cooler than sea level.
Ras Al Khaimah's Jebel Jais, at 1,934 metres tall, usually records weather temperatures that are 10°C cooler on average than other popular landmarks across the country.
During summer months, temperatures at all the major landmarks across the emirates average between 43 – 45°C while at the Jebel Jais summit temperatures reach a moderate 31°C during the day time and 29 °C during the late afternoon.
While visitors and residents looking to escape the heat with indoor activities across other areas of the UAE, weather at Jebel Jais offers the opportunity for travellers and residents looking for outdoor adventures and diverse scenery at significantly cooler temperatures than at sea level, and incredible views of the stunning Ras Al Khaimah landscape.
Nature and Ecosystem at Jebel jais
Ras Al Khaimah has multiple eco-systems across its sandy deserts, coastal strips, salt flats, mangroves and mountains, making it a fascinating place for nature lovers.
Jebel Jais mountain is home to a number of mountain goats, camels, foxes, wildcats as well as hundreds of bird species. After the winter rains, the mountains of Ras Al Khaimah burst into colour with purple lilies, wild irises and white daisies. The Sidr tree, highly appreciated for its medical use, can also be found in the Wadis. Its pollen also attracts bees that produce excellent mountain honey.
Wadis at Jebel Jais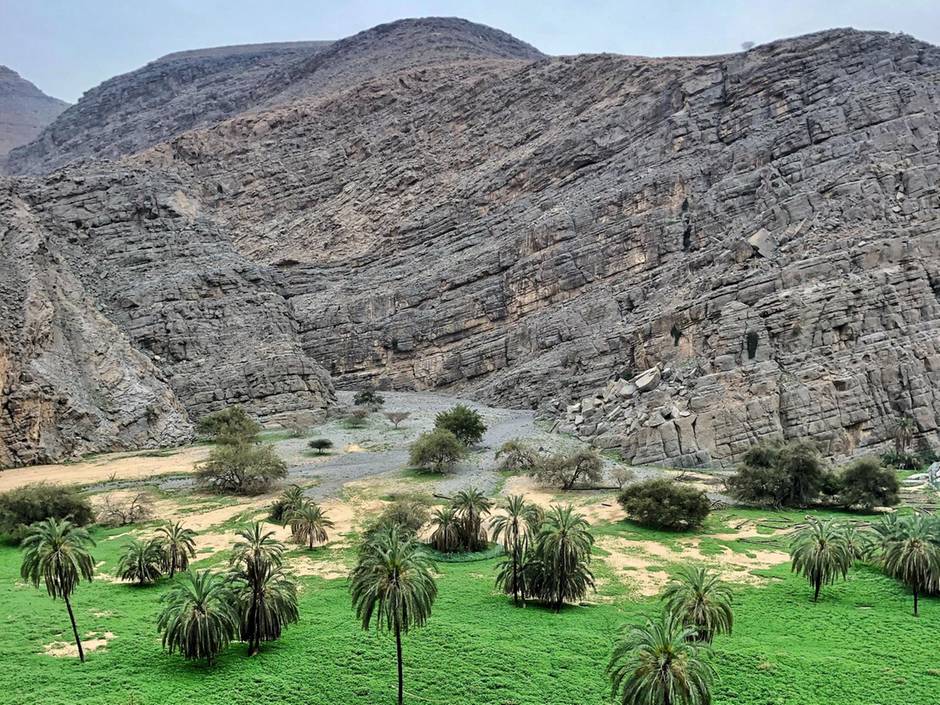 Wadi is the Arabic word for 'valley'. These Wadis often get filled with rainwater in winter and some are full even during summer. After the rains, Wadis become more fertile turning green with the local flora giving it a fantastic landscape. This then becomes the perfect spot for locals and tourists to take spectacular pictures or camp by the springs. Some of the popular Wadis in Jebel Jais and Hajar mountain range are the Wadi Shahha, Wadi Albih, Wadi Ghalilah, and Wadi Sham.
Camping at Jebel Jais Ras Al Khaimah
Jebel Jais Ras Al Khaimah is also one the best camping spots in the UAE. There are several areas along the route of the mountain that are great for pitching a tent and setting up a barbecue.
Camping is a popular weekend pastime for many in the UAE, especially in Ras Al Khaimah where temperatures are cooler. But, before going on a camping trip at Jebel Jais for a weekend getaway with family and friends, it is important to make a checklist of all the essentials you may need, as well as ensuring that all the camping equipment meets safety standards. But the to-do-list does not stop there and once you hit base, it is vital to take all the necessary safety precautions to ensure you have a safe camping trip.
Many campers stay the night just to catch a glimpse of the rising sun over the rocky mountain. Just keep in mind that bonfires should be made in fire pits and barbecues must be done on a grill or you could get finned.
Option 1: Do an evening camp, spend some time with family and friends and come back late at night. Enjoy the sunset views, prepare some BBQs, do stargazing and return home without compromising sleep on your luxury bed.
Option 2: Spend one night on top of Jebel Jais and enjoy the "sun-kiss-mountain" dawn and dusk view, BBQ, star gazing and have late-night chatting on interesting topics…maybe someone has some horror story to tell.
Jebel Jais Camping sites
One the way to Jebel Jais there are many options for campsites depending on your preference and camping experience. For first timers there are 3 dedicated campsites established by government. These sites have plain ground, parking, toilets, shades and clear rules.
If you are an expert camper, there are literally unlimited areas with best views to camp. you can park your car and camp just at the foot of mountain, or drive all the way up and find a serene place to spend the night under the stars.
Facilities available at Jebel Jais for campers
For advanced campers, there are many places on the way to the top to set up camping tent and barbeque. For newcomers, however, there are 3 special campsites set up by authorities. These sites are levelled for convenience and have the following facilities: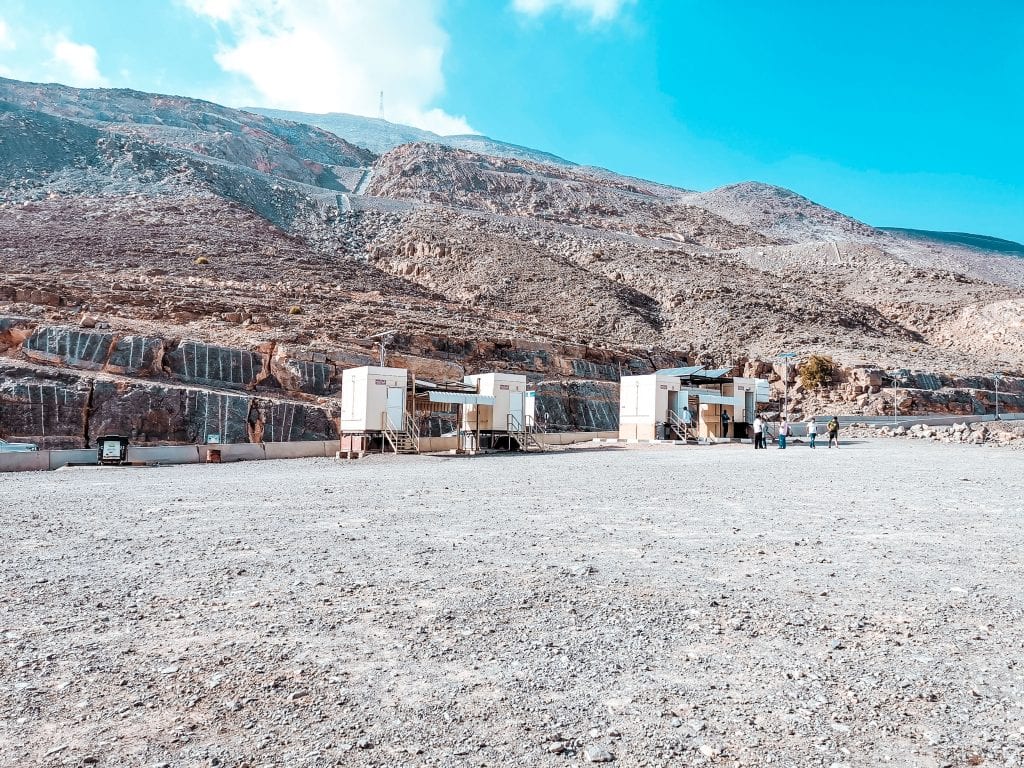 Free Parking available
An open structure created for shade
Separate toilets for male and female
Easy access to some shops and cafe (near viewing deck)
Necessary Inclusions for camping at Jebel Jais
For those who haven't been in camping before you will need to put the following on top of your checklist:
1. Moderate size tent for 2 (200x150x110) cm or smaller, you can buy it from any hyper market, ACE, or souq.com
2. Blanket, pillow, towel, slippers and comfortable shoes.
3. Extra set of clothes
4. Wet wipes
5. Power supplies (Power bank, batteries, etc.)
6. Food
7. Water and beverages
8. Moderate size mat…..or fold up chair (optional)
9. Utensils (disposable plates, spoons, forks, knives and cups)
You can also bring:
1. Sleeping bag
2. Torch
3. Barbeque equipment for those who want to grill
4. First Aid Kit
Jebel Jais Location
The Jebel Jais peak is located in the Hajar Mountains towards the northern side of Ras Al Khaimah.
If you are driving yourself, on Google maps search for "Jebel Jais Viewing Deck Park" or exact plus code W4QJ+3G Ras Al-Khaimah, Ras al Khaimah
Do not search for only Jebel Jais or Jebel Jais Ras Al Khaimah, as it might lead you to a way via Oman. This is some misrepresentation on google maps and authorities are working on rectifying it.
You can always use this map below
How to reach Jebel Jais from Dubai?
Jebel Jais is the highest mountain in UAE and has the best view on top. Road is very smooth and well platform you won't need an SUV or 4X4 cars to reach there.
Private or Rent a Car
The mountain range of Ras Al-Khaimah is around 60 km away from Ras Al Khaimah City Center, making driving a viable option for travellers and locals alike.
Taxi
Taxis are easily available in most parts of Ras Al Khaimah, as well as other emirates of United Arab Emirates. Al Hamra taxis are cream-coloured and licensed by the Government. All taxis are use meters, are air-conditioned, and comfortable. You can book a taxi within Ras Al Khaimah by simply calling Al Hamra taxi services at 8001700. All taxi drivers speak English. Dubai is approximately 256.5 km by road from Jebel Jais and a taxi could be an option for visitors.
Metro
If a private car is not an option, you could always use a combination of the metro, bus and taxi to reach Jebel Jais. Visitors from Dubai can get onboard the Red Line at the Nakheel Metro Station and get off at the Dubai Deira Terminal. Hop onto buses C-19, C19, or C26 to travel to the nearest stop (Ras al Khaimah Bus Station) and take a taxi from there.
Public Bus Transport
Several bus services are available for visitors from Dubai. Bus 17, C-19 and C-26 are the main buses that run to Ras al Khaimah bus station from Dubai. These buses cost around 20 to 25 AED and could take up to 2 hours. Visitors can take an hour-long taxi from the RAK bus station.
Shuttle buses
There are regular shuttle buses from Ras Al Khaimah City, Al Hamra area and Al Marjan Island to Jebel Jais daily for a fee of around 20 AED. These shuttles are offered by the Ras Al Khaimah Tourism Development Authority (RAKTDA). Visitors can buy tickets on the bus or book them online at Visit Jebel Jais.
Car Pooling
If you dont have a vehicle or you dont drive, make friend with somebody who can accompany you for your night adventure. The more the merrier.
More details related to Jebel Al Jais
To cuck out further news and updates about Jebel Al Jais Ras Al Khaimah click here
---
---