Listen to this article
Looking for a sunny getaway, but can't afford the flight? Beach, please! There are plenty of stunning beaches within two hours of Dubai, so grab your flip flops and sunnies for a day trip to one of these beauties. Don't forget the suncream though!
As restrictions ease and crowds flock on the roads, we all want one thing, to flee the city and escape to a quiet beach. Far, far away from the rabble, and the blistering furnace weather. We want less cityscape and more secluded coves, secret bays and sunny golden sands.
If you are ready to swap that city smog for the sea breeze we've lined up some of the best beaches (Public, Private and Hidden) in Ras Al Khaimah!
Here the 50 beaches of Ras Al Khaimah from the North tip of Oman border to South RAK reaching UAQ
Al Jeer Beach
The northernmost beach of the UAE, just near Oman Border near Al Jeer Port. The is scenic and the water is clear with perfect waves. There is a stone walkway with benches. There are few farm houses nearby owned by locals in case you wish to stay. We could see people swim, boat and drive their ATBs on the sand. There are no toilets, lifeguards and public facilities.
Location: https://goo.gl/maps/t7VgLZUZpFgeC8uq6
Shaam Beach
A few people know about this peaceful place with mountain views. Located near Shaam Hospital, this brown sand beach can be a good option for camping. You may find horse riding and boating vendors. There are few shops, restaurants and a gas station nearby. There are no toilets, lifeguards and public facilities.
Location: https://goo.gl/maps/qFZF4QcWYFiHw1ky9
North Ghalilah Beach
Watch the last rays of sun disappear into the sea from this glorious, west-facing beach. This shore is very clean and has dark coloured gravel instead of sand. The view is amazing and the place is probably good for a fishing trip. There is an Aswaq supermarket nearby. There are no toilets, lifeguards and public facilities.
Location: https://goo.gl/maps/knmbKhruRwMShx148
Ghalilah Sea View
This beach offers great views of Ghalilah mountains and romantic sunset. Great place to take a swim. It's a bit offroad and a secluded place far from any shop. We felt that the waves are large and noisey. There are no toilets, lifeguards and public facilities.
Location: https://goo.gl/maps/qZKCLueWLivSGSF7A
Ghalilah South Beach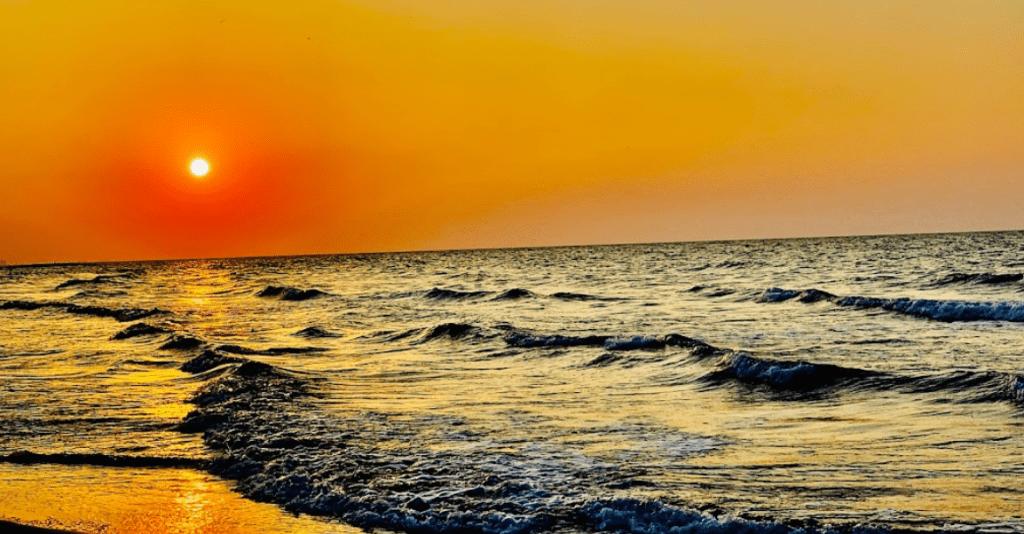 Although it offers breathtaking views, Ghalilah South Beach is a bit hard to reach because of the rough terrain. The place is near a water treatment plant and may not be pleasing to spend longer times. This shore is far from local inhabitants too. There are no toilets, lifeguards and public facilities.
Location: https://goo.gl/maps/dM3g2Y1TrAuDPpyK6
Khor Khwair
Situated along a rural populated area, Khor Khwair is a shallow seaside with mind-blowing views on the right and Saqr port scenes on the right. The place is great for an evening walk. There is a small but beautiful mosque and fishermen's port marina with parked boats. There are no toilets, lifeguards and public facilities.
Location: https://goo.gl/maps/qLNqm3Kiao5CU41x9
Hulailah North Beach
A great choice to escape the crowds, Hulailah North beach is unusually surrounded by big factories from 3 sides. Yet it is far enough to give you peace and calm. You can see many yachts and jet skis wandering in the clear water. There are no toilets, lifeguards and public facilities.
Location: https://goo.gl/maps/EZtrFLHC8gnwzbVJ9
Khor Khwair Heritage Village
If you're craving sheer seclusion, treat yourself to Khor Khwair Heritage Village. This is a shore with the remains of a few raw old houses. It is so organized it sometimes looks like a movie set. These abandoned beach houses are fascinating and soul calming to spend time. There are no toilets, lifeguards and public facilities.
Location: https://goo.gl/maps/NV5sJdHFy6ZzZNs97
Hulailah Beach
You can see a small old anchor ship right on the Hulailah beach. The place has undoubtedly beautiful views of the ocean on one side and magnificent views of mangroves on the other. There are no toilets, lifeguards and public facilities.
Location: https://goo.gl/maps/BsmFHmLp8QSdHaPy8
Khor Al Qantara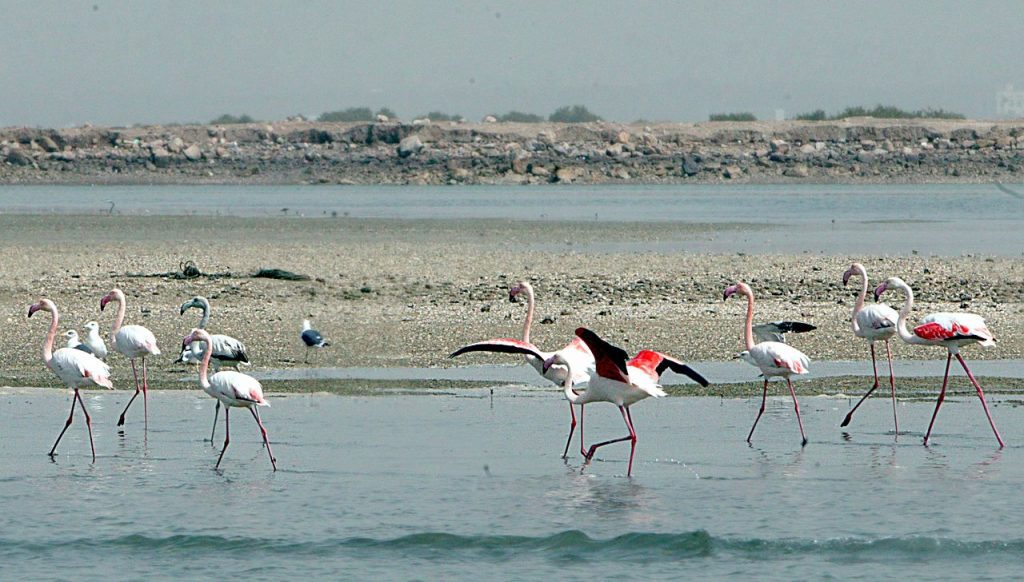 Let's face it – you've seen a million pictures on Instagram of bikini-clad girls blissfully feeding pink flamingos on a dreamy turquoise beach. Well, this ain't Aruba, this place is in Ras Al Khaimah with its own natural habitat of birds including Flamingos. Khor Al Qantra has this amazing double horizon views with a small portion of land between seawater. You can call it a double-beach
Location: https://goo.gl/maps/yvSY8j6sXQ2biwAn6
Al Rams Corniche
Once a deserted area this beach is now converted to a nice corniche, thanks to the Governments efforts. The clean beach has pine trees, a proper walkway and some swings for kids to play. The bay is a favourite spot for people staying nearby for an evenining stroll. The prayers from a nearby mosque literally echos from the mountains and give an amazing acoustic treat. This spot has public facilities.
Location: https://goo.gl/maps/yXyYFSbrqdMfUb4M7
Saraya Island Beach (Pink Lake)
Saraya Island is the unique landscape of sea with the background view of Hajar mountains. The island is the turquoise waters of the bay. During weekends, the Island is usually busy and noisy with people having fun with their off-road vehicles and buggies even during the night times.
Location: https://goo.gl/maps/xkh2trQesiJPTQbc8
Al Rams Beach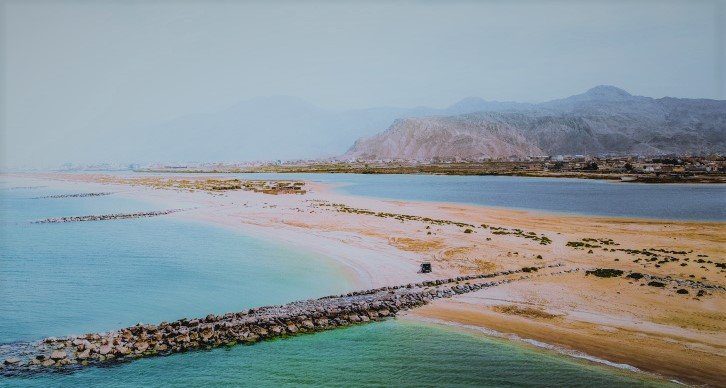 In the past, the plan of development of this beach on Saraya Island was created. The project included hotels, water parks, shopping centres, restaurants, bird's sanctuary, planetarium and many more. However, it was suspended and now it has become a camping destination in Ras Al Khaimah.
It is also very common to come across individuals riding horses – as there is a stable on the island. Also, camels may be wandering around that belong to the local farm.
Location: https://goo.gl/maps/xpy6Cdmfc8HzAGjc7
Milestomemories beach campsite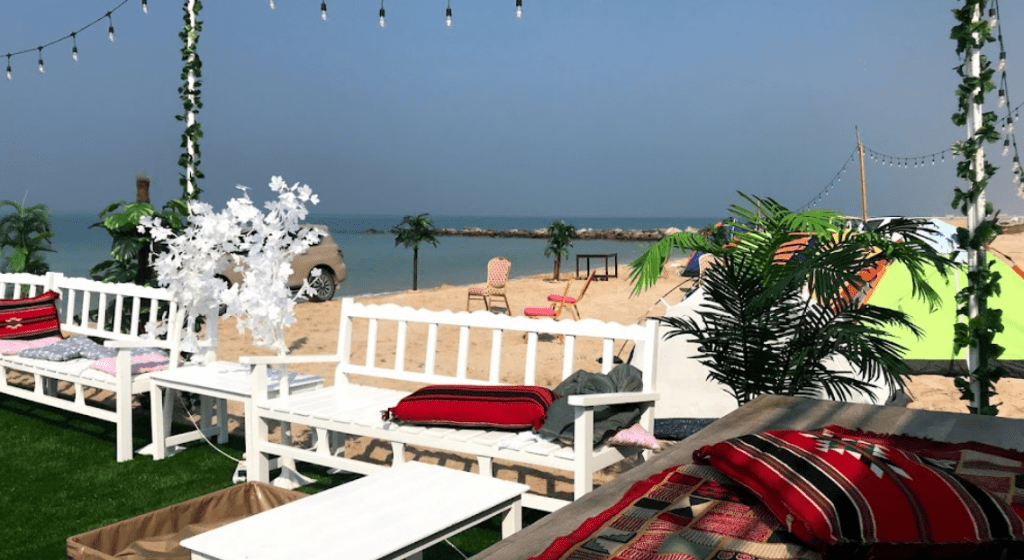 Location: https://goo.gl/maps/U3hR13Np9GxPPkSX9
Mabrouka camp
Location: https://goo.gl/maps/Kfpr6rmQFBuSHnWa7
Titanic beach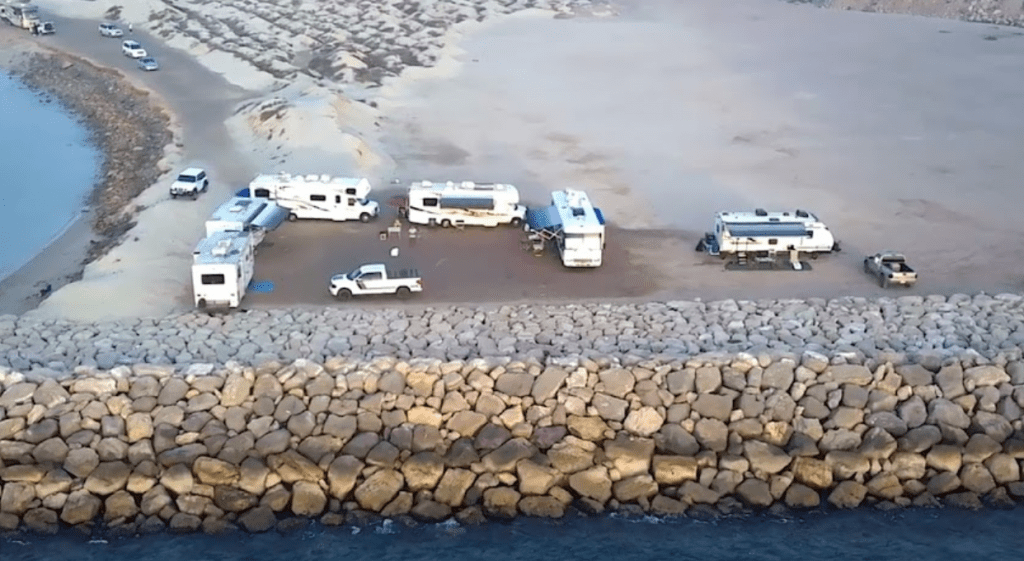 Quite literally as the name suggests, Titanic beach looks like a tip of the cruise surrounded by water from 3 sides. there is huge space for camping and unlimited Arabian gulf views. Although there are no facilities, there is a gas station and RAK Sailing Association nearby. What's more, if you need more comfort there is a Hilton resort at stone's throw distance.
Location: https://goo.gl/maps/yCiFz4wtKPJbscE69
Hilton Ras Al Khaimah Beach
The most luxurious beach on the north of Ras Al Khaimah, this bay is owned by Hilton Ras Al Khaimah Beach Resort.
Location: https://goo.gl/maps/FBkNuqXS3RFfK4Za8
Al Mairid Public Beach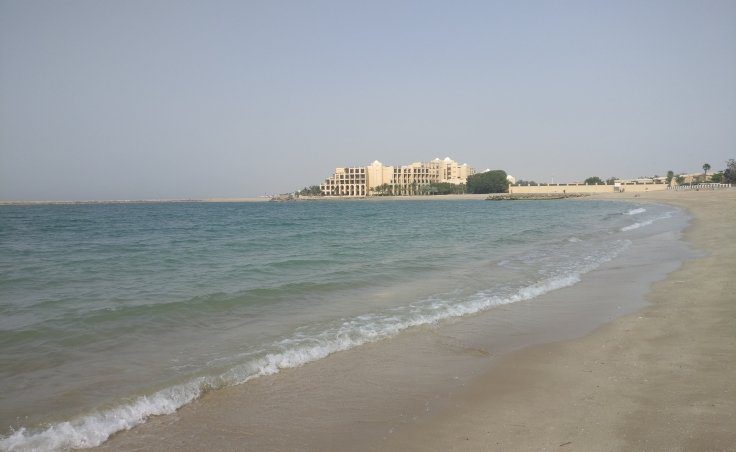 Al Mairid is a waterfront community located in Ras Al Khaimah. The residential area shares the beachside border of the emirate, offering residents water-facing views.
Al Mairid is home to highly maintained, elegant villas and residential apartment buildings that are available for rent. The area lies alongside Al Mareedh Street and Ahmad Bin Majid Road, these roads further connect to Al Manama RAK Road, making it easy for residents to connect to the rest of the city.
Location: https://goo.gl/maps/u59N4arTxEUryUQbA
Al Qawasim Corniche Beach
Although there aren't many public facilities, this is one of the best free beaches for families. Plenty of space for kids to play, there are vendors for horse riding, water sports and much more. The water is clean and shallow for safe swim.
Location: https://goo.gl/maps/F7pfpPdTwSyx61wc8
Sidroh Beach
If the idea of unwinding yourself involves a hot beverage like Karak, then this beach is for you. Many famous Karak Tea shops across the beach also sell, snacks, ice cream and much more. Enjoy a lovely sea view, an evening stroll or maybe dip your toes in the ocean, Sidroh shore is a stress buster.
Location: https://goo.gl/maps/Z1RCiFVFiAij9VU18
Munooh Beach
Location: https://goo.gl/maps/ZVHyTYWYVH8WNwgz7
Flamingo Beach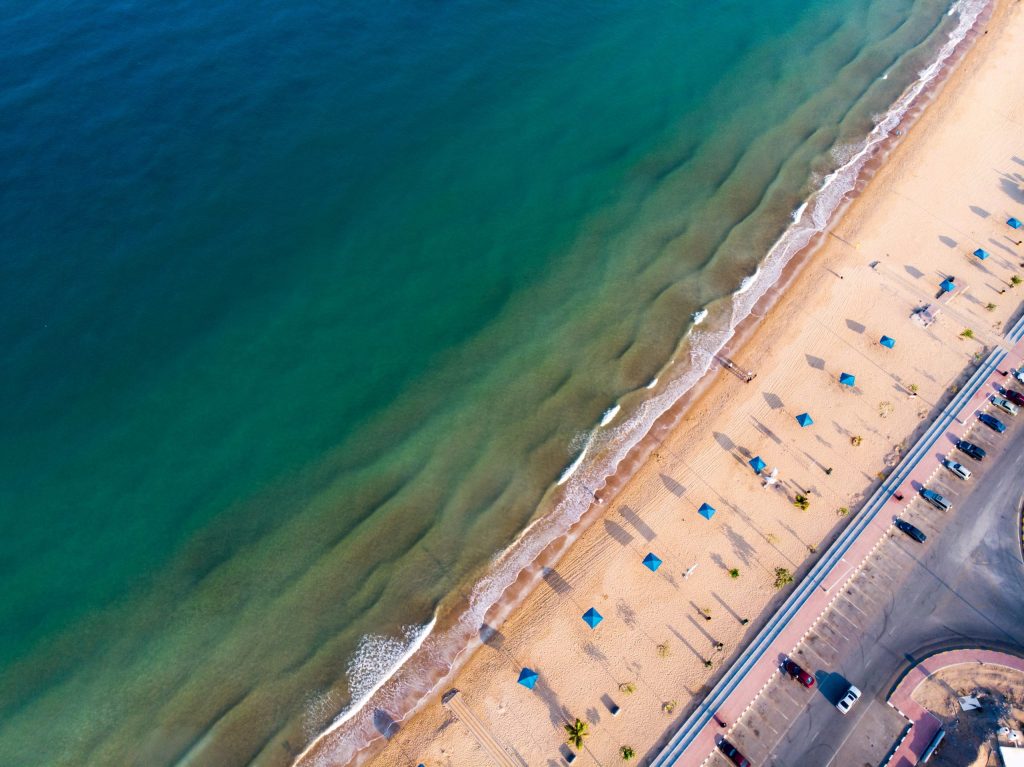 Characterized by its two huge Flamingo statues, this is one of the most visited public beaches of Ras Al Khaimah. It is a clean beach with clear blue waters of the Persian Gulf. The beach is well known for its charming scenic views, green areas, and tourist resorts. There are Interlock walkways built across the beach so that the public can easily walk to the sitting areas instead of wading in the sand.
It might not have the longest beachfront, however, Flamingo beach is great for families because of its location. It is surrounded by trendy cafes and restaurants and it is serviced with a large parking lot for ease of access. Just a few minutes drive away from the city center.
Location: https://goo.gl/maps/YM2BWnsQCX69wgau7
Longbeach Campground
Long Beach Campground in Ras Al Khaimah has all the amenities and recreational activities to keep you and your families entertained. Start your day with beach yoga, Seaview aerobics, kite flying, and kayaking. Have fun at our waterpark obstacle course; be competitive and get your feet sandy while playing Boccia and beach volleyball. Meet our gorgeous farm animals and allow your kids to interact and feed them at our petting zoo. Lastly, enjoy a thoroughly rejuvenating experience in our outdoor spa and sauna, all specially prepared for your ultimate pleasure.
Accessible in winter. Inside BM Beach Hotel
Location: https://g.page/TheLongbeachCampground?share
Cove Rotana Beach
With a serene beachfront location overlooking the azure waters of the stunning Arabian Gulf, The Cove Rotana Resort promises an unforgettable stay in Ras Al Khaimah. This desirable five-star retreat nestled in a tranquil inlet, which blends world-class dining, leisure and meetings facilities with Arabian charm, is the ideal destination for memorable family getaways or staycations
Location: https://goo.gl/maps/mDf4WULJMs1cAozP8
Raqi Beach
Escape the daily grind and enjoy the cool and breezy atmosphere on one of Ras Al Khaimah's top beaches at The Cove Rotana Resort. The exclusive Raqi Beach is a unique combination of music, dining and entertainment, which offers the chance to unwind and be pampered on 600 meters of perfect white sand in sumptuous surroundings.
Location: https://goo.gl/maps/zjEDuQjNVuQLh3xc7
Hayat Island Beach
This beach is under construction at Hayat Island in Mina Al Arab. Hayat Island will feature international 5-star and 4-star resorts, waterfront apartments, villas and townhouses with a private beach clubhouse, and al fresco dining and entertainment venues.
Location: https://goo.gl/maps/VQ82ZKXk8svV2oN2A
Mina Al Arab Beach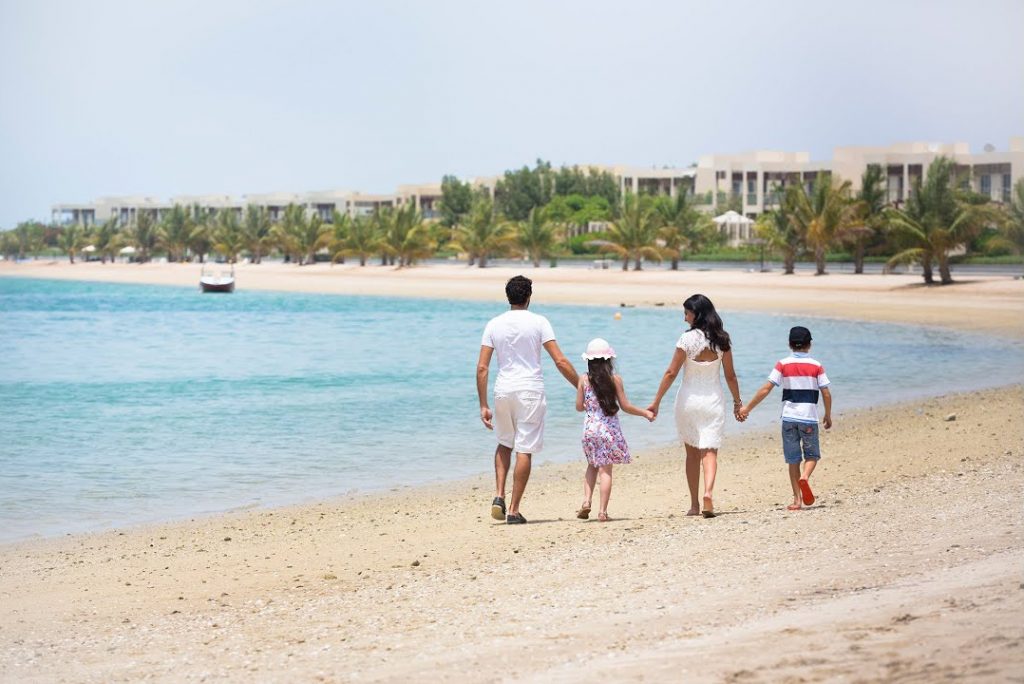 Beautiful natural beaches are an integral part of Mina Al Arab. Whether you're looking for the perfect resort beach to sit, watch the sunset and tides, or the best place to study marine life up close, this unique community offers the best of both worlds. Offering private beaches for the villa and townhouses residents, pristine white sands for resort visitors, protected wetlands and salt marshes with coastal dunes, Mina Al Arab makes the best of beachfront living and exploration a possibility.
The beaches within the Granada, Malibu and Bermuda communities are in exclusive use of Residents, who own or reside in these communities.
Open beach located opposite to Bermuda is open and accessible to all the Mina Al Arab residents and their guests.
Location: https://goo.gl/maps/DRfA5WYNDoT6qQjRA
Al Jazeera Arabian Gulf View
The beach was very popular before Iceland waterpark got closed. Although deserted, the place has excellent views and calm vibes. There are no toilets, lifeguards and public facilities.
Location: https://goo.gl/maps/PUWTdAVYLwknoHSG7
Antoc beach
An informal place for camping if you have your own camping wagon. This place is also said to be good for fishing. There are no toilets, lifeguards and public facilities.
Location: https://goo.gl/maps/tK3tpcKyeaHrj3fS7
Camping on Beach by KhaThi (Al Jazeera Old Town Beach)
If you are into beach camping, this beach might interest you. There are some camping organisers who can help you set up a cozy glamp. The beach is nearby Al Jazeera Al Hamra old town village.
Location: https://goo.gl/maps/tq1jcBnsSBkufVQo6
Al Jazeerah Al Hamra Beach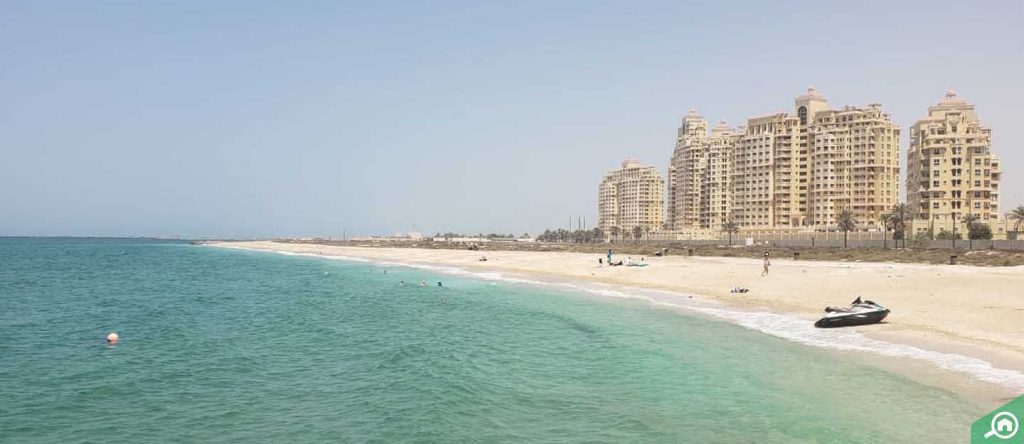 As the name suggests, the Jazirat Al Hamra Beach is the strip of Ras Al Khaimah shoreline bordering the western side of the Jazirat Al Hamra old town. The beach offers a pristine stretch of unobstructed golden sands speckled with colourful seashells. Jazirat Al Hamra is great for those who don't mind going old-school at the beach. No fancy sun-beds or loungers – just the sun, sea, sand and you.
Location: https://goo.gl/maps/9qnDYHr7mJoa95NZ9
Ritz Carlton Al Hamra Beach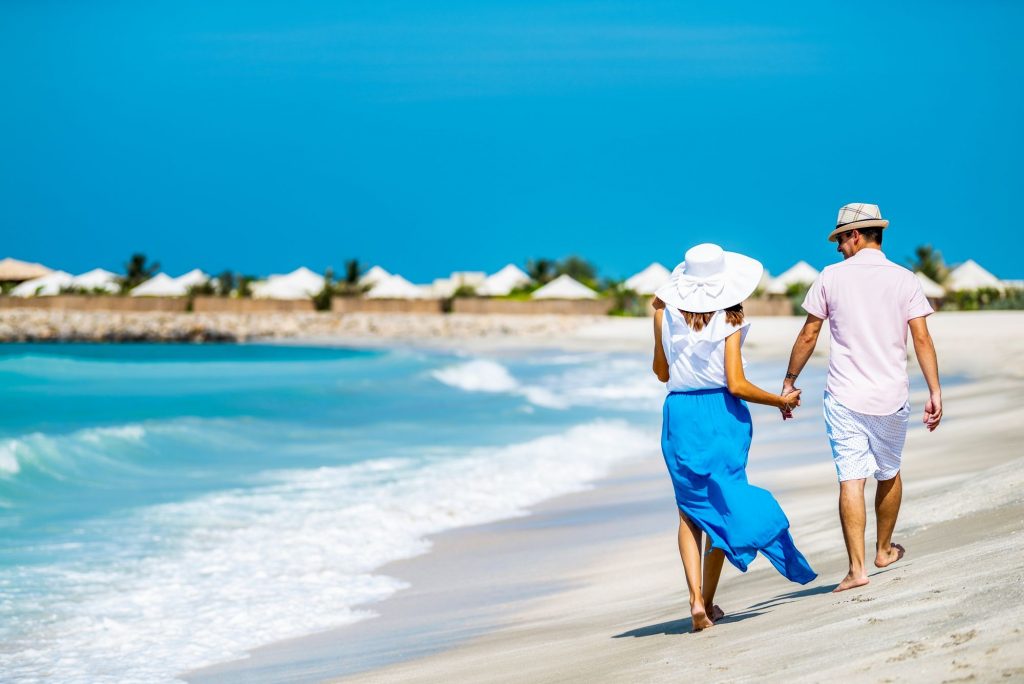 Edging the azure water and pristine white-sand beach of the Arabian Gulf, The Ritz-Carlton Ras Al Khaimah, Al Hamra Beach near Dubai offers seclusion and luxury in equal measure. Beachfront hotel villas feature personal pools; bespoke dining highlights fresh seafood; wellness experiences draw inspiration from the sea and local traditions; and sunset rituals are an opportunity to reflect on a day filled with thrilling discoveries.
Location: https://goo.gl/maps/oSZ8uenLnkJA26E58
Al Hamra Golf Resort Beach (Closed)
Nestled between the Arabian Gulf and Hajar Mountains, Hilton Al Hamra Beach & Golf Resort is set alongside a private beach, surrounded by landscaped gardens and an 18-hole golf course. Enjoy contemporary rooms, suites and villas providing views of the gardens, the golf course or the ocean; and dine at seven stylish restaurants serving world-class cuisine from around the globe.
Please note that Hilton Al Hamra Beach & Golf Resort is closed for now
Location: https://goo.gl/maps/MnaePFTobncZUo3w6
Amasi Beach Waldorf Astoria
A hidden haven in the peaceful Emirate of Ras Al Khaimah, Waldorf Astoria Ras Al Khaimah is an ideal destination for an unforgettable getaway. The resort offers signature attentive service, nine stylish restaurants and lounges, and elegant accommodation with pristine views of the Arabian shoreline.
Location: https://g.page/WaldorfAstoriaRasAlKhaimah?share
BM Beach Resort Private Beach
Every care is taken to create a relaxing and stress-free stay at the 4-star Beach Resort in Ras Al Khaimah. Whether you are a family looking for space, safety and privacy, a couple seeking a luxurious romantic getaway, or a large group needing several ocean rooms to accommodate your entire party, this modern beach Resort in Ras Al Khaimah is the perfect accommodation for you.
Location: https://g.page/BMbeachresort?share
Westin RAK Beach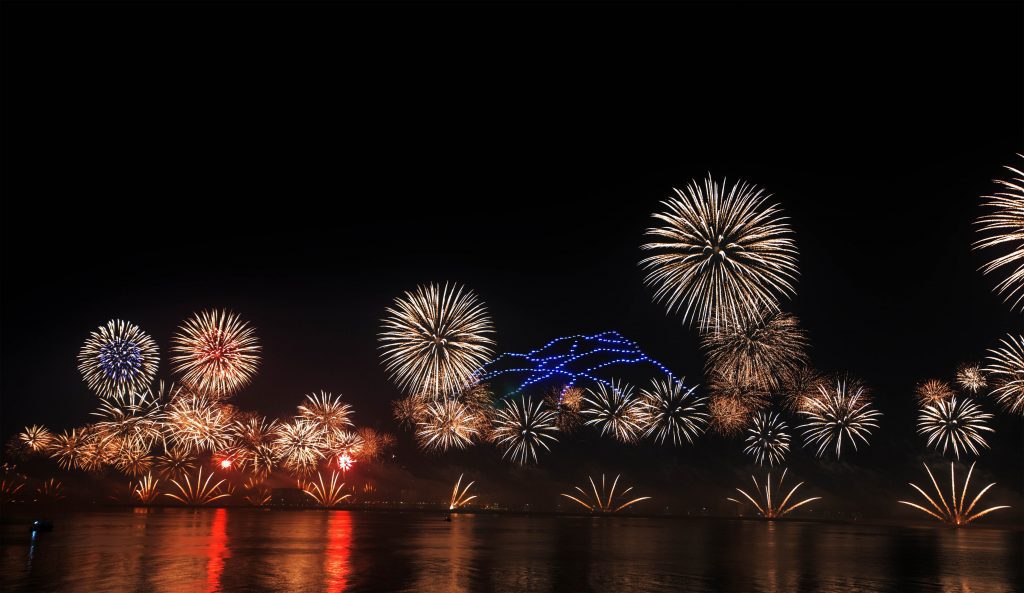 Popularly known as the site for new year fireworks, this place is currently inaccessible. Unverified sources suggest that there might be a plan to develop a 5-star resort at this beach.
Location: https://goo.gl/maps/TUXZPPbfGaPGwWUz8
City Stay Beach
City Stay Al Marjan Island Hotel Apartment is located at Ras Al Khaimah, at Al Marjan Island. The property has exquisite, sophisticated and luxurious apartments, one and two-bedroom apartments, just a few steps from the Sea.
Location: https://goo.gl/maps/y4BjBWLMVz1MKQMa8
Rixos Beach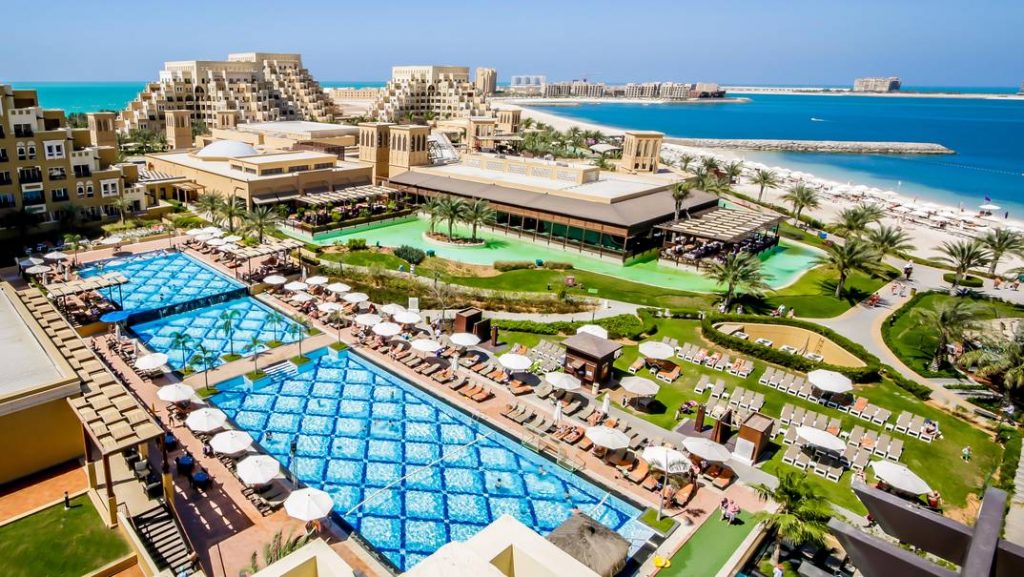 Situated on the pristine white sands of Ras Al Khaimah's tranquil Marjan Island, Rixos Bab Al Bahr enjoys the beautiful shore , stylish rooms, upmarket restaurants, stunning views, and comprehensive amenities you may expect from a five star beach resort in the Middle East. The spectacular pyramid design of the resort ensures that nearly every one of the resort's 650 rooms and suites enjoys a view of the crystal blue Arabian Gulf.
Location: https://g.page/RixosRasAlKhaimah?share
Bab Al Bahr Beach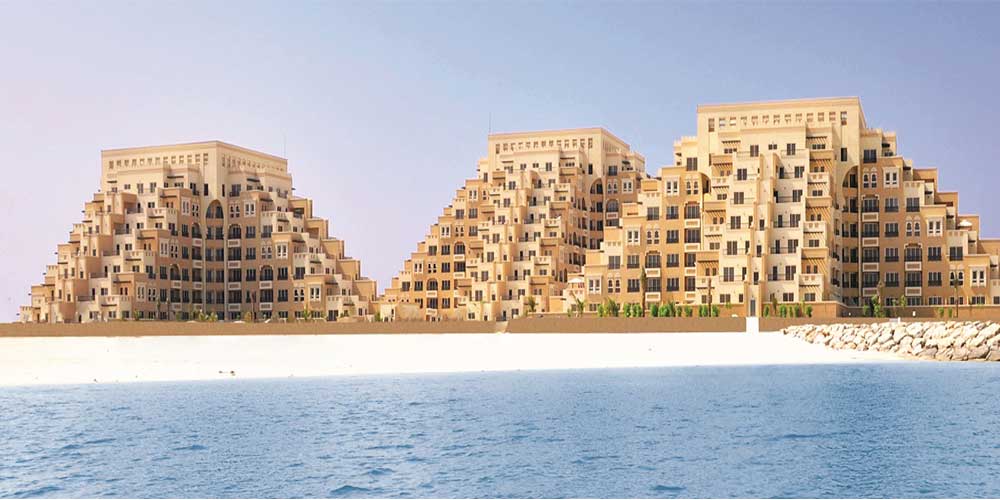 Inspired by Arabic Architecture, Bab Al Bahr Residences are a destination of choice for those who enjoy the pleasures and treasures of the sea. Located on Al Marjan Island, a premium location in Ras Al Khaimah, these are some of the most sought-after choices for people who want to live close to nature.
The pyramid-shaped, island-inspired apartments and penthouses, Bab Al Bahr Residences offer stunning sea views and complete access to white-sandy beaches of the Persian Gulf. The low-rise residences are a synonym for luxury and laid-back living.
Location: https://goo.gl/maps/W31Nuq7jGXBy6HL57
Double Tree Hilton Beach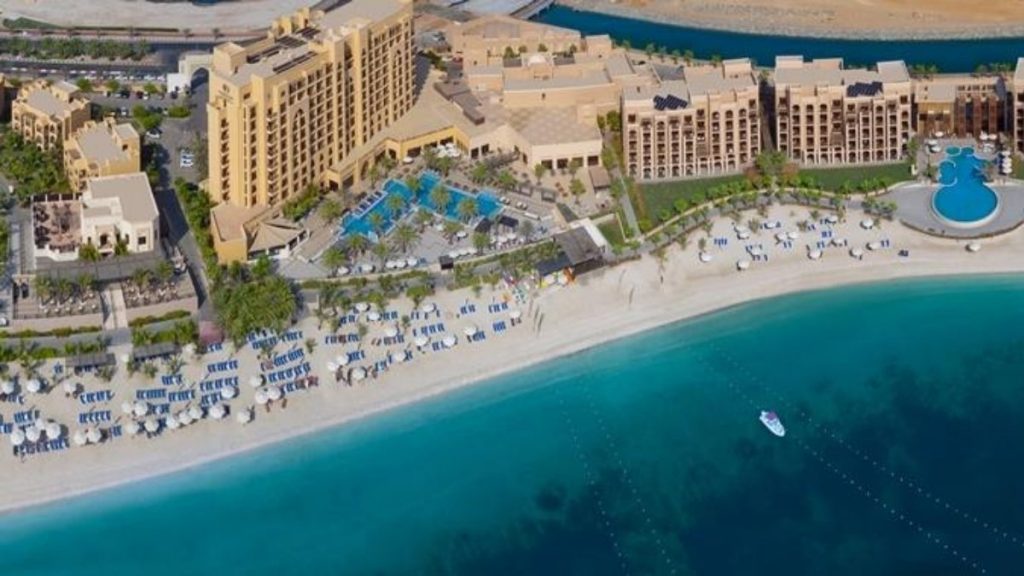 Set on Marjan Island and facing a 650-meter private beach, our resort offers 13 dining options. We're within eight kilometres of Al Hamra Golf Club and Al Hamra Mall's shopping and entertainment. Enjoy the outdoor playground, Pirate Boat Aqua Zone, or the Tarzan Boat for adults. We have a new padel court, a spa, and indoor or outdoor pools to choose from.
Location: https://g.page/DoubleTreeMarjanIsland?share
Movenpick Beach
This beach is under construction.
The 550-key Mövenpick Resort Al Marjan Island, Ras Al Khaimah, which is slated to open in 2022, will boast a prime beachfront location, offering guests unrivalled views of the Arabian Gulf and the picturesque Ras Al Khaimah coastline.
Location: https://g.page/movenpickmarjan?share
Hampton by Hilton Beach
Just Launched: Located on a 750-metre beach, the hotel features incredible sea and island views – and throughout their stay, travellers can look forward to experiencing the brand's award-winning friendly, thoughtful service and inclusive hot breakfast.
Location: https://g.page/HamptonMarjanIsland?share
Turtle Beach
Sink your toes in the sand as you enjoy refreshing snacks at Turtle Beach Bar in Ras Al Khaimah. Located at the resort's nearby shore, the popular snack shack serves up a menu of healthy food, fresh juices and incredible blends right on the seashore, with waves lapping mere steps away.
Location: https://g.page/turtle-beach-ras-al-khaimah?share
Marjan Island Resort Corniche
This picturesque Corniche is designed to promote family activities and healthy living in a waterside location. There are restaurants with outdoor dining on the deck. Situated near Al Marjan Island Resort and Spa.
Location: https://g.page/marjan-resort-spa?share
Radisson Resort Beach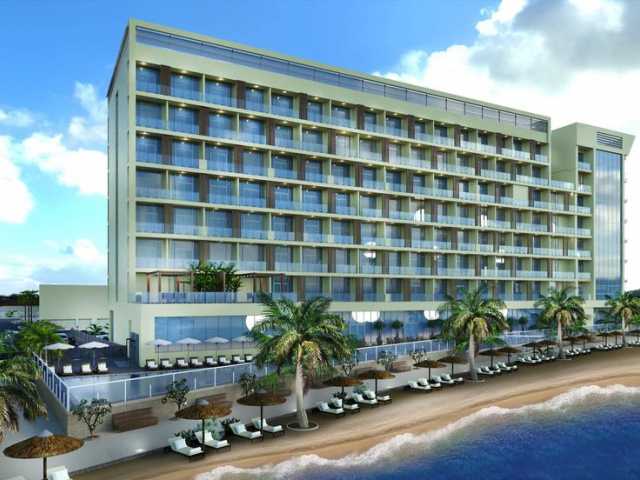 Radisson Resort Ras Al Khaimah Marjan Island features 388 rooms and suites with sea views or balconies, along with a private beach, two swimming pools, a designated kids pool, an indoor fitness centre with a fully-equipped gym, and a spa, as well as two meeting rooms and a ballroom.
Location: https://goo.gl/maps/6ooqMipjrVEQy9d57
Al Mahra Resort Beach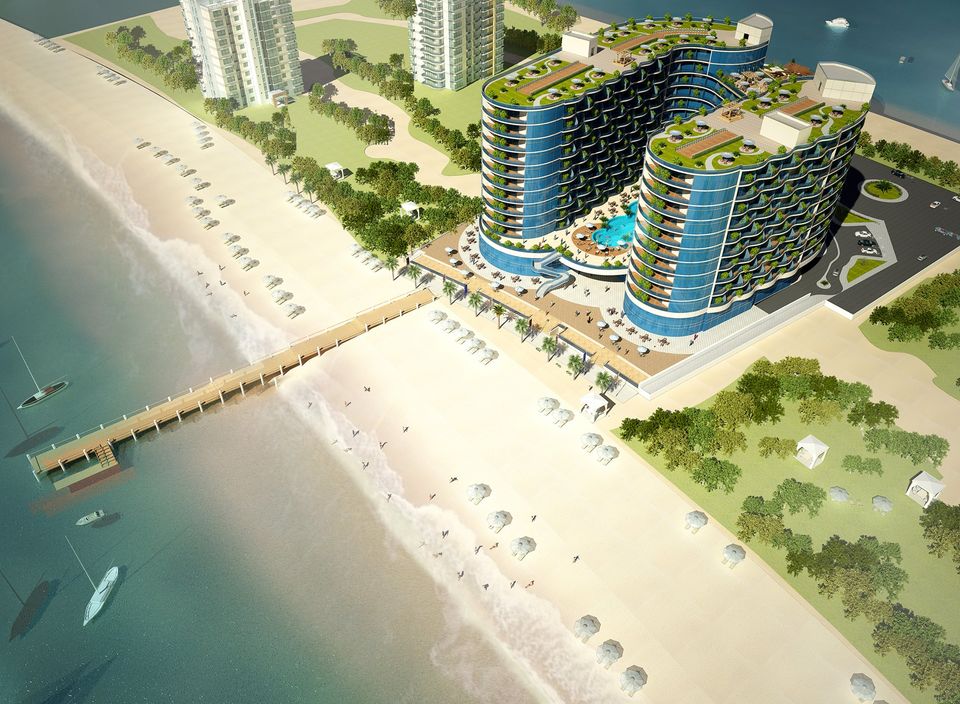 This beach is currently Under Construction
Location: https://goo.gl/maps/BmJjpmfhzoWt2j7d7
Pacific Beach
With endless ocean views, unmatched luxury facilities and superior finishes, the Pacific is one of the most enviable developments all across the UAE.
With sandy beaches and the pristine Arabian Gulf on its doorstep, Pacific is located on the spectacular Al Marjan Island in Ras Al Khaimah (RAK) – which is the equivalent of the Palm Jumeriah in the northern Emirate
Location: https://goo.gl/maps/KP3VYNxujW9j2kCBA
Marjan Island Corniche
On Marjan Island, residents and visitors have access to a 2,000-meter Corniche. A walkway where you kick off the day's stresses with a healthy jog, a bicycle ride or a quick run. Or take a break on shaded benches, while your kids play at the child-friendly play areas, or even enjoy your walk to the immaculate white sandy beach, open to all.
The Al Marjan Corniche features 8m wide waterfront walkway lit with energy-saving LED lights, enriched by landscaping, lighting and shaded seating areas, a dedicated 3m wide running track, a dedicated 2.4m cycling track, few kiosks, a children's playground, a public car park for 265 cars and bike hire facility.
Location: https://goo.gl/maps/Q7LxJfjV3runNTnh6
Banan Beach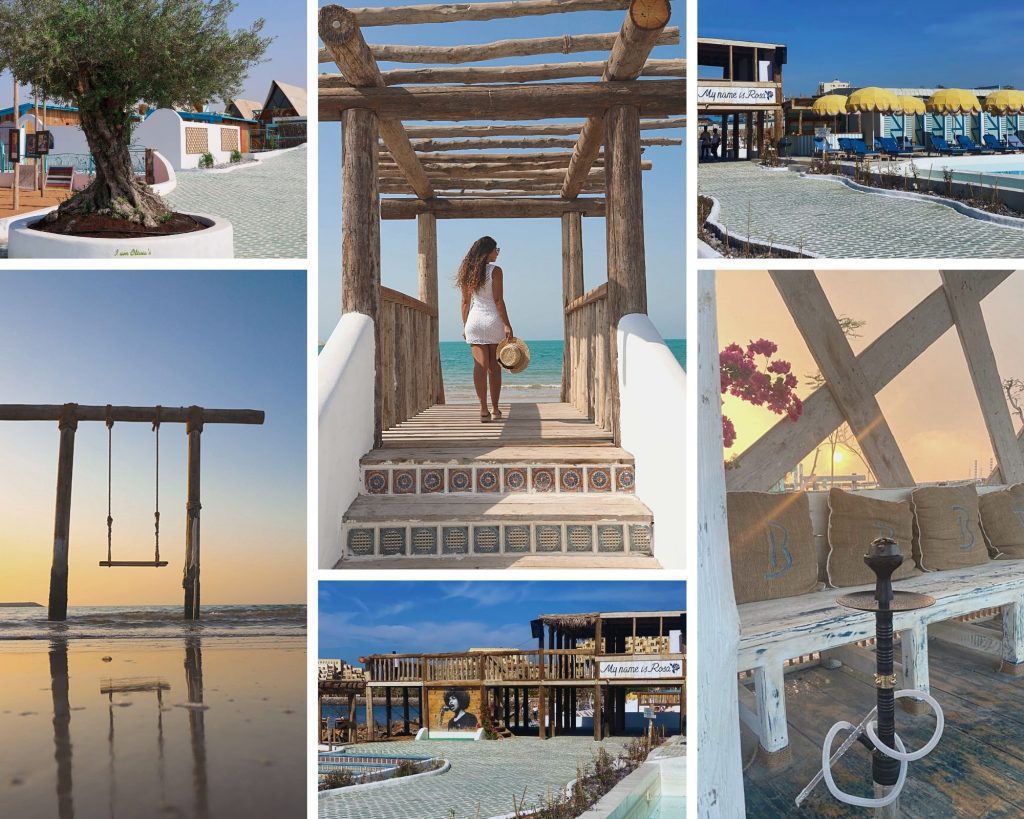 Claims to be better than ever this Glamping beach site with hammocks, campfires, yoga and beachside chills is relocating to Ras Al Khaimah (previously located at Jebel Ali, Dubai)
Location: https://goo.gl/maps/NREgMTSGPP6sXm9k9
Al Medfeq Beach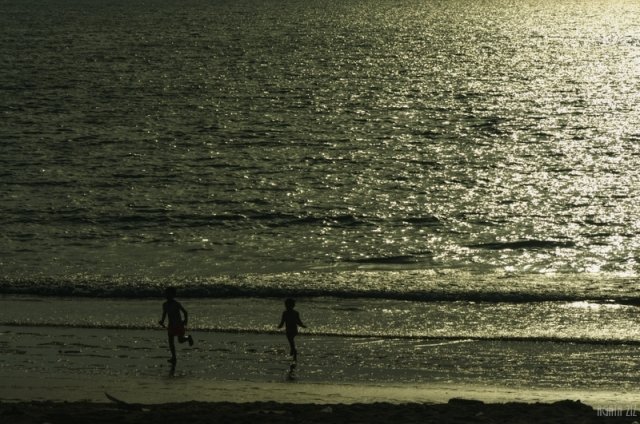 Al Medfeq Beach is the last public beach along the borders of Umm Al Quin. This unattended shore is close to Sheikh Mohamad Bin Zayed Road and is particularly popular among locals and residents. You can see pro campers nestling here from Thursday evening. There are no toilets, lifeguards and public facilities.
Location: https://goo.gl/maps/FQLuTXw7zMcY5TGr7