The Jais Adventure Peak – adrenaline-pumping experiences in Ras Al Khaimah
Ras Al Khaimah Tourism Development Authority (RAKTDA) has officially unveiled the Jais Adventure Peak, a collection of iconic adventure attractions perched atop the UAE's highest mountain, Jebel Jais. The Emirate's latest adventure tourism offering includes the Jebel Jais Flight, Jais Sky Tour and Jebel Jais Viewing Deck Park, in addition to the brand new Jais Adventure Center and Jais Sky Maze.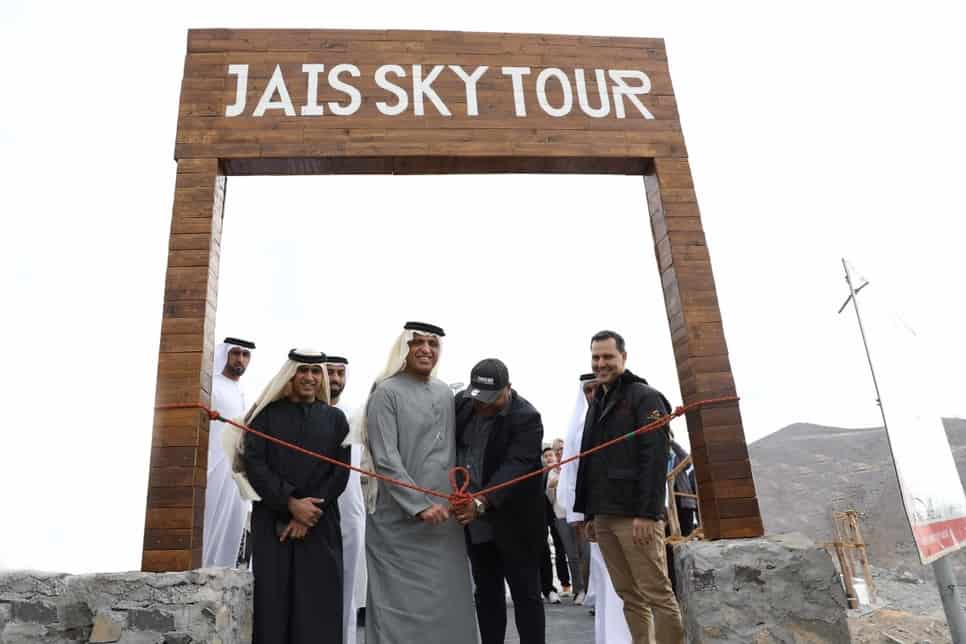 Set amidst the magnificent Hajar mountain range, the grand opening took place in the presence of His Highness Sheikh Saud Bin Saqr Al Qasimi, UAE Supreme Council Member and Ruler of Ras Al Khaimah, top hospitality industry professionals and VIP guests. Following the official opening ceremony, guests were treated to an exclusive first-look at the new Jais Adventure Center and Jais Sky Maze as well as the chance to explore the canyons and spectacular views through the exhilarating Jais Sky Tour.
Strengthening the Emirate's reputation as the fastest growing tourism destination in the Middle East – due in large part to its diverse landscape and the growing popularity of its cultural and adventure offering – the Jais Adventure Peak will further support Ras Al Khaimah in attracting guests of all ages with a love for exploration and adventure. It will also heighten anticipation to experience all that Ras Al Khaimah has to offer, through a host of family friendly outdoor activities.
Raki Phillips, CEO of Ras Al Khaimah Tourism Development Authority, commented, "The eagerly anticipated launch of the Jais Adventure Peak will not only add to the Emirate's diverse hospitality offering but will also elevate the undeniable appeal of Jebel Jais itself. The Jais Adventure Peak captures Ras Al Khaimah's adventurous spirit through a series of adrenaline-pumping experiences that will leave a lasting impression on our guests and unforgettable memories; everything from the views they will take in as they make their way up to the Adventure Peak to the welcoming staff on-hand with information, the various activities, and most importantly the sustainable yet unique adventure attractions themselves."
The newly launched Jais Sky Maze – the latest addition to the Jebel Jais Adventure Peak's suite of attractions, promises a thrilling experience suspended 10 meters above ground. Spanning two levels, the Jais Sky Maze calls out to adventure seekers of all ages to take to the sky and navigate through several obstacles including rope swings, wobbly bridges, swinging loops and more. The team will be on-hand to guide visitors throughout the experience, that lasts an hour and is ideal for groups of up to 15 people per session. Toro Verde's skilled team ensures the highest safety standards are adhered to across the suite of activities, adopting international best practice regarding stringent safety measures and equipment inspections. For more information and booking, please visit https://visitjebeljais.com/
Upcoming attractions at Jebel Jais
Earth Hotels Altitude: An eco-based pop-up hotel concept set to feature 15 fully fitted accommodation units, an activation center, and a swimming pool.
Saij: A Mantis Collection mountain lodge, comprising 35 luxury lodges, will provide a pure mountain retreat that focuses on nature as well as mind, body, and soul with guided treks, mindful pursuits, and creative experiences.
Cloud7 Camp Jebel Jais: This will provide tourists with a 'glamping' experience with 30 accommodation units built out of sustainable material.
Basecamp Jais: This will offer affordable accommodation for outdoor enthusiasts, thrill-seekers, and nature lovers. It will serve as a leisure hub at the base of the rugged Jebel Jais mountains.
Jais Yard: An F&B Village with food trailers, kiosks, retail containers, vintage truck restaurants, open-air cinema, and children's play areas.
Jais Wings: Adventure seekers can take off on a paragliding experience from the top of Jebel Jais with landing pads near Saraya Islands and Al RamsThe region's first paragliding site in the GCC.
Jais Swing – an Instagramable swing made of twin ropes that provide amazing views and a unique content opportunity.
Balloon Base with fixed hot air balloons that visitors can take in the infinite beauty of Jebel Jais.
Wadi Track at Wadi Showka will feature a new bicycle pump track that will be the perfect spot for bike enthusiasts of all ages.
---
---