The 2019 Artist in Residence program by Ras Al Khaimah
The Al Qasimi Foundation's Artist-in-Residence Program provides opportunities for visiting local and international artists to produce new works and engage in cultural exchange with the Ras Al Khaimah community.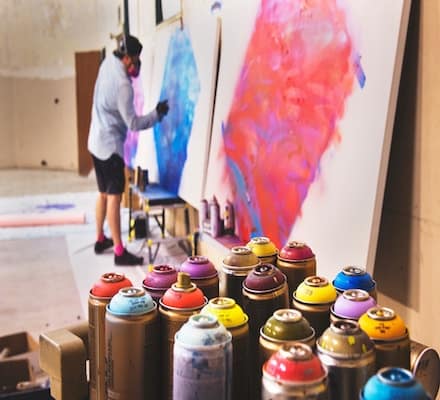 Applications are welcome from all nationalities and artistic media, with resident artists based in the Al Qasimi Foundation's Studio & Gallery space. Visiting artists are encouraged to draw inspiration from the Emirates as they work on personal projects and to share their talent with the local community by leading art workshops and classes. Residencies are for 6-12 months and include an exhibition in the Studio & Gallery and the potential to engage the community in developing a public art installation.
Residency Objectives
Promote the value of all the arts through meaningful engagement with local residents, organizations, and the broader Ras Al Khaimah community
Provide opportunities for artistic creation, exchange, reflection, and learning
Support the development of local and emerging talent and demonstrate successful career pathways other artists have taken
Contribute to the sustainable growth and development of Ras Al Khaimah's creative sector
Promote cross-cultural exchange that sparks curiosity and new ideas and also facilitates deeper understanding and appreciation
Residency Inclusions
The program covers all expenses associated with the residency, including return airfares, furnished accommodation for up to twelve months, a modest monthly stipend for living expenses, and art supplies budget. Visiting artists will have use of the Foundation's Studio & Gallery, a purpose-designed multifunctional arts space, for their personal projects and engagement activities.
Residency Expectations
The structure of each residency may vary based on the proposed activities put forward during the application process. In general, the Foundation expects the following of Visiting Artists:
Regular presence in the Foundation and its Studio & Gallery space during normal office hours (Sunday-Thursday, 8:30-5:30 pm). Access to the building at other times may be arranged and agreed upon in advance as necessary;
Create new personal works based on the Statement of Intent approved during the selection process;
Willingness to have an "open studio" and welcome the general public to observe and ask questions while working on personal projects one day per week;
Lead a workshop or hands-on activity for every month of the residency (e.g. a six-month residency would require six workshops);
Give one public talk related to personal artistic journey/practice or professional knowledge;
Present a solo exhibition in the Studio & Gallery or create a large-scale community art project;
Write one blog (500-800 words) related to the residency experience for publication on the Foundation's website and social media platforms; and
Donate one work created during the residency to the Foundation.
Eligibility
Prospective applicants to the Artist-in-Residence Program should meet the following eligibility requirements:
Degree in studio or fine arts or established portfolio of equivalent experience;
Practicing artist or filmmaker working in the following media:

Drawing
Film
Jewelry
Mixed Media
Painting
Photography
Sculpture
Textiles

Participated in at least one solo exhibition OR two group exhibitions OR one film festival in the last three years;
Demonstrated experience teaching or helping others to explore different artistic media through hands-on workshops and activities;
Evidence for how prior formal and informal cultural exchange experiences provided inspiration for personal creative practice and artistic expression;
Proficiency in spoken and written English;
At least 21 years of age by the time the proposed residency would take place; and
Not enrolled in other residency or academic programs during the proposed residency period at the Foundation.
Additionally, Arabic language skills, documented community art projects, and experience working with individuals of different ages and cultural backgrounds are considered assets. Due to space limitations, residencies can only be offered for individuals – artist collectives should not apply.
Selection Criteria
Artists meeting the minimum eligibility criteria noted above are encouraged to apply to the Artist-In-Residence Program. Selection is based on the quality of portfolios and relevance of applicants' proposed activities during the residency. Alignment with planned Studio & Gallery programming and artistic media supply/space requirements may also be considered.
The submission review process is competitive. While the Al Qasimi Foundation receives many excellent and high-quality submissions, only 1-2 residencies are available each year. The artists selected for these opportunities represent meaningful, innovative collaborations that engage Ras Al Khaimah in their creative process and contribute to the development of the emirate's creative sector.
Application and Selection Process
The application deadline for the 2019 submission cycle is August 31, 2019 for residencies that would take place between October 2019-December 2020. To apply, individuals must complete the online application form and submit all required documents to grants@alqasimifoundation.rak.ae (using subject line Artist-in-Residence application). Late or incomplete applications will not be considered. All materials should be submitted in English or Arabic:
2019 Artist-in-Residence online application form (Click Here)
Cover Letter (no more than 2 pages) outlining reasons why the applicant is interested in the residency opportunity. The letter should address (1) prior experiences and skills relevant to the residency; (2) how proposed activities align with the stated Artist-in-Residence Program objectives and broader mission of the Al Qasimi Foundation; (3) what the applicant hopes to gain from the residency experience; and (4) how the residency fits into the applicant's long-term goals.
Full artistic CV (no more than 2 pages) that includes, as applicable: education, exhibitions, bibliography, collections, teaching, texts, curatorial projects, honors and awards, affiliations, and residencies.
Artist bio, photo, and professional statement (no more than 2 pages)
Representative portfolio sample of work produced in the last five years. The portfolio should be submitted as a low resolution .pdf and contain no more than 15 images. Each image should contain the title, date, size, and materials. Portfolios larger than 2 MB should be sent via a WeTransfer or Dropbox link. If images are not possible due to the nature of the applicant's work, up to 5 video/audio URL links that support the application (no longer than 5 minutes each) may be submitted instead.
Residency Statement of Intent detailing anticipated residency activities and timelines involved. At a minimum, it should include the artist's goals for the residency, a description of the personal work that will be undertaken, summaries of suggested workshops (including target audiences and minimum skill levels necessary), and any special space or other logistics required to facilitate a productive residency. The solo exhibition concept and, if applicable, community art project should also be outlined.
Residency Supply List, including associated budget, required for proposed personal (non-workshop) activities (up to 15,000 AED).
Two recommendation letters from art professionals and colleagues, one of which should come from a reputed arts institution, organization, or education program that the applicant has engaged with.
The Selection Committee will review all complete proposals and shortlist finalists to invite for an interview. Interviews may take place in-person or via Skype. Once all interviews are complete the Selection Committee will make a final recommendation and choose the visiting artist(s) for the year. Applicants can generally expect to receive a formal decision on the status of their submission within 6-8 weeks of the annual submission deadline.
Questions regarding the Artist-in-Residence Program, the application process, or status of a submission may be sent to grants@alqasimifoundation.rak.ae.
---
---