Listen to this article
Guests can treat their tastebuds to a succulent selection of maki and sushi rolls in a meticulously designed new menu at Karma Kafé by Buddha-Bar at Hampton by Hilton Marjan Island. Chef Bishal Moktan, brings to life twelve new Buddha Bar specials that promise to take guests on an authentic culinary journey through culturally rich Pan-Asian fusion of flavors and ingredients from throughout Asia.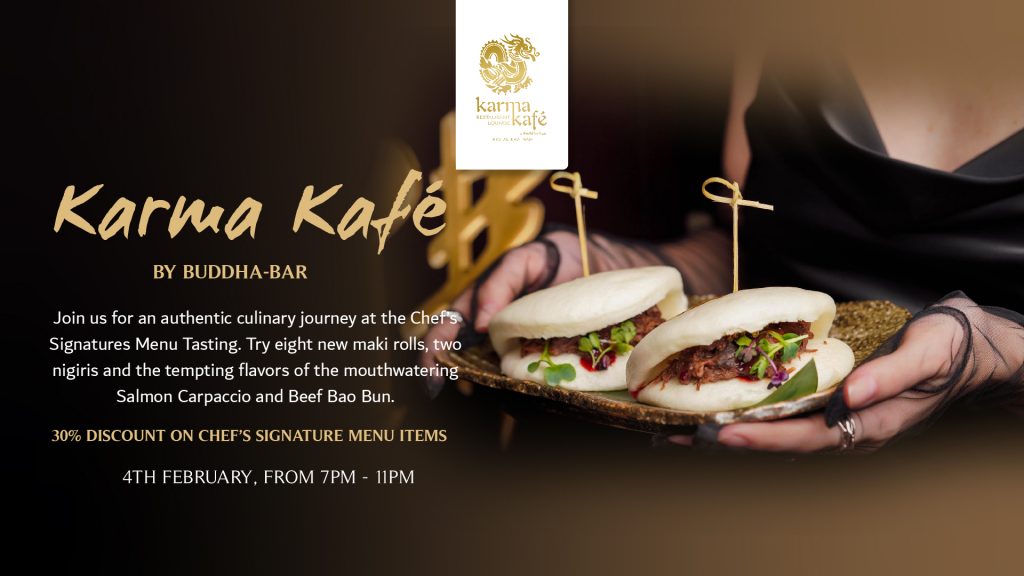 Chef Bishal brings with him a decade and a half of experience from Asia all the way to the Middle East, amplifying the Pan-Asian offerings at Karma Kafé by Buddha-Bar. Expanding its already impressive selection, the dining venue at Hampton by Hilton Marjan Island offers an authentic Asian experience with eight new maki rolls and two nigiris added to the menu. A distinctive spin is added to the classic California roll with the Crunchy Spicy California Maki with succulent Kani crab meat resting in a crispy tempura crumb with a delicious spicy mayo and fresh orange tobiko caviar. The Salmon Miso Roll is hard to miss with its tender salmon wrapped in nori accompanied by a rich crab mix mayo, fresh avocado and asparagus, and a sweet miso sauce. The new Flambe Nigiri Seabass is also a must-try with fresh seabass with truffle mayo and sesame oil. Furthermore, two dishes that aim to enhance the tempting flavors of Karma Kafe's signature offerings, the Salmon Carpaccio and Beef Bao Bun, are enhancing the Pan-Asian menu. The Salmon Carpaccio is a spread of saporous salmon cuts with a rich truffle ponzu paste perfect to share with the table while the Beef Bao Bun is a 12-hour braised delicate Wagyu beef rib, a sweet and tangy blackberry barbeque sauce, and crunchy quinoa pops resting in a soft and fluffy bao bun that will leave guests reaching for more. The latest menu also features Dragon Maki, Mitsura Suzuki Maki, Clear Rice Roll, Tropical Maki, Shake Goma Maki, Kani Ebi Tempura Roll, and Flambe Nigiri Salmon.
What: New Chef's Signatures Menu Tasting
Where: Karma Kafé by Buddha-Bar, Hampton by Hilton Marjan Island
When: 4th February, from 7pm – 11pm – 30% discount on Chef's Signature Menu items
Offer: Throughout February 20% discount at Karma Kafe by Buddha-Bar across the A La Carte menu for Hampton by Hilton Marjan Island guests (Room rates start at AED 500 / one-night with breakfast for two)
With multi-influences from Chinese, Thai, Korean, Vietnamese and Japanese, the famous Buddha Bar creation aspires to evoke energy, dignity, beauty and culture with its name, much in-line with the hotel's youthful liveliness. Karma Kafé by Buddha-Bar Ras Al Khaimah brings a seamless blend of cuisine, mixology, design and entertainment to all those looking for an exciting adventure.
Contact and Location
For bookings and reservations: Reservations_1.hamptonmarjan@hilton.com
+971 7 209 0099 | info@karmakaferak.com