We are starting a new series 'In the Spotlight' where we will be profiling famous influencers and personalities from Ras Al Khaimah. Today we are interviewing Yasmin who calls herself an Arabic soul from Ukraine. She is a belly dancer and has been living in RAK since 2015. Here, we ask her about her favourite spots and why she decided to be in the beautiful place called Ras Al Khaimah-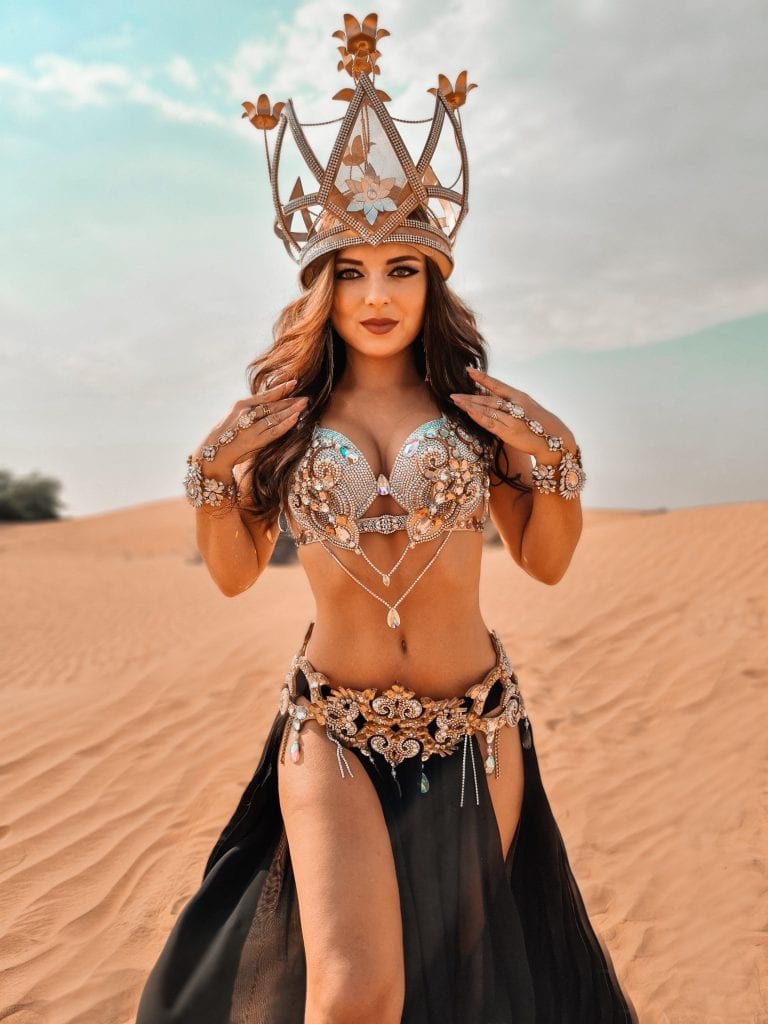 1. Tell us something about yourself?
Hello everyone! My name is Yuliia. I'm from Ukraine. For the last 5 years living and working in my lovely country UAE. I'm a belly dancer by profession
2. How did you get into belly dancing?
​I have been dancing since I was 4 years old. Ten years ag,o I started taking my first steps in belly dancing. Bus basically it started long back when I watched the TV series Clone, where everything is told and shown about Arab culture and life. When I watched the series the third time- where the main character did belly dancing- I realized, this is mine. Then I started looking for schools who taught belly dancing in my city. I studied there for 3 years and learnt the basics of dance(thanks to my teacher) and then continued in independent training.
3. According to you, what does it take to be a good belly dancer?
Aspiration, Work, Incentive, Patience, and Perseverance
4. You mentioned in your profile that you are a designer too? What do you design and where is it available?
​Actually, I'm still not a designer exactly but I am working towards becoming one. Right now, I'm a designer of my own costumes for belly dance, which I design myself. But in the future, I plan to make custom-made suits for dancers.
5. We see that you quite a fitness junkie. What's your exercise regime like?
Sports and exercising are for my soul and for maintaining the figure as a whole. Before I started training, I tried many different exercises and chose only those that I felt comfortable with and that gave results. Also later, I want to found an instructor who helped me and guided me in the right direction in training. And those exercises (in addition to the treadmill) can be done not only in the gym, but also at home for every girl. No need to exhaust yourself with training, but to be in good shape and look good enough for half an hour every day, it's worth it!
​
6. When did you come to Ras Al Khaimah?
I first flew to the UAE, namely to Ras al Khaimah for my first contract in November 2015, and I have never regretted it. I'm really happy to be here.
​
7. What are your favorite spots in Ras Al Khaimah?
Fortunately, I have visited many beautiful places in the UAE, from the border with Saudi Arabia to the Ras al Khaimah Mountains. Number 1 always for me will be desert. That is my favorite place ever. Also I love the Mountains-Jebel Jais. The best beaches for me are Al Hamra and Al Marjan Island. And the most lovely and beautiful hotel- Waldorf Astoria.
8. Favourite club– I'm not a club person. I prefer more restaurants and lounge places.
9. Favourite beach– I have two – Pacific Al Marjan and Ritz-Carlton Al Hamra Beach. The water there is so beautiful and it seems like the Maldives.
10. Favourite camping spot– Unfortunately, I still haven't tried yet.
11.​ Which one do you like better– Dubai or RAK?
Difficult to say because in each city many different things. About Dubai I can say – yes, it's beautiful city, but more what I miss from there is my friends. But in Ras Al Khaimah I found peace, home, life and I enjoy here every day.
If you are an influencer and want to be featured in this section, write to us on wowrak.uae@gmail.com
​
---
---