Listen to this article
Everybody is talking about Ras Al Khaimah. One of the region's top tourism success stories, the northern emirate has seen a boom in development, especially when it comes to hotels.
As of July this year, RAK comprises more than 8,000 hotel keys, with 4,617 new keys in the pipeline over the next few years.
With more and more attention to Marjan Island, Jebel Jais and other areas, RAK is readying to welcome some of its most luxurious hotels ever.
Read on to see 13 of them.
New hotels opening in Ras Al Khaimah
1. Address Al Marjan Island (Opening TBC)
Announced back in 2018, Address Al Marjan Island hotel and residences will be managed by Emaar Hospitality Group.
Address Al Marjan Island will be a resort-style development that draws on its exceptional natural location, directly by the Arabian Sea. The hotel will have 249 rooms, including suites, while Address Residences Al Marjan Island will comprise 234 high-end apartments. As part of Views, the largest of the four islands that make up Al Marjan Island, residents will be near the urban core of the master-planned community as well as the town centre. With direct access to over 600 metres of beachfront, residents and guests will have uninterrupted views of the sea in addition to a range of lifestyle amenities.
2. Anantara Mina Al Arab (2023)
The property is inspired by resorts in Maldives and will have 306 guest rooms, suites and overwater villas (a first of its kind in the emirate). It will overlook a mangrove-lined eco-reserve and will feature a discovery and eco-learning centre.
The hotel's F&B will include an Asian restaurant and a seafood grill, as well as a beach and pool bar.
Developer RAK Properties has awarded a project management agreement to Hill International as it approaches its opening in 2022.
3. Barcelo Resort Al Marjan Island (Opening TBC)
Spanish hospitality company Barcelo Hotel Group is expected to open its own all-inclusive resort on Al Marjan Island.
The range of amenities at the 500-key resort includes a beachfront space, a selection of F&B outlets, including a themed restaurant and lobby lounge, meeting rooms, a pre-function space, swimming pools and spas.
4. Cloud7 Camp Jebel Jais (2023)
Operated by Kerten Hospitality, Cloud7 Camp Jebel Jais will make the most of its location and position itself as a luxe adventure destination. Housing only 30 mountain-side retreats, the camp will be a modern representation of traditional Emirati living.
5. Conrad Marjan Island (Opening TBC)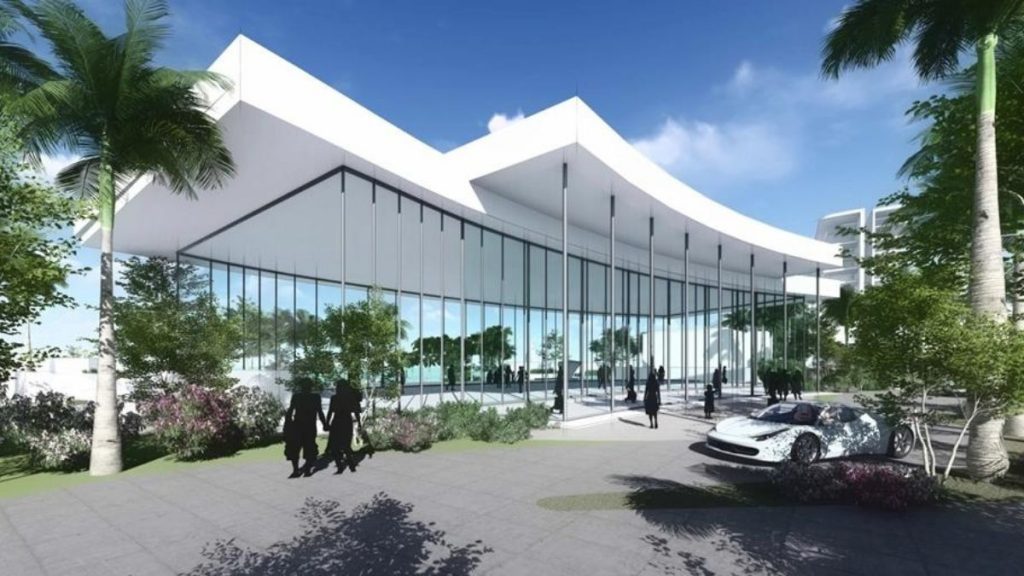 Located on Treasure Island, one of five islands in the Marjan Island complex, the resort will combine a breezy beachfront location with futuristic and contemporary design, welcoming guests to 120 rooms that will include beach and overwater villas for the ultimate Maldives-inspired escape. Two signature restaurants, a beach club, beach bar, salon, spa and a wealth of outdoor sports will further complement the leisure offering.
6. Earth Hotel Altitude (2023)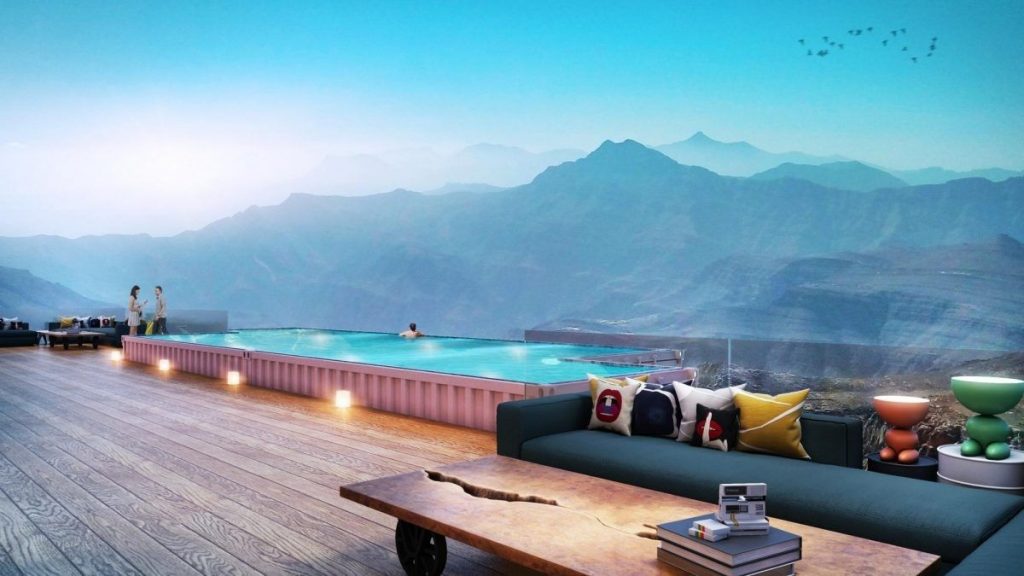 Earth Altitude will be located in Jebel Jais, 1,934 metres above sea level. "Earth Altitude is a minimalist's dream", says the brand, where 16 retreats will be tucked into the rugged Jebel Jais terrain.
It will house a fitness centre, be located close to the world's longest zipline, and provide easy access to a range of hiking trails and cycling tracks.
7. Earth Hotel Marjan Island (Opening TBC)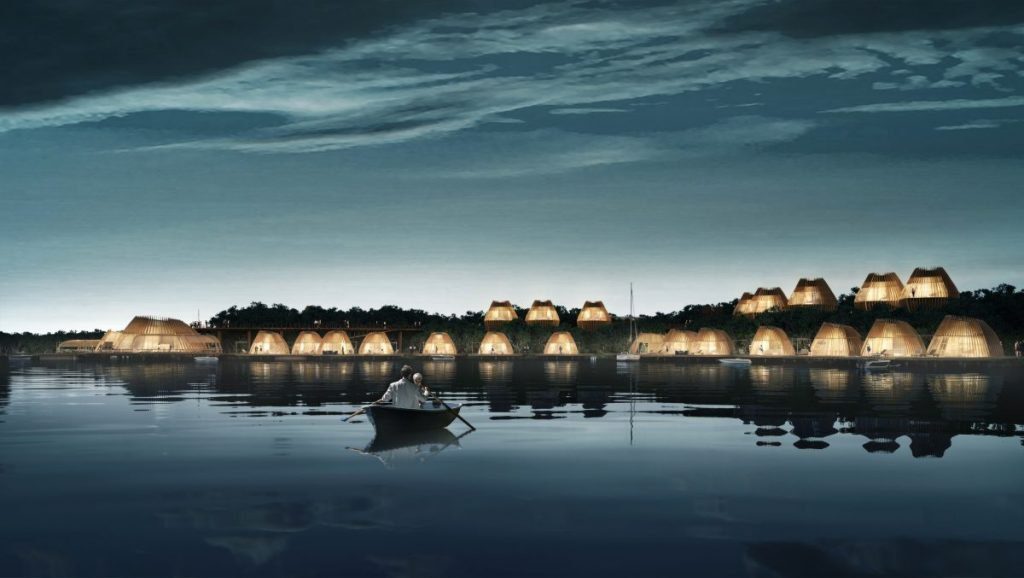 Earth Marjan Island will offer resort rooms, cabana rooms or duplex sky suites, all of which will be underpinned by sustainability. Promising an "effortlessly cool and social vibe", the hotel will host resident DJs, dance parties and comprise its own beach bar.
Inviting guests to "party all night" the hotel will also have a dining social hub, central bar, indoor and outdoor communal spaces and much more.
8. RAK Marriott Hotel and Resort (Opening TBC)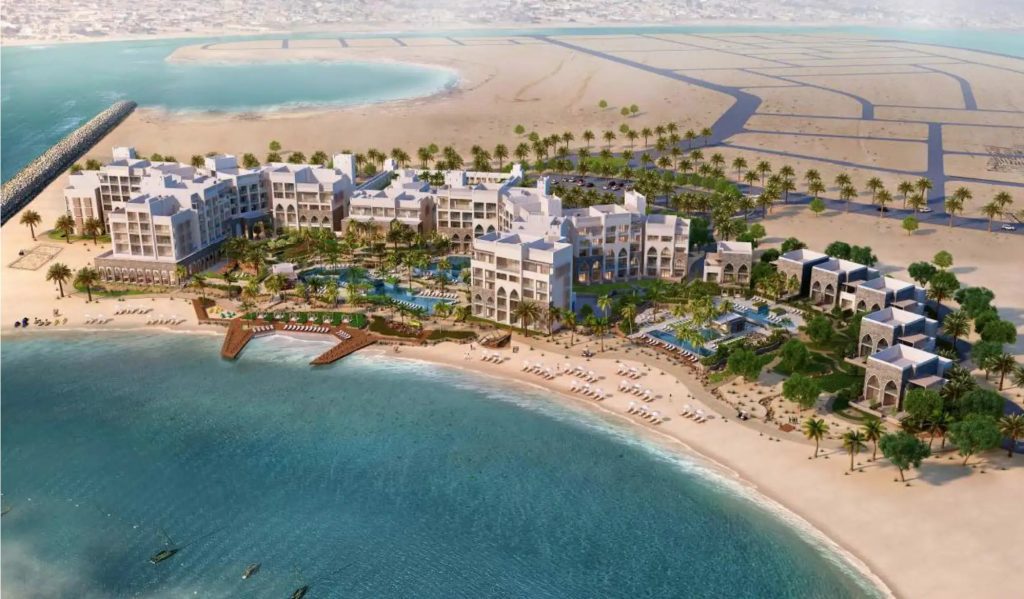 The RAK Marriott Hotel and Resort is a five-star luxury development with 300 keys comprising 269 rooms, 10 suites and 21 villas, conference halls, health and leisure facilities and numerous food and beverage outlets.
9. Rove Al Marjan Island (Opening TBC)
Rove Al Marjan Island will have 450 rooms with comfortable mattresses, 48-inch TV with a smart media hub for super-charged entertainment, free high-speed wifi, power showers in ultramodern bathrooms, interconnecting rooms for families, a unique beach club concept, 24-hour boutique convenience store, outdoor pool, sundecks to relax, a 24-hour gym, a 24-hour self-service laundromat, luggage store rooms, safety deposit boxes, sofa beds for extra guests, mini-fridge and more. Rove Al Marjan Island will feature a trove of artworks that take inspiration from the natural setting of Al Marjan Island.
Rove Al Marjan Island will also feature The Daily, an all-day restaurant that serves international flavours. The hotel will also offer convenient meeting facilities. The Rove Pit Stop is ideal for informal chats and socialising.
10. Saij, A Mantis Collection Mountain Lodge (Opening TBC)
Announced last year as part of an impressive line-up of more than 20 new attractions headed to Ras Al Khaimah, Mantis Collection will arrive in the adventure emirate with Saij, A Mantis Collection Mountain Lodge. Famed for excelling in the sustainability stakes, the Ras Al Khaimah property will be located on Jebel Jais, offering 35 luxury lodges, an array of mindful pursuits, and guided treks on the activity roster.
11. Sofitel Ras Al Khaimah Resort (2023)
Sofitel Ras Al Khaimah Resort will be located within Al Hamra's existing tourism destination. This means it will provide direct access to the Al Hamra Golf Club, Al Hamra Marina and Yacht Club, Al Hamra International Exhibition and Conference Centre, and the Al Hamra Mall.
Additionally, the 300-key property will boast its own private beach and six dining outlets which will come together to offer food options from around the world. In the future, the resort will also provide access to an expanded beach boardwalk and sports complex under Al Hamra.
12. The Westin Ras Al Khaimah (Opening TBC)
At the time of writing, there is little information on the Westin, apart from the promise of its opening according to state news agency WAM.
13. Wynn Resorts (2026)
Ras Al Khaimah will open its integrated resort in 2026. Wynn Resorts is a well-known hospitality brand hailing from Nevada. The new integrated resort is a multibillion-dollar undertaking according to Marjan, RAK Holding and Wynn Resorts Limited.
The development is the first beach resort being developed by Wynn Resorts globally. The current scope includes a 1,000-plus room hotel, high-end shopping mall, a state-of-the-art meeting and convention facility, a spa, more than 10 restaurants and lounges, a wide array of entertainment choices, a gaming area, and other amenities.
The upcoming Wynn Resort in the UAE will be located on Dream Island – an unused patch of Ras Al Khaimah's Marjan Island once hoped to bring Ibiza parties to the Middle East. Unlike the rest of Marjan Island, Dream Island has seen no development, meaning Wynn will be the sole resort on the site as current plans stand.