Listen to this article
Nothing breaks the ice like getting a bit competitive at a pub quiz. Be prepared to smash through the ice while you bond over some ridiculously raucous rounds of quizzes at this Trivia Night at Garden bar Ras Al Khaimah.
Surprise everybody with your knowledge while you satisfy your cravings.
Now every Thursday 7 pm – 10 pm at Garden Bar, the winner of every round will get a complimentary drink and the Trivia Night winner will get a mega voucher.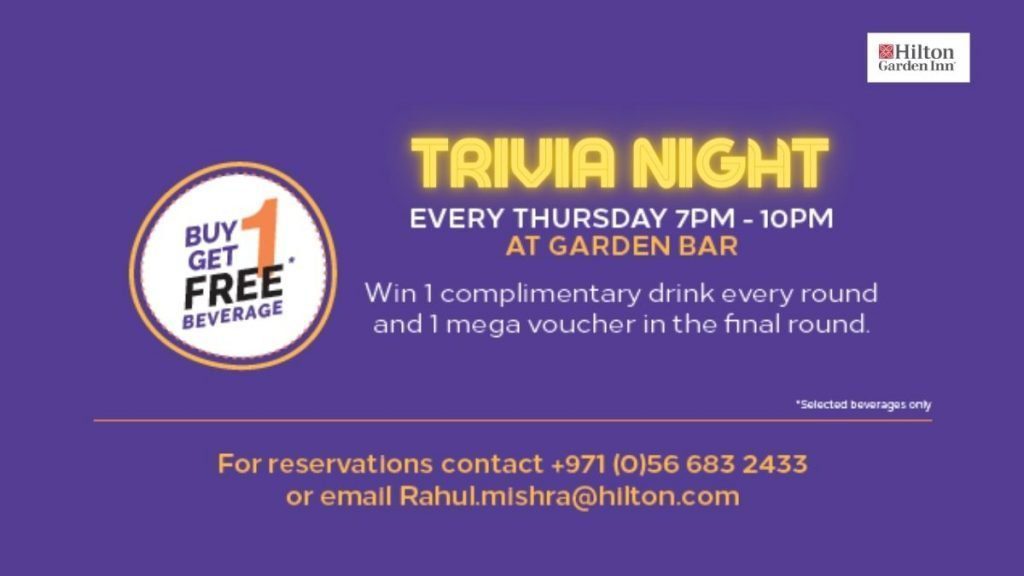 This extravagant, hilarious and deliciously daring show is far more than just your average pub quiz night. There are total 5 rounds: Movies, Sports, Music, General Knowledge & Science, Knockout round
Movies – Directors, actors, references from movies, etc.
Sports – National sports, players, managers, wins, etc.
Music – Band or Artist & the Song (Songs from every generation) need to identify as we play a small clip from a Song
General Knowledge – inventors, currency, places, historical events, etc.
Knockout round – a mix of all of the Above (most important round as if you get one question wrong you will get knocked out)
You can come along to the event solo, or bring your friends too. The Trivia teams will switch, mix and match, and you'll get a chance to meet the rest of the fellow.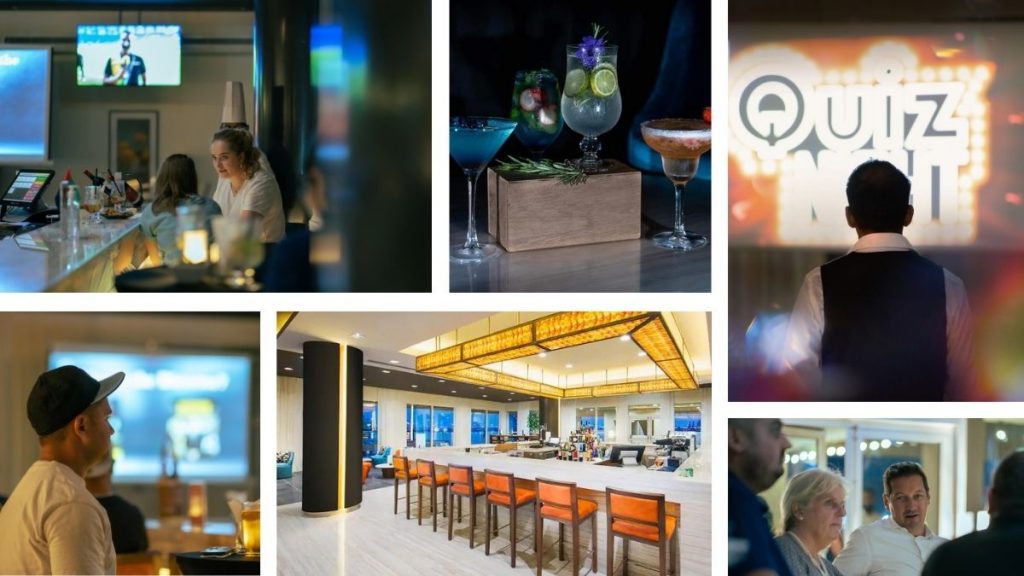 What is a Trivia Night?
Trivia nights or pub quizzes are a kind of game night that is hosted by a bar. Multiple rounds are structured across different subjects like general knowledge, history, pop culture, and more. People can play in teams and buy drinks on trivia night, making a fun social activity with friends.
The bar appoints a trivia master that announces the questions to the audience and provides the answers so teams can score themselves and a winner can be announced. Bars give out prizes to the winners and usually run these events weekly.
About Garden Bar Hilton Garden Inn Ras Al Khaimah
Relax after a long day of work at The Garden Bar, where cocktails, mocktails and all kinds of beverages are prepared by our team. Enjoy a cosy atmosphere, fresh snacks and sharing platters.
Enjoy drinks while watching the latest sports. Best view of creek in Ras Al Khaimah
| | |
| --- | --- |
| Theme | Casual |
| Speciality | Bar Snacks, Burger, sandwiches, Sliders Pizza |
| Seating Type | Indoor & Outdoor |
| Live Entertainment | No |
| Alcohol | Yes |
| Shisha | Yes |
| Private Dining | No |
| Kids Friendly | No |
| Table Booking | Optional |
| Approx Cost for 2 | AED 100 (including drinks) |
Garden Bar Timings: 3:00 PM to Midnight
Contact and Location
For reservations call +971 (0)566832433 or email Rahul.mishra@hilton.com