Listen to this article
In the realm of luxury living and resort experiences, Ras Al Khaimah has emerged as a prominent player, thanks to the visionary partnership between RAK Properties and Nikki Beach Global. This union has given birth to Nikki Beach Resort & Spa Ras Al Khaimah, a beacon of opulence nestled within the tranquil embrace of Mina Al Arab.
A Match Made in Paradise: RAK Properties and Nikki Beach
RAK Properties: The Pioneers of Luxury Living
RAK Properties, a name synonymous with luxury real estate, has been a driving force behind the transformation of Ras Al Khaimah's landscape. With a commitment to creating exceptional living environments, RAK Properties has consistently delivered world-class developments.
Nikki Beach: A Legacy of Luxury
Nikki Beach, a name that resonates with luxury, is renowned for its vibrant beach clubs and resorts scattered across the globe. Known for its lively beach club atmosphere, Nikki Beach has recently expanded its portfolio to offer a more relaxed and barefoot luxury experience.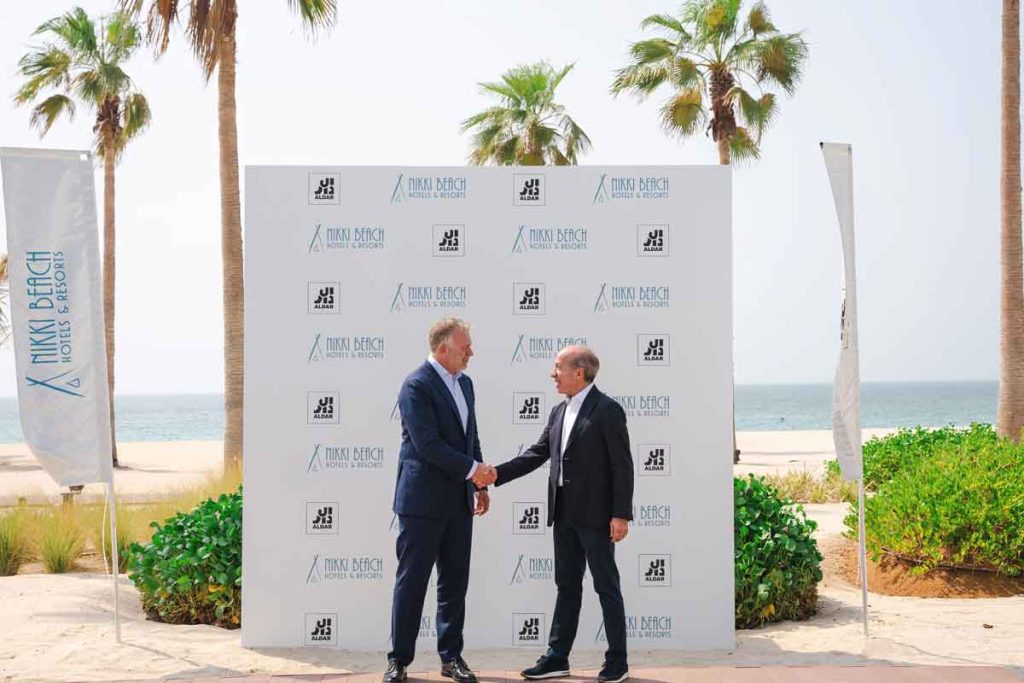 The Birth of Nikki Beach Resort & Spa Ras Al Khaimah
Mina Al Arab: A Tranquil Oasis
Mina Al Arab, the canvas for Nikki Beach Resort & Spa, epitomizes island life with its pristine beaches, panoramic Gulf views, and a sense of tranquillity that envelops the soul. It's the perfect backdrop for a luxury lifestyle destination.
The Resort: A Glimpse into Luxury
With 155 keys, Nikki Beach Resort & Spa Ras Al Khaimah promises a vast array of rooms and villas, each offering a unique glimpse into the lap of luxury. Guests will have access to Nikki Spa, Tone Gym, and signature restaurant concepts that define the Nikki Beach experience.
Gensler: Architects of Authenticity
Gensler, the architects behind the resort, are known for their commitment to sustainability and creating authentic experiences. They will integrate the resort seamlessly into Mina Al Arab's natural environment, following the Barjeel guidelines and utilizing local products and materials.
A Vision of Luxury Island Living
RAK Properties' Vision
RAK Properties' vision for Mina Al Arab is to establish it as the foremost luxury island lifestyle destination. The partnership with Nikki Beach is a pivotal step in achieving this goal, offering visitors and investors a taste of luxury embedded in Ras Al Khaimah's natural beauty.
A Unique Luxury Concept
Nikki Beach Resort & Spa Ras Al Khaimah is set to redefine luxury living in the emirate. It promises to be the go-to destination for those seeking a lifestyle concept that combines lavish shopping, exquisite dining, and world-class entertainment against the backdrop of the Arabian Gulf and Hajar mountains.
While details as to when it'll open are under wraps for now, you better keep your eyes peeled and stay tuned with FACT for all the juicy updates. But if Nikki Beach Dubai's popularity is any indication, you can bet that this place will be a hotspot for anyone looking to find their zen mode for the perfect escape.
In other Nikki Beach news, the barefoot luxury lifestyle brand will also be opening in Oman, with the arrival of Nikki Beach Resort & Spa Muscat later this year.
Conclusion
As Ras Al Khaimah continues to evolve into a luxurious haven, the partnership between RAK Properties and Nikki Beach sets a new standard for island living. Nikki Beach Resort & Spa Ras Al Khaimah is poised to become the ultimate destination for those who seek luxury, natural beauty, and a celebration of life. Stay tuned for updates on the resort's development and opening date, as a new era of luxury living in Ras Al Khaimah awaits.