Listen to this article
Make everlasting memories with extraordinary experiences on exclusive offers at The Ritz-Carlton Ras Al Khaimah, Al Hamra Beach. Immerse yourself in the golden rays of the beach, treat yourself to rejuvenating drinks, and embrace a luminous radiance with special promotions at The Ritz-Carlton Spa. Embark on a captivating journey through vibrant tastes and treasure the beauty of vivid moments. We extend our warmest welcome and wish you a wonderful stay at The Ritz-Carlton Ras Al Khaimah, Al Hamra Beach.
They look forward to welcoming you to the resort soon.
Beachy Adventure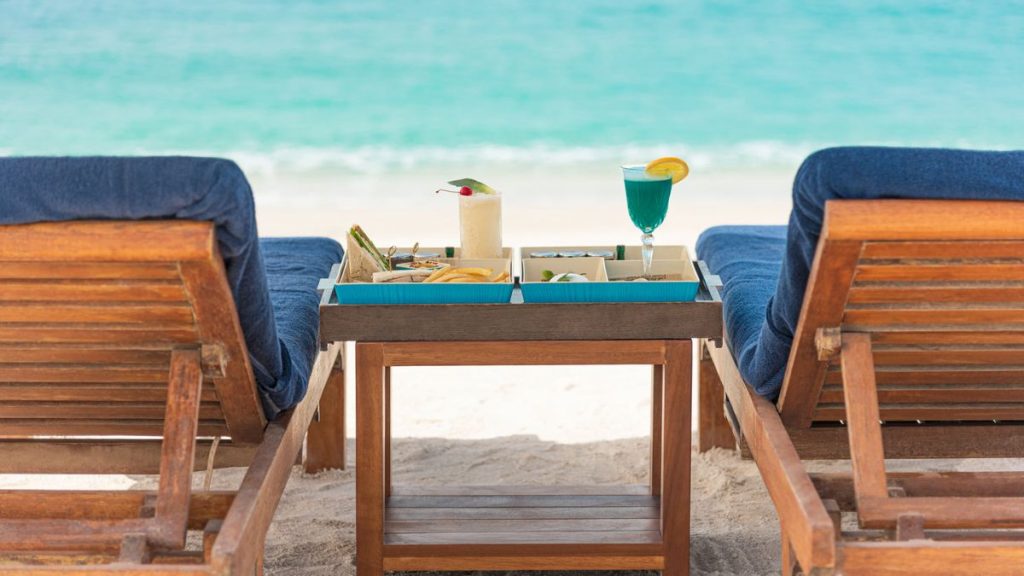 The Ritz-Carlton Ras Al Khaimah, Al Hamra Beach, invites guests to the ultimate staycation package with an exquisite full-board beach experience. The special package includes an all-inclusive stay inclusive of breakfast, lunch, and dinner – a true dine-around experience between The Ritz-Carlton Ras Al Khaimah, Al Wadi Desert, and The Ritz-Carlton Ras Al Khaimah, Al Hamra Beach. Indulge in a culinary journey with a 3-course meal featuring a starter, main and dessert per person, ensuring your taste buds are pampered throughout your stay.
The adventure does not end there as guests immerse themselves in the beautiful nature surrounding the property with a complimentary 60-minute Kayaking and Archery experience, followed by a soothing 15-minute foot massage at The Spa. This staycation package is a true blend of luxury, gastronomy, and thrilling outdoor activities, all set against the stunning backdrop of the pristine Al Hamra Beach and Al Wadi Desert.
From AED 3,840.
The Ritz-Carlton Spa
Visitors can enjoy ultimate relaxation with a luxurious experience at The Ritz-Carlton Spa, where moments of unparalleled pampering await. Immerse yourself in the soothing touch of a Warm Lava Shell Massage, followed by a rejuvenating facial that leaves your skin feeling fresh. From AED 850 per person, this special package will make your skin glowing and healthier.
The Ultimate Radiance
Discover the miraculous re-mineralising treatment crafted to smooth and rejuvenate your skin with active marine minerals. Begin with a soothing sea salt exfoliation and a nourishing full-body wrap. Melt away tension with a blissful massage and hydrate with a cooling moisturiser, leaving your skin refreshed and radiant.
AED 790 Per Person
90 Minutes Treatment
Dining at The Beach Deck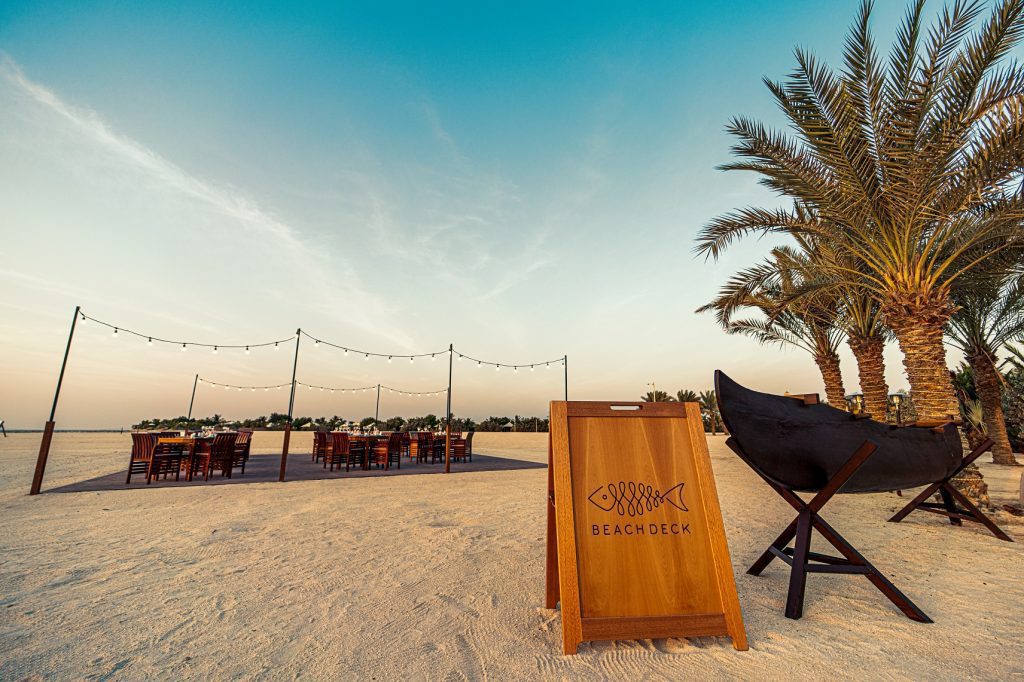 The Ritz-Carlton Ras Al Khaimah, Al Hamra Beach, has reopened its lavish beachside restaurant, The Beach Deck, and is inviting guests to make the most of the stunning views of the sun-kissed shores of powdery sands and cool azure waters. The open-air Beach Deck has opened in time for the outdoor season with a decadent menu of premium seafood dishes and refreshing cocktails, making it the ideal venue for guests and local residents to enjoy a relaxed alfresco dining experience. 
The resort's award-winning team of chefs has produced the menu using locally sourced ingredients, so that guests can experience grilled specialties, as well as seafood prepared on live stations. Dishes include Dibba Bay Oysters, a BBQ seafood platter, a whole Atlantic lobster and a flavoursome Pear Cheesecake for dessert amongst others. 
Summer Beach Day
Soak up the sun in style with our exclusive Day Pass that grants you access to our luxurious pool, pristine beach and comfortable sun loungers. Experience a day of indulgence and enjoy an exclusive discount on all food & beverages.
AED 100 For The Day Pass
20% Off On Food & Beverages
Flavours Of Latin America
Take a flavourful journey to Latin America at Shore House. Presenting an authentic Latin American themed special menu, curated by our Executive Sous Chef Isabel, a culinary maestro from Mexico. Every dish is crafted with traditional flavours and cooking techniques, served in family-style, promising to transport your taste buds.
Every Tuesday
AED 220 Per Person
Included In Half-Board & Full-Board
Arabia To India
Experience a tantalising array of Indian and Arabic flavours every Thursday night at Shore House. Delight in a captivating menu that takes you on a culinary adventure through vibrant spices and exotic ingredients. Our family-style serving invites you to gather around the table and share tapas or mezze portions of starters, mains and desserts, creating a feast for your senses.
Every Thursday
AED 220 Per Person
Included In Half-Board & Full-Board
Sweet Pairings
Treat yourself to our heavenly homemade cake selection featuring chocolate, red velvet, and cheesecake flavours. Perfectly paired with freshly brewed coee or your choice of aromatic tea, a sweet experience awaits.
Throughout July
AED 38 Per Person
Business Lunches
Professionals on the go, join us at the Shore House for a quick and convenient dining experience that perfectly complements your busy schedule. Swiftly place your order and savour a satisfying, well-balanced meal with a lunch menu prioritising exceptional cuisine with fast and efficient service.
Daily, 12 P.M. Onwards
AED 95 For Salad Or Appetizer And Dessert
AED 105 For Flatbread Pizza, Pasta Or Sandwich And Dessert
Contact & Location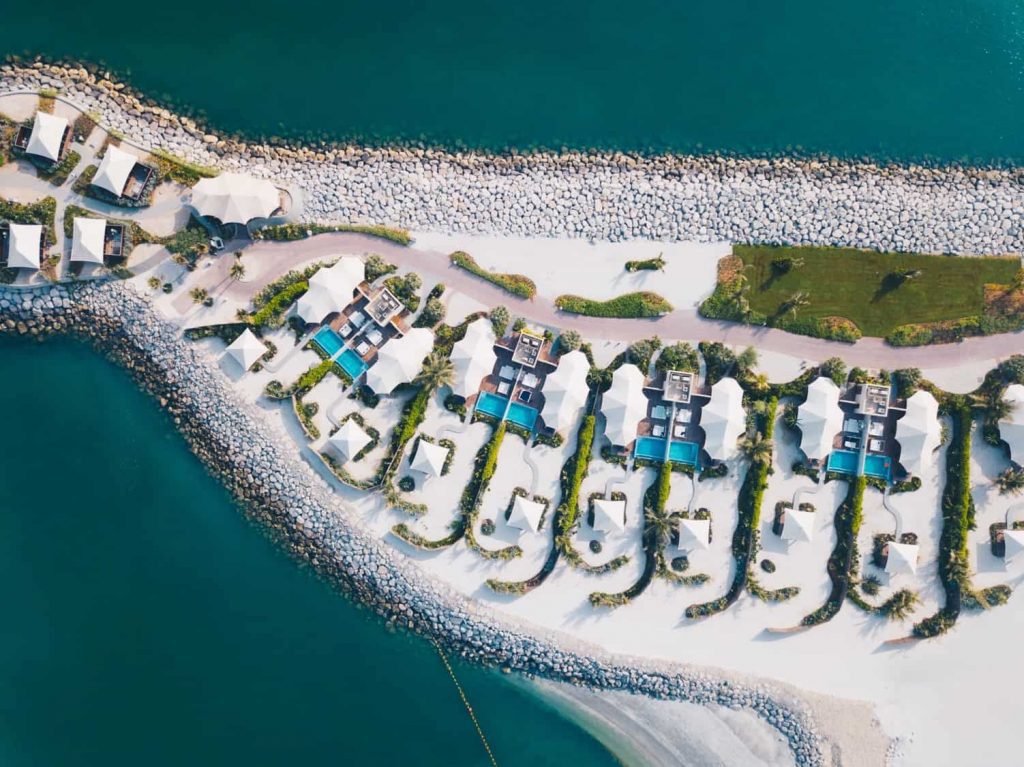 Phone – +971 7 204 8888