World's longest zip line is in Ras Al Khaimah
World's Longest Zipline certified by Guinness World Records, with 
2.83km span of zipwire, equivalent to 28 soccer pitches. This bucket list experience will take you for a ride you won't forget. Starting at  the highest point of the UAE (1,680 mts above the sea level) and after flying above the magnificent Jebel Jais mountains in Ras al Khaimah at an average speed of 120kph, you will land in our top of the line suspended platform.
Guinness World Records officials certified the zip line in Ras al-Khaimah on the same day the attraction opened to the public.
The Jebel Jais Flight takes thrill-seekers atop the country's largest mountain peak, from a launch pad 5,512 feet above sea level. For nearly three minutes, riders are suspended above the mountain as they glide past rocky terrain.
Ras Al Khaimah has achieved a Guinness World Record title for the World's Longest Zipline'.
Ras Al Khaimah claimed a record with the opening of the world's longest zip line, measuring 1.76 miles in length. #rakiswow
The official certification was handed over today to HH Sheikh Saud Bin Saqr Al Qasimi, Member of Supreme Council and Ruler of Ras Al Khaimah, by Hoda Khachab, the official adjudicator from Guinness World Records.
How long is the world's longest zipline?
The 2,800-metre long attraction that has been launched by the RAK Tourism Development Authority, perches itself above the towering peak of Jebel Jais mountain.
To put things into perspective, the zip-line stretches across the length of 28 soccer fields. And if the scale left any doubt, the dizzying height of Burj Khalifa is 830 metres.
How much does it cost?
The ride itself is priced at Dh425 (onwards), with bookings now open on its site for those who feel that bit of adventure is missing from their life.
In its first phase, the zip-line attraction will accommodate 250 people a day, according to its official site.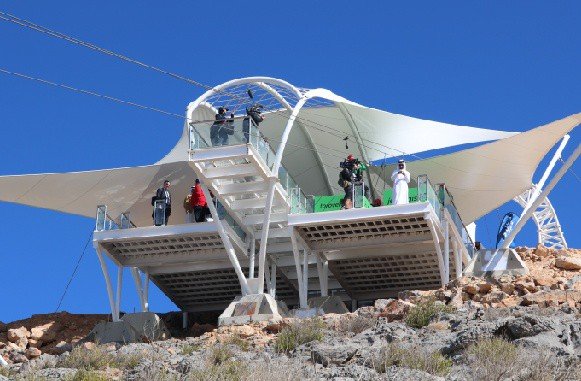 Transportation
Travelling to Jebel Jais doesn't require special vehicle. The roads are smooth and drive is pleasant with amazing view. However if you don't have a car, you can always book special shuttle bus from RAK to Jebel Jais for as low as AED 20 per person.
Location