Welcome summer with this ultimate pool party
Make a splash with your family and friends while relaxing in or alongside the pool. We present you dazzling entertainment including traditional and modern performances. Special packages for a full day by the pool with fantastic food and drinks.
Sundowner Pool Party
The Ultimate Party Experience by DoubleTree by Hilton Resort & Spa Marjan Island
Spend a day dancing and playing next to or in the beautiful spacious Al Marjan pool, for your fun and games we prepared: fancy floaters, water balls, water guns and many more party accessories.
Resident DJ
Live singer
Ramil on the Sax
Dance Show
Belly Dance
Fire Show
A la carte menu and beverage package available for you to enjoy mouthwatering food stations, beverage promotions and the sensational regular & floating Shisha.
Event Date and Time
Friday, 29 March 2019 & Friday, 26 April 2019
4:00pm – 10:00pm | Al Marjan Pool
10:00pm – 3:00am | XclusiV Night Club after party
[ai1ec post_id="11246″]
Price
All You Can Drink – Beverage Package AED 138.
Call 07 203 0104 for more information.
Price is inclusive of 10% service charge and 5% VAT.
Contact and Location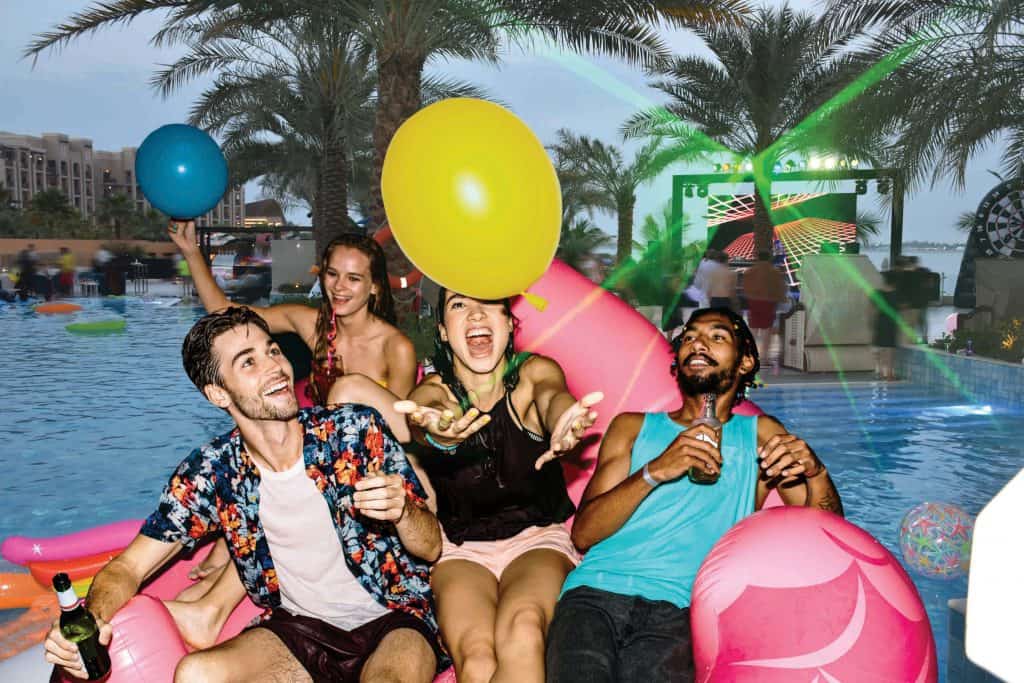 For bookings and enquiries, please call +971 7 203 0104 or emailf&breservations.marjan@hilton.com
DoubleTree by Hilton Resort & Spa Marjan Island