This amazing desert Resort in Ras Al Khaimah is inviting guests and their loved ones to celebrate a memorable Valentine's Day with a sublime collection of experiences including unmissable stay, dining offerings, spa packages, and a lot more.
A Luxurious Valentine's Day Getaway in the Desert
Within a protected nature reserve sanctuary, The Ritz-Carlton Ras Al Khaimah, Al Wadi Desert is a unique remote getaway just 45 minutes from Dubai. Ideal for families and travellers seeking a remote getaway, the private resort offers adventure and tranquillity combined with a tranquil desert oasis. Intimate pool villas, world-class destination dining, an award-winning hydrotherapy spa and an extensive range of family-friendly and outdoor activities add a luxurious touch to a traditional desert experience. Desert explorers and affluent travellers alike appreciate the beautiful surroundings and immersion in the traditional Bedouin lifestyle while still enjoying creature comforts.
Itinerary for Valentines Getaway
This Lavish Valentines getaway includes 1 night Stay in Al Sarab Villa having a private pool and patio deck with sun loungers, spacious bedrooms and a comfortable seating area, fully stocked minibar, coffee and tea making facilities, spacious bathroom with luxury Asprey® toiletries, free WiFi and an LCD TV.
Upon arrival at the resort, you will be checked in and taken to your villa in style by a 1952 Land Rover and warm welcome with wine and petit fours. After you settle (14:30 PM) you will get an exclusive 60-minute tranquil experience at the Rainforest hydrothermal sanctuary that offers 16 state-of-the-art hydrothermal therapies and an extensive range of wellness facilities. The rejuvenation session continues with a 60-minute massage to melt away your tension. Return to Villa.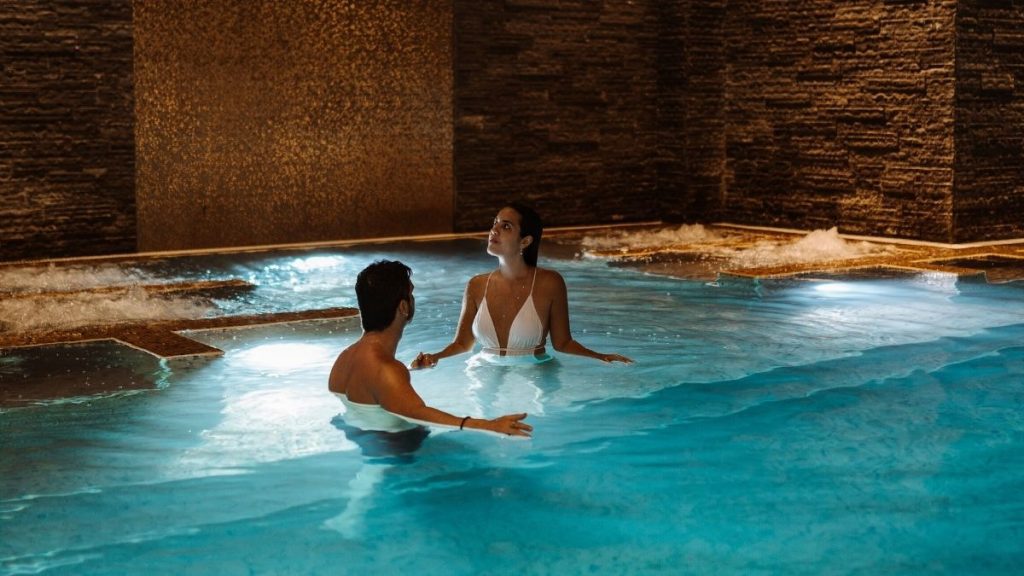 To cosy up the evening at 17:30 PM, the resort will arrange a sunset drinks experience in the Villa followed by an unforgettable romantic dining experience at Kanzaman Valley with 100 candles, a bonfire with Bedouin set up, heart-shaped balloons and champagne.
Upon your return to Villa, you find an exquisite Romantic set-up with champagne, roses, bubble bath, chocolate strawberries, etc.
The second day starts with an International breakfast with Champagne in the Villa. During the day resort plans cheerful and funfilled activities like owl interaction at the villa, wildlife feeding and tree planting at the resort's nature reserve.
Just as Bedouins have dined within the desert for centuries, resorts will organize a private picnic lunch near the nature reserve's man-made watering hole.
Check out at 2:00 PM
Additional inclusions
Wine and petit fours upon welcome
ESPA his and her departure gift at the Rain forest
Two embroidered RC bathrobes at the Villa
Package Price: AED 35,000
About Ritz Carlton Al Wadi Resort Ras Al Khaimah
Connecting nature and culture is the pinnacle of the 500 hectares of the nature reserve. Guests at the resort can enjoy a daily falconry show, nature walks, archery, and other family-friendly outdoor activities including horse-riding, and encounters with Arabian Oryx, sand and Arabian gazelles, camels, horses, among the wildlife. Kids are entertained at the Ritz Kids Club, featuring an outdoor playground, an expert team at hand, and daily activities such as archery, pony riding, initiation to nature, owl interaction and nature walks.
An award-winning well-being experience awaits at Ritz-Carlton Al Wadi Desert, featuring the region's only Rainforest circuit and a range of tailor-made treatments for a journey complementing serenity and tranquillity. A complimentary fitness club is available for guests and visitors.
3 restaurants and 1 rooftop lounge highlight the best of local and international cuisine in a stylish environment. From a private dinner on the dunes under the starry sky or at the top of an ancient watchtower, to international and Indian cuisine at Kaheela, Moroccan cuisine at Moorish or signature steakhouse Farmhouse, The Ritz-Carlton Ras Al Khaimah, Al Wadi Desert enlivens the senses.
Contact and Location
Call +971 7206 7777 or email rc.rktrw.experience