This complimentary ferry boat service will make your stay Fast & Ferry'ious' at Ras Al Khaimah
An adventurous way to make the most of your stay at Al Hamra.     The complimentary ferry boat service for Al Hamra Village Residents connects the Al Hamra Marina to the Al Hamra Golf Club.
The ferry operates "on call" and is available at all stations during operational timings, just use the 'Call Ferry' buzzer at the stops to ask for the ferry.  The main stations are the Al Hamra Golf Club, Ritz Carlton (Al Hamra Beach), Sailing Club of Ras Al Khaimah and the Al Hamra Marina Yacht Club.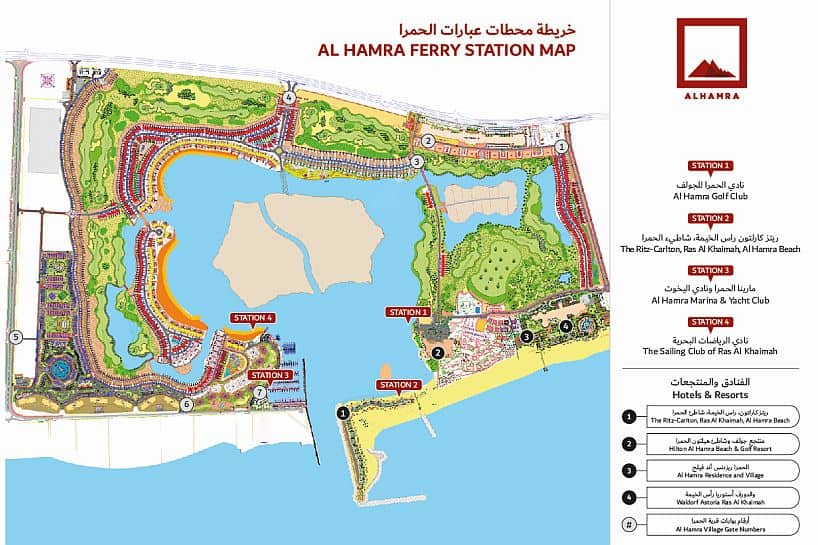 Station 1 Located at the new arrival point of The Ritz Carlton Al Hamra Beach Resort, adjacent to Al Hamra Golf Club and its bar and restaurants, a minute walk from the Hilton Al Hamra Beach & Golf Resort and its well reputed Mai Tai lounge.  
Station 2 At the Ritz Carlton Al Hamra Beach Resort entrance will provide access to the new Shore House restaurant and its terrace and bar overlooking the beach.  
Station 3 Located at Al Hamra Marina and Yacht Club, a minute walk from the Marina Muse restaurant.  
Station 4 Located at the RAK Sailing Academy and Sailing Club.  
Come experience the wide array of leisure and F&B offerings afloat the Al Hamra Bay. Options ranging from The Bay Sports Bar, Pesto Ristorante, Shore House, Marina Muse Bar, Lexington Grill and the Trader Vic's Mai Tai Lounge.  
The ferry operation is managed through the Al Hamra Marina & Yacht Club, so if you don't want to wait at the buzzer, you might also try to call the ferry using their duty phone  +971 50 404 1803
The operation times of the ferry are:
Sunday to Wednesday: 12:00 to 15:00 and 18:30 to 23:30
Thursday to Saturday: 12:30 to 14:30 and 18:30 to 00:30
Note: The ferry is intended only for Al Hamra Village Residents and hotel guests. So at some point, they might start to ask you for your Al Hamra VIP Card to use the ferry.
---
---
---