Listen to this article
Our Ladies and Gentlemen are delighted to welcome you to our award-winning resort. This month we invite you to indulge in various culinary o ers across our resort's restaurants, connect with nature and discover the secrets of this 1,235 acre Nature Reserve by engaging in various unique experiences. We wish you a wonderful stay at The Ritz-Carlton Ras Al Khaimah, Al Wadi Desert.
Relaxing Spa Treatments
Indulge in a calming spa treatment and pamper yourself at The Ritz-Carlton Spa. Reserve any 90-minute body massage from our menu and enjoy a 30-minute deep cleanse express facial with our compliments this month.
Night Walk
Explore a wide range of desert nocturnal animals when the, sun has set and the temperatures have dropped. Under the guidance of our knowledgeable Activity o cer, you will have the chance to search for reptiles, rodents and herbivores as they begin foraging in the night.
Please wear closed shoes and long trousers for this activity.
AED 190 Per Adult
AED 310 Per Couple
AED 125 Per Child
Activity time – 45 minutes
Family Nature Adventures
The Ritz-Carlton Ras Al Khaimah, Al Wadi Desert o ers a range of desert activities. Take a guided night journey under the stars, experience nature drives in our air-conditioned or open topped Polaris vehicles, discover interesting facts about flora and fauna within the Al Wadi Nature Reserve, or experience feeding local wildlife such as the Arabian Oryx or Sand Gazelles.
Nature Drive:
AED 265 per adult
AED 477 per couple
AED 160 per child
Activity Time – 60 minutes
Controlled Desert Horse Rides
Enjoy a unique horse riding experience amidst the desert and be captivated by stunning sunrise or sunset with your loved ones.
Staring time AED 300 per person
Morning from 6 A.M. to 8 A.M.
Afternoon from 5 P.M. to 7 P.M.
Length of the ride – 45 mins
Open desert rides are for intermediate and experienced riders. Beginners can experience desert horse-lead rides.
This activity is strictly for persons above 16 years old. Closed shoes and long trousers are required for all Equestrian activities.
Fun For The Little Ones
The resort o ers fun adventure activities for our younger guests. With our Ritz Kids program, kids aged from 4 to 12 years can take part in activities including arts and crafts, colouring, storytelling and more.
Open from 9 A.M. to 1 P.M. & 2 P.M. to 6 P.M.
Local Seafood Experience
Indulge in a special menu that includes ceviche, juicy jumbo prawns, local snapper and a seafood platter grilled to perfection.
Dishes start from AED 70
Throughout September, 6.30 P.M. to 11 P.M.
Summer By The Pool
This September, indulge in a range of delicious light fare from shawarma, pizzas, sliders, and crispy coconut shrimp to bu alo wings complimented with refreshing beverages while you unwind in your villa's private pool.
Starting from AED 125
Available daily, 12 P.M. to 6 P.M.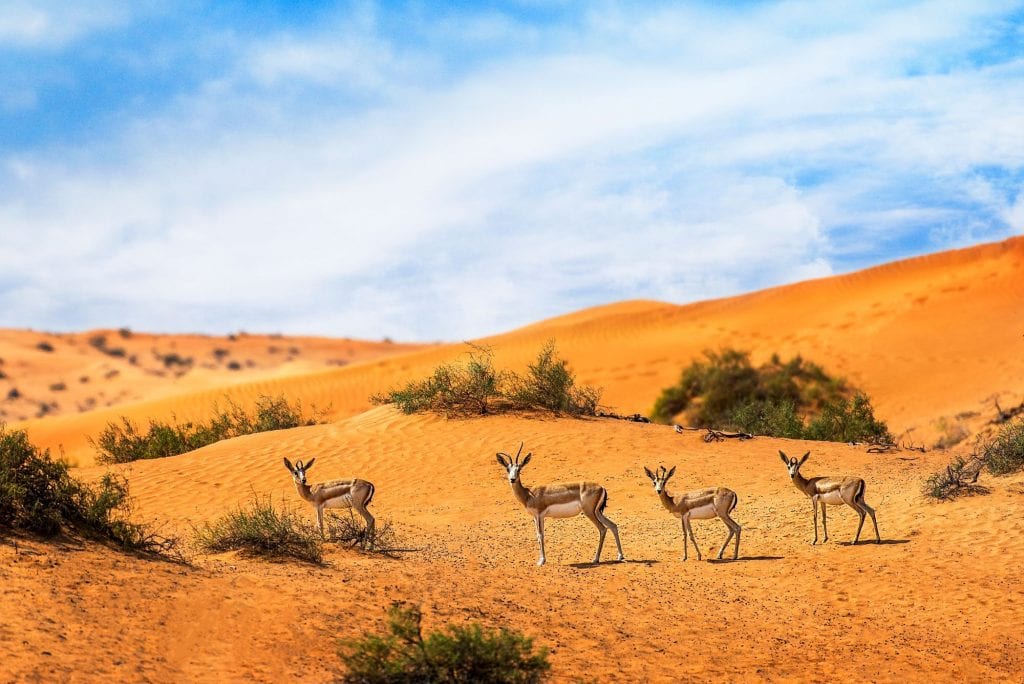 About Ritz-Carlton Ras Al Khaimah, Al Wadi Desert
Just north of Dubai, The Ritz-Carlton Ras Al Khaimah, Al Wadi Desert invites guests to connect with nature and culture amid the beauty of a 1,235-acre protected reserve. The resort's Experience Concierge can arrange a desert trek on camel- or horseback, a private archery lesson or an evening of stargazing. And luxury villas, inspired by Bedouin architecture, feature private outdoor pools and breathtaking desert views.
Contact And Location
Email at rc.rktrz.ivd@cristiano-moulin