Listen to this article
Yas Island is known for its massive, adventure-packed theme parks, world-famous racing circuits, and a top-notch golf course and mall.
The island is also home to several luxury hotels, a beautiful beach, and a gorgeous marina.
These places allow you to engage in the right mix of fun and relaxing activities and experiences.
And with all these activities to do, you need great food to fuel and replenish your body to get it ready for more exciting ones.
A visit to Yas Island is also the perfect excuse to reward yourself with amazing meals, treats, and dining experiences that will whet your appetite.
You can do this easily since Yas Island is home to several of the top restaurants in Abu Dhabi.
From American, Indian and Mexican to Chinese, Italian and Spanish, you can indulge in various cuisines that will surely delight your taste buds and tummies.
Yas Island's Must-Try Restaurants
Below are the eight restaurants you shouldn't skip when you're on Yas Island:
1. Amerigos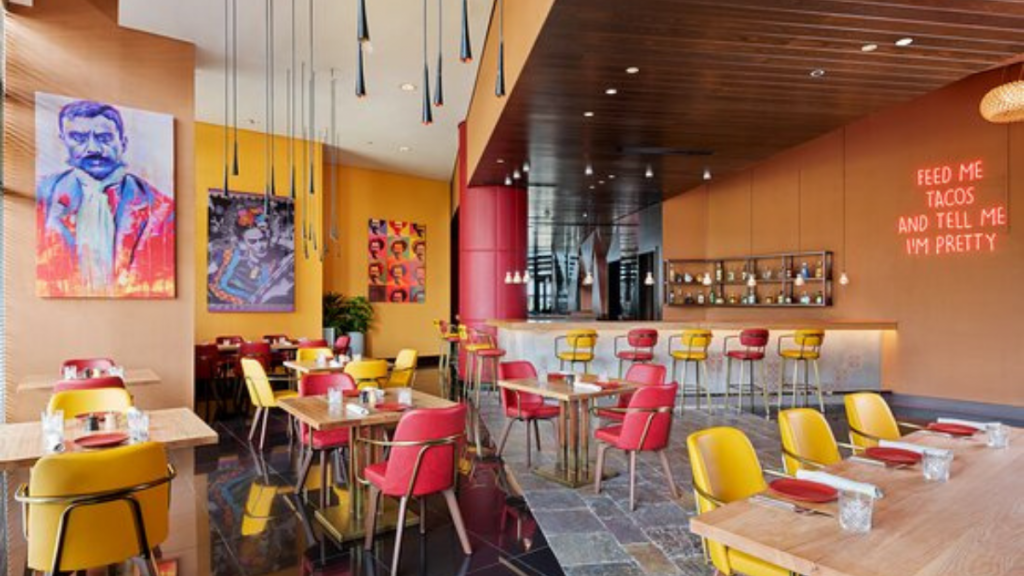 If you're craving authentic Mexican and Latin dishes and beverages, head to Amerigos, which you can find at Park Inn by Radisson Abu Dhabi.
This restaurant is known for their mouth-watering fajitas, quesadillas, ceviches and churros. You can enjoy all these inside a vibrant, colourful interior, making you feel like you're in a high-end Mexican diner.
You can dine at this restaurant any day of the week. However, if you want to enjoy a lively dining experience, drop by during its theme days and nights, including Mercadito on Fridays and Acapulco Saturdays Brunch.
If you want to enjoy a hearty meal in the morning, don't skip the Saturday brunch, which is one of the most popular on Yas Island.
2. Aquarium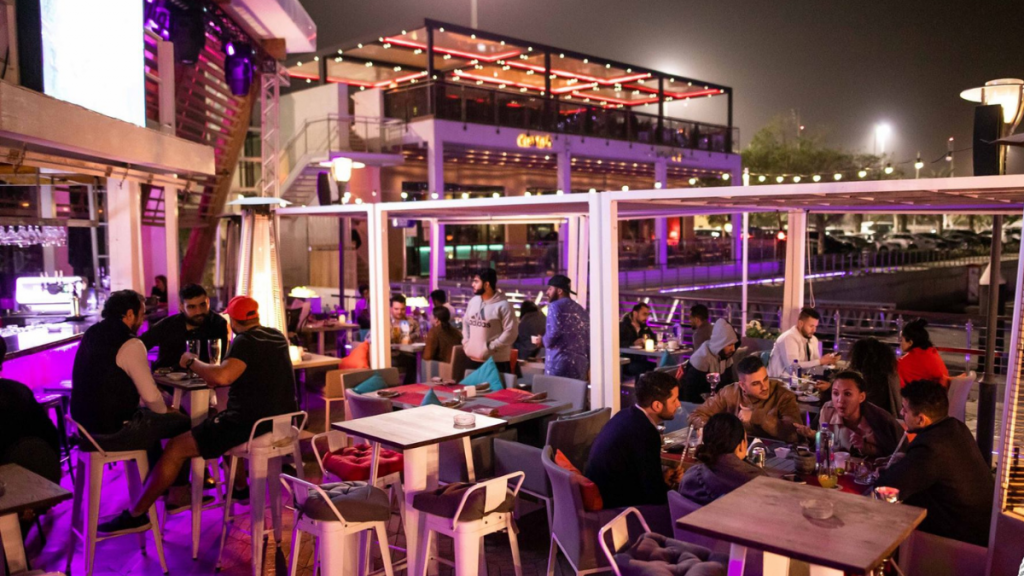 For a dining experience that lets you enjoy great food and stunning views at the same time, head to the Aquarium at Yas Marina.
The Aquarium at Yas Marina is a luxurious restaurant with a relaxed vibe. It has an indoor and outdoor dining area giving guests amazing views of the marina.
For the ultimate seafood dining experience, take your pick from the day's fresh catches at the Fresh Fish Market and have the in-house chef cook it according to your preference.
The prestigious restaurant is also known for its Sushi Sundays, a dining experience that lets you satisfy your craving for unlimited sushi and various seafood dishes for a set price.
Aside from this weekly extravaganza, you can enjoy other daily promotions that allow you to get more value out of your money when you dine here.
3. Asia Asia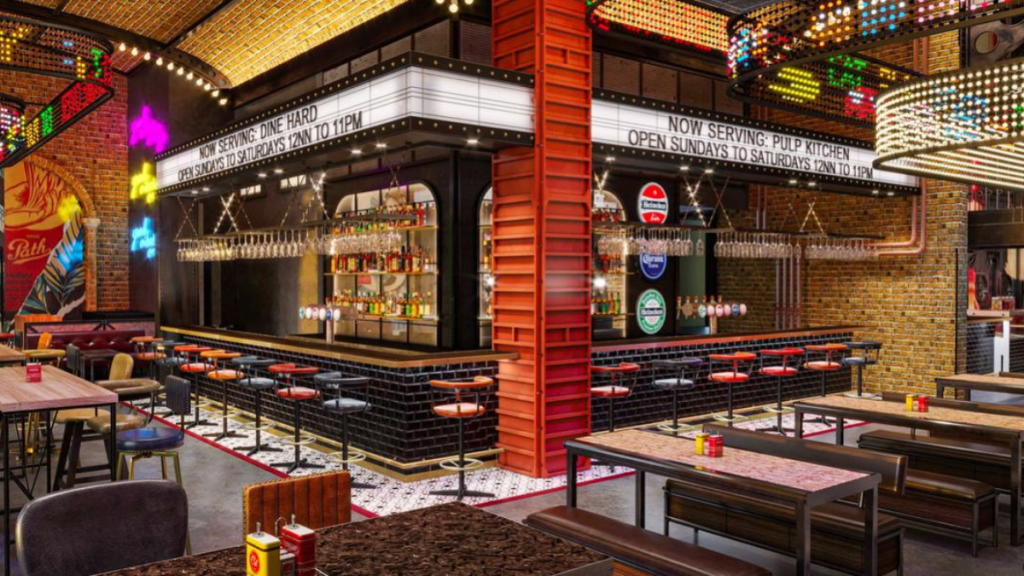 For the ultimate Asian dining experience, head to Asia Asia on Pier 71.
This restaurant is a winner of various culinary awards due to its exceptional fusion cuisine. Its dishes are successful, delectable combinations of old-meets-new and pan-Asian and Middle Eastern fare.
Asia Asia's lounge is inspired by the old Spice Route. Its interior won't fail to impress you with its enchanting style decors, including antiques, artefacts and collectables from various parts of the world.
Its menu is filled with dishes from various parts of Asia, such as Japan, China, and Thailand. You can expect classic and fusion versions of all-time favourites from these countries.
Asia Asia is another restaurant on Yas Island that offers Sushi Sundays.
4. Cipriani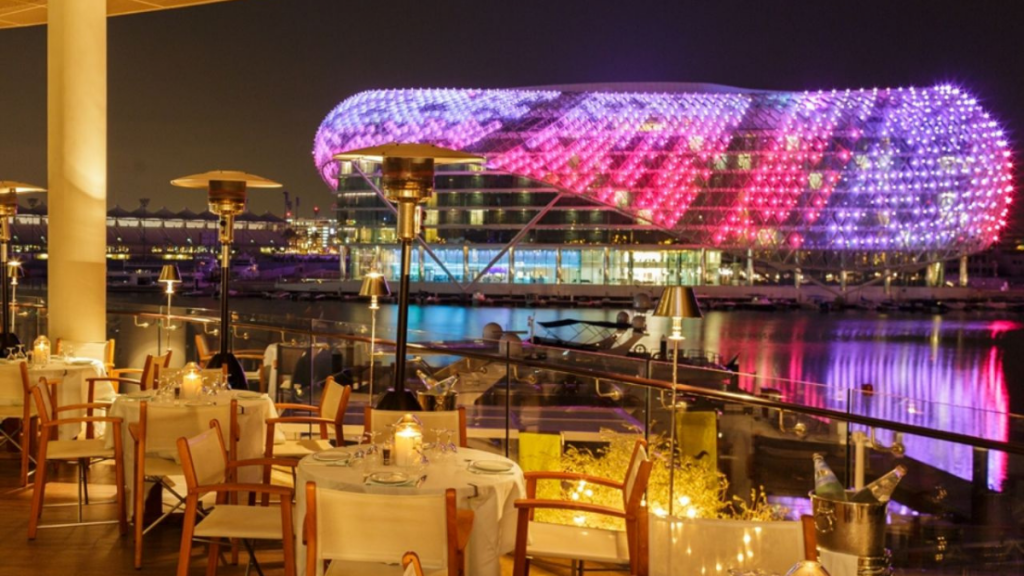 If you're craving steak tartare, risotto, hand-tossed pizza, cannoli, and other authentic Italian fare, you can find all these and more at Cipriani.
This luxurious, stylish restaurant boasts a lovely outdoor terrace overlooking the marina and Yas Marina Circuit. It is the first Cipriani restaurant in the United Arab Emirates.
Cipriani offers a variety of Italian and Venetian dishes highlighting seasonal and premium ingredients and produce, many of which are flown in from Italian farms.
Aside from the classic Italian and Venetian favourites, the restaurant's menu features signature dishes from the original Harry's Bar in Venice. This includes risotto primavera, carpaccio alla Cipriani, baked tagliolini, tiramisu, and vanilla crème meringue.
5. Diablito Food and Music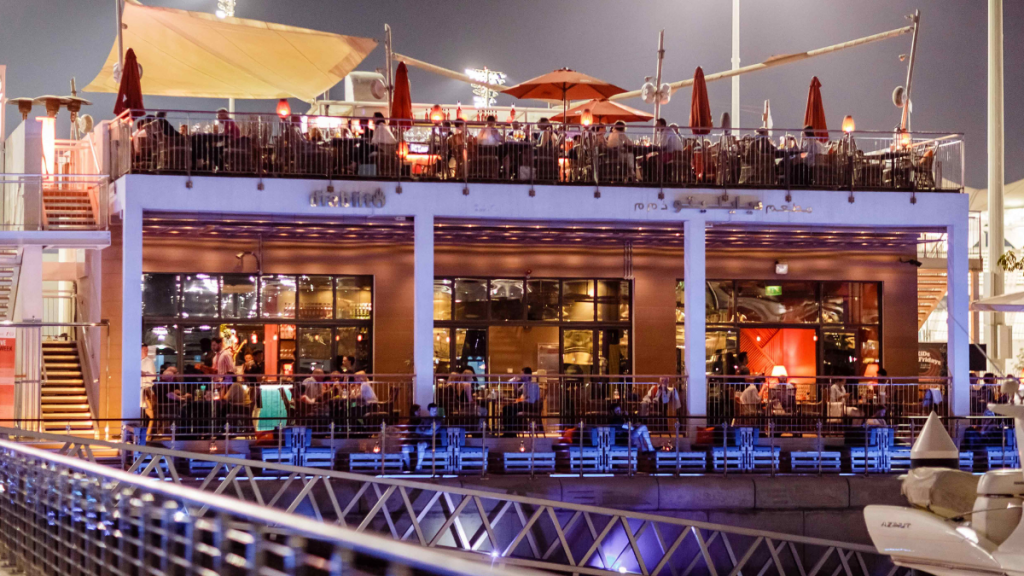 If you love great music and exceptional food, you won't be disappointed by both at Diablito Food and Music.
Located in Yas Marina, Diablito is a two-storey rooftop venue that gives guests incredible views of the marina and a cool spot for dining and listening to amazing music.
The menu is one of the most original and diverse you can find on the island. It features Spanish and Mediterranean offerings, including tapas, salads, pizzas, and pasta.
While indulging in your choice of dishes, you can immerse yourself in awesome tunes played by the DJs or a live act.
6. Dish Dash Café and Restaurant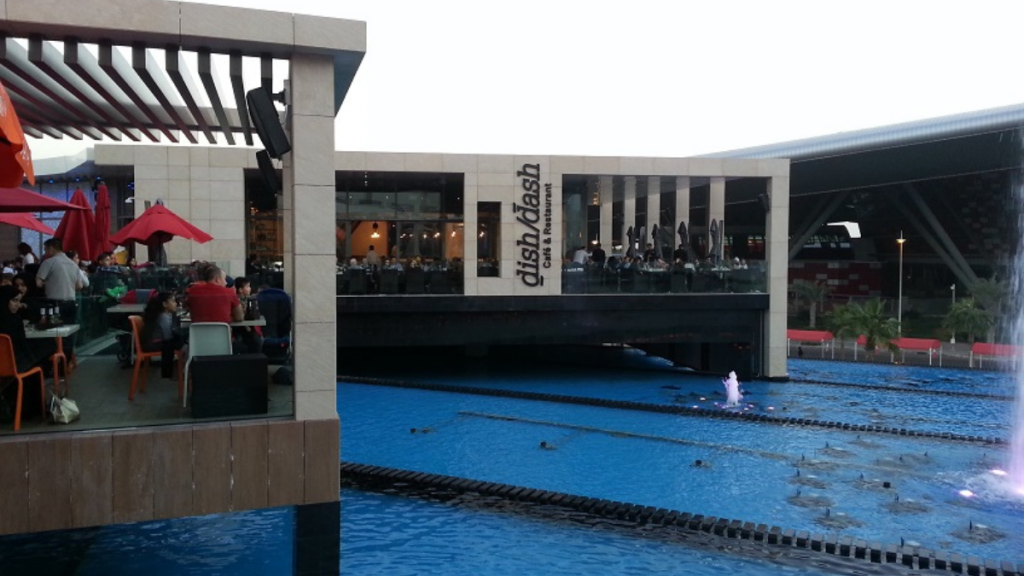 Dish Dash is a popular restaurant on Yas Island overlooking The Fountains at Yas Mall.
The restaurant radiates an exotic Arabian and Mediterranean aura, which its menu also exudes.
The chefs use only high-quality ingredients to give their dishes and beverages excellent flavours.
From their salads, soups and flatbread to fukharas, shawarmas and grills, you get an authentic taste of Arabic and Mediterranean flavours.
When you're done eating, you can relax by sipping your choice of beverage and enjoying a variety of traditional and exclusive shisha flavours.
7. Emmy Squared Pizza
For a bite of American comfort food, visit Emmy Squared Pizza at the Yas Bay Waterfront.
Emmy Squared Pizza is one of the most sought-after pizza restaurants on Yas Island.
As its name implies, the restaurant serves square-shaped Detroit-style pizzas. Their cheesy crusts are made of fluffy dough and baked until the bottom becomes crispy.
All their pizzas boast the restaurant's signature sauce stripes and your choice of toppings.
Aside from pizzas, the restaurant also serves delectable salads, burgers, sandwiches and garlic sticks.
8. The Scene by Simon Rimmer
If you're craving some mouth-watering British fare, drop by The Scene by Simon Rimmer.
This gastropub is a modern British eatery located at the Yas Marina. It is a rustic, family-friendly British pub with picnic-style tables, a pool table, craft beer, and live music.
The Scene serves seasonal British classics with fascinating yet delicious retro twists, as added by the British celebrity chef, Simon Rimmer.
The restaurant's most popular dishes include the Cumbrian beef tartare, chip shop fish n' chips, giant shepherd's pie, and Nana's steak onion pie.
You can also enjoy a big family brunch here on Saturdays, the Sunday roast, and Happy Hour.
Whether you're in Yas Island to go to Ferrari World Abu Dhabi, Yas Waterworld or Warner Bros. World Abu Dhabi, or all of them plus the other world-famous attractions, make sure you drop by these restaurants to complete your visit here.