Listen to this article
Welcome to the realm of Karma Kafé by Buddha-Bar, a place where culinary artistry meets the enchanting rhythms of Buddha Bar's renowned music. Located at Hampton by Hilton Marjan Island, this dining hotspot has been capturing the hearts and taste buds of visitors since its opening in 2021. In fact, it has claimed the coveted #1 spot for Ras Al Khaimah restaurants on TripAdvisor, a testament to its excellence.
The Maestro Behind the Magic: Meet Chef Bishal Moktan
Before we delve into the sumptuous Dim Sum offerings, let's meet the genius orchestrating this culinary symphony – Head Chef Bishal Moktan. A true master of Pan-Asian cooking, Chef Moktan has drawn inspiration from the classic Dim Sum houses of Hong Kong, infusing them with the distinctive Buddha-Bar style. His culinary prowess is at the heart of the Far Eastern feast that awaits you.
The Dim Sum Delights
Chicken Shumai: A Burst of Flavor
Our journey through the world of Dim Sum begins with the Chicken Shumai. Picture this: tender shiitake mushrooms combined with the salty pop of orange tobiko (flying fish roe), all enveloped in a delicate dumpling wrapper. It's a burst of flavor that dances on your palate.
Prawn Haw Gow: Delectable Elegance
Next up, the Prawn Haw Gow, a favorite among Dim Sum aficionados. Plump prawns, chives, and lime leaves come together in a delicate dumpling wrapper, creating a symphony of delectable elegance.
Beef Dumpling: A Meat Lover's Dream
For those who relish the richness of meat, the Beef Dumpling is a must-try. Crafted with the finest USDA Choice Beef, it promises a meat lover's dream come true.
Crispy Chicken Bao: A Pillowy Delight
Tuck into the Crispy Chicken Bao, where succulent chicken is cradled in a pillowy bun. It's a delightful blend of textures and flavors that will leave you craving for more.
Sweet Potato Dumpling: Vegetarian Delight
Vegetarians, fear not! Karma Kafé has something special for you too. The Sweet Potato Dumpling features tender vegetables, water chestnuts, coriander, and a hint of white pepper. It's a vegetarian delight that's not to be missed.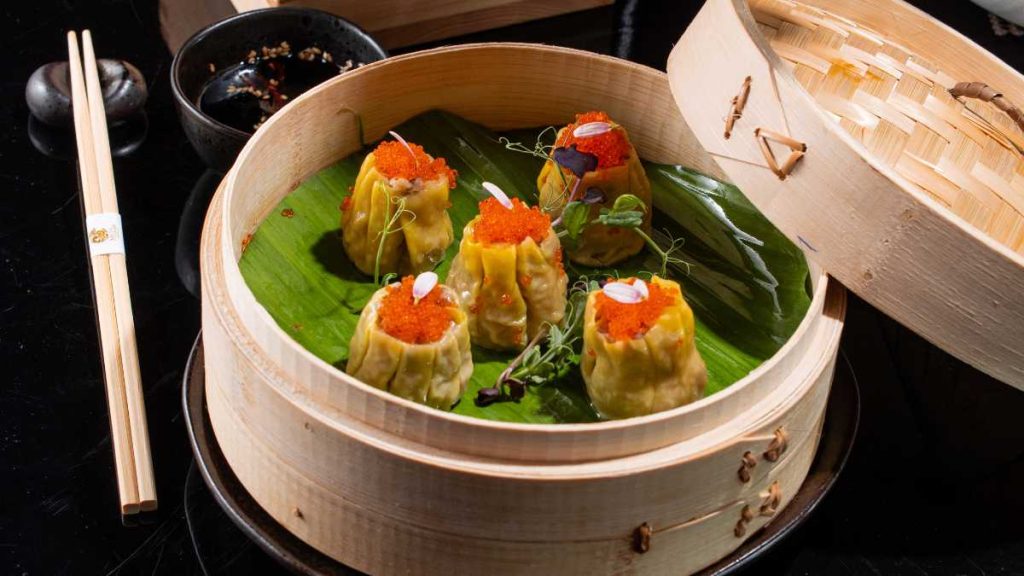 A Culinary Extravaganza Beyond Dim Sum
Sushi Rolls: Sublime Creations
While Dim Sum takes center stage, Karma Kafé by Buddha-Bar offers a plethora of other culinary delights. Dive into sublime sushi rolls that are as visually stunning as they are delicious.
Wok Dishes: Mouth-Watering Temptations
If you're in the mood for some mouth-watering wok dishes, Karma Kafé won't disappoint. From savory stir-fries to aromatic noodle dishes, there's something to satisfy every craving.
Ahi Tuna Pizza: A Unique Experience
Prepare to be pleasantly surprised by the Ahi Tuna Pizza, a unique fusion creation that combines the freshness of sushi with the comfort of pizza.
Szechuan Beef: Fiery and Flavorful
For those seeking an explosion of flavors and a touch of heat, the renowned Szechuan Beef is a must-try. It's a dish that embodies the essence of modern Pan-Asian cuisine.
Main Dishes: Culinary Excellence
Karma Kafé's menu doesn't stop at appetizers. Indulge in main dishes like the perfectly grilled Salmon Robata, the tender Hoisin Lamb Chops, and the succulent Rib Eye Robatayaki.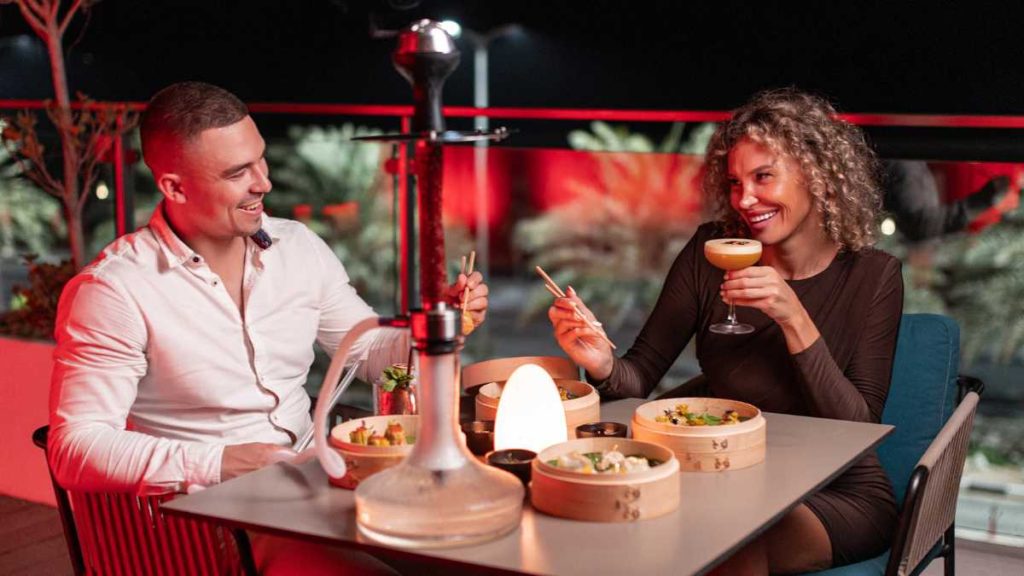 Elevate Your Experience with a Gourmet Staycation
Indulge in a Gourmet Staycation
Why not turn your dining experience into a luxurious getaway? At Hampton by Hilton Marjan Island, you can do just that. Book your stay between now and the end of September, and you'll enjoy a relaxing retreat with room rates starting at just AED 400++ for 2 adults and 2 kids under 6. This package includes a hot breakfast and complimentary Wi-Fi, ensuring a truly indulgent stay.
Exclusive Dining Discounts
As if that's not enticing enough, guests staying at Hampton by Hilton Marjan Island get an exclusive 20% discount on à la carte food and drinks at Karma Kafé by Buddha-Bar, including the new Dim Sum Menu. It's a gourmet experience like no other.
Conclusion
Karma Kafé by Buddha-Bar has once again raised the bar in the culinary scene of Ras Al Khaimah with its new Dim Sum menu. Whether you're a fan of traditional Dim Sum or looking to explore innovative fusion creations, this dining hotspot has something for everyone. Elevate your experience with a gourmet staycation at Hampton by Hilton Marjan Island, complete with exclusive dining discounts. Don't miss out on this opportunity to savor the flavors of the Far East in the heart of the UAE. Book your table, pack your bags, and get ready for a culinary journey like no other.
Contact & Location
Phone – 07 209 0099