Speak English Institute becomes a British Council registration centre in RAK!
With the end of the academic year fast approaching, many high school graduate students are eager to pass their IELTS test so they can apply to universities within the UAE and around the world. The recent events related to Covid-19 have prevented them from sitting an IELTS test but now, with the restrictions being progressively lifted, students can start to study for IELTS and plan their test date. The good news is that IELTS tests have already started in Dubai and will shortly start again in RAK.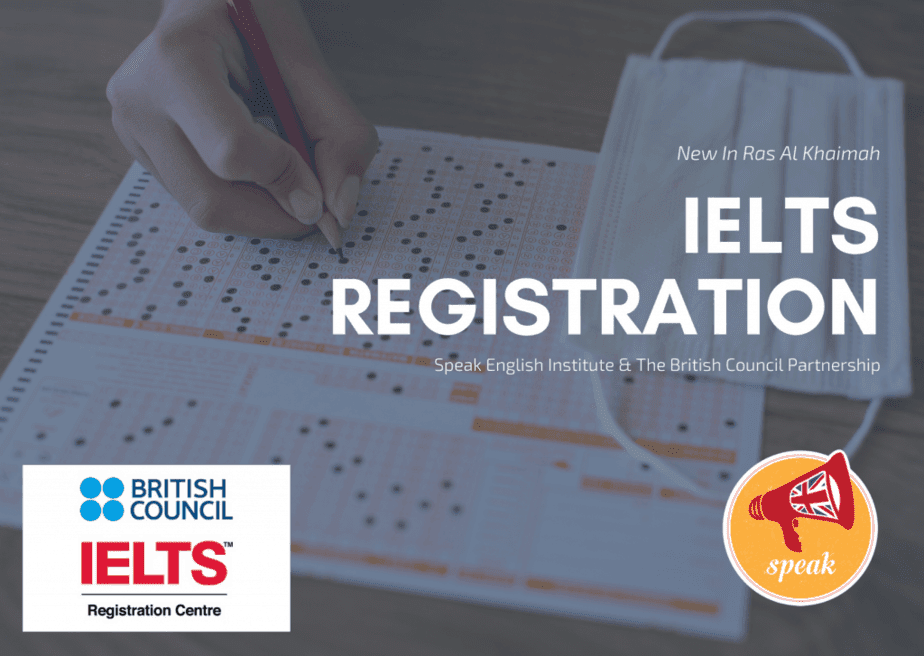 So if you need to obtain IELTS where can you book your test?
You can book it through Speak English Institute Ras Al Khaimah because Speak RAK became an official British Council IELTS registration centre.
What does this mean?
Well, in addition to providing face-to-face and online IELTS training, Speak English Institute can now take IELTS registrations so you don't have to physically go to the test centre, you can do it with us, saving time and effort!
What is IELTS?
IELTS stands for 'International English Language Testing System' and is an English language test which measures non-native English speakers' ability to communicate in English in all four skills; speaking, listening, reading, and writing. There are 2 main groups of people who need IELTS. First, students applying to universities in English speaking countries and all universities in the UAE. Second, people wishing to immigrate to an English speaking country, such as Canada or Australia.
How can I register for the IELTS test?
Thanks to the recent partnership between Speak English Institute and the British Council, the process is easier than ever in Ras Al Khaimah. All you need to do is visit Speak English Institute at its branch in Al Hamra and their friendly team of dedicated coordinators will take care of everything for you. You just need to bring a copy of your Emirates ID or passport to apply.
How can you prepare for the IELTS in RAK?
When it comes to preparing for the IELTS test, students can study by themselves using free online resources or choose to get help from professional IELTS trainers.
Most students who need IELTS will need some form of training before taking the official IELTS test. You have far more chance of obtaining the score you want if you train with experienced IELTS instructors such as the ones we have at Speak, all native speakers of English from the UK and we even have an IELTS examiner on our team. Speak English Institute offers students in Ras Al Khaimah and in the U.A.E, two IELTS preparation programs; face-to-face training in group or private at their institute in Al Hamra or online. Whether you decide to prepare for IELTS online or at the institute, you're guaranteed to get access to professional IELTS trainers from the UK who will assist you from start to finish.
Contact and Location
To prepare or book your IELTS test, contact Speak English Institute in Al Hamra.
www.speak.ae
rak@speak.ae
‭+971 50 258 3787‬