Listen to this article
The Ras Al Khaimah Jobs and Internships Festival, hosted by the Sheikh Saud bin Saqr Al Qasimi Foundation, is a testament to Ras Al Khaimah's commitment to empowering its local talent. This two-day event, which commenced on September 15th, 2023, has already made waves by connecting over 60 prominent private sector companies with Emirati job seekers. As we delve into the details of this festival, you'll witness how it serves as a bridge between ambition and opportunity.
Emirati Empowerment: Opening Remarks
H.E. Mohammad Omran Al Shamsi Sets the Tone
An Inaugural Address
H.E. Mohammad Omran Al Shamsi, Chairman of the Al Qasimi Foundation, graced the festival's opening ceremony with inspiring words. His remarks emphasized the importance of empowering Emirati talent and bridging the gap between global prospects and ambitious job seekers. Let's delve into the insights shared during this pivotal moment.
Connecting Talent with Opportunity
The Festival's Central Mission
Matching Skills with Aspirations
In a constantly evolving job market, the Ras Al Khaimah Jobs and Internships Festival plays a vital role in aligning the skills and ambitions of Emirati job seekers with the needs of potential employers. How does this festival create these crucial connections? Let's explore the mechanisms in place.
Embracing Diversity: Participating Sectors
A Multifaceted Job Market
Opportunities Across Industries
The festival witnessed participation from various sectors, including:
Tourism and Hospitality: Ras Al Khaimah's growing tourism sector opens doors to a multitude of careers.
Banking and Finance: Explore opportunities in the financial heart of Ras Al Khaimah.
Engineering: Discover how engineering talents are shaping the Emirate.
Media and Design: The creative industry's allure and prospects.
Technology: Unleashing innovation in technology.
Real Estate: A sector with room for growth.
And More: Diverse opportunities beyond these sectors.
Which sector resonates with your aspirations? Let's delve deeper into the possibilities.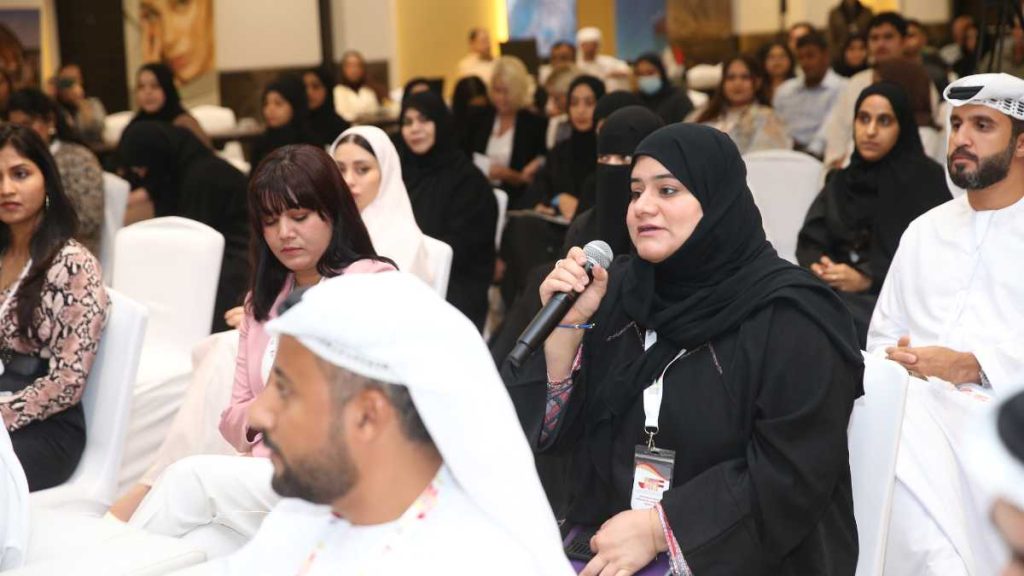 Voices of Influence: Industry Leaders Speak
Leading the Way in Emiratization
Andersen UAE: Pioneering Financial Excellence
Anurag Chaturvedi, CEO of Andersen UAE, shares insights into the dynamic tax landscape of the UAE. How is Andersen UAE shaping the future of financial excellence? Join us on a journey towards success and innovation.
National Food Products Company: Cultivating Professional Abilities
Ayesha Alwahabi, Emiratisation Officer at National Food Products Company, invites aspiring Emirati talents to join their team. What makes NFPC a hub for professional growth and achievement?
A Stellar Lineup: Prominent Participants
Companies Shaping the Future
Explore the leading companies that participated in the festival, including:
Ras Al Khaimah Tourism Development Authority (RAKTDA): Driving tourism and sustainable growth.
RAKBANK: Opportunities in the banking sector.
RAK Hospitality Holding: Hospitality careers in the Emirate.
RAK Gas: A glimpse into the energy sector.
RAK Economic Zone: Nurturing businesses and talent.
PwC Middle East and Deloitte: Global leaders offering diverse opportunities.
Marjan: Shaping Ras Al Khaimah's future.
University of Bolton: Educational prospects.
And Many More: A myriad of possibilities.
Join us as we explore the diverse career avenues offered by these esteemed organizations.
Emiratis Seizing the Opportunity
Empowering the Workforce
Over 850 Emiratis: A Resounding Response
The festival extended invitations to over 850 Emirati job seekers. How did these participants seize the opportunity to connect with prospective employers? We'll take you through the journey of Emiratis seeking career growth.
Staggered Entry Timings: Efficiency at Its Best
Efficient organization was paramount to ensure a seamless experience. How did staggered entry timings facilitate meaningful connections between job seekers and employers? We'll break it down for you.
Empowering Job Seekers: Workshops for Success
Insights and Expertise for Career Growth
Unlocking CV Writing Skills
Participants gained insights into the art of CV writing. What are the key elements that make a CV stand out in the competitive job market? Let's explore the secrets to crafting an impressive resume.
Mastering Interview Techniques
Interviews can be nerve-wracking, but with the right techniques, success is within reach. What tips and strategies were shared to help job seekers ace their interviews? We've got the answers.
Exploring Career Progression
Career progression is a journey. What avenues and strategies were discussed to empower job seekers in their quest for growth? Join us in exploring the paths to advancement.
Nafis Scheme: Empowering Emirati Nationals
Shaping the Future of Emiratization
Ras Al Khaimah's Internship and Employment Initiatives
The festival shed light on the Nafis scheme's role in empowering UAE nationals to secure positions in the private sector. What are the key components of this scheme, and how does it contribute to the Emiratization drive? We'll delve into the details.
Expert Insights: Panel Discussion
Business-specific Emiratization and Internships
Moderated by Dr. Tiffany Lachelle Smith
Dr. Tiffany Lachelle Smith, Senior Research Fellow at the Al Qasimi Foundation, expertly moderated a panel discussion titled "Business-specific Emiratization and Internships." What insights and perspectives did the distinguished panelists bring to the table?
A Successful Inaugural Day
Celebrating Meaningful Connections
The inaugural day of the Ras Al Khaimah Jobs and Internships Festival concluded on a high note. How did it foster meaningful connections between employers and job seekers? We'll highlight the moments of celebration and success.
Looking Ahead: Future Editions
Continuing the Journey
As we look ahead to the promising second day, the Al Qasimi Foundation extends its sincere gratitude to all participating organizations. What can we anticipate from future editions of this exceptional event? Join us in envisioning the future of Emirati talent empowerment.
Conclusion: Forging a Brighter Future
Empowerment through Opportunity
The Ras Al Khaimah Jobs and Internships Festival is more than an event; it's a catalyst for change, an opportunity for growth, and a celebration of Emirati talent. As we conclude this exploration, we invite you to be a part of this transformative journey. Embrace the opportunities, chase your aspirations, and contribute to the brighter future of Ras Al Khaimah.