Listen to this article
Get ready to fly fast and high through the Jebel Jais Flight – World's Longest Zipline (Also called zipline Ras Al Khaimah)Certified by Guinness World Records
An exhilarating and unique bucket-list experience, the World's Longest Zipline Certified by Guinness World Records. Cross over the sky and beautiful scenery of the Jebel Jais mountain at speeds over 120kph while experiencing the freedom of flying.
Offer at zipline Ras Al Khaimah
Experience unmatched adventure and thrill at Jebel Jais this summer. You'll get a 20% discount throughout the summer months, with prices starting from Dhs300.
From now until September 15, the Jais Adventure Parks will open each ride at different times. Not only is it staying open, but the adventure rides will also have discounted rates until September.
It will be open from Wednesday to Sunday between 10am and 6pm.
Apart from that,
The Jais Sledder toboggan ride will run between Tuesday and Sunday with a 10% discount. You can ride the region's largest toboggan ride from 11am to 7pm on weekdays and 1pm to 7pm on weekends. Prices start from Dhs45 for kids and Dhs100 for adults.
To book now click here ( www.visitjebeljais.com )
What's more? When you're done, you'll get an official Jebel Jais flight certificate, a picture against the Jebel Jais Wall of Fame a go pro footage of your flight (you can bring yours or rent one) with amazing views of the city and a memorable experience that will last a lifetime.
Length of zipline Ras Al Khaimah
Measuring 2.83 kilometers long (that's the equivalent of more than 28 football pitches), the record-breaking zipline runs through the mountains of Jebel Jais at a hair-raising 1,680 meters above sea level.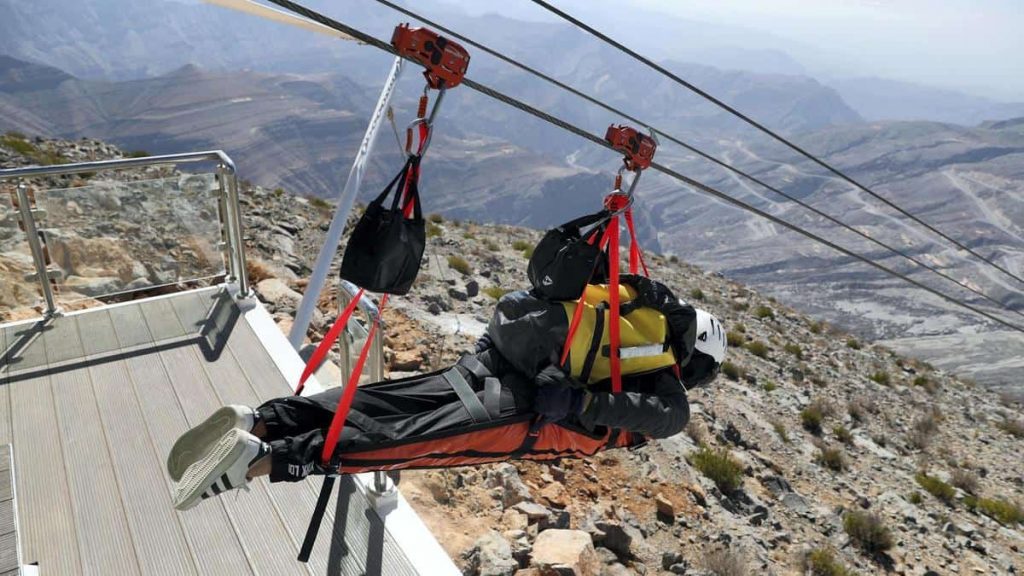 Enjoy the region's most exciting mountain adventure activity. Professional instructors will guide you along a spectacular route as you are geared up to enjoy 3 thrilling zip lines as you traverse more than 1km along the mountain route.
The Jebel Jais Flight is a double line experience, which means 2 people can ride next to each other at the same time. (1 person per line)
Things to Remember while at zipline Ras Al Khaimah
Jebel Jais Flight is the World's Longest Zipline Certified by Guinness World Records
You will be accompanied by qualified safety guides and protected by a high quality safety equipment
Guides will ensure that you fully understand the operation of safety equipment and are properly fitted with 'superman style' harness and helmets
Adventurers can expect to reach an average speed of 160 km/hour
Participants should be between 40 and 130 kilos of weight and over 1.22 meters of height
Moderate fitness levels and being comfortable at heights is a plus but not a requirement
Participation does not require prior zipline experience
Flight experience typically takes 90 minutes
Wear sporty/athletic clothing
Wear sturdy trainers or running shoes with good grip
Bring your Sunglasses, Sun Block and Camera
Shuttle service available from Ras Al Khaimah City to Jebel Jais
Punctuality is always beneficial to avail of shuttle services and the zipline experience
Arrive at Jais Adventure Park Ras Al Khaimah Parking Lot 1 hour before your Jebel Jais Flight appointment
Free parking and free transportation through the park area
Contact and Location
Please call the Customer Service Team on +971 (0) 7 204 6250 for more information
For Shuttle timings and booking info visit http://jebeljais.ae/shuttlebus/

[booking_product_helper shortname="deal finder"]