Listen to this article
Are you ready to bid farewell to the old year and welcome the new one with a bang? Look no further than Neo Sky Bar at Movenpick Resort Al Marjan Island. Nestled in the heart of this luxurious island, Neo Sky Bar promises an unforgettable New Year's Eve celebration that combines breathtaking fireworks, live entertainment, and an exclusive offering of unlimited house beverages. Join them as they explore this premier hotspot and discover why it's the ultimate destination for an unrivalled New Year's Eve experience.
Neo Sky Bar: A Sky-High Oasis
Step into Neo Sky Bar, and you'll find yourself in a sky-high oasis that offers more than just a spectacular view. This upscale venue is perched on the top floors of Movenpick Resort Al Marjan Island, providing guests with a mesmerizing 360-degree panorama of Al Marjan Island. The Neo Sky Bar experience begins when you enter the elevator, whisking you to this exclusive rooftop haven.
Neo Sky Bar's Signature Views
The highlight of Neo Sky Bar undoubtedly lies in its breathtaking views. Whether you're gazing at the pristine coastline, the azure waters of the Arabian Gulf, or the starlit sky, Neo Sky Bar offers a visual feast that's second to none. As the clock strikes midnight, prepare to be captivated by a sensational fireworks display that will light up the island, painting the night sky with a kaleidoscope of colors.
Unmatched Entertainment
At Neo Sky Bar, entertainment is not an afterthought; it's an integral part of the New Year's Eve experience. Our live DJ will keep the beats pumping all night, ensuring you dance your way into the new year. The vibrant tunes and electrifying atmosphere will have you grooving to the rhythm, surrounded by fellow revellers equally enthusiastic about bidding farewell to the past year.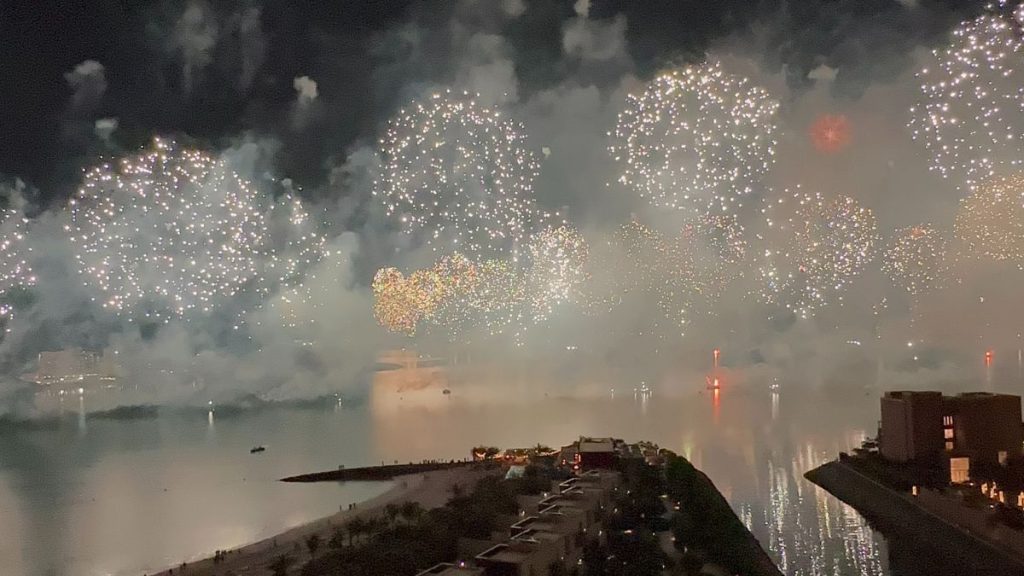 Exclusive House Beverages
Neo Sky Bar offers an exclusive selection of house beverages to complement the electrifying entertainment and panoramic views. Sip on your favourite cocktails or explore new flavours, all while enjoying the company of friends and fellow partygoers. Our skilled mixologists will craft the perfect concoction to enhance your celebration.
Adults-Only Atmosphere
Please note that Neo Sky Bar is exclusively for adults. This ensures a sophisticated and vibrant atmosphere, making it the prime spot for an unforgettable New Year's Eve experience. Bid farewell to the old year and usher in the new one in the company of like-minded individuals who appreciate the finer things in life.
Pricing and Reservations
Now that you're eager to experience the magic of Neo Sky Bar on New Year's Eve let's talk about pricing and reservations.
Pricing Packages
Standard Package: For $550 per person, you can enjoy all that Neo Sky Bar offers, including the fireworks, live entertainment, and unlimited house beverages.
VIP Package: Elevate your experience with our VIP package, priced at $800 per person. This includes access to an exclusive VIP area with the best views, premium house beverages, and personalized service.
Group Discounts: Planning to celebrate with a group of friends or colleagues? Contact them for special group rates and customized packages.
Conclusion
As the year ends, there's no better way to welcome the new one than by celebrating at Neo Sky Bar, Al Marjan Island's premier hotspot. With its stunning views, live entertainment, exclusive house beverages, and an adults-only atmosphere, Neo Sky Bar promises an unforgettable New Year's Eve experience. Don't miss this opportunity to ring in the new year with spectacular fireworks and endless cheers. Make your reservations today and get ready to create lasting memories at Neo Sky Bar, where the sky's the limit for your New Year's celebration.
Contact & Location
Phone – +97172460000