Listen to this article
As the year is marching by, get greened up, clovered up, boozed up, Guinnessed up, whiskeyed up, and sing your hearts out this March.
As the signs of summer pop up hither and thither and many Covid restrictions are going away, there's plenty of optimism in the air at last. Huddle sports bar is celebrating St. Patrick's month instead of Day. Get mind boozing offers the whole of March 2023 at this popped up sports Bar inside CityMax Hotel Ras Al Khaimah
Irish Beves starting at AED 16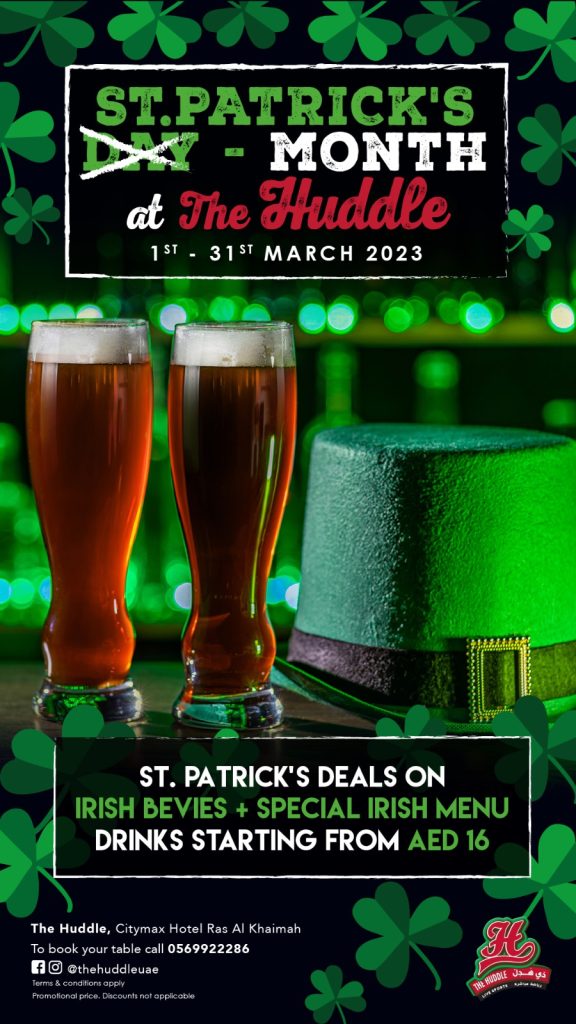 About Huddle Sports Bar
Where it's is always a home game! Catch all the live sporting action with a chilled hop in hand. Be it football, rugby, cricket and everything else in between. Cheer for your favourite team and enjoy a pint alongside some finger-licking food while you follow the fortunes of your sporting heroes – there are burgers and steaks, nachos and a whole lot more on our menu.
You'll never be far from the action at The Huddle Sports Bar & Grill.
Contact and Location
Call: 0569922286