Listen to this article
Experience the stunning beauty of the Ras Al Khaimah desert as the sun rises and casts its light on the landscape. Take a hot air balloon ride and soar above the Northern Emirates, admiring the breathtaking colors of the region.
From your high vantage point, you can observe wildlife in their natural habitat without disturbing them. Keep an eye out for foxes, oryx, camels, and more as you fly with the eagles. Depending on the direction of the wind, you may pass over mangroves, deserts, and wadis or head towards the majestic Hajar Mountains.
In addition to providing breathtaking views, hot air ballooning is also known for being environmentally friendly, with a relatively low impact on the earth.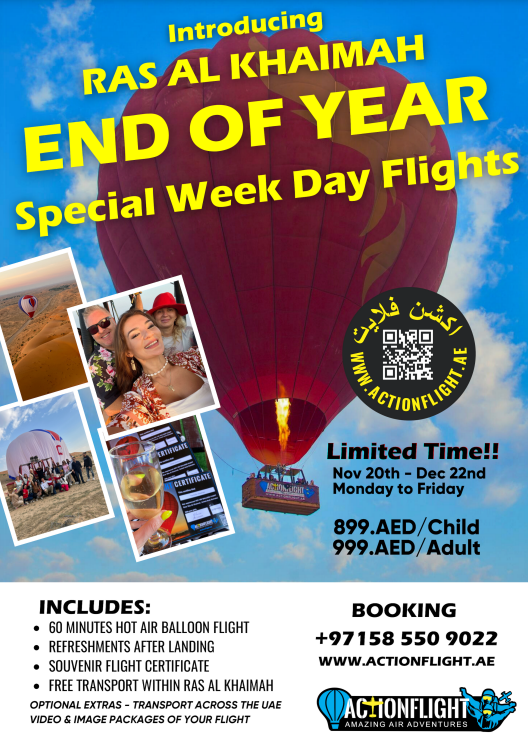 You should know that their special End of Year Special Day Flights offer special prices on Hot Air Balloon flights From Nov 20th – Dec 22nd (Monday to Friday). It's for a limited time only. This offer includes
60 minutes hot air balloon flight
Refreshments after landing
Souvenir flight certificate
Free transport within Ras Al Khaimah
Apart from the above, you can also opt for some optional extras – Transport across the UAE video & image package of your flight.
Hot Air Balloon Packages
Now get flat 25% off on below given packages.
Ras Al Khaimah Balloon flights with free transport within RAS Al Khaimah
Adult Balloon Flight –AED 1199.00
Child Balloon Flight – AED 1099.00
Ras Al Khaimah Balloon Flights with return transport from:
Dubai, Fujairah, Sharjah, Ajman or Umm Al Quwain
Adult Balloon Flight –AED 1199.00
Child Balloon Flight – AED 1099.00
Transport Charges AED 100
Ras Al Khaimah Balloon Flights with return transport from:
Al Ain or Abu Dhabi
Adult Balloon Flight –AED 1199.00
Child Balloon Flight – AED 1099.00
Transport Charges AED 200
*Prices are inclusive of 5% VAT
Standard Hot Air Balloon Package Inclusions
Return hotel transfers within Ras Al Khaimah. Passengers from outside Ras Al Khaimah will be picked up and returned to a meeting point within Ras Al Khaimah by arrangement as stated upon booking. Flight briefing is conducted at the launch site while witnessing the balloon inflation.
A short, fun, off-road drive in a classic Pinzgauer 6×6 all-terrain vehicle takes you from the balloon landing to an air-conditioned van or bus and back to our Arabic majlis-style servery within the beautiful oasis-like surroundings at ActionFlight's Tower Links facility. You will be greeted with a gourmet bubbly breakfast offering a delicious choice of local and continental foods, a selection of hot and cold beverages.
Here you are presented with your souvenir flight certificate and optional photograph and video packages. Enjoy a falconry show with a variety of the region's beautiful birds of prey.
Allow approximately 4 hours for the total experience. Actual flight duration: 45 minutes – 1 hour.
Early Bird Flight Offer
Valid till 30th September 2023.
Witness the beautiful sunrise over mountains, enjoy the flight across the Ras Al Khaimah desert, a chance to experience the most exciting scenery over 4,000 feet!
The Balloon flight includes:
Free transportation within Ras Al Khaimah
UAE-wide return transport are available
Approximately 60 minute balloon ride
A gourmet Champagne 🥂 breakfast
Souvenir flight certificate
A fascinating birds of prey show
video and photo packages are available
About Action Flight
ActionFlight takes aviation adventure tourism to new heights offering unique adrenaline-fuelled experiences in the heart of Ras al Khaimah, United Arab Emirates. From ballooning, to skydiving, to aerobatic flights, ActionFlight is the first of its kind in the Middle East and Asia to provide an exclusive range of thrilling aviation activities under the one operation that gives guests the elite opportunity to take in the Emirates' spectacular coastlines, rich terracotta desert planes, and lush mangroves from up to 15,000ft in the air.
ActionFlight's operation spans 15 years from its roots in New Zealand, carrying with it a history of excellence and perfect safety. Vertical, ActionFlight's advanced pilot training program, will complement these offerings by providing advanced pilot training in the region, now mandated internationally for independent, commercial, and corporate airlines.
Contact and Location

Open 7 days a week.
Phone: +971 58 550 9022