Pain is a part of everyday life but can be worrying when it stops you from taking part in everyday activities if you have an injury, illness, disability or other medical condition. Holistic Rehab centre is the first Musculoskeletal Centre in Ras Al Khaimah dedicated to preventive and restorative care.
Their Ministry of Health Licensed professional team strives to restore every client to their optimum being. The aim is to help people let go of a pain based lifestyle and achieve their personal health goals.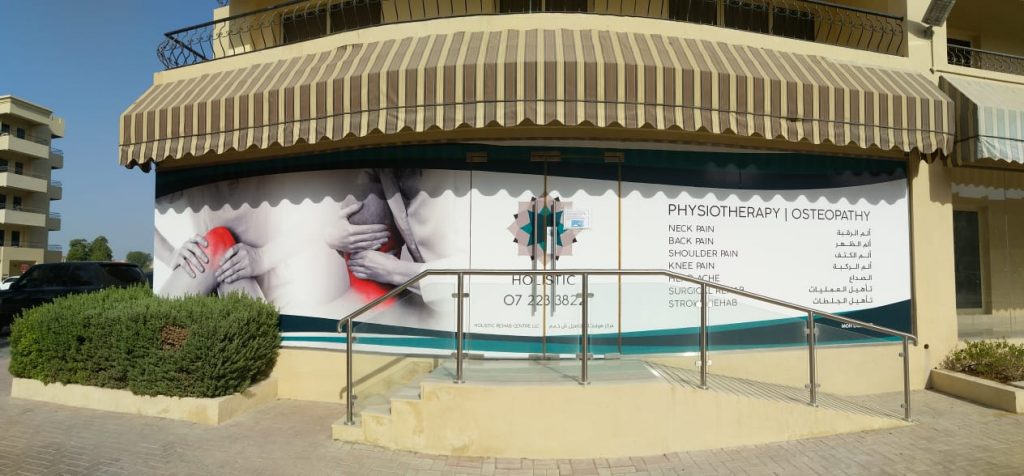 Holistic Rehab Center RAK treatments are particularly concerned with maintaining correct relationships between bones, muscles, and connective tissues. They offer physiotherapy that includes manual joint adjustments, manual manipulation of the muscular systems and treatment of neurological conditions.
Services
Physiotherapy
Sports Massage
Trigger Therapy
Manual Lymph Drainage
Restorative and preventative therapies
Pregnancy massage
Physiotherapy involves not limited to the following:
Sports Rehabilitation | Pain & Injury management | Post-Surgical Rehabilitation | Stroke & Parkinsons, movement disorder and other neurological deficit Rehabilitation | Pediatric or Geriatric Conditions | Preventive Care & Exercises | Manual Lymph Drainage | Deep Tissue Massage | Postural Correction & Re-alignment | Strength Training | Restorative and preventative therapy
The Holistic Rehab Centre focuses on reducing symptoms and helping individuals regain function and mobility after an injury. The centre provides a holistic service in which a range of muscle/joint complaints can be assessed, diagnosed and treated with a range of manual therapy techniques as well as self-care advice.
They are conveniently located behind Al Hamra Mall in Ras Al Khaimah
Timings
Sunday-Thursday 9:00am-6:00pm
Contact and Location
‭Call 07 223 3822 or 052 534 0023 ‬ to book an appointment
Hello@holisticrehabcentre.com
http://www.holisticrehabcentre.com/