Listen to this article
Are you yearning for a family escape offering the perfect relaxation and entertainment blend? Look no further than the Radisson Resort Ras Al Khaimah Marjan Island. This article is your comprehensive guide to turning your cozy rooms into a family oasis. Let's explore the many activities and experiences that await you at this magnificent resort.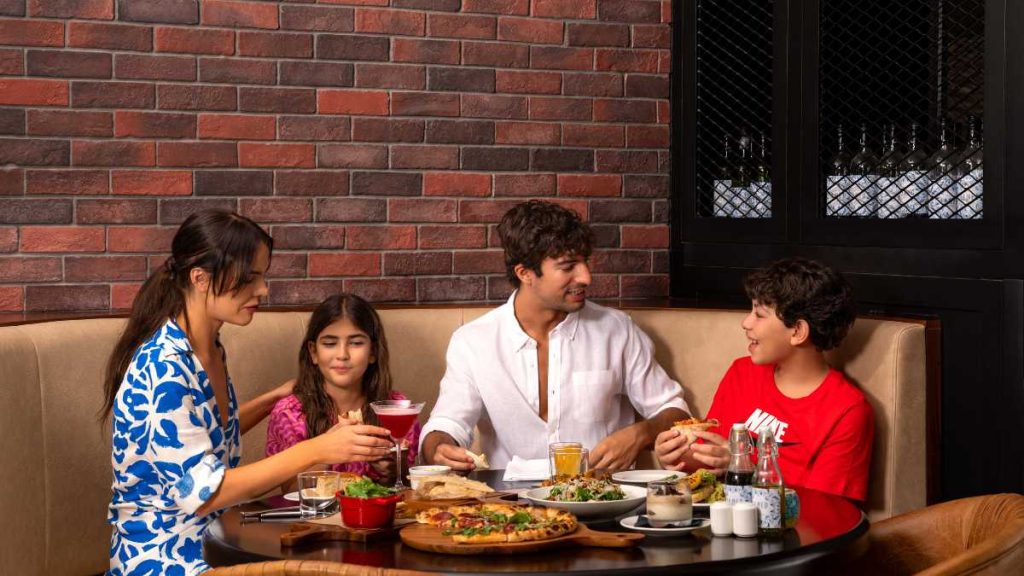 Kids Activities: Where Fun Knows No Bounds
At Radisson Resort Ras Al Khaimah Marjan Island, we understand that keeping the little ones entertained is the key to a stress-free family vacation. Let's dive into the world of kids' activities and entertainment that will leave your children with memories to cherish.
Radisson Kids' Club: Where Adventures Begin
Their Kids' Club is a hub of excitement this month, offering many activities catering to various interests. From Bear Mascot shows to Clown shows, drawing, painting, and even PlayStation gaming, there's something for every child. As they say, "happy kids, happy vacation!"
Creative Genius: Arts and Crafts Galore
Is your child an aspiring Picasso? Their resort provides the perfect canvas for their creativity. Let them unleash their artistic flair with engaging activities like drawing and painting.
Game On: PlayStation Paradise
For the young gamers in your family, we have a dedicated PlayStation corner. Let them explore virtual worlds and have a blast while you unwind.
Lego Adventures: Building Memories Brick by Brick
Lego enthusiasts, rejoice! Join us for exciting Lego sessions, where your kids can build, create, and let their imagination soar.
Disco Nights: Where Little Stars Shine Bright
Get your groove on with their Disco Nights. Watch your children dance the night away in a safe and supervised environment.
Splash of Fun: Lifeguarded Kids' Pool
Safety comes first, even when the kids are having a blast. Their lifeguarded kids' pool ensures they have a splashing good time.
Waterslide Thrills: A Sliding Adventure
Thrill-seekers can revel in the excitement of waterslides, adding a dash of adrenaline to their holiday.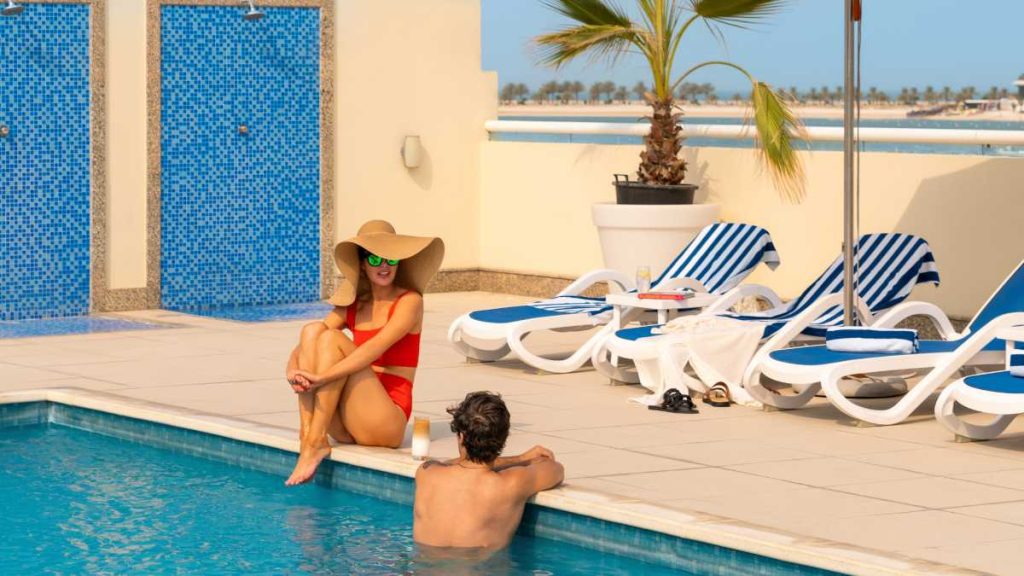 Live Entertainment: Fun for the Adults
While the kids are immersed in their adventures, adults can enjoy a different kind of entertainment. Let's explore the live shows and music that will elevate your evenings.
Beachside Spectacle: Friday – Sunday Delights
Every Friday to Sunday, from 8 pm to 9 pm, their beach comes alive with a dazzling array of shows. Witness the Tanoura Dance, Fire Show, Acrobat and Led Show, and the mesmerizing Belly Dance performances.
DJ Vibes: Midweek Musical Magic
On Tuesdays and Wednesdays, groove to the tunes of their live DJ from 9:30 pm till midnight at RBG Bar. The musical magic continues on Thursday to Sunday, with DJ sets from 7 pm to 12 midnight at the beach and RBG Bar.
Watersports: Adventure on the Waves
For families who love the water, their resort offers a range of thrilling watersport activities. Let's explore the aquatic adventures that await you.
Watersport Wonderland: Non-Motorized Fun
Enjoy ten minutes of complimentary non-motorized watersports at the beach. Whether it's stand-up paddleboarding, kayaking, or paddling on a pidalo, there's no shortage of aquatic fun.
Beach Volleyball: Spike Your Way to Victory
Gather your family and friends for an exciting game of beach volleyball. It's the perfect way to bond and stay active during your vacation.
F&B Promotions: Savor the Flavor
A family getaway is incomplete without delightful dining experiences. Discover the tempting culinary offerings at Radisson Resort Ras Al Khaimah Marjan Island.
La Med Bistro & Bar: Family Combo Delights
Head over to La Med Bistro & Bar and indulge in their Family Combo. Choose from 2 pizzas (Margherita / Chicken BBQ / Tikka / Seafood / Pepperoni) or a Bucket of fried chicken (12 Pcs) with 2 sides, 2 drinks, and 2 dips for an irresistible price of only AED 125! This offer is available every Friday to Sunday from 4 pm to 8 pm.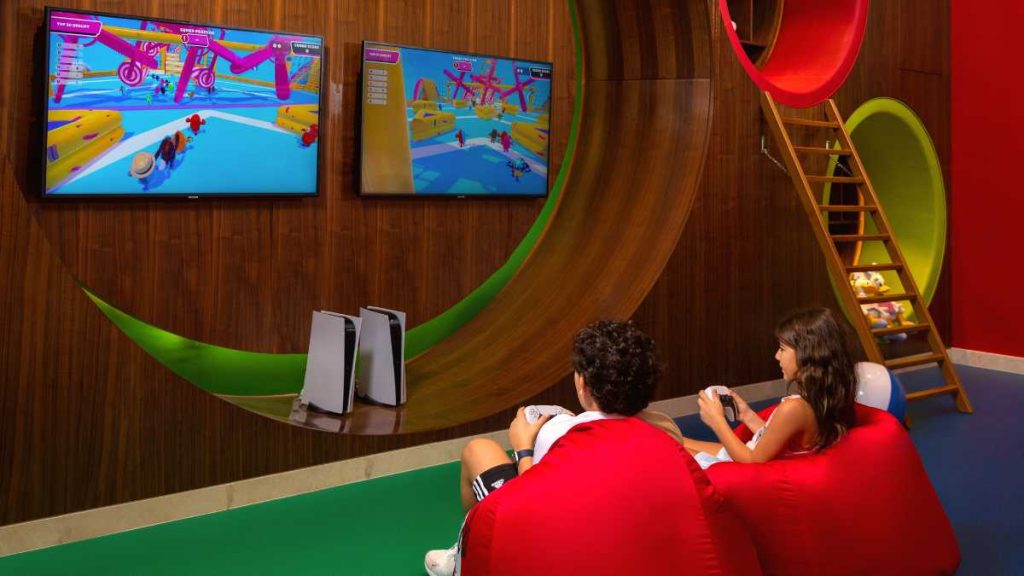 A Beachfront Paradise: The Resort Experience
Before you book your family getaway, let's delve into what makes Radisson Resort Ras Al Khaimah Marjan Island the ultimate destination.
Beachfront Bliss: Your Scenic Retreat
Their resort offers direct access to the beach, ensuring you can immerse yourself in the beauty of the azure waters whenever you please.
Room with a View: Stylish Accommodations
Stay in one of theirstylish rooms that either overlook the beach or the island. Wake up to breathtaking vistas every morning.
Culinary Diversity: Dining for Every Palate
With six different dining options, their resort ensures that every member of your family can satisfy their culinary cravings.
Family-Friendly Amenities: Pools and Play
We understand the importance of family time. Enjoy their outdoor pools, designated kid's pool, and play area where laughter knows no bounds.
Rejuvenate Your Senses: Spa Retreat
Parents, take a break and rejuvenate at their spa. Pamper yourself with treatments that soothe the mind and body.
Frequently Asked Questions
Q: How can I book my family's getaway at Radisson Resort Ras Al Khaimah, Marjan Island?
A: Booking is easy! Simply visit their website and secure your reservation with the best rates.
Q: Are pets allowed at the resort?
A: Unfortunately, pets are not allowed at Radisson Resort Ras Al Khaimah, Marjan Island.
Q: Is there a dress code for the live entertainment shows?
A: While there's no strict dress code, we recommend smart-casual attire for your comfort.
Q: Can I arrange for a romantic dinner at the resort?
A: Absolutely! Contact their concierge to arrange a special romantic dinner for you and your partner.
Q: What is the cancellation policy for bookings?
A: Their cancellation policy varies depending on the type of booking. Please refer to their website for detailed information.
Q: Is the beach easily accessible from the resort?
A: Yes, Radisson Resort Ras Al Khaimah, Marjan Island offers direct beach access for your convenience.
Conclusion
In conclusion, Radisson Resort Ras Al Khaimah Marjan Island is your ticket to a memorable family vacation. From an array of kids' activities to live entertainment, watersports, delectable dining, and a beachfront paradise, this resort has it all. Book your getaway today and create unforgettable moments with your loved ones. Your family adventure awaits in the lap of luxury!
Contact & Location
Phone – +971 (0) 50 419 5692