Enjoy this Seafood Market in RAK. Get your fresh selection custom cooked
Take your chance to 'catch' yourself exclusive offers at our inaugural outdoor fish market where you can purchase fresh seafood. Our chefs are ready to cook your purchase just the way you want it. Sit back and relax in the lush green gardens of the Seafood Restaurant or pick up your dinner and take it home to enjoy.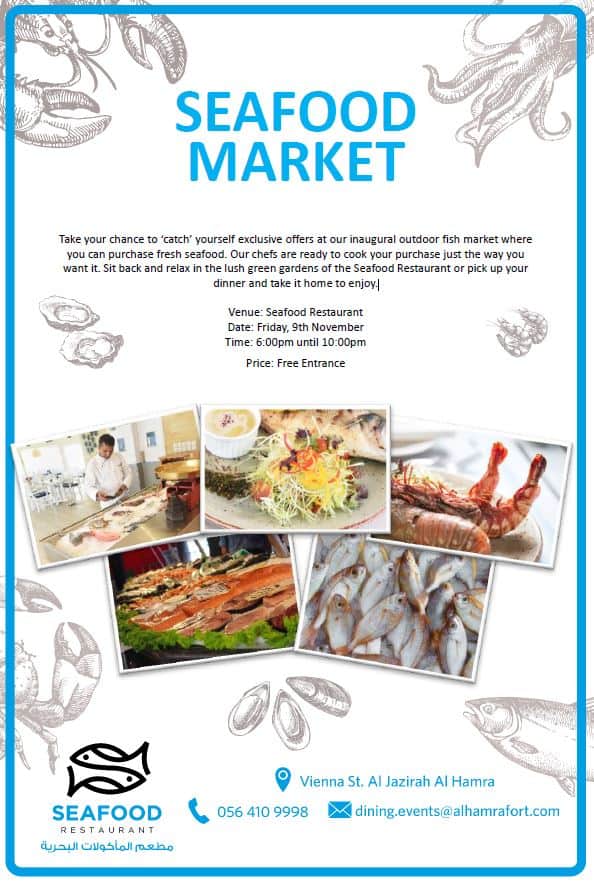 Venue: Seafood Restaurant
Date: Friday, 9th November
Time: 6:00pm until 10:00pm
Price: Free Entrance
About Seafood Restaurant
One of the few restaurants in Ras Al Khaimah specializing in offering bountiful seafood dishes, the Seafood Restaurant is an institution by itself. The menu is a delicious work of art dotted with fiercely unpretentious with bold flavors. What's more, the team at the restaurant is fully committed to the sustainability of the seas, so a meal here is guilt- free. The house signature is the "catch of the day" which will see the chef preparing dishes from fresh produce purchased directly from the local fishmens'.
Contact and Location
Phone: 0564109998
Email: dining.events@alhamrafort.com