Celebrate Pongal Festival in Ras Al Khaimah
Ras Al Khaimah Tamil Mandaram is hosting a musical evening on the occasion of Pongal Indian Festival.
The Event will feature famous Tamil broadcasting Channel "Vijay TV" Stars and Super singers.
Chaitra (VJ), Sakthi Amaran (Super Singer), Tanyasri (Super Singer), Chutti Aravindh (Actor and Stand up comedian), TSK (Kalakapovathu Yaaru Season 7 Title winner) and many more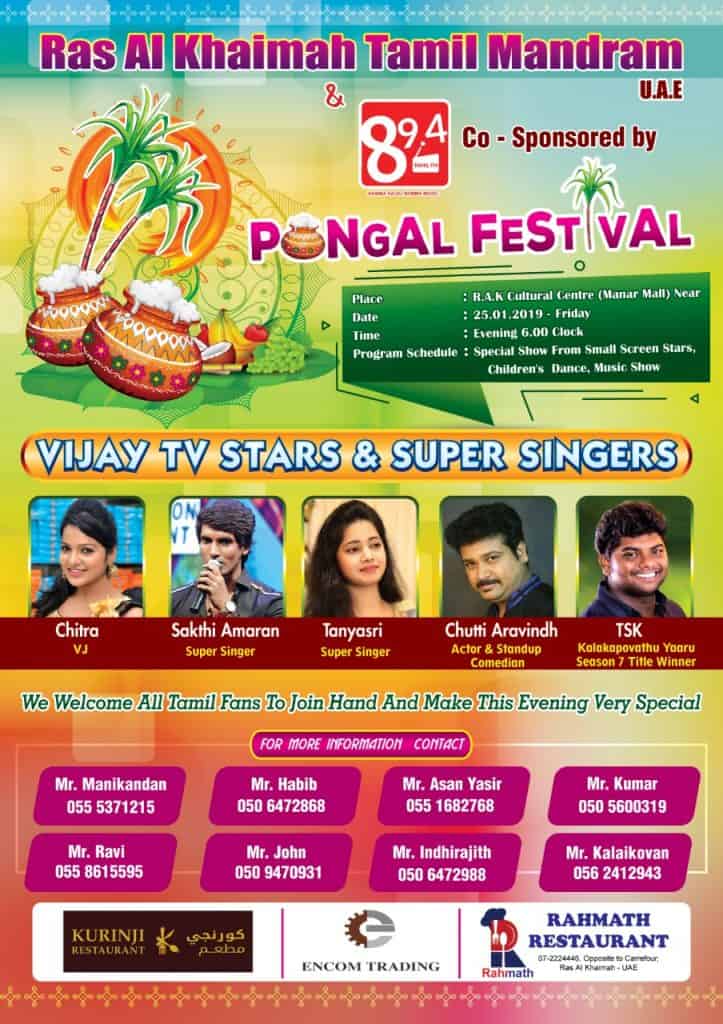 Date: Friday 25th January, 2019
Time: 6:00 PM onwards
Contact: kalaikavithaikal@gmail.com
Location: RAK Cultural Center, Near Manar Mall
About Pongal
Pongal is a four-days-long harvest festival celebrated in Tamil Nadu, a southern state of India. For as long as people have been planting and gathering food, there has been some form of harvest festival. Pongal, one of the most important popular Hindu festivals of the year. This four-day festival of thanksgiving to nature takes its name from the Tamil word meaning "to boil" and is held in the month of Thai (January-February) during the season when rice and other cereals, sugar-cane, and turmeric (an essential ingredient in Tamil cooking) are harvested.