Al Moharb Martial Arts Club one-stop Combat sports classes in Ras Al Khaimah
Al Moharb Martial Arts center is an ultimate Boxing, Taekwondo, Mixed Martial Arts, Kickboxing Club that offers training for all levels from beginners to competitors. If you are interested in testing your limits, boxing can be a great outlet. The training methods will help improve your cardio, coordination, and reflexes, as well as instilling self-discipline.
Master Nadir, Black Belt 5th Dan Taekwondo heads up our martial arts practice, overseeing the development of our programs and the progress of our members.
They carry out various forms of cutting edge martial arts, fitness and self defense program which helps to creates happy individuals who live their lives at a level of success and fulfillment.
Al Moharb Martial Arts club Ras Al Khaimah
Whether you're completely new to martial arts and kickboxing, or simply looking to brush up on your skills, you'll be inspired to reach your goals in a safe, friendly environment. For anyone 4 to 63, there's no better place to boost your mind, body and spirit.
Al Moharb club sessions cater to a huge range of skill sets and targets: you can focus on boxing, wrestling or kickboxing; you can work on endurance or strength. Or you can simply get fit. Either way, you'll find the hardcore fun you're looking for. We have martial arts classes that both men and women enjoy, as well as Kickboxing classes for ladies only! Newcomers to the gym are offered a free trial upon registration. Membership costs vary, you can avail discounts on family membership.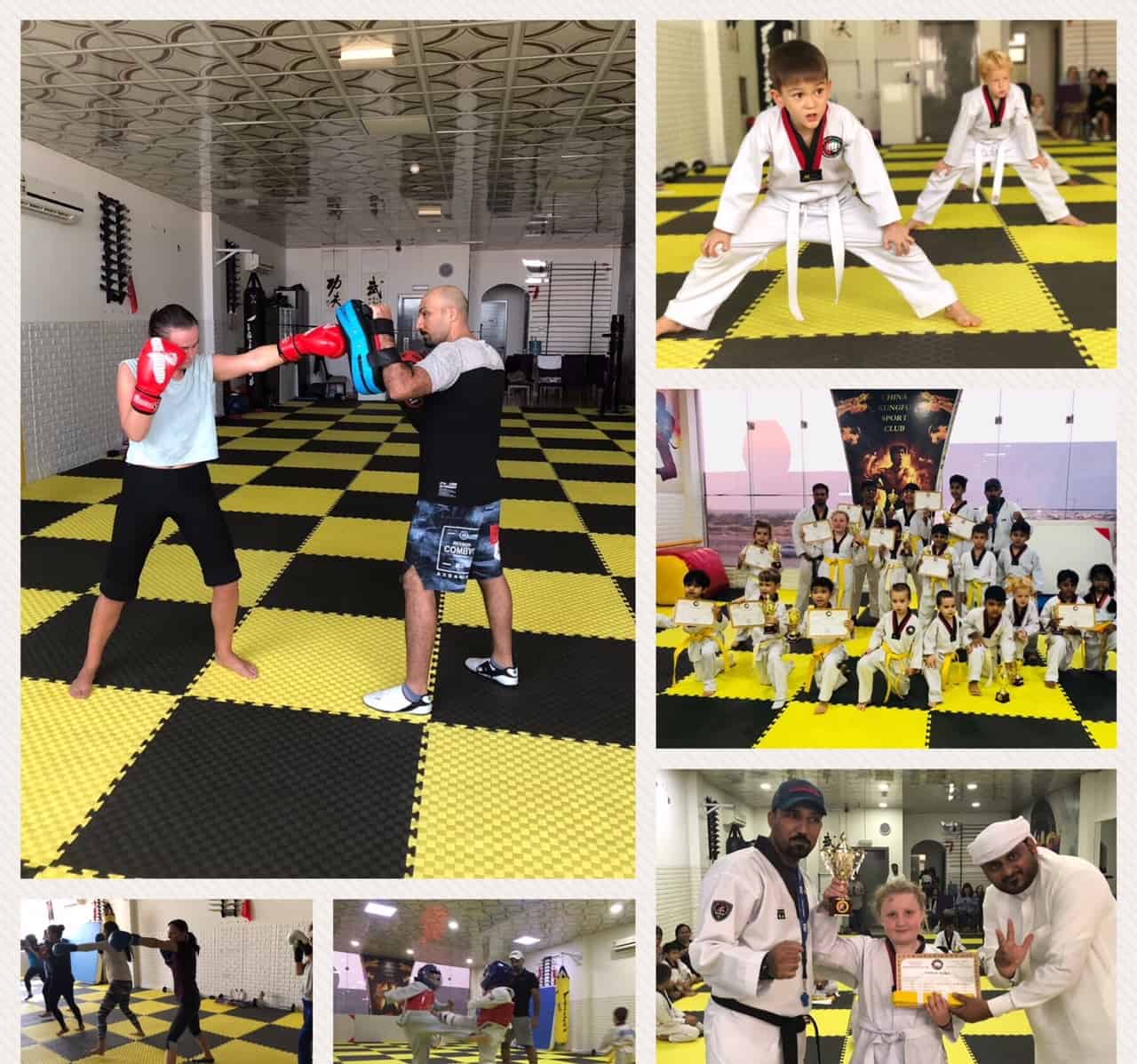 Prices: Boxing classes are AED 70 per session (90 min) and AED 500 per month for 8 classes.
Taekwondo for Kids 4 Years and above AED 500 for 8 Classes a month.
Locations 1: Al Moharb Martial Arts Club ,Opposite Mina Al Arab, Above Chinalicious Restaurant , Al Riffa, Ras Al Khaimah
Location 2: Al Moharb Martial Arts Club,Pakistan Center,Al Mamourah – Ras al Khaimah
TEL: Master Nadir  +971 554804455
SOCIAL MEDIA: Facebook / Instagram / Youtube
WEBSITE: https://almoharbclub.wordpress.com/
This club boasts qualified trainers and experienced boxers to teach you the right techniques. If you are seeking professional training or just signing up for your physical fitness, let Al Moharb team help you out.