A new RAK Rugby Management team to overcome the challenges faced by rugby
RAK Rugby is delighted to announce that Eddie Presch has accepted the position of Chairman with immediate effect.  Eddie brings a wealth of rugby experience to the role both as a player (in the UK and at RAK) and as former club Captain and Treasurer.  The club would like to thank the former Chairman Ryan Reaney for his dedicated work over the last 12 months.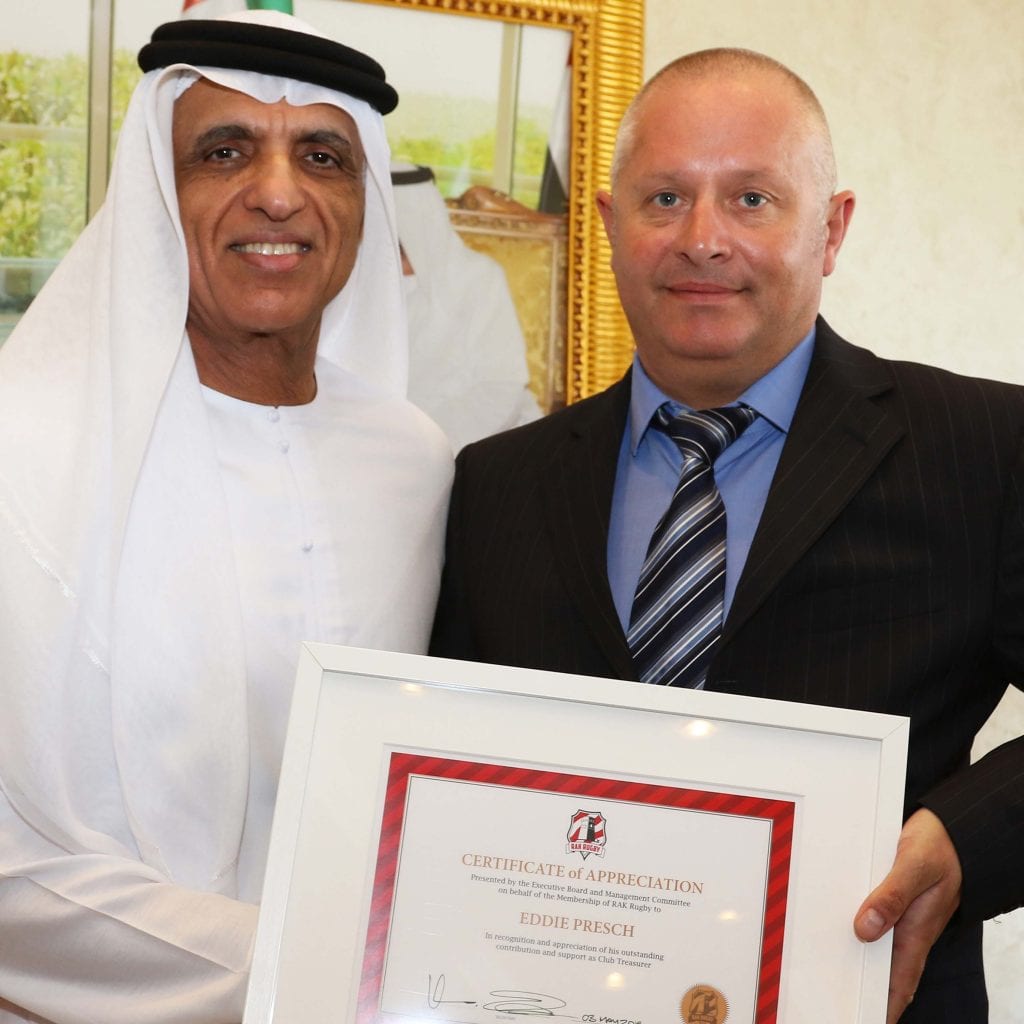 Eddie commented "I'm honoured to accept this role and would like to thank the committee for nominating me, and for all the support I've received from players and members. These are challenging times in the Covid era, particularly for a high contact sport such as rugby, but the future is positive and there is still plenty to do at RAK Rugby going forward. I'm relishing the challenge of taking this club even further on and off the field working alongside our committee, players, members and our ever supportive sponsors".
Supporting Eddie, the club is delighted to announce the welcome return of veteran club member Dave Learman as Club Secretary. Dave has been involved in just about every decision the club made since its inception and has played a vital role in its development. Dave commented, "It's great to be invited back to the heart of the club. Since I first joined, RAK Rugby has gone from strength-to-strength. I really look forward to working with our new chairman and executive team to further build on our achievements and make our club sustainable in these challenging times". The club would like to extend their thanks to outgoing secretary Shaun Goate.
Alongside the incoming Secretary, the club welcomes two new members to its Management team. Sean Eagan, a long-standing member of the current playing squad, is appointed Events Manager responsible for planning, organising and activating club related tournaments and fundraisers. Sean commented "I'm looking forward to further raising awareness of RAK Rugby and to attracting broader support to the club from the northern emirates and wider afield".   The club is also delighted that James Harris, another longstanding member of the club and player, has accepted the role of Social Secretary and is looking forward to managing the club's lively social calendar and member events. James said "My aim is to make RAK Rugby a real community initiative – a welcoming family for players and supporters of all ages and nationalities in the emirate as well as having a lot of fun and games along the way"
The club is pleased to announce Liam Bruce, previously Head Coach, is appointed Director of Rugby responsible for all aspects of squad and player development and the club's performance on the pitch. He is ably supported by Stephen Schmidt who has accepted the roles of Team Manager and Backs Coach. Liam commented "I am honoured to accept the role of Director of Rugby at RAK Rugby. During my tenure as Head Coach my target was to create a competitive team in Ras Al Khaimah and now it's time for RAK Rugby to counted as one of the biggest clubs in the UAE. Our aggressive and an attacking style of rugby will cement our identity in the UAE. I'm excited to start the season with a determined squad and look forward to enhancing our reputation as one of the most competitive teams in the Emirates".
The new RAK Rugby Management Committee is:
President                   Ken Neves
Chairman                   Eddie Presch
Secretary                   Dave Learman
Treasurer                    Galvin McKechnie
H&S Officer               Tomas Young
Director of Rugby       Liam Bruce
Team Manager           Stephen Schmidt
Events Manager         Sean Eagan
Social Secretary         James Harris
Captain                      Chris Allen
---
---