Listen to this article
The desert occupies 80% of the United Arab Emirates' land mass. That said, dry doesn't come to mind when one thinks of the UAE, especially if you go to Yas Island Abu Dhabi.
Yas Island doesn't only have the world's fastest rollercoaster (available at Ferrari World Abu Dhabi), tallest rock climbing wall (available at CLYMB Abu Dhabi), and the largest indoor theme park (Warner Bros. World Abu Dhabi). It also has incredible water recreation destinations, including Yas Waterworld Abu Dhabi, Yas Bay, and what will be home to the world's largest aquarium and SeaWorld rescue facility, SeaWorld Abu Dhabi.
1. Yas Waterworld Abu Dhabi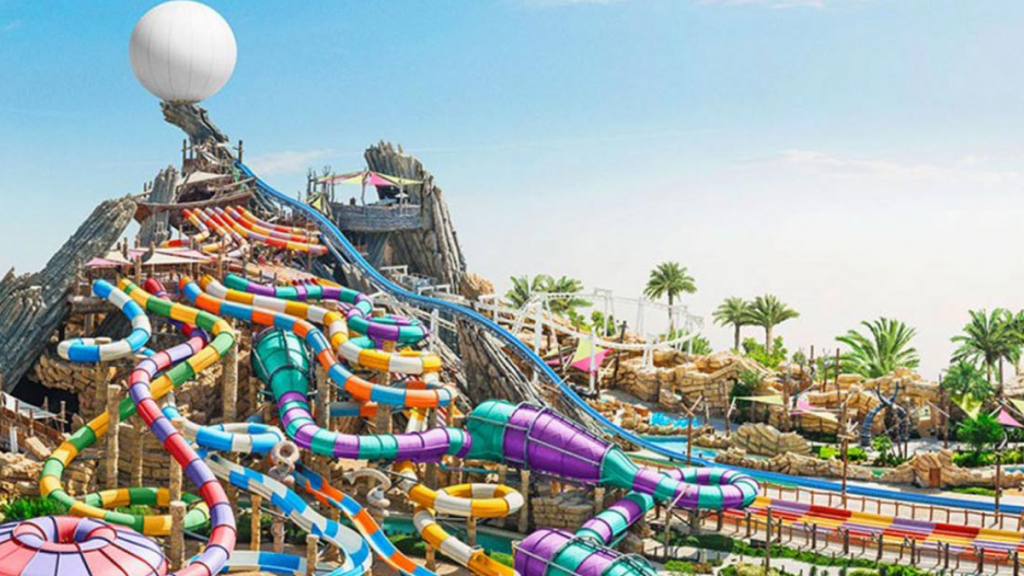 If you're in the mood for water experiences, rides, and slides, Yas Waterworld should be at the top of your mind. This 15-hectare, sprawling waterpark, one of the biggest waterparks in the Middle East, provides more than 40 attractions to park-goers.
The following are a few of the rides you must try when in Yas Waterworld:
Dawwama
You and your friends will get on a six-person raft and then slide down the world's longest water slide. The force of your descent will then hurl you down a 20-meter-high tornado funnel.
Liwa Loop
Liwa Loop is the first freefall drop water slide in the Middle East. You will enter a launch capsule and, after a countdown, the trapdoor on the floor will open, catapulting you into an eight-second free fall down an enclosed, high-intensity, looping water chute.
Cinesplash
This is a 5D cinematic attraction. There are plenty of water effects, including water explosions and flooding up to your knees. Your seats will move, too.
Bandit Bomber
Bandit Bomber is a suspended rollercoaster, the longest in the Middle East. It has onboard water and laser effects, and you can ride it to get a thrilling, high-speed waterpark tour.
2. Yas Bay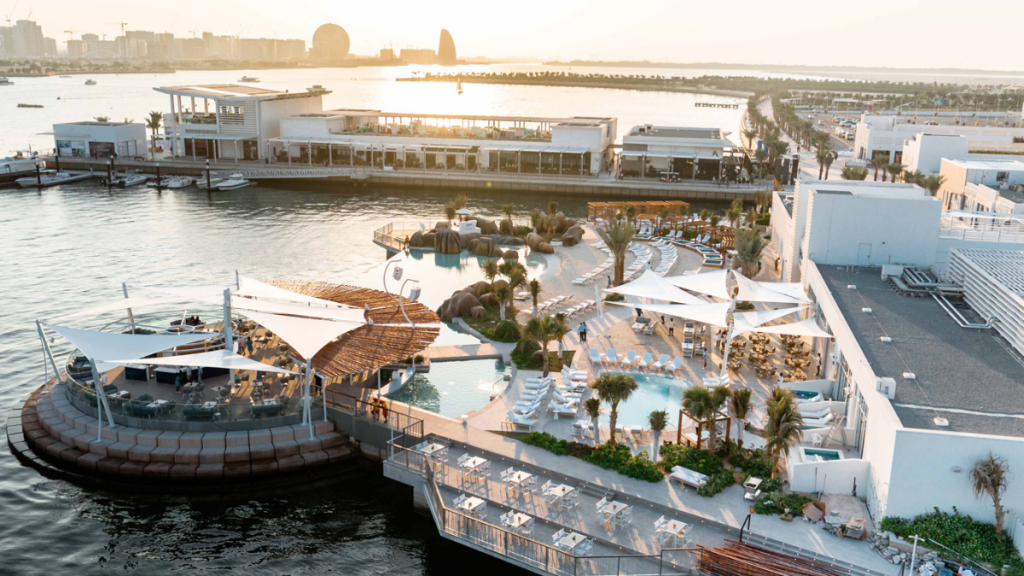 Yas Bay is a top waterfront and lifestyle destination in Yas Island. It is on the southern tip of the Island, along Al Raha Creek, and it is the portion nearest to the mainland if traveling to the Island via Yas Drive.
These are a few Yas Bay attractions you may want to check out.
Yas Bay Waterfront
On the waterfront is a three-kilometer boulevard lined with palm trees, perfect for taking an early evening stroll with the family to enjoy spectacular water views and take many lovely photos.
At the center of the waterfront, jutting from the boulevard, is a pier with covered seaside walkways, benches, gigantic art installations, and yacht berths. There are also many restaurants, including Paradiso, a Mediterranean restaurant helmed by the triple-Michelin-star Chef Pierre Gagnaire.
Café Del Mar Abu Dhabi
This is the same house of chill that is famous in Ibiza. This Mediterranean-style beach club and bar offers casual dining, drinks, and the famed Café Del Mar curated music.
Etihad Arena
Etihad Arena is an event venue that occupies 35,000 square meters on the eastern side of the Yas Bay Waterfront. It has an 18,000-guest capacity and is the largest multipurpose indoor arena in the Middle East.
Visit Etihad Arena for standup shows, theatrical performances, mixed martial arts events, boxing bouts, concerts, expositions, conventions, and trade fairs.
3. SeaWorld Abu Dhabi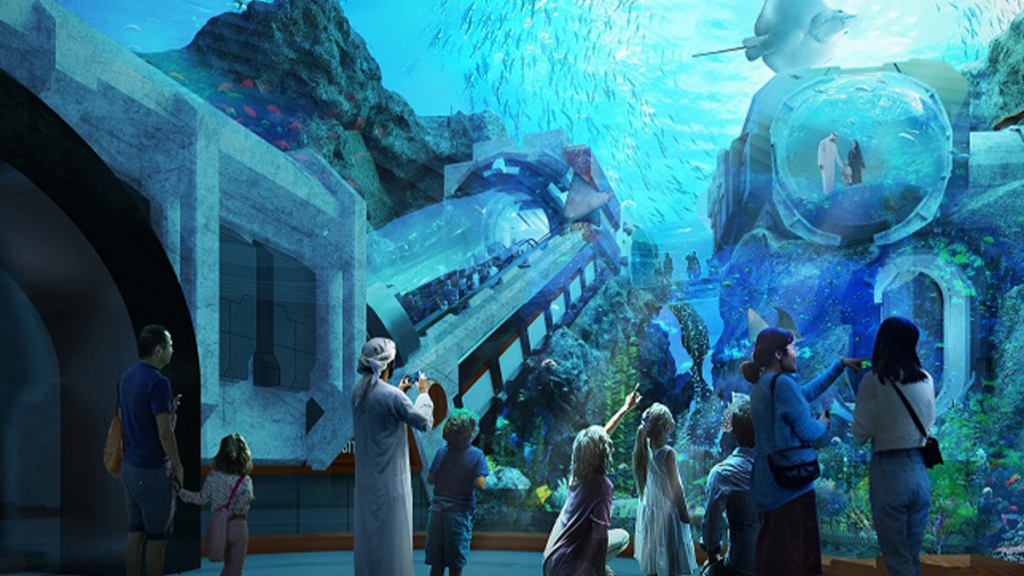 SeaWorld Abu Dhabi is a next-generation, five-level marine-life theme park that will occupy a total area of 183,000 square meters. As of this writing, the park is still under construction. However, it is 90% complete by the last report. If everything goes according to plan, the Abu Dhabi aquarium opening should be in 2023.
The marine theme park will contain purpose-built marine habitats and ecosystems, deliver interactive experiences, and even provide an immersive pole-to-pole ride. It will also be the home of the world's largest aquarium.
The Aquarium
When completed, the SeaWorld aquarium will be one of a kind, containing 25 million liters of water and hosting an expansive and impressive array of marine life. More than 68,000 aquatic animals will live in it, and their number will include schools of fish, sea turtles, and large sea predators like sharks and manta rays.
How about orcas? Are killer whales at SeaWorld? Unfortunately, orcas will not be part of the marine ecosystem at SeaWorld. However, information about them will be freely available at the aquatic theme park.
The Endless Vista
One planned feature of the theme park is a 20-meter-tall vertical window called the Endless Vista, which will encompass multiple levels, providing an expansive view of the rich aquatic life in the aquarium.
The SeaWorld Research and Rescue Center
SeaWorld Abu Dhabi, the theme park, will be a hallmark of sustainability and conservation and a hub for disseminating information and educating the public about conserving marine life and resources.
In fact, the aquatic theme park project wouldn't be possible if it weren't for SeaWorld's more than 55 years of experience in and commitment to marine research, conservation, and marine animal welfare. Through the years, it has returned more than 37,000 aquatic animals to the wild and provided shelter to those who cannot safely make the same journey.
Thus, the SeaWorld Research and Rescue Center will be built adjacent to the theme park. It will specialize in researching marine species indigenous to the Gulf Region and sharing its findings with the rest of the world. It will also continue in its efforts to rehabilitate the ocean, rescue endangered marine species, and return to the water those who can thrive in the wild. The center will also become a knowledge hub for marine scientists, researchers, and conservationists.
Water Fun in Abu Dhabi
If you love the water and the ocean, head to Yas Island Abu Dhabi and visit three of its best water attractions: Yas Waterworld, Yas Bay, and the soon-to-open SeaWorld Abu Dhabi.