Listen to this article
On 3-5 March 2023, comic, film, television, art, and gaming fans from all over the Middle East and the world will converge in Abu Dhabi (Abu Dhabi National Exhibition Centre) for the Middle East Film and Comic Con (MEFCC).
MEFCC is the largest popular culture festival in the Middle East, graced by the likes of Stan Lee (Spider-Man co-creator), Anthony Mackie (Sam Wilson), Jason Momoa (Aquaman), and Sean Astin (Samwise Gamgee). Now in its 11th year, it is expected to draw more than the 45,000+ fans it attracted in last year's three-day MEFCC schedule.
2023 MEFCC Schedule and Attractions
MEFCC activities are spread across three days.
3 March, Friday: The gates will open for VIPs at 2 p.m. and for the general public at 3 p.m.
4 March, Saturday: The event venue will open at noon and close at 11 p.m.
5 March, Sunday: The activities will start at noon and end at 11 p.m.
Fans can look forward to the following MEFCC activities and attractions.
1. Meet the Stars
Fans get autographs from and pose for photographs with MEFCC celebrity guests and visiting international artists.
2. Artist Alley
International and local artists showcase their latest work, network with other artists, and get art commissions from fans and visitors.
3. Creative Academy
Animators, film actors, cosplay artists, comic book artists, and voice actors give masterclasses. The Creative Academy is a favorite among aspiring artists, actors, and cosplayers.
4. Festival Plaza
The outdoor component of MEFCC, this is where guests can watch festival stage shows, join contests, and get something to eat.
5. Cine Club
The place for exclusive screenings, meet-ups, and fireside chats, this is the place for visual media fans and aspiring actors, filmmakers, and animators.
6. Cosplay Central
MEFCC's dedicated cosplay zone, cosplaying enthusiasts meet professional cosplayers and participate in the Cosplay Competition.
7. Gaming Arena
Video game companies provide unreleased game demos, and gaming fans try to beat e-sports pros.
8. Shopping
MEFCC participants can shop for limited-edition comic books, trading cards, action figures, and Funko Pops from local and international retailers, shop owners, and collectors. There's also comic con merchandise to remember MEFCC 2023 by.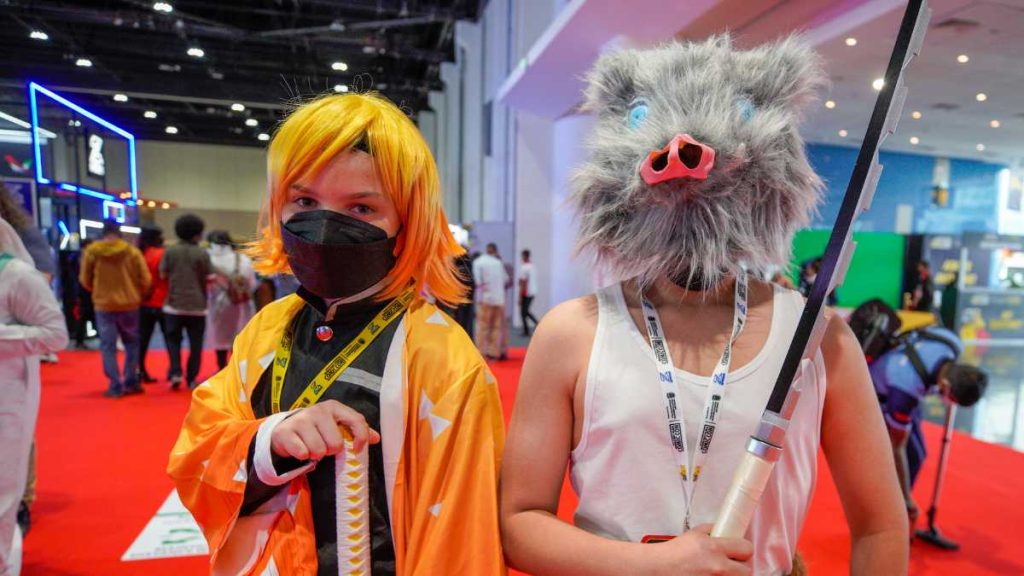 Celebrity Guests Lineup
MEFCC 2023's celebrity guests lineup includes the following big names.
1. Matt Smith, Actor
The Eleventh Doctor – Doctor Who
Daemon Targaryen – House of the Dragon
Milo – Morbius
Prince Philip – The Crown
Alex – Terminator Genisys
Appearing: 3 & 4 March
2. Andy Serkis, Actor
Gollum – The Lord of the Rings
Caesar – War for the Planet of the Apes
Supreme Leader Snoke – Star Wars: The Force Awakens
Kino Loy – Star Wars: Andor
Ulysses Klaue – Black Panther
Alfred Pennyworth – The Batman
Appearing: 4 & 5 March
3. Anthony Daniels, Actor
C-3PO – Star Wars
Appearing: 3-5 March
4. Christopher Sabat, Voice Actor
Vegeta, Piccolo, Yamcha, Mr. Popo, Korin, and Kami – Dragon Ball
All Might or Toshinori Yagi – My Hero Academia
Garterbelt – Panty and Stocking with Garterbelt
Zoro – One Piece
Appearing: 3-5 March
5. Zach Aguilar, Voice Actor
Tanjiro Kamado – Demon Slayer: Kimetsu no Yaiba
Aether – Genshin Impact
Koichi Hirose – Jojo's Bizarre Adventure: Diamond Is Unbreakable
Genos – One Punch Man
Byleth – Fire Emblem
David Martinez – Cyberpunk: Edgerunners
Arthur Pendragon – The Seven Deadly Sins
Appearing: 3-5 March
6. Paige O'Hara, Actor, Voice Actor
Belle – Beauty and the Beast (Disney's animated feature film)
Ellie May Chipley – Showboat (Broadway)
Fantine – Les Miserables (Broadway)
Edwin Drood – The Mystery of Edwin Drood (Broadway)
Appearing: 3-5 March
International Artists Lineup
Meet the following renowned international artists in MEFCC 2023.
1. Greg Capullo, Comic Book Artist
Currently the artist in charge of DC Comics' Batman series, Greg is best known for his work in Batman, Spawn, Death Metal, and Death of the Family.
Appearing: 3-5 March
2. Ryan Ottley, Comic Book Artist
The primary artist and the contributing creator of the Invincible series, Ryan drew 127 of Invincible's 144 issues. He has also worked on Amazing Spider-Man and Hulk.
Appearing: 3-5 March
3. Jock, Comic Book Artist
The writer and artist of Batman: One Dark Knight, Jock (real name Mark Simpson), is a three-time New York Times bestselling artist best known for his work on Batman, Wolverine, and Judge. He also contributed key art and concept design for The Last Jedi, Dredd, and Ex Machina.
Appearing: 3-5 March
4. Ken Lashley, Comic Book Artist
Ken Lashley has worked as a penciler, colorist, inker, finisher, cover colorist, cover artist, and variant cover artist. His work includes X-Men, Black Panther, Batman, Spider-Man, Superman, and Suicide Squad.
Appearing: 3-5 March
5. Mike Peraza, Animator
Mike Peraza is one of the biggest names in the animation industry, working with the best filmmakers (Tim Burton, Steven Spielberg, and George Lucas) and the biggest production houses (Walt Disney Studios, Walt Disney Television, Lucasfilm, FOX Studios, Sony, MGM, and Universal Studios). He was the art director for Disney's The Little Mermaid and the concept designer for Beauty and the Beast and Aladdin. He has also worked on DuckTales, Goof Troop, and Proud Family.
Appearing: 3-5 March
6. Patty Peraza, Animator
The first female hired by Walt Disney Studio from CalArts (i.e., California Institute of the Arts) and Walt Disney Studio's first female effects animator, Patty Peraza has worked on animated films, television commercials, live-action features, television shows, and direct-to-video projects. Her work includes The Black Cauldron, Beauty and the Beast, Tom & Jerry, and The Great Mouse Detective.
Appearing: 3-5 March
7. David Angelo Roman, Comic Book Artist
David Angelo Roman is a cover artist for Rick and Morty. He is also an artist for Star Wars, The Walking Dead, and Steven Universe.
Appearing: 3-5 March
Come to the Middle East Film & Comic Con 2023
Calling all comic, film, television, video game, and cosplay fans. Meet your favorite actors and illustrators, participate in creative academy workshops, attend exclusive screenings, compete in cosplay competitions, challenge e-sports professionals, watch stage shows, and meet other pop culture fans. Come to MEFCC 2023, happening on 3-5 March 2023 in Abu Dhabi.