Pass me that coconut bikini and a grass skirt, I'm going to limbo over to the bar and grab myself some pina colada.
Yes, we're in the world of tiki, that magical part-Polynesian, part-supreme-kitsch, place where it's Hawaii every weekend.
Hawaii night is as energizing and luring experience as the islands themselves, uniting wonderful music, move and food to offer an ordeal to suit everybody's taste.
What to expect?
Feast your eyes on traditional Hawaiian & Polynesian food displayed with live stations and authentic BBQ.
Say cheers to Huli Huli & hand-crafted TIKI cocktails in addition to a wide selection of international drinks as you enjoy entertainment from Colombian acrobatic dancers and groove to the tunes from their resident DJ to entertain and bring the spirit of Hawaii to Ras Al Khaimah
Time and Prices
Every Thursday, 7:00 pm to midnight
AED 175 food only I AED 225 standard beverage package I AED 275 TIKI package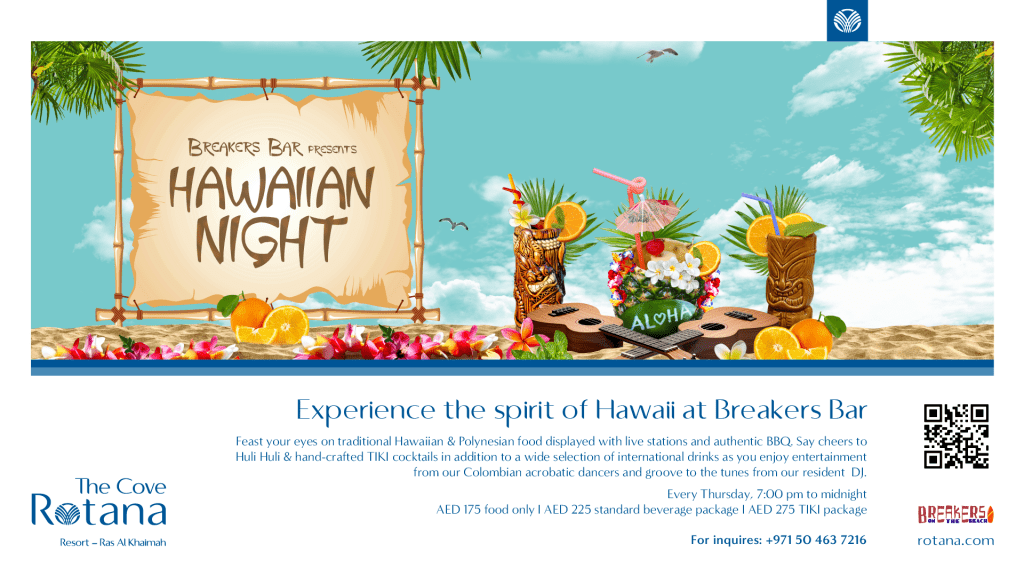 About Breakers Bar
For the ultimate casual dining experience head to Breakers Beach Bar & Lounge where you can feel the sand beneath your feet and admire uninterrupted sea views while you sip a cocktail or dine on a range of international cuisine from their wide-ranging menu. Relax in the sun or watch it set in the distance as the gentle waves lap on the shore in this barasti-style setting featuring a novel traditional Arabian boat as a seating option.
About Cove Rotana Ras Al Khaimah
The Cove Rotana Resort where the traditional charm embraces the uniqueness of the Arabian culture is located on an idyllic water inlet of Ras Al Khaimah beachfront overlooking the Arabian Gulf with 2 restaurants, 4 bars and 600 m of private beach.
The Cove Rotana Resort is one of Ras Al Khaimah's most sought-after dining destinations with six exciting venues offering a range of international cuisine and inspiring locations, some with beach and sea views. Guests and visitors to Ras Al Khaimah can experience Mediterranean specialities at Basilico, casual meals at Breakers Beach Bar & Lounge and Laguna Bay Bar, shisha and sundowners at Breeze Bar & Lounge and a wide range of refreshing beverages at Sunset Pool Bar. 
Bodylines Fitness & Wellness Club features state-of-the-art gym and fitness classes. A wide range of water sports is available and fishing and golf trips, and Flippers Kids' Club will look after the little ones.
The Cove Rotana Resort is located just a few minutes drive from Ras Al Khaimah Airport and 45 minutes from Dubai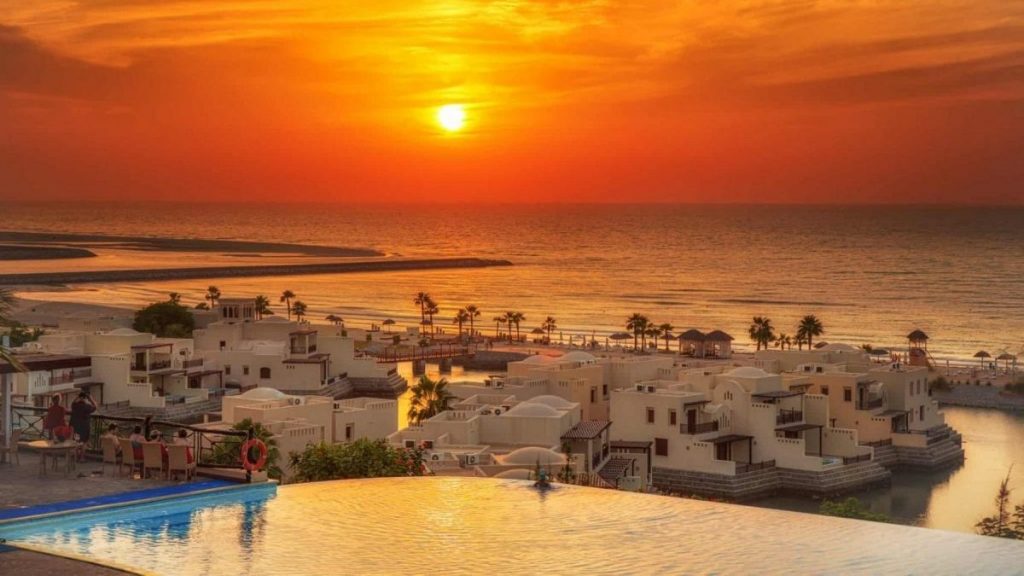 Contact and Location
For inquires: +971 50 463 7216